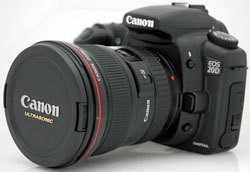 January 18, 2005 — Digital cameras came in No. 9 in a ranking of the top 25 innovations in the past quarter century. The list was created by a panel of technology leaders gathered by the Lemelson-MIT Program and reported on cnn.com this morning. The group found 25 non-medical innovations that are recognizable to most Americans, widely used, and have great impact on our lives.
Topping the list was the Internet, followed by cellular telephones and personal computers. Fiber optics, e-mail, global positioning systems, laptops, and compact discs made the list ahead of digital cameras. Several camera accessories made the prestigious list. Lithium-ion batteries, which were cited for contributing to cell phone and camera reliability, came in at No. 15. The energy efficient LED lights that are often found on digital cameras showed up in No. 17.
Get Our Newsletter
Real advice from real experts. Sign up for our newsletter
Thanks for signing up!
What's Your Take?