cameras
Sony Alpha A6000 Digital Camera Review
An NEX by any other name...
Back in 2010 when Sony released the original NEX-3 and NEX-5, the NEX lineup was unlike anything else on the market. Though Micro Four Thirds mirrorless cameras had been around since 2008, the NEX line was a more modern twist on the mirrorless concept. With very slender frames, large APS-C sensors, and a slick modern control scheme, the NEX cameras seemed to come out of nowhere. The $1349.99 NEX-7 followed suit in 2011, showing that mirrorless cameras could be more than affordable wannabe DSLRs, with premium features and premium price tags to boot.
Though Sony has since abandoned the NEX designation, the Sony A6000 (MSRP $799.99) is, through and through, an amalgamation of all of the best ideas of the NEX era. Following up on last year's NEX-6, the A6000 has a thin body, powerful processor, advanced APS-C sensor, one of the better electronic viewfinders we've seen, and loads of control. With so few weak points it may be one of the best all-around cameras on the market. But above all else it's also the realization of another hallmark of the NEX lineup: fantastic value.
The A6000 may not be the direct NEX-7 follow-up that many Sony fans have been wishing for, but by any name it may be the best NEX camera Sony's released yet.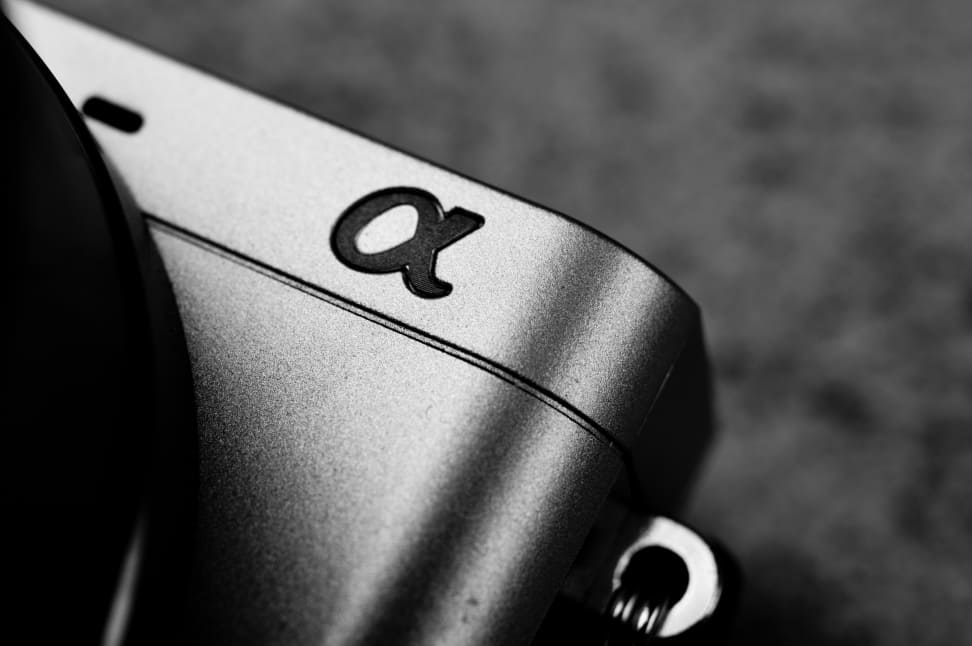 Design & Handling
Sony's finally thrown off the burden of its NEX menu system
While the Sony A6000 may not ooze retro cool like the Olympus OM-D E-M10, it ticks all the important boxes that any mirrorless camera should; it's lightweight, it doesn't take up much space, it has plenty of control for even demanding enthusiasts, and it can make use of some nice compact lenses. Compared to previous Sony products it also strikes a balance between what the previous NEX cameras did well and what other cameras do better, ditching the convoluted tiled NEX menu system (by default) and loading up on labeled—but still customizable—hardware keys.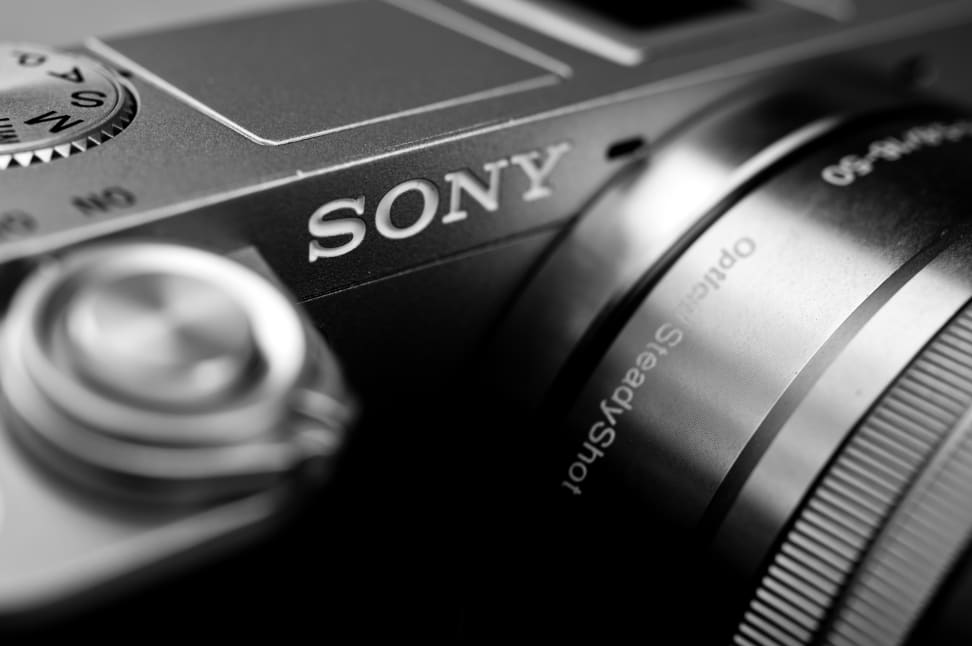 When you pick up the A6000 for the first time two things are instantly noticeable: the plush grip and the solid build quality of the body. Though the camera is mostly plastic on the outside, it has a durable magnesium alloy chassis inside. The result is a camera that won't weigh you down, but doesn't have the chintzy feel of some of Sony's other affordable options. It doesn't quite stand up to the new wave of high-end mirrorless cameras like the Olympus E-M1 or Fujifilm X-T1, but considering this is a sub-$1,000 camera, it's not bad at all.
Operating the A6000 is also a pleasant affair, especially for advanced shooters. The EVF and articulating LCD open up framing options in any lighting condition, with a full informational readout either way to keep tabs of your settings. There are also around a half dozen fully customizable keys, and Sony has stuck with the NEX-6's three-dial setup, with two dials for control and one for switching between modes. The dials each have a different texture, making blind operation while framing with the EVF quite simple.
Focusing with the A6000 is easy thanks to what Sony is claiming is the world's fastest autofocus system. We can't for certain judge that claim, but it's plenty fast. It doesn't track motion quite as well as a full DSLR, but in normal lighting conditions it did the job just fine. There's minimal hunting in low light, as well, though we recommend that you use the center spot and recompose with tougher, low-contrast subjects. If you rely on manual focus and exposure you have a host of options at your disposal, with focus peaking, magnification, and zebra striping all available—even while recording video.
Altogether the Sony A6000 is a smart compromise between what advanced shooters crave and what entry-level shooters need from a camera. There's a little bit of something for everyone here, from advanced video and still controls to creative scene modes and picture effects. And everything is laid out in a logical menu setup that is far superior to the tiled menu system of previous NEX cameras. You can still activate that setup if you're a masochist used to it, but we think the default system will be a great fit for the majority of people.
Performance
A lightweight camera that punches well above its weight
Last year's Samsung NX300 (originally $749.99) wowed us with just what a sub-$800 camera could do, blazing through our performance tests without a hitch. When the Olympus E-M10 (also originally $799.99) did the same thing this past January, we should've adjusted our expectations. Now that the A6000 (ditto $799.99) has followed suit, it's getting harder and harder to justify spending more than a grand on a camera these days.
Looking over the A6000's performances in our lab tests (read the full report here), it's hard to find much of a weakness. White balance wasn't the best, we've seen better performance at ISO 3200 and above, and the JPEGS right from the camera can look a little mushy with noise reduction on. That's pretty much it. At base ISO the dynamic range is well above 12 stops, the continuous mode easily held up Sony's claim of 12 frames per second with continuous autofocus, color reproduction was very accurate, the 1080/60p video mode was as good as we've seen from AVCHD, and the camera resolves plenty of detail even with the basic 16-50mm f/3.5-5.6 kit lens.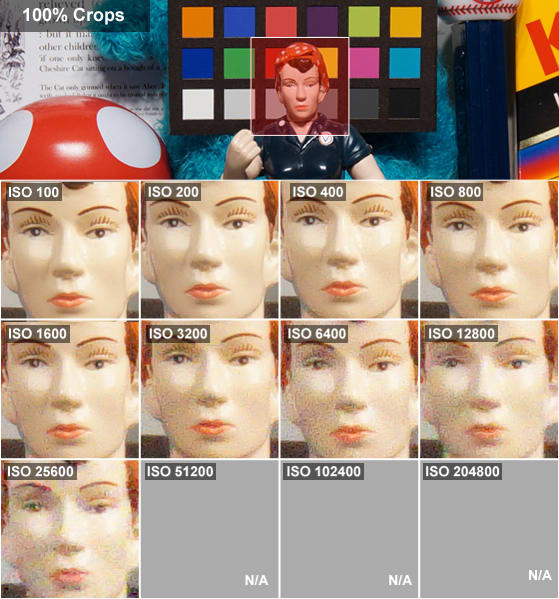 At ISO 800 and below we found that the RAW performance here stands up well to most other APS-C models on the market. At base ISO especially, it is just as good as we've seen from more expensive cameras like the Nikon D7100, Canon 70D, and even the current high-end mirrorless cameras like the Panasonic GX7 and Fujifilm X-T1. That you get a full 24 megapixels of resolution and great dynamic range is a testament to just how good Sony's sensor technology is.
To get the most out of the A6000, however, we do recommend sticking to ISO 800 and below and shooting RAW. The main issue that we did run into with the camera was inconsistent metering, exposure, and white balance. Even under our strictly-controlled lab conditions the A6000 would yo-yo exposure up and down by about a half stop with white balance constantly shuffling around. Shooting in RAW will give you the extra exposure latitude and also allow you to get around the wonky white balance system, which had trouble in mixed and fluorescent lighting. There's also not much downside to shooting in RAW, as you still get the same continuous shooting speed, with capacity only falling from around 40 JPEGs to 23 RAW+JPEG frames before the camera slows down.
Features
Despite some big absences, the A6000's feature list is impressive for the price.
So everything's awesome, right? The A6000 doesn't cost much, it's lightweight without feeling too cheap, and it performs awesome in the lab and in the real world. Time to pack up, everyone. We figured out cameras. Let's go home. Ehh... Not so fast.
The A6000's feature list is great. For $800, we love it. But there's some serious missteps that need addressing. On the one hand you've got some truly high-end inclusions that we're excited to see on an $800 camera. As we previously covered there's zebra patterning and focus magnification/peaking, but there's also AF microadjustments, AF speed customization, lens profile corrections, and a robust amount of customizable control. In video you've also got full PASM exposure control, including the ability to make any and all adjustments while recording.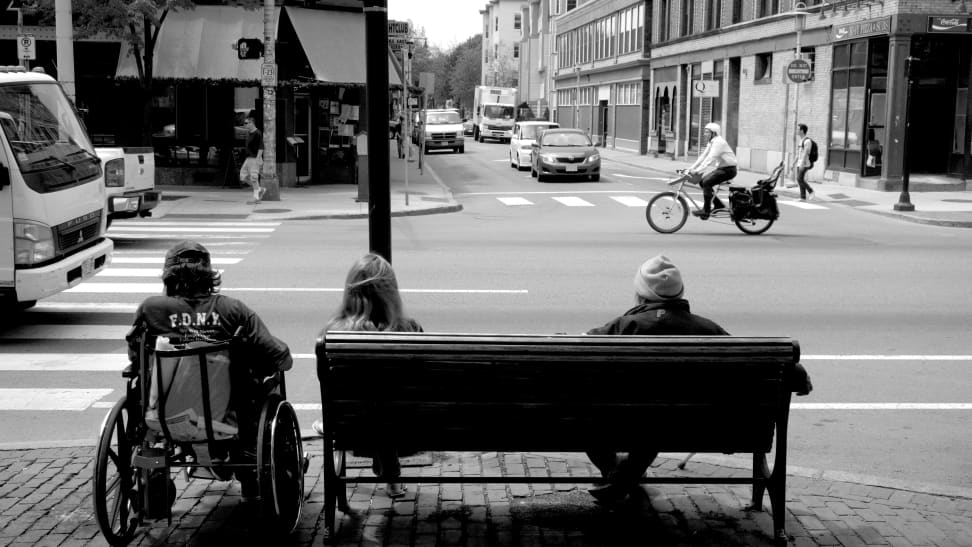 But despite all the inclusions, there are some notable absences, especially for video shooters. For starters there's no mic jack, no headphone jack, no audio level control—heck, no audio level display. There's plenty of video control, but audio puzzlingly seems to have been left on the cutting room floor. There's also built-in WiFi with one-touch NFC connection, which allows you to beam shots you've taken to your phone or even use your phone as a remote viewfinder. Unfortunately, control options are very limited. There are "apps" for the A6000 that you can download to supposedly improve functionality, but you have to go into the PlayMemories Store via the camera to get them. And boy is that just a Sisyphean task.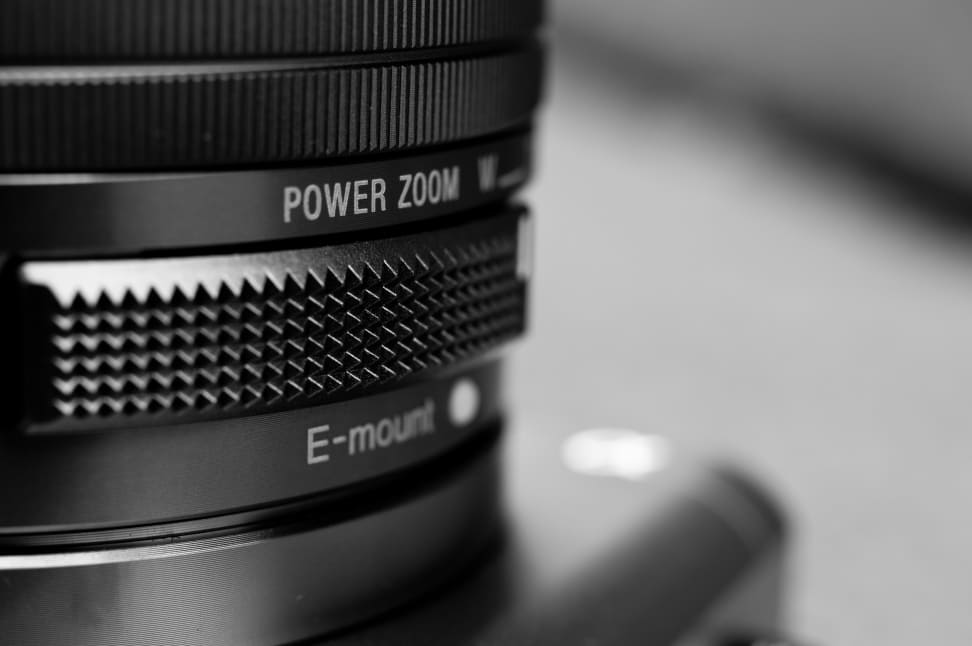 There are two main issues that we've got with the A6000's use of the PlayMemories Store. First, the interface is downright terrible. Even though the camera has one-touch NFC sharing to connect to your phone, that doesn't do you any good when you want to get apps, because you have to connect right to a WiFi network. If you have a WPS push-button router you can just push the WPS button, but otherwise you're going to have to enter your password manually using the onscreen keyboard. Without a touchscreen, you can only do this via the rear control dial/pad, which isn't remotely designed for this sort of thing. It's like trying to drive a car with flippers on. You can do it, but why on Earth would you?
Inputting passwords is like trying to drive a car with flippers on. You can do it, but why on Earth would you?
Tweet It
Our second issue is that once you've gotten into the selection of apps, you're greeted by the lovely realization that almost all of them cost money despite offering minimal extra functionality. Some are $4.99, others are $9.99, but none seem particularly worth it. Yes, having the ability to create a timelapse in-camera is nice, but it's not worth paying an extra ten bucks, especially when other cameras have that functionality for free and you've already shelled out $800.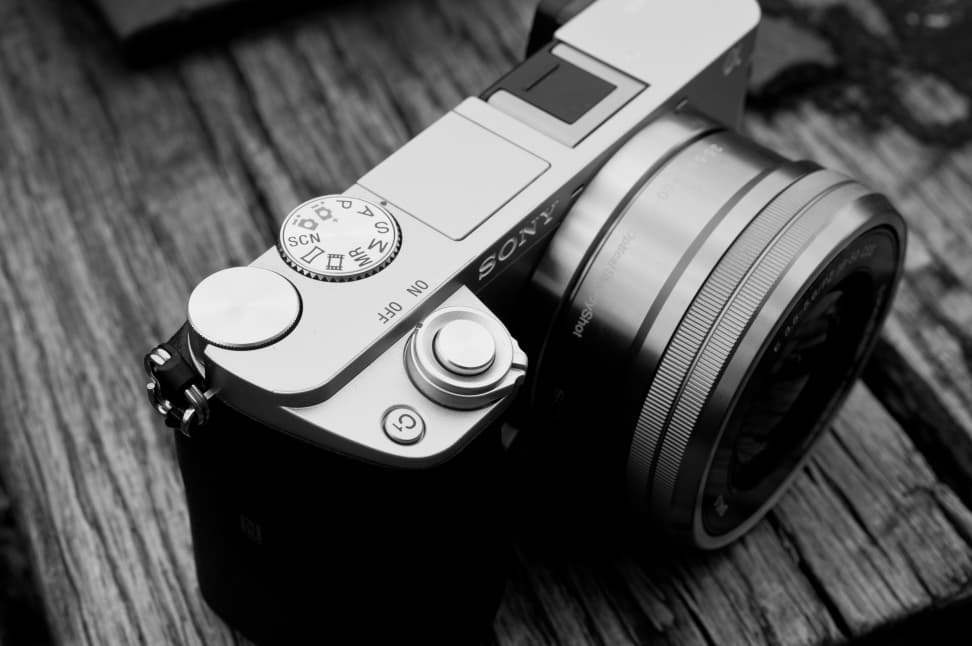 That said, we did see a couple of free apps that looked promising, such as a "Sync to Smartphone" program. But go to install that and you're then prompted to sign in with your Sony Entertainment Network ID, which, unless you own a PS3/PS4 or work for Sony, you probably don't have. Oh, and you also have to enter this with the rear control dial. I'm willing to cut cameras some slack when it comes to putting in network IDs and passwords, but I'm not willing to pay for the privilege.
I'm willing to cut cameras some slack when it comes to putting in network IDs and passwords, but I'm not willing to pay for the privilege.
Tweet It
In terms of hardware, the A6000's feature set isn't nearly as frustrating. The main highlights are the articulating rear screen and the built-in EVF. The rear screen is a standard 3-inch 961k-dot display that can tilt to face straight up or about 45 degrees downward, letting you frame from anywhere above or below the camera. It's not a full swivel display, but we were able to use it on our tripods without any issue. The built-in EVF isn't the most impressive we've seen—the finders in the Olympus E-M1 and Fuji X-T1 are both larger and nicer, but it has a very close eyepoint, making the display seem bigger than it is. It's easily the equivalent of the Olympus E-M10 and only slightly worse than the Panasonic GX7, though its rangefinder-esque position will be a problem for left-eye-dominant shooters on bright days.
Conclusion
Despite a couple of features we're balking at, the Sony A6000 is a home run.
Camera performance has improved by leaps and bounds over the last few years, and the market is as competitive as it's ever been. While the common wisdom just a few years ago was that you had to spend upwards of $1,000 to get a decent interchangeable lens camera, you can now easily nab one brand new for half that price.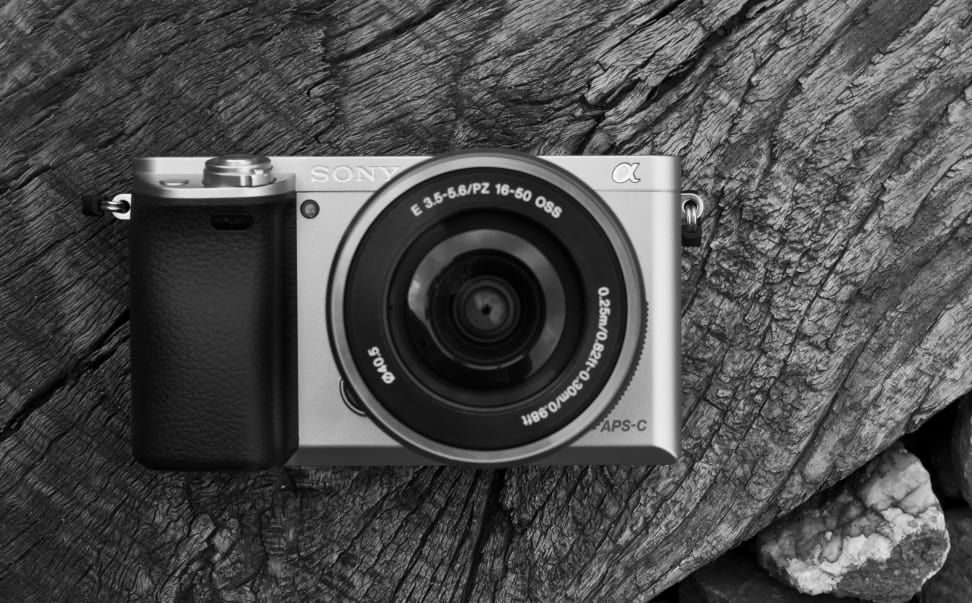 Available body-only for just $650, the Sony A6000 exemplifies that trend, with enough features to justify stepping up from the $500 cameras and performance that easily matches other APS-C models on the market. With excellent video, superb image quality in bright and low light, and the focus and shot-to-shot speed to capture fast-moving action, the A6000 is a flexible, adaptable camera that will suit the needs of many. For $800, it's hard to complain about what the A6000 brings to the table.
For $800, it's hard to complain about what the A6000 brings to the table.
Tweet It
We do have some reservations, however. For truly advanced shooters we're slightly more fond of the Olympus OM-D E-M10 due to its lens selection. Heavy video shooters may also want to take a gander at the Nikon D5300, which has better video quality and the kind of audio features such work demands. But for beginners, Sony fans, or anyone in need of a great do-it-all compact system camera, the A6000 is a treat. It combines the kind of simple, automatic modes that will allow a beginner to start shooting right away without skimping on advanced control or features.
Mirrorless cameras are at something of a crossroads right now. Despite massive performance improvements and arguably providing a better overall value than traditional DSLRs, they still only make up 10–20% of the interchangeable lens camera market worldwide. Why are these products, many of which are cheaper, lighter, faster, and often better cameras, struggling to find a home with buyers? It's a mystery, and one without a clear answer. With a camera like the A6000, Sony's response seems clear and focused: Keep producing killer cameras at fantastic prices until it's impossible to ignore them any longer.
Our editors review and recommend products to help you buy the stuff you need. If you make a purchase by clicking one of our links, we may earn a small share of the revenue. Our picks and opinions are independent from any business incentives.
Our editors review and recommend products to help you buy the stuff you need. If you make a purchase by clicking one of our links, we may earn a small share of the revenue. Our picks and opinions are independent from any business incentives.
Advertisement - Continue Reading Below
Compare Prices
Our editors review and recommend products to help you buy the stuff you need. If you make a purchase by clicking one of our links, we may earn a small share of the revenue. Our picks and opinions are independent from any business incentives.
Advertisement - Continue Reading Below
Get Our Newsletter
Real advice from real experts. Sign up for our newsletter
Thanks for signing up!