cameras
Ricoh WG-4 Digital Camera Review
Ricoh's top-of-the-line waterproof camera is little more than a subtle refresh.
Ricoh (formerly Pentax-Ricoh Imaging) has been making ruggedized cameras for years now. Last year's Pentax WG-3 earned a respectable score, landing it in the middle of the pack in our 2013 Waterproof Roundup. It wasn't a great camera, but we found it to be decent enough as far as waterproof cameras go.
Rather than pull a complete re-do, Ricoh decided to leave well enough alone with the WG-4 (MSRP $379.99). While we were hoping for some nice improvements, we came away wishing that this camera were a bit better in most aspects. That said, it still has some unique features that most other waterproof cameras don't—helping the WG-4 live up to its self-appointed "adventure-proof" status.
You get a very similar body, with or without GPS, with the GPS version rocking a nice secondary LCD on the front of the camera. A 16-megapixel sensor with a 4x zoom lens and an f/2.0-4.9 maximum aperture are carried over with little change from last year. We're doubting that Ricoh will make a name for itself this year with a warmed-over toughcam, but can this awkwardly styled little camera still hang ten with the rest of the 2014 waterproof pack?

Design & Handling
Here we go again
If there's one thing we can say about Ricoh's waterproof cameras, it's that they've never looked…ordinary. The WG-4 continues that tradition by only very slightly iterating on the WG-3's design, which we still think looks like a cavalcade of mismatched design elements.
We think it was a wise move to offer the WG-4 in more subtle color combinations, eschewing the army green, purple, and orange of last year's model for more mature silver, dark blue, and black schemes. If those color options are too subtle for you (or you want high visibility), Ricoh is still offering a screaming lime yellow, too.
The WG-4 is an all-plastic affair with decent ergonomics and a mix of rubberized and painted, glossy surfaces. We wish that the camera's body were easier to hold onto—as it stands, we'd definitely want a secure wrist strap if heading into the ocean with the WG-4.
One trope that remains exactly the same as last year's WG is the overabundance of stats and figures printed all over the camera's body. The front and back are positively covered in 45 ft this and f/2.0 that. It all centers around the camera's lens, where branding, specs, and exposed screws crescendo to new heights of tackiness. Other then the front lens element, the only useful part of the front cluster is a batch of LEDs, incredibly useful for illuminating macro subjects. Questionable aesthetics aside, the WG-4 feels as tough as it is. There's not an ounce of flex in the body, with a rigidness that separates it from its similar, cheaper sibling, the WG-20.
On the front of the device is a backlit black and white LCD screen that displays the time and altitude. It's a nice feature that even works when the camera is off. This is only available on the GPS-enabled model of this camera, which is a bit more expensive than the regular flavor. The rear LCD screen is bright as long as you pump up the brightness manually. Coming in at 460k dots, this display isn't the sharpest, but its hard plastic covering feels tough-as-nails.
The WG-4's buttons are all well-suited for shooting. Every one gives a nice bit of positive feedback, letting your fingers know that you've successfully pressed it. While the controls on the back of the WG-4 are raised, the power and shutter buttons are both fairly flush with the top surface of the camera. This is good for the power button, but less good for the shutter button. As it stands, it's a bit gummy and it can be tough to tell when you've got focus locked in.
Features
Honestly, this section could be from the WG-3 review.
In the crowded tough camera segment, the WG-4 manages to stick out with a couple very special features that some of the competition doesn't come with. As cool as some of these tricks are, there are also a couple of major issues that you should be aware of.
While WiFi isn't an option this year, the top-tier version has GPS for location tagging. You won't find Qi wireless charging in the WG-4, which was an innovative feature in last year's model. While most users probably never even tried this feature out, it's always disappointing to see uniqueness hit the chopping block in the name of cost-cutting.
Inside, you get the same stabilized 16-megapixel, backside illuminated CMOS sensor. That's topped off with 4x optical zoom, which is just enough to differentiate this from a smartphone camera. It's not the sharpest lens, however, and Ricoh's processing isn't as aggressive in enhancing details as, say, the Olympus TG-3, which has very nearly the same lens.
Really, though, the lack of WiFi is almost inexcusable at this price point. Let's say you've just gotten the camera wet in a pool, but you want to share photos of your kids to their grandparents. You can't without buying some other accessory like an EyeFi card. Ricoh could have thrown users a bone and added compatibility with a Flucard, like on the Ricoh-made Pentax K-3 DSLR—at least that solution also lets you remotely control the camera with your smartphone.
We love the WG-4's digital microscope setting, however, which uses a ring of LEDs around the lens to take macro photographs. It works really well, and, unlike some competing cameras, it's not an extra add-on. The minimum focusing distance is around a centimeter, meaning you can just about press the camera against the object you want to photograph. The results are excellent.
Corny though it may sound, the inclusion of a digital compass, along with a clock and an altimeter, is actually pretty neat. You can track your depth while diving, or, inversely, your altitude when in the mountains. We'd recommend springing for the slightly more expensive version with GPS just to get these quirky-but-thoughtful additions to this toughcam.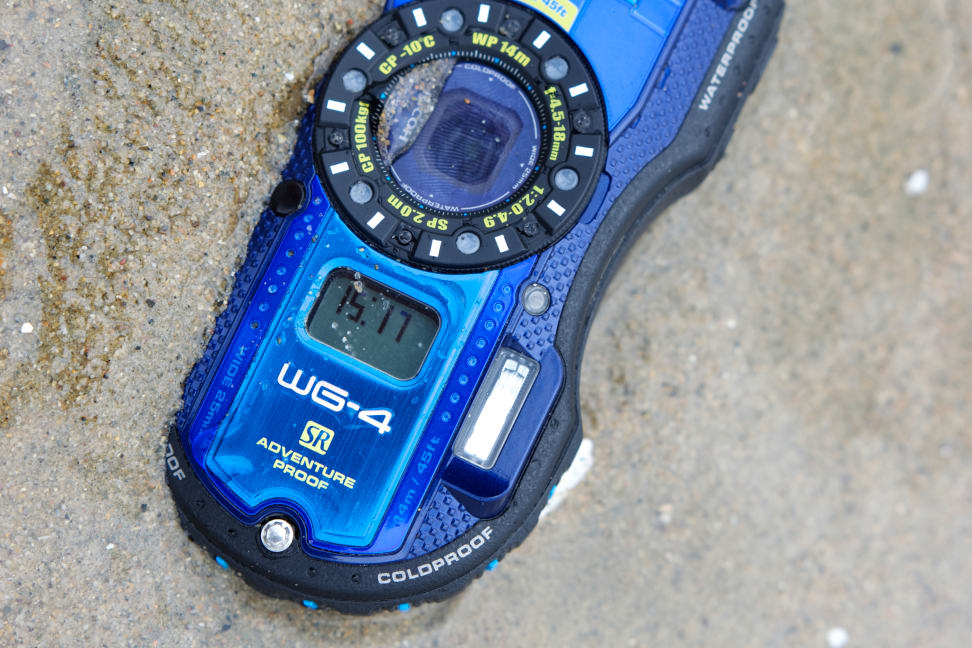 The WG-4 sports some very decent durability specs: it's shockproof to 6.5 feet, waterproof to 45.9 feet, crushproof to 220 lb of force and even rated to be functional below freezing. While it isn't the best in any of these areas, the WG-4 seems like it'll handle most anything that you could throw at it, from camping to the pool.
Swinging back to the negative column for a second, though, we have to address the poor battery life. Yes, you can top off your charge using any old USB charger, saving you from having to pack an extra charger on vacation. While it's plenty convenient, the WG-4 is rated for only 200 shots by CIPA—and perhaps less with the GPS on. With battery life that poor, you'll probably want to pick up an extra battery—at which point you'd probably actually prefer an external charger so you can shoot with the camera while charging up a second pack.
Performance
Very little improvement to speak of
In our labs, the only emotion the WG-4 elicited was "meh." Since its lens and sensor are the same as last year's WG-3, there was was only a slight change in image quality that's likely due to software and sample variation more than anything else. We found that its 16-megapixel BSI CMOS sensor held up to most of the competition, but it failed to set Ricoh apart from its peers.
Out of all the cameras in our 2014 Waterproof Roundup, the WG-4 did have the best color accuracy with a ∆C00 (corrected) score of 2.25 and a tasteful 113.10% saturation. Anything 2.2 or lower is great in this test, and most of the Ricoh's peers were at 2.5 or higher. White balance was okay, though we found some competitors better managed different lighting conditions—especially indoors.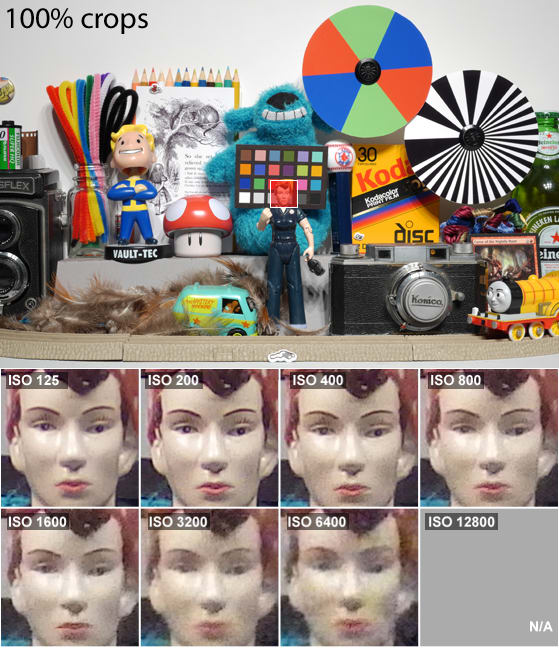 Perhaps the most interesting results came in our resolution testing. The WG-4 has basically the same 4x f/2.0 lens as the Olympus TG-3, but the results were very different. The TG-3 produced better-looking shots thanks to its aggressive processing. The Ricoh could have gained some easy sharpness by using more aggressive sharpening in its JPEG engine, but held off. The photos look more natural, but outside of the center of the frame details look very soft.
The biggest complaint we have after testing it, however, is that this camera is just plain slow. It's slow to operate, slow to turn on, and slow to react when you need it to. In our burst shooting test is only managed 1.5 frames per second at full resolution, with just a 5-megapixel, 15fps burst mode to make up for it. It's funny that a camera designed to withstand the cold would be so glacially slow in use. Start up and shut down times feel way too long, and autofocus takes a while to find the right subject (if it even finds it at all). It's not the end of the world, but compared to some of its peers the WG-4 can be frustrating to use.
Want to read more in-depth results from the WG-4's time in our labs? Head over to our Science Page to read more about how the WG-4 performed in all our tests.
Conclusion
Unique though it may be, it's not remotely the best tough option.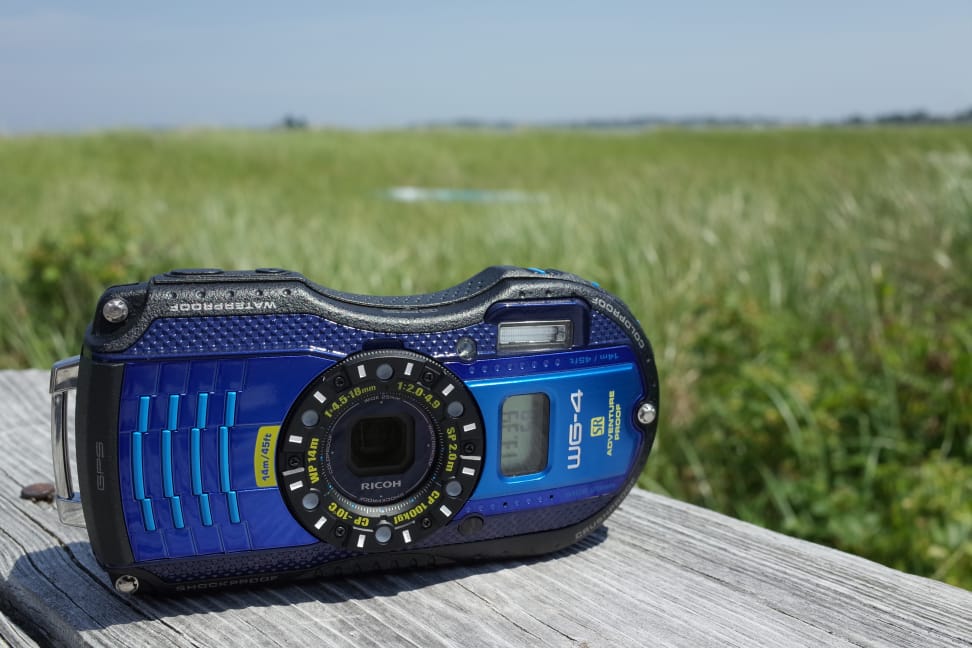 Let's face it—the WG-4 isn't a complete overhaul of the only-okay WG-3. We knew that from the start. But, we still expected a little bit of a year-over-year improvement at the very least. It simply doesn't do enough keep up with excellent cameras like the terrific Olympus Tough TG-3 in image quality or connectivity. With a street price of around $280 it's cheaper, but not by that much.
If you can't afford an Olympus TG-3 (they are around $350, after all) then you might want to look into a few other options in the tough camera world. If you really like what the WG-4 offers then we recommend picking up last year's WG-3. We've seen them going for under $230 and you'll get all the same functionality as the Ricoh-branded successor. There's also the Nikon AW120, which loses the macro ability but is a better all-around performer for $300.
With the compact camera market imploding we can't expect companies to make significant investments in point-and-shoots, but a little improvement is called for.
Tweet It
It's been three years since Ricoh bought Pentax, and it's clear that this relationship is just starting to pay dividends in some areas, but there's a noticeable lack of investment in the WG series. With the compact camera market imploding we can't expect companies to make significant investments in point-and-shoots, but a little improvement is certainly called for. And with Canon, Nikon, and Olympus all putting out improved waterproof cameras this year, another year of stagnation may leave Ricoh struggling to catch up.
Our editors review and recommend products to help you buy the stuff you need. If you make a purchase by clicking one of our links, we may earn a small share of the revenue. Our picks and opinions are independent from any business incentives.
Our editors review and recommend products to help you buy the stuff you need. If you make a purchase by clicking one of our links, we may earn a small share of the revenue. Our picks and opinions are independent from any business incentives.
Advertisement - Continue Reading Below
Compare Prices
Our editors review and recommend products to help you buy the stuff you need. If you make a purchase by clicking one of our links, we may earn a small share of the revenue. Our picks and opinions are independent from any business incentives.
Advertisement - Continue Reading Below
Get Our Newsletter
Real advice from real experts. Sign up for our newsletter
Thanks for signing up!