Design & Usability
The Pentax Q10's design is centered around that 12.4-megapixel 1/2.3'' image sensor, which allows the body and lens combination to remain quite compact. The camera also sports an improved grip, with just enough of a protrusion to allow the user to keep hold of the camera with one hand.
The overall design of the Q10 is actually quite similar to the Q, with a practically identical top plate. Up there, users will find the usual shooting mode dial and multi-purpose control dial. The compact size doesn't inhibit usability to any great degree, with a number of customizable functions in addition to the nifty four-position Quick-Dial on the front of the camera.
The Q10's biggest advantage over other interchangeable lens cameras is its truly miniscule lenses. The Q series now features six Pentax lenses, with a standard prime, standard zoom, telephoto zoom, fish-eye, and two "toy" lenses. It's not going to appeal to most prosumers or professionals, but those looking for a fun, compact alternative may certainly be drawn to the Q10.
Features
While the Q10 features a newly-designed sensor, small 1/2.3'' sensors typically produce a higher degree of noise than what you'd get from a DSLR, or even a compact mirrorless system like Micro Four Thirds. The Q10 combats this with improved processing including a "new algorithm" for developing images, according to Pentax's press materials. Given the middling performance we saw in our Pentax Q review, we hope that's the case.
The Pentax Q10 offers almost all the software features you could ask for from a full-size DSLR, including interval, time lapse, HDR, and full manual shooting. The camera also offers RAW shooting, fairly quick autofocus, focus peaking, and a continuous shooting rate of 5 frames per second.
In general the Q10 feels much snappier than the original Q did, though it does have a fairly restrictive buffer. While 5fps is fast, the Q10 can only function at that speed for exactly 5 shots before slowing down to around one shot per second. That's disappointing, as the Nikon J1—at roughly the same price and only a slightly larger size—offers 60fps capture for closer to 30 frames in a single burst.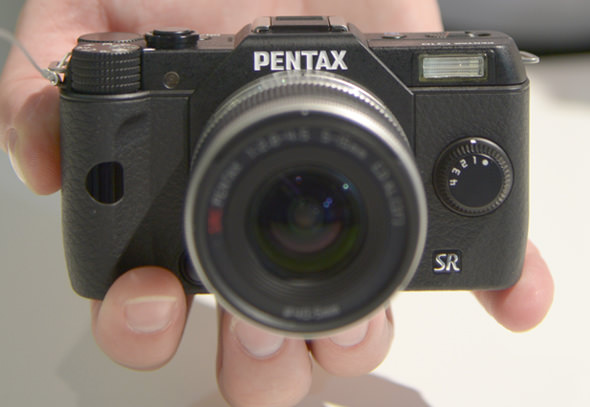 Advertisement - Continue Reading Below
Conclusion
The Q10 is billed by Pentax as a hybrid interchangeable lens camera. With a point-and-shoot body and swappable lenses, it's certainly on the extreme end of the "compact interchangeable lens" camera spectrum. Unfortunately, that point-and-shoot-size body also comes with a point-and-shoot-size sensor—rarely a recipe for the DSLR-like image quality that Pentax promises.
It remains to be seen how much Pentax has been able to improve the image quality over last year's Pentax Q, but the camera has some serious competition in the form of the Nikon J1. The J1 has a larger 1-inch sensor that has roughly four times the imaging area of the Q, while offering a similar price and, as we stated above, a superior burst mode (though it's certainly lacking in the manual control department).
The Q10 still has size over all others, though, and we're eager to see if Pentax can deliver on its promise of improved image performance this time around. While the Q10's price puts it up against heavy hitters like the Sony NEX-F3, its size puts it in a tiny hybrid class all of its own. Whether that's a class you want to attend, however, will largely depend on how it performs when we get it into our labs.
Introduction
The Pentax Q10 is the second model to be released under the company's flag of truly compact interchangeable lens cameras. The Q10 features a 12.4-megapixel 1/2.3'' image sensor, improved grip, and the same menu system seen on full-size Pentax DSLRs.
The Q10's main calling card is its incredibly small size, which is certainly true as the camera can almost fit entirely behind an actual calling card. Those looking for a truly pocketable interchangeable lens camera will want to take a good look at the Q and its lilliputian lenses. That size comes at a price, though, as that 1/2.3'' image sensor is the same type you'd typically see in a cheap fixed-lens compact camera, rather than one with interchangeable lenses. At $599.95 for the body and a standard zoom lens, that's a lot to pay for a camera sporting a sensor no bigger than your standard point-and-shoot.
Our editors review and recommend products to help you buy the stuff you need. If you make a purchase by clicking one of our links, we may earn a small share of the revenue. Our picks and opinions are independent from any business incentives.