cameras
Pentax K-50 Digital Camera Review
Everything that makes the Pentax system great, now at a lower price
$427.89 at Amazon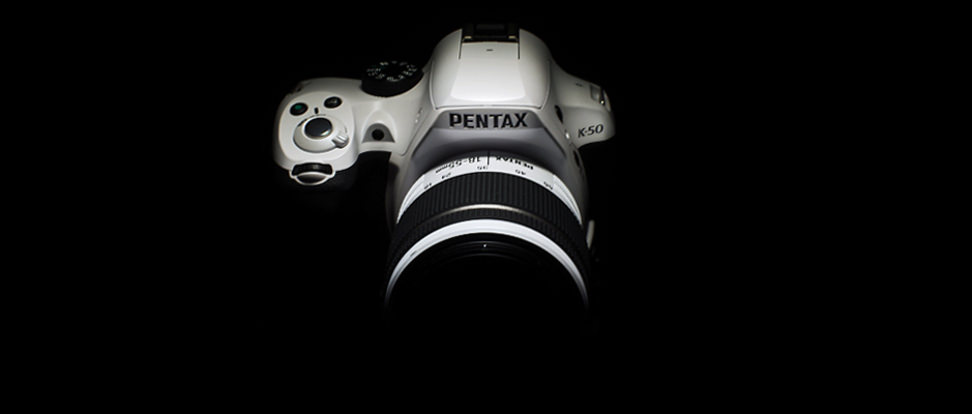 Since the early days of digital, Pentax DSLRs have had a reputation for providing great value. The company has always made a point of equipping its consumer-oriented cameras with features the bigger manufacturers reserve for their flagships, at prices a cut below rivals in the same class.
It's an impression that was reaffirmed by last year's K-30, which brought much of the power and versatility of the flagship K-5—including weather sealing, in-body shake reduction, and a dual control dial setup—down to a more consumer-friendly price point. This year's refresh finds Pentax in a technological holding pattern, but the value proposition has only improved. The new Pentax K-50 (MSRP $699.95) is essentially unchanged from its predecessor, but Pentax somehow managed to cut the price by $150.
Aside from a couple marginal spec bumps, the most noticeable differences are found in the K-50's appearance. The K-30's radical (for a DSLR, anyway) angular looks have been replaced with a more traditional, rounded appearance. But the K-50 still stands out: You can get the camera in a dazzling array of 120 custom color combinations. Trust us, you simply haven't lived until you've shot with a yellow-and-lilac DSLR.
Design & Handling
Less aggressive, but no less eye-catching
The K-30 was a distinctive DSLR—one you could easily pick out of a crowd of gaffer-taped cameras thanks to its dimpled leather accents, raked prism hump, and profusion of odd angles.
You aren't likely to overlook the K-50, either, but not for the same reasons. The new camera ditches the K-30's aggressive styling in favor of gentler, friendlier, rounded corners, but there's an ace up its sleeve: a total of 120 possible color combinations available at no extra cost. It's a trick Pentax had pulled earlier with its Q10 mirrorless camera, but a first for a DSLR. We think it's pretty darn cool, but some might not want to wait the 4-6 weeks it'll take for the customized cameras to arrive from Japan.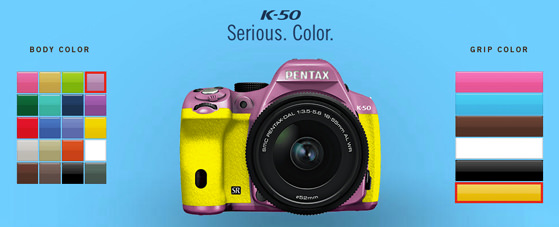 In terms of functionality, there's little difference between the K-30 and K-50. All of the buttons and dials are still in the same places. You still get dual e-dials, as well as dedicated keys for eight vital shooting functions (including EV compensation, ISO, white balance, and self-timer/drive mode). You also get the customary live view toggle and a physical switch for autofocus modes, but there's still no direct video recording hotkey (perhaps a sign of the company's shame at its video performance).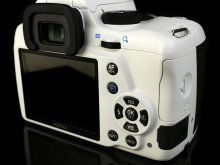 The K-50 doesn't have the most customizable controls in the world, but you can set the left-side RAW/Fx button to control one of six different settings (it defaults to changing the file format), and you can make small adjustments to the behavior of the AF/AE-Lock button. Like all of Pentax's current DSLRs, the K-50 also has a couple of customizable user modes—a feature not often seen on low- and mid-tier cameras.
All of the controls feel great. Pentax has been using the same components for the better part of a decade now, and they've been refined nearly to the point of perfection. The buttons are elevated just enough from the body to be easily located without looking, the four directional keys have a thin lip to distinguish them, and the shutter button is just as good as the one on the K-5 and K-5 II.
The grip is sculpted to fit your middle finger, letting your index finger fall on the shutter release and your thumb on the bare but roomy rear grip. It's a grip that's natural and comfortable, making the camera feel like a natural extension of your arm. That's something not many DSLRs and mirrorless models get right. As Hasselblad would say, it's a camera you can "just hold for hours."
Features
The K-50 punches above its weight—except where it doesn't
If you've used a K-30 or even read its spec sheet, you pretty much know what you're getting with the K-50. In its guts are a variant of the now-commonplace Sony 16.3-megapixel CMOS image sensor, Pentax's PRIME M processing engine, and the K-30's SAFOX IXi+ autofocus module. The K-50 gets an extra stop of sensitivity over the older model, now maxing out at ISO 51200. In our experience, it's totally worthless (so is ISO 25600, for that matter)—clearly the product of extreme signal amplification, the output looks awful and should be avoided at all costs.
Like its stablemates, the K-50 offers a number of features you don't typically see on inexpensive DSLRs. The first one you'll probably notice is the large, bright, and clear 100% coverage pentaprism viewfinder. It's truly WYSIWYG, meaning you won't be surprised by any unexpected objects at the edges of your shots when you sit down to edit them. Also important is the K-50's full weather sealing. You shouldn't go swimming with this camera, but it can survive a heavy rain shower without complaint.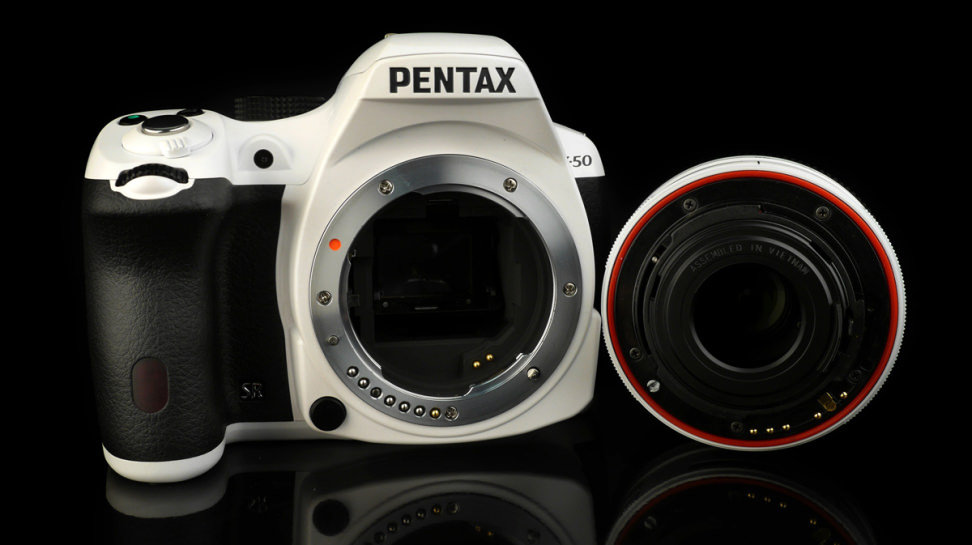 When it was first released, the K-30 didn't include a weather sealed lens. That struck a lot of people as strange—shipping a sealed camera with an unprotected lens is like boarding up your windows for a hurricane and leaving the front door wide open. It looks like Pentax has learned from its past mistakes, because the K-50 ships with a new DA-L 18-55mm WR lens when you opt for the kit (MSRP $779.95 in this configuration). Alternatively, you can buy the camera body-only and pick up another WR lens—like the consumer-oriented DA 18-135mm WR—or any of the company's excellent DA* primes and zooms.
Any lens you mount on the camera (including old Pentax K-mount and M42 screwmount manual focus glass) gains between 2.5 and 4 stops of image stabilization.
The K-50 also benefits from Pentax's trusty sensor-based shake reduction. Any lens you mount on the camera (including old Pentax K-mount and M42 screwmount manual focus glass) gains between 2.5 and 4 stops of image stabilization, meaning you can shoot with an aperture setting four clicks narrower or a shutter speed four clicks slower and still get blur-free images. As you can imagine, it's a great help when in dim shooting conditions.
If you don't mind laying out an extra $40, you can pick up an optional AA battery holder, which neatly slips into the space normally occupied by the lithium-ion cell. For travel in remote and/or foreign lands, having a AA power option can be a real lifesaver, but we think most users might have preferred a slightly larger proprietary battery. The K-50's battery life is reasonable (480 shots on a charge), but we're haunted by the knowledge that the chamber could have easily accommodated the K-5 II's 980-shot cell if it didn't have to make room for the AA holder.
If we could magically add one more feature to the K-50's spec sheet, it'd be a tilting touchscreen. Sure, we scoffed at early attempts to touchify cameras, but in our defense they were generally awful. Times change, and recent implementations from Olympus, Samsung, and Panasonic have made great strides in usability; tap-to-focus in particular is an absolute godsend in some circumstances. With any luck, Pentax will finally see fit to include it in the inevitable K-3.
Comparable Products
Before you buy the Pentax K-50, take a look at these other interchangeable lens cameras.
Performance
Great-looking JPEGs and extremely malleable RAWs
We've seen it time and again over the past couple years, and the results with the K-50 are no different: the 16.3-megapixel Sony CMOS sensor remains a high water mark for the APS-C class, providing oodles of dynamic range and keeping noise well under control up through ISO 1600. RAW shooters in particular can get a lot out of this sensor—you can easily recover between three and five stops of shadow detail at low ISO settings, though highlights are pretty easily blown out.
JPEGs straight out of the camera look great, with punchy contrast and sharp details. That said, we're a little disappointed that Pentax continues to default to the Bright color mode, since it goes way overboard with saturation and doesn't provide particularly good color fidelity. If you want more realistic results, we strongly recommend switching to the Natural color profile—its saturation is within spitting distance of perfect, and its color accuracy is great. We also noticed that there's a lot of noise reduction in the shadows, which may affect JPEG dynamic range potential when post-processing. If you plan to make big exposure adjustments in Photoshop, shoot RAW.
One area where the K-50 showed notable improvement over the K-30 was white balance. The camera's automatic white balance algorithm is extremely reliable, with nearly perfect results under compact white fluorescent bulbs and simulated daylight. Like most cameras, it struggles under incandescents, but it does a better job than most—particularly when you enable strong AWB correction under tungsten light (option 10 in the custom menu). Custom white balance settings were actually less reliable than AWB, but still completely acceptable.
The K-50's autofocus is just as effective as the K-30's, which is to say that it's quick and accurate in good light, and slow and accurate in dim light.
The K-50's autofocus is just as effective as the K-30's, which is to say that it's quick and accurate in good light, and slow and accurate in dim light. Tracking moving objects is possible, but there's no question that you'll get a lot more usable shots of moving targets from the more advanced AF systems in the latest Nikon and Canon DSLRs. As usual, the screw-driven kit lens makes an awful racket when focusing, compared to its Nikon and Canon counterparts.
Pentax has never done a great job with moving images, and the K-50 is an unsurprisingly mediocre video camera. Movie clips were soft, we saw obvious image artifacts even in good light, and there was ample trailing at the maximum framerate of 30 fps. Artifacts and visible noise became much more prevalent in low light, though videos didn't get any softer. The K-50's one video-related saving grace it's that it's pretty sensitive; we managed to get a broadcast-ready image with just 11 lux of ambient illumination when using the 18-55mm kit lens.
Conclusion
An enthusiast camera at an entry-level price
If you're prone to pessimism, it's tempting to view the K-50 as a disappointingly stagnant release—really little more than a warmed-over, rounded-off, multi-hued K-30. Where's the innovation, Pentax? How many times can you release a slight variation on the K-5 formula? Where's our tilting touchscreen? Where are our jetpacks?
But in reality, the K-30 was an excellent camera, and a great deal at its $850 launch price. The K-50 is $150 cheaper, and your $700 still gets you highly competitive image quality, full weather and dust sealing, excellent build quality, and a refined control scheme that should give any aspiring photographer plenty of room to grow. The K-50 is also one of the most comfortable DSLRs we've used. That's something we've come to expect from Pentax, and an important factor that many camera shoppers don't weight heavily enough.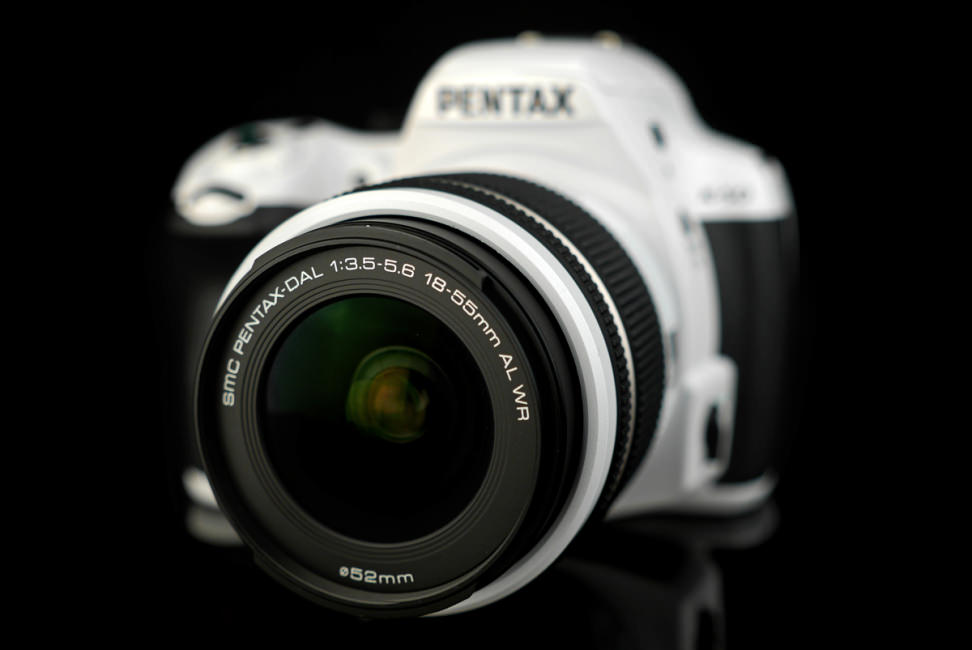 What you won't get from the K-50 is world-class low-light and tracking autofocus, impressive video quality, or access to Canon and Nikon's larger families of exotic lenses. If you really want or need those things, you'll either have to pay more for a camera like the Nikon D7100, or be prepared to give up some of the features the K-50 provides if you go with a similarly priced option like the Canon Rebel SL1.
One thing is clear: If you want a DSLR with a lot of features and manual controls, but don't want to spend a ton of money, you should be looking at Pentax.
Really, there are only a couple DSLR options that rival the K-50 at or below its price point, and most come from Pentax itself. The K-30 is currently nearing fire sale pricing, while the new K-500 (announced alongside the K-50) is essentially the same camera, minus the weather sealing and body color options. Both are being offered at $599.95.
If the K-50 appeals to you, we'd strongly recommend picking up a K-30 while they're still in stock. But that said, the K-50 will only become a better bargain as time goes on. Regardless of which camera you end up with, one thing is clear: If you want a DSLR with a lot of features and manual controls, but don't want to spend a ton of money, you should be looking at Pentax.
Our editors review and recommend products to help you buy the stuff you need. If you make a purchase by clicking one of our links, we may earn a small share of the revenue. Our picks and opinions are independent from any business incentives.