cameras
Olympus OM-D E-M5 Review
The OM-D E-M5 brings back the hallowed OM line of Olympus's compact SLRs.
$649.99 at Amazon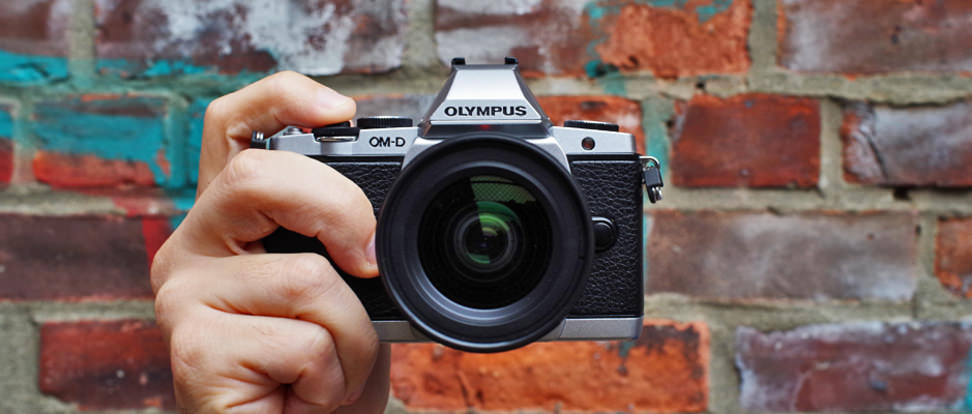 The OM-D E-M5 harks back to the hallowed OM line of Olympus's film SLRs with a design that calls directly on the spirit of the original OM-1, released circa 1972. But the E-M5 is a Micro Four Thirds camera, sporting a new Live MOS image sensor, an electronic viewfinder, a tilting touchscreen OLED display, and a weather-sealed body.
That retro-inspired design is undeniably the E-M5's hallmark feature, making it look like something straight out of your father's closet. Picking up the E-M5, you half expect to find a fine layer of dust on top. But look again—the OM-D E-M5 is a contemporary mirrorless powerhouse. We're guessing that this well-built device will have solid image quality to back its timeless good looks, but we'll have to put it through some scientific tests to find out for sure.
Design & Usability
The retro design of the Olympus OM-D should appeal to enthusiast photographers, but its more modern conveniences will turn heads too.
Unlike today's smooth, modern camera designs, the E-M5's look mirrors the archetypical 70s film SLRs, which were highlighted by all-metal bodies with angular lines and leatherette grips. This Olympus is pleasant to hold, with a reasonably large grip, but in its slavish devotion to classic aesthetics stops short of the comparably massive protrusions you find on modern designs like the Sony NEX-7 or Panasonic GH3.
The E-M5's look mirrors the archetypical 70s film SLRs.
When you pick up the Olympus E-M5, it's a little surprising how light the camera actually is. With a body made almost entirely of magnesium alloy, you'd think that it would weigh more than 15 ounces with battery and memory card. On the ergonomic front, our one serious complaint is the feel of the buttons, which have an extended travel—likely owing to the rubber seals that keep moisture and dust out. But other weather-sealed cameras don't have this issue, so maybe it's just a rookie error on Olympus's part.
Otherwise, the E-M5's body is well-designed. The controls are smartly laid out, with plenty of customization and manual control. Despite the OM heritage, the menu and controls most closely resemble the Olympus PEN Micro Four Thirds cameras. This provides the incredible level of control that PEN cameras are known for, but it also saddles the E-M5 with a byzantine mess of a menu.
Features
The E-M5's biggest appeal is its hardware, but it offers ample of control for all kinds of users.
Many new compact system cameras are designed to appeal to current point-and-shoot users, but the E-M5 is part of a new class of cameras that aims to snag the attention of old-school photo enthusiasts. The use of the legendary OM name is a clear statement of purpose, but it doesn't mean the E-M5 behaves like a retro camera; it has all the conveniences that today's best compact system cameras offer.
Its tracking and predictive skills are pretty limited, but for subjects that aren't moving quickly, the E-M5 is capable of fast, accurate focus acquisition even in low light.
In shooting with the OM-D E-M5, the most obvious advance over other compact system cameras is autofocus speed. Even indoors, in low light, the E-M5 blazes, quickly locking onto subjects. It's a contrast-detection autofocus system, so its tracking and predictive skills are pretty limited, but for subjects that aren't moving quickly, the E-M5 is more than capable of fast, accurate focus acquisition.
The E-M5 is more than a one-trick pony, though—it also offers an electronic viewfinder, an articulated OLED touchscreen, and dual control dials. That provides the kind of control and flexibility that will allow you to comfortably leave the DSLR at home, and yet not lose a step.
Full weather sealing means you can take the OM-D out in a heavy rainstorm, shoot poolside, or roam the desert without worry of water or dust sneaking inside. Though there are only two weather-sealed lenses in the Olympus stable at the moment, we have to imagine more are on the way. An optional two-part grip provides chunkier ergonomics for those who need them, as well as a portrait mode shutter button.
Comparable Products
Before you buy the Olympus OM-D E-M5, take a look at these other interchangeable lens cameras.
Performance
Olympus has finally upgraded the sensor in their compact system cameras, and the OM-D E-M5 is the major beneficiary.
The E-M5's new 16-megapixel sensor offers a big performance upgrade. This is a massive step forward for Olympus, as the aging sensor in their PEN series was beginning to look very dated. When you're already competing with larger APS-C sensors, you don't want to get stuck using three-year-old sensor technology.
The E-M5 shows improvement across the board, especially in terms of dynamic range and high ISO shooting.
In our performance lab tests, it's clear that the move was advantageous; the E-M5 shows improvement across the board, especially in terms of dynamic range and high ISO shooting. The new sensor is supposedly manufactured by Sony and it's clear that it shares many characteristics with the stellar 16-megapixel APS-C sensor used in the Sony NEX-5N, Nikon D7000, and Pentax K-5.
Don't give Sony all the credit, though, because Olympus has improved in-camera processing, too. The results are phenomenal: sharp images, low noise, acceptable dynamic range, and decent color accuracy. The E-M5 is quite speedy, complementing its incredibly fast autofocus speed with continuous shooting at up to 8.5 frames per second. This lags a little behind the 10 fps of the Sony NEX-7, but it's faster than Panasonic's flagship GH3.
The E-M5 is also capable of capturing 1080/30p video, and we found that the camera's motion rendition was superb. Videos had great clarity, little ghosting, and few instances of visible artifacting. We did notice some trailing around our test rig's monochrome pinwheel, though. It seems that the E-M5's use of pixel binning to downsample the video signal to an HD picture creates loads of moire in any high-frequency pattern. This is very distracting, so serious video enthusiasts may want to consider the Panasonic GH3 instead. On the other hand, the new five-axis sensor-shift stabilization is especially useful in video mode, providing almost steadicam-like behavior.
Conclusion
The E-M5 is an excellent camera with eye-catching retro flair, and it accomplishes most of what it sets out to do.
It hasn't taken Olympus long to work their way into our hearts with their retro-inspired compact system lineup. The PEN series was well-received not only for its styling, but for its image quality and usability as well. Olympus saw a gap at the top of their product line, and their OM-D E-M5 is here to answer a question: What would happen if you stuffed modern digital guts into a 1970s compact SLR body?
The E-M5 is the first of a new OM-D line, a direct descendant of the old OM film line. It features many of the same components and controls as the PEN E-P3, but with a great electronic viewfinder, a mostly magnesium alloy body, a brand-new image sensor, and weather sealing that can stand up to rain, wind, and dust. The 16-megapixel sensor in particular is a huge leap forward, providing dramatically improved image quality at high ISOs—a serious performance issue with the older 12-megapixel PEN cameras.
This camera can finally compete with most DSLRs under $1,000. True, the E-M5 isn't setting any new performance benchmarks in a category filled with larger APS-C sensors, but we'd no longer warn you off this camera, especially given its astonishing speed. It averaged a little over 8.5 fps, with its best shot-to-shot time touching 10.5 fps territory at full resolution. The E-M5 is also quick to focus, even in limited light, so you spend less time fretting over out-of-focus shots. In fact, though the Sony NEX-7 beat the E-M5 for pure speed, the E-M5 was a better shooter for action overall, thanks to its superior focus performance.
It's not the best mirrorless model on market, but it may be the most fun to use.
Still, the OM-D E-M5's appeal goes beyond spreadsheets and lab results. Even with its occasionally frustrating interface, it's a thoroughly satisfying camera to shoot with. It's a device for people who honestly love photography, and its retro-inspired design is, as we thought when we first saw the camera, a Delorean kicked straight up to 88. It's a responsive camera that checks all the major boxes, even if it leaves some minor ones annoyingly blank. It's not the best mirrorless model on market, but it may be the most fun to use.
Editor's Note:
When we initially tested the OM-D E-M5 we noted its improved performance over previous Olympus Micro Four Thirds cameras, though we were troubled by the camera's inconsistency in our lab tests. Ultimately it wound up with a rather low score, though we were big enough fans that we named it among our best cameras in 2012 anyway.
After seeing the same sensor and processing combination in Olympus's recent MFT bodies like the E-P5 and E-PL5, we revisited the OM-D's scores and found that the initial results weren't at the same performance level. Fearing some sample variation, we elected to re-test and re-score a different unit, resulting in a much higher score that better reflects our opinion of the camera. While we fully stand by the content of this review, we regret the error and have re-scored the OM-D based on this new analysis.
Our editors review and recommend products to help you buy the stuff you need. If you make a purchase by clicking one of our links, we may earn a small share of the revenue. Our picks and opinions are independent from any business incentives.