cameras
Olympus OM-D E-M10 Digital Camera Review
...and baby OM-D makes three.
2013 was a banner year for mirrorless cameras, even if sales figures didn't reflect it. Fujifilm went downmarket with its X-M1 and X-A1. Sony made a splash with the much-hyped A7 full-frame models. Panasonic even stepped up its game with the tiny GM1 and sophisticated GX7. There are so many solid choices out there right now, you'd be hard-pressed to find a mirrorless camera for more than $700 that isn't worth every penny.
Out of all the mirrorless manufacturers, Olympus might have had the most successful 2013. Fresh off the acclaim of the original OM-D E-M5, Olympus iterated on its PEN lineup to feature the same great 16-megapixel sensor across all models. But Oly didn't stop there: The OM-D E-M1 proved that the Micro Four Thirds format was good enough for advanced users and pros. The E-M1 was so darn good that it won our Camera of the Year award last year.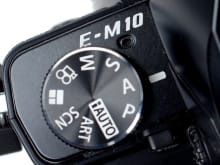 You might think that Olympus would be taking a well-earned respite at this point, sending its engineers on a vacation somewhere balmy to soak up the sun and sip a few cocktails. But you'd be wrong. If the new OM-D E-M10 (MSRP $699.99 body-only) is any indication, Olympus is gearing up for a busy 2014.
Even though this new Micro Four Thirds body isn't a successor to the now-legendary OM-D E-M5, it marks the halfway point between PEN and OM-D. While the E-M10 features the build quality we've come to expect from the top-end Olympus cameras, it's also been slightly de-contented to reach a surprisingly reasonable price point.
Editor's Note: The E-M10 we tested is a production-ready piece of hardware, running firmware 1.0. Even though we weren't able to develop RAW files or test the built-in WiFi (this model is incompatible with the app version currently available on iOS and Android), the review unit itself was fully functional.
Video Review
Design & Handling
An attractive new take on a successful formula
Even though the original OM-D was a good camera, in hindsight, some things definitely needed improvement. These (relatively minor) sins of the father are quickly forgotten when you start to use the new E-M10. It's more svelte, more responsive, and, to our eyes, even more beautiful than the E-M5.
Since this OM-D isn't weather-sealed, its buttons and controls aren't doughy and squishy like the E-M5's. Instead, every single control is snappy and responsive, the way it should be.
The build quality of this new OM-D doesn't disappoint. It's metal on the top and bottom plates, with a metal faux-pentaprism. Unlike the previous two OM-D models, the E-M10 finally brings a pop-up flash packed inside the viewfinder hump. Because of the flash, Olympus has done away with the AP-2 port that was found on both the E-M1 and E-M5. Since the only other useful accessory you might add on with the AP-2 port is an electronic viewfinder (sorry, Olympus PenPal fans), which the E-M10 already has, you probably won't even notice it's gone.
The tilting touchscreen comes straight from the E-M1, going the conventional LCD route rather than using the OLED solution Olympus included in the E-M5. This display's contrast isn't as impressive as what an OLED panel can manage, but the increased pixel density makes it look significantly crisper in comparison.
If you're accustomed to either of the current OM-D cameras, the E-M10 might bring a few disappointments. Since it's a lower-cost camera, it's a little more like a PEN in a few ways. For instance, it's the first OM-D to not have a separate SD card flap, stowing memory alongside the battery. That battery is also straight from the PEN models, shared by the E-PM2 and E-PL5.
The only lingering ergonomic quirk from the E-M5's design is the location of the power switch. It's still a flat toggle that swings up. You'll likely need your other hand on the camera in order to turn the E-M10 on, since it's hard to maintain a tight grip on the camera while moving your thumb down to the power switch.
When it comes to the user interface, well... we still can't fathom why Olympus hasn't developed a simpler menu system. While powerful in its depth and breadth, the convoluted and vaguely described maze of options underlying the top menu can be a real stumbling block for beginners.
Olympus cameras are highly customizable: From dial direction to MySets you can really set up the camera to your liking and keep it that way. But with that said, you'll want to Google search for how to turn on the Super Control Panel before really taking the E-M10 out in the real world. (Cheat sheet: It's in D. Display, under Camera Control Settings.)
Features
Basically everything you'd want from an OM-D
Even though top-tier features like weather sealing and five-axis image stabilization have been excised from the E-M10, there's still plenty to love. Based around the sensor we've come to know and love in the original E-M5, E-P5, E-PL5, and E-PM2, the E-M10 arrives ready to take excellent photos.
There's still an anti-aliasing filter on this sensor, and you only get contrast-detect autofocus, but it's as responsive as ever. If you want an Olympus camera with a filterless sensor and phase-detection pixels, you'll have to pay almost twice as much to buy the E-M1.
The three-axis image stabilization used in the E-M10 might not be as adaptable as the impressive five-axis variety found in previous OM-Ds (and the PEN E-P5), but it still compensates for pitch, yaw, and roll. In our own stabilization research, we've found that given human physiology and the way we tend to hold cameras, it's unlikely that the lack of horizontal and vertical shift will cause a huge difference in stabilization performance.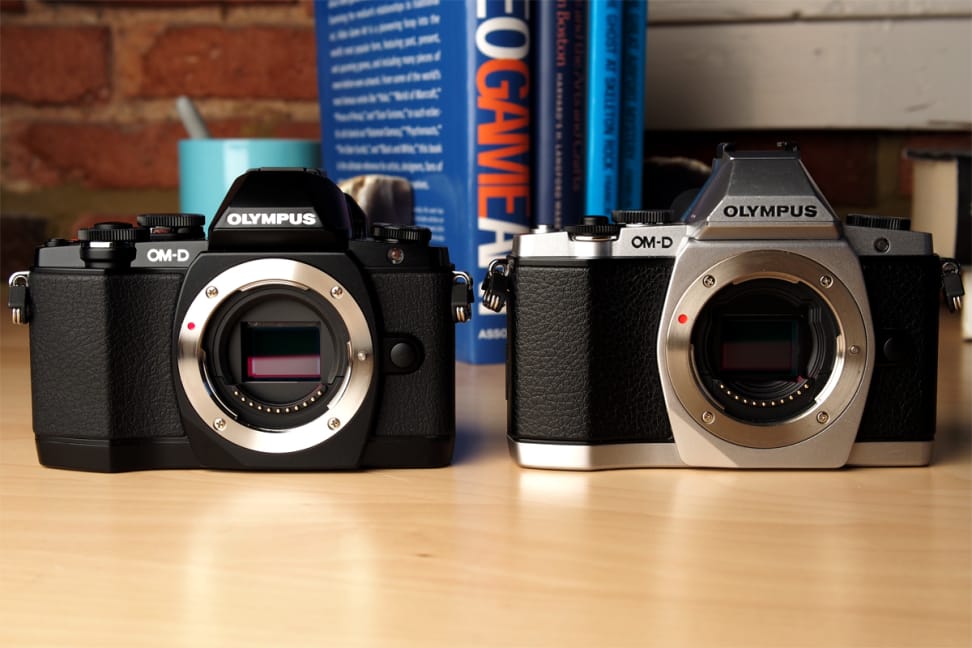 Another key ingredient in the OM-D recipe is a high-quality electronic viewfinder. Here, Olympus has recycled the EVF from the E-M5. Even though we've seen higher-resolution displays in more recent cameras (like Olympus's own E-M1 and VF-4 add-on), this one fits the bill nicely. Featuring 1.44 million pixels, the E-M10's EVF is responsive and crisp, exhibiting only minor stuttering.
E-M5 owners should note that a firmware update is on the way to enable focus peaking, bringing the original OM-D more in line with its new baby brother.
Tweet It
Based on the same zippy TruePic VII processor as the E-M1, the E-M10 feels just as fast as its stablemates. In the past year, we've never once complained about the speed of an Olympus. Since its software is more like the mac daddy OM-D E-M1, you get new features introduced with that camera. Photo Story mode is there on the mode dial, and focus peaking is also included. E-M5 owners should note that Olympus tells us a firmware update is on the way to enable focus peaking, bringing the original OM-D more in line with its new baby brother. (Ed. Note: We originally were told about this during our briefing on the E-M10. During the review process we reached out to Olympus reps to confirm this and they said that the E-M5 will not receive focus peaking in the next update, but it could be in a future release.)
Olympus may have skimped in a few areas in order to make the E-M10 less expensive than the other OM-Ds, but one thing they didn't leave out is high-end WiFi connectivity. While the E-M5 only offers EyeFi support, the E-M10 works out of the box with iOS and Android devices. While we weren't able to test the E-M10's WiFi capabilities (the publicly available app won't be compatible with the E-M10 until the camera officially launches), we've been generally impressed with Olympus's recent work in making connectivity fast and simple.
Announced alongside the E-M10 were two new lenses: the 25mm f/1.8 "normal" prime and a new 14-42mm f/3.6-5.6 power zoom. While the pancake zoom is an engineering marvel, we were absolutely smitten with the inexpensive new 25mm from Olympus. In the U.S., you'll be able to pick one up for only $399. We think that the 25mm is a terrific size and offers an extremely useful field of view (it's like a fast 50mm, in film terms) that pairs well with the E-M10.
Performance
Forget video: This OM-D is all about the stills.
Given this OM-D's substantial pedigree, we weren't surprised when we uncovered mostly positive results in both the lab and the field. Living up to its brand name and model designation, the E-M10 improves upon performance we saw from the E-M5 with some added zest from the E-M1's improved image processor.
The E-M10's 16-megapixel CMOS sensor remains a strong choice, putting out some really pleasing photos. Olympus continues to emphasize its excellent JPEG engine. As with previous PEN and OM-D cameras, this shooter's JPEGs deliver a unique look that, if you're using the less radical Natural or Muted color profiles, can please even the most ardent RAW-only shooters. And even though this version of the sensor includes an AA filter, we noticed no appreciable lack of sharpness when compared to the filter-less sensor in the E-M1.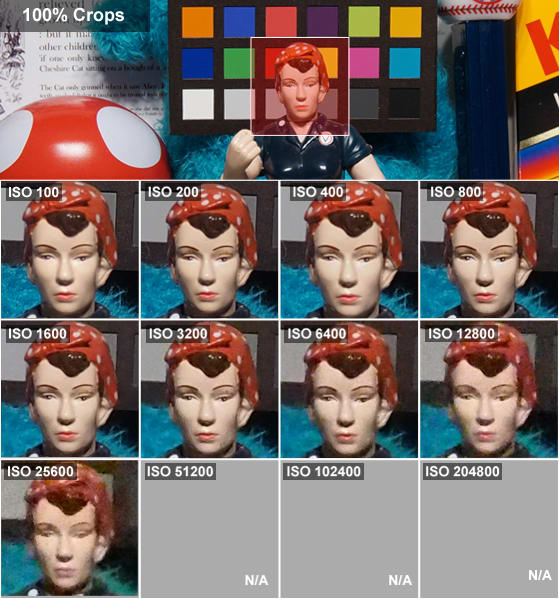 Olympus's noise reduction algorithm produces a highly usable range of sensitivities, even when the standard setting is left to do its thing. We found that while noise was well-controlled and detail remained intact up to ISO 6400, we could still see ugly chroma noise at that point. As such, we strongly recommend setting the E-M10's ISO Auto settings to max out at ISO 1600 for best results.
Continuous shooting is a cinch thanks to the inherited E-M1 processor. Olympus promises 8 frames per second in continuous shooting, and we found that the E-M10 delivered; we measured exactly 8 fps in our standard test. That puts it a bit below the E-M5, which gets closer to 9 fps, and the E-M1 (10 fps). In our test, the buffer filled up after capturing 20 JPEGs or 12 RAWs. But even if it's a slight disappointment compared to its stablemates, the E-M10 still comprehensively outpaces competing DSLRs like the Canon Rebel SL1, which can only squeeze out around 4 FPS when settings are just right.
As usual, there's one fly in the ointment: Video is little more than a token feature in the E-M10. Performance in our lab testing was passable, but we weren't impressed by the extras on offer. There's no mic jack, there's no headphone jack, and more egregiously, there's still no native 24p shooting mode. Those who are upset by these omissions might do well to consider buying a Panasonic Micro Four Thirds camera instead. If you're expecting Olympus to catch up to Panasonic any time soon, you're probably going to be disappointed—Olympus just doesn't have video in its DNA.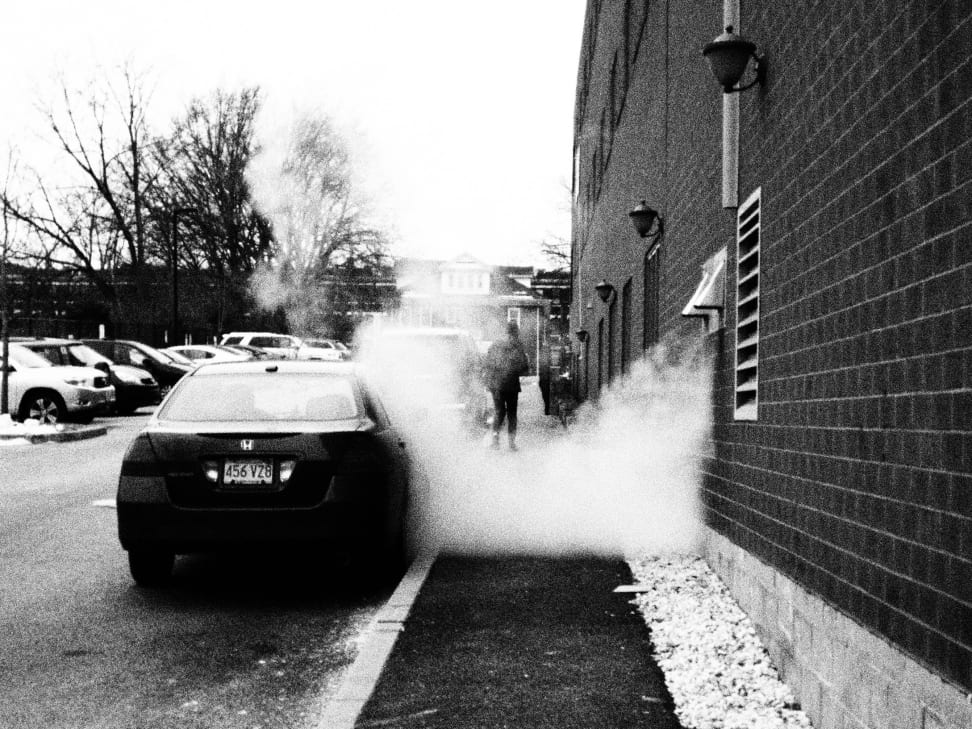 For a more in-depth look into some of the E-M10's imaging attributes, hop on over to our Science Page.
Editor's Note: As a reminder, our sample E-M10 shoots RAW (in ORF format, of course), but since Adobe Lightroom doesn't yet offer support for this camera, we weren't able to score the E-M10's dynamic range using RAW. We were, however, able to test for DR in JPEG and compare the results to other models featuring the same sensor, namely Olympus's E-PM2 and OM-D E-M5. We can infer from our previous tests that the E-M10 should deliver excellent results both on paper and in the real world. This sensor continues to be one of the best in any Micro Four Thirds camera available today. When Adobe support becomes available, we'll update our score to reflect our findings.
Conclusion
Olympus turns in a smartly packaged, well-priced camera.
When Olympus told us the price of the E-M10, we were a bit beside ourselves. On paper, $700 isn't a mindblowing deal, but holding the new OM-D in your hands is an entirely different proposition. This model feels every bit as premium as the other two OM-Ds, and the images you'll get from it are easily in the same league, too.
Olympus chose just the right features to pare down while keeping the OM-D experience completely intact.
Tweet It
We're glad that Olympus didn't cash out its brand reputation in order to slash costs like we saw Fujifilm do last year with the X-M1. Whereas Fuji charges $700 for that cheap-feeling (if high-performing) camera, Olympus chose just the right features to pare down while keeping the OM-D experience completely intact. This is exactly how you take a premium product and make it more accessible.
Unfortunately, the confluence of the low-end OM-D and the top-end PEN now makes shopping for a new Olympus a bit more difficult. The E-P5 recently fell to $799 body-only, and it offers five-axis IS and Olympus's innovative 2x2 control dial system. Those are features that could really give you a little bit more control when you need it. But keep in mind you'll need to spend nearly $300 to get an EVF for the PEN.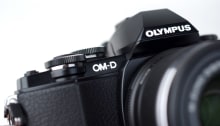 The original OM-D E-M5 is also around $799 body-only, which also is a heck of a deal for the full OM-D experience. You get the same EVF, the confidence of full weather sealing, and the option to add a neat battery grip for better ergonomics and extra runtime. The E-M10's less complex design relegates the SD card to the battery compartment, and it also doesn't have a connection port for a full battery grip.
If the lack of the aforementioned features doesn't turn you off, you can save $100 by going with the E-M10. For the right buyers, its more responsive controls, smaller proportions, and faster processor more than make up for the lack of weather sealing and those two other axes of image stabilization.
Our editors review and recommend products to help you buy the stuff you need. If you make a purchase by clicking one of our links, we may earn a small share of the revenue. Our picks and opinions are independent from any business incentives.
Our editors review and recommend products to help you buy the stuff you need. If you make a purchase by clicking one of our links, we may earn a small share of the revenue. Our picks and opinions are independent from any business incentives.
Advertisement - Continue Reading Below
Compare Prices
Our editors review and recommend products to help you buy the stuff you need. If you make a purchase by clicking one of our links, we may earn a small share of the revenue. Our picks and opinions are independent from any business incentives.
Advertisement - Continue Reading Below
Get Our Newsletter
Real advice from real experts. Sign up for our newsletter
Thanks for signing up!