Our First Take
At last year's CP+ trade show, Nikon introduced the Coolpix S31, a kid-friendly tuffcam that offered a smart combination of just-rugged-enough specs, just-good-enough image quality, and just-low-enough price. While it didn't stack up to true toughcams like the Coolpix AW110, it was certainly more than lifeproof enough for your 10-year-old.
This year's update ups the megapixel count, ups the toughness, and—yes—ups the asking price. But at a $120 list, we're still talking about a very affordable—some would say near-disposable—camera, and it's one that should serve its target audience far better than its predecessor.
Design & Usability
Light, bright, and loads of fun
At first glance, you'd be hard-pressed to pick out any differences between the Coolpix S32 and the older S31. But stare at the two cameras long enough and subtle changes in the design language become apparent: The new model is rounder, softer, and generally more toylike—crafted specifically to appeal to kids and their parents.
Compared to the S31, the new model is rounder, softer, and generally more toylike—crafted specifically to appeal to kids and their parents.
Tweet It
Still, the fundamental components are all the same, and all positioned in pretty much the same way. Up front there's the plastic-covered 3x zoom lens, surrounded by a shallow depression meant to give you more grip when shooting underwater. Arrayed around the lens are a thin flash, stereo mics, and an autofocus assist light. The top panel hosts the video recording and shutter release buttons, as well as the power switch.
The back side controls are unusually spartan for a modern camera. To the right of the 2.7-inch screen are a four-way pad and a playback button. To the left, you'll find a column of four unlabeled buttons whose functions (displayed on the screen itself) change depending on where you are in the camera's menu system. It's a slightly unintuitive system if you're used to the more locked-down controls of DSLRs and high-end compacts, but first-time users (who the S32 most appeals to) will probably feel right at home.
Features
A new sensor gives the S32 a new lease on life.
Great image quality wasn't the Coolpix S31's foremost concern, but the new S32 takes some serious strides toward improving your photos and videos. Powering that effort is the new 13.2-megapixel CMOS image sensor—a significant upgrade in technology from the 10.1-megapixel CCD used in the S31.
Powering the Coolpix S32 is a new 13.2-megapixel CMOS image sensor—a significant upgrade in technology from the sensor used in the S31.
Tweet It
The new sensor is actually slightly smaller than the old one, and it has a higher base ISO sensitivity (125 vs. 80). But it also provides plenty of positive bonus features too: from 1080/30p video capture to 4.7 frames per second burst shooting. Those are specs that'll make a real difference in the kind of family-oriented shooting this camera is intended for.
If you're the butterfingers in your family, or if you like diving more than snorkeling, you'll appreciate the S32's beefed up protection. Where the S31 could withstand a drop from 1.2 meters (3.9 feet), you can let the S32 freefall from 1.5m (5 feet). And the new camera can go as many as 10 meters (33 feet) underwater—exactly double its predecessor. It's also a lot closer to what high-end toughcams like the Olympus TG-2 and Nikon's own AW110 can do.
Conclusion
A camera that knows its niche
The Nikon Coolpix S32 is an unusually well-targeted camera. Superzooms and high-end toughcams are specialized, sure, but they can serve just about anyone—even more demanding photo enthusiasts can get something out of them. The S32, on the other hand, has been crafted expressly for children. Sure, Nikon says it's a camera "for the whole family," but that's just code for "a camera kids can use."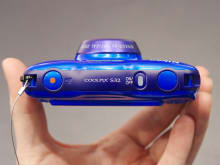 We think that's great. Kids need cameras to learn on, and they need cameras that can withstand the kind of abuse they dole out. An Olympus TG-2 would be incomprehensible to your little nephew, with its deep menu system and endless feature set, but a camera as simple as the S32 is perfect for someone just starting out on the journey to becoming a photographer.
The S31 already filled that role admirably, and the updated camera merely pads out its qualifications. This is a camera you could take to the ocean as well as the pool, and the new sensor gives it a lot more flexibility when it comes to recording action, whether you're shooting stills or video. For the junior shooter in your life, we can't think of a better option.
Our editors review and recommend products to help you buy the stuff you need. If you make a purchase by clicking one of our links, we may earn a small share of the revenue. Our picks and opinions are independent from any business incentives.