cameras
Nikon Coolpix A Digital Camera Review
Nikon's pocket powerhouse is a great camera, but your money is better spent elsewhere.
If you're an avid moviegoer, you've probably noticed that Hollywood tends to crank out similar movies in pairs. Dante's Peak and Volcano. Deep Impact and Armageddon. The Prestige and The Illusionist. Whether it's simply an upwelling of the zeitgeist or gamesmanship predicated on inside information, it's something that happens time and again.
Well, if this year's Ricoh GR is The Thin Red Line of large-sensor compacts, that makes the Nikon Coolpix A (MSRP $1,199.95) its Saving Private Ryan. Announced just a month apart, these cameras are powerful, pocketable, and unlike anything else on the market. Brothers from different mothers, they exist in a class of their own. Both cameras offer a filterless 16-megapixel APS-C sensor, come equipped with a 28mm f/2.8 prime lens, and have a nominally pocket-friendly profile. The biggest difference? The Nikon costs $300 more.
These cameras appeal to a highly demanding yet relatively free-spending sort of customer—the kind for whom $1,100 isn't out of the question for a fixed-lens camera. But it's hard to ignore the A's price premium, especially when its spec sheet is nearly identical to the GR's. Sure, we're talking about the same sort of shoppers for whom the $1,300 Fujifilm X100S makes perfect sense, but one glance at the A's spec sheet assured us the King of the Coolpixen doesn't offer anything as revolutionary as Fuji's hybrid viewfinder. So where's the beef?
Ultimately, the Coolpix A does differentiate itself from the GR in several ways, but most of them have nothing to do with its photographic output. From its control scheme to its menu structure, Nikon's flagship compact takes a distinctly different tack than Ricoh's when it comes to handling. Whether you like it or not will probably have a lot to do with your shooting style, and whether you're already a dyed-in-the-wool Nikon user.
Design & Handling
Fantastic build quality can't disguise awkward handling.
Despite some recent successes, the Coolpix brand hasn't always been synonymous with the highest echelons of quality or design. It says something about Nikon's growing self-confidence in the compact market, then, that it didn't invent some new badge for its $1,100 point-and-shoot—a camera that's more than twice as expensive as the next closest Coolpix. The Coolpix A is a beautifully crafted device, managing to simultaneously echo the design cues of the existing Coolpix P330 and introduce a new air of elegance to the line.
With a metal chassis, magnesium alloy top plate, and leather-textured grip, the A has the heft and solidity you expect from a camera in its price bracket. It's notably heavier than the Ricoh GR despite occupying roughly the same volume—a trait that makes it feel more serious and purposeful. The buttons and dials all feel great, with the exception of the shutter button, whose half-press is a little less pillowy than we'd prefer. Another oddity is the power switch—a springy lever surrounding the shutter release that's unlike anything we've previously encountered. You eventually get accustomed to the unusual design, but it's off-putting at first.
In spite of its great fit and finish, the Coolpix A is an ergonomic disappointment. Some subtle rounding toward the back doesn't prevent the camera's sharp corners from digging into your hand. The right strap lug constantly gets in the way, and the DSLR-style button layout—with a column of vital shooting controls to the left of the screen—means one-handed operation is a non-starter. You need two hands to change the ISO or EV compensation, for instance, and the more centered screen means your thumb has less room to work the buttons on the right-hand side.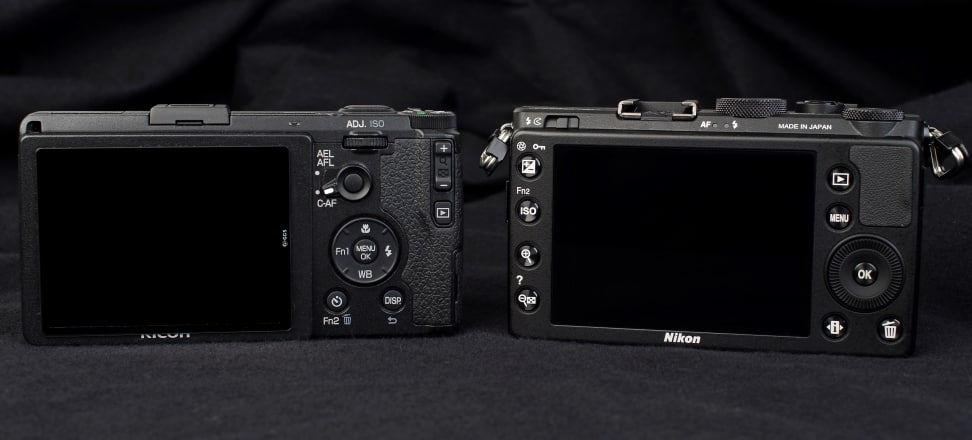 When we first spied the hard, raised grip strip, we thought it would be another handling misstep. But to our surprise, it's actually quite effective; the textured strip is positioned in exactly the right place for your middle finger to hook over it, stabilizing the camera against the heel of your thumb. While the rear thumb rest isn't as effective as the GR's, and the front grip isn't as large or as gracefully curved, the camera nevertheless feels nearly as secure in your hand.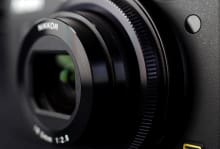 There are a couple other design flourishes (aside from the "Nikon" badge) that set the Coolpix A apart from its lone rival. Around front, a smoothly turning, well-damped lens ring can be used to manually focus. On the left side you'll also find a focus mode switch, which toggles between regular autofocus, macro focusing, and manual focus. The back is home to a rotary dial that doubles as a four-way control pad; most of the time, it cycles through menu settings, but when shooting in Manual mode it's used to set the aperture.
The Coolpix A's menus are almost exactly like Nikon DSLR menus, for better and worse. If you're a long-time Nikon user, you'll have no trouble jumping into using the Coolpix A. Even newbies will probably appreciate a few of Nikon's long-time features, like the Recent Settings tab in the main menu. But they'll be equally frustrated by a few quirks. The most viscerally annoying to us? The seemingly endless hunt for video. On average, it took the members of the Reviewed.com Cameras team about five to six minutes of constant hunting to find the video recording mode. (Spoiler: It's in the Release Mode submenu of the menu, cleverly hidden at the bottom of a list dominated by self-timer and burst mode settings.)
Features
Competent, but thoroughly overshadowed
When it comes to features, the Coolpix A feels very much like a first-gen product. The 28mm (effective) lens and filter-free 16-megapixel APS-C sensor might be very up-to-date, but Nikon hasn't included many extra features to take advantage of those key components.
Many of the A's shortcomings stand out as shortcomings only because of the Ricoh GR's rich feature set.
Tweet It
Granted, many of the A's shortcomings stand out as shortcomings only because of the Ricoh GR's surprisingly rich feature set. For instance, Nikon's pocket warrior doesn't offer any kind of software moiré correction to counteract the primary side effect of its missing anti-aliasing filter. Nor does it offer a number of other useful hardware and software features that help distinguish its primary competitor—a neutral density filter, useful JPEG filters, snap focus modes, crop modes, and focus peaking are just a few.
But let's get back to what the Coolpix A does provide. For one thing, you get a macro mode with a minimum focusing distance of just 10 centimeters (exactly the same as the GR). For another, you get a very usable manual focus implementation thanks to the lovely lens ring. Both of those features might seem to be of questionable utility on a camera with a 28mm equivalent lens, but there were times in even our limited testing period when we were happy to have them.
In addition to a built-in flash, you also get a standard hot shoe. That means you get full compatibility with Nikon's excellent suite of Speedlight flashguns, and the A's combination of mechanical and electronic shutters means you can sync your flashes at all shutter speeds. We're not sure how many users will actually make use of that capability, but for avid strobists it's a big deal.
A pair of customizable buttons give you a small degree of control over your camera's configuration, but they pale in comparison to the far more flexible Ricoh GR, which offers a total of five user-configurable controls. And it's more than a little frustrating that the otherwise excellent lens ring can't be set to control shutter speed, aperture, or ISO, like the Sony RX100's can. Encircling the lens, just in front of the focusing ring, is a removable secondary ring that hides a bayonet mount. You can screw an optional ($130) hood onto this, though (for the moment, at least) there aren't any conversion lenses available. The Ricoh GR, in contrast, is compatible with an excellent 21mm wide-angle conversion lens.
There are other accessories available, too, provided you're willing to pony up the cash. Nikon's $450 optical viewfinder is among the priciest we've seen, and the $60 WiFi adapter seems like a lot to ask when so many cameras (including many of Nikon's own) have on-board wireless connectivity these days.
For all its limitations, there's one place where the Coolpix A absolutely smokes the Ricoh GR: video.
Tweet It
For all its limitations, there's one place where the Coolpix A absolutely smokes the Ricoh GR: video. Granted, that's a pretty low bar; while superior to the GR in virtually every way, this camera doesn't come close to the degree of control or quality found in many competing DSLRs, mirrorless cameras, or point-and-shoots.
You get your choice of six HD resolutions and framerates, your pick of High and Low video quality, and the option to turn the built-in stereo mic on or off. Shooting in Aperture Priority means you can select the shooting aperture before recording begins. Manual mode lets you pick both, and all of the PASM modes except Manual let you change exposure compensation (even during recording). But that's it. And the quality? Well, more on that later...
Performance
Keeping up with the Joneses
Though there's plenty to differentiate the Nikon Coolpix A and Ricoh GR when it comes to features and handling, still image quality is more or less a wash. That's not surprising, given the extremely similar components at play, though there are still a few small wins and losses on each side.
Visit our Sample Gallery for full-resolution real-world photos.
Whereas the GR applies a hefty dose of edge enhancement to its JPEGs, the A leaves them largely unmolested—in fact, RAW resolution figures were virtually identical to JPEGs shot in the Neutral color mode. When shooting RAW, the Coolpix A had the sharper lens in the aggregate, but the GR was sharper wide open and noticeably better in the corners. The A achieved higher peak resolution at middle apertures (f/4–8), but it wasn't a big gap, and the GR was more consistent across the entire frame, particularly when focusing close. The A's lens also showed more barrel distortion and vignetting. But this is mostly academic—out in the real-world, both lenses are capable of stellar sharpness, whether shooting at macro range or infinity.
Whereas the GR applies a hefty dose of edge enhancement to its JPEGs, the A leaves them largely unmolested.
Tweet It
The Coolpix A offers a total of four levels of JPEG noise reduction, including Off, Low, Normal, and High. In our tests, noise levels didn't cross 1% until ISO 800 with NR turned off, ISO 1600 with it set to Normal, and ISO 3200 when it was pumped up to its highest setting. (For comparison's sake, the GR made it to ISO 1600 with NR Off, and ISO 3200 with it set to Auto.) In real-world applications, noise wasn't noticeable until you hit ISO 1600, and images remained usable for less critical purposes up through ISO 6400. Chroma noise began to sneak in past that point, effectively spoiling the party.
Dynamic range was impressively high from the base ISO 100, and hung on quite well through ISO 400. ISO 800 and 1600 still had plenty of latitude, and it wasn't until 3200 and above that we lost most of our ability to pull back highlights or push shadows.
Color accuracy in the most accurate Neutral picture control was simply superb, easily outclassing the GR. We recorded a ∆C 00 color error of just 2.34 and saturation just 2% above ideal, echoing the stellar results we saw from last year's Coolpix P7700. And just like that camera, the Coolpix A had a rough time with automatic white balance. Not only did the AWB algorithm struggle in incandescent light—as do virtually all digital cameras—but it was also off by more than 3000 K under simulated daylight. That's one of the worst performances we've ever seen—even worse than under incandescents—though it didn't seem to cause much fuss in real-world shooting.
The Coolpix A's video output was relatively crisp and fluid for 1080/30p content, but couldn't touch the smoothness and sharpness we've seen from some 1080/60p-capable cameras in the past year. Moire was a serious problem, reducing the A's effective sharpness by a huge margin. We were able to record between 650 and 600 lp/ph of resolution in good light, and switching to more, erm, "romantic" lighting (60 lux) didn't put too much of a hurting on those numbers.
We called the Ricoh GR's autofocus speed "acceptable," and we'd say the same about the Coolpix A—though it's probably a tiny bit slower than the GR in bright light. On the other hand, the Nikon AF system hunts far less than Ricoh's in dim light, and at macro focusing distances. The GR, of course, has an ace up its sleeve in the form of Snap Focus—something the Coolpix can't do. Ultimately, neither camera is meant to be an action cam, but the GR's extra features make it the better street snapper.
For the full details from the lab, head on over to the Science Page.
Conclusion
Great camera, poor value
If it were the only APS-C equipped compact on the shelf, the Nikon Coolpix A would be an easy recommendation for the small niche of shooters interested in this kind of camera. It's capable of capturing DSLR-quality images and it can fit in your pocket—what's not to love? But the reality is more complicated than that.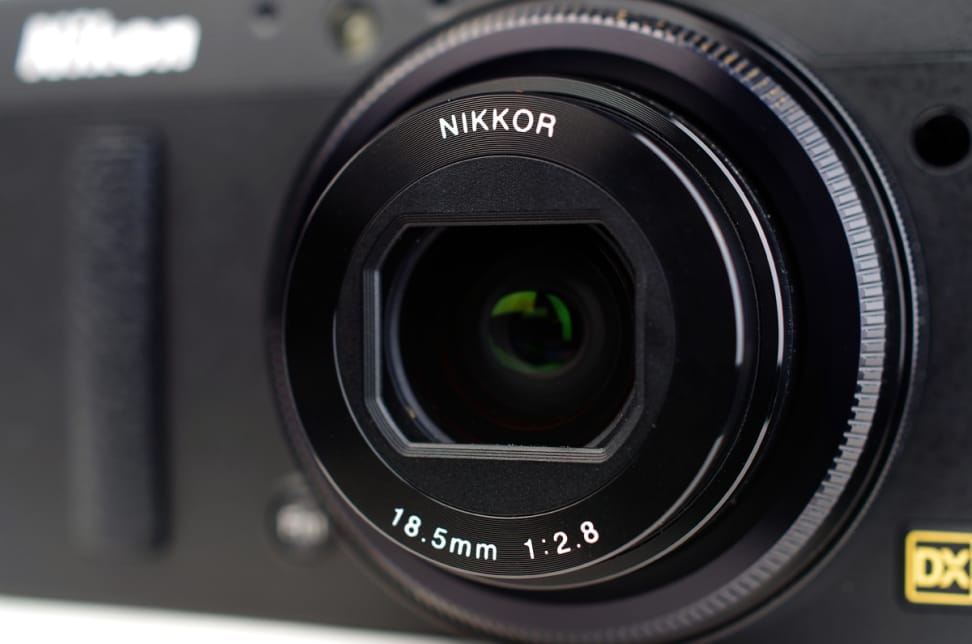 The fact is, the Coolpix A is competing against the Ricoh GR, an extremely similar camera that boasts a far larger feature set yet sells for $300 less. It's also up against a whole host of cost-competitive compact options, led by the Sony RX100 and Fujifilm X100S, that offer features (like optical zoom or a built-in viewfinder) neither the A nor the GR can match.
Given its inherent limitations—a fixed-focal lens and an extremely compact body—the Coolpix A does just about everything right. It's only when put up against a time-tested design like the GR (which has the benefit of being the fifth camera in an eight-year-old line) that Nikon's camera seems like a disappointment. The ergonomics are inferior, hamstrung by a two-handed layout, but still perfectly workable. The A's image quality is more or less equal to both the GR and the more expensive X100S, and its videos are good enough for most users. When it comes to features it simply can't keep up with Ricoh, but owners who didn't know any better would probably think it fully equipped.
Though we loved shooting with the Coolpix A and loved the shots we got out of it, it's simply not a camera we can recommend.
Tweet It
Though we loved shooting with the Coolpix A and loved the shots we got out of it, it's simply not a camera we can recommend. Hardcore Nikon fanatics may gravitate to it by default, but brand agnostics in the market for this kind of camera are looking at a real no-brainer—just buy the GR. You'll appreciate its more customizable control scheme, its flexible crop modes and alternative aspect ratios, its helpful hardware features, and its sublime ergonomic design. You'll appreciate the difference in your bank account balance, too.
If you've budgeted out more than a grand and really don't mind spending it, consider the Fujifilm X100S and its excellent viewfinder. The A and the GR each have optional optical finders, but they're not nearly as useful or powerful as the unique hybrid OVF/EVF that graces Fuji's retro masterpiece. And of course you get all the other X-Trans and film simulation-related goodies the X series is known for.
And if budget is no concern, well... you could do worse than to throw your dollars at Sony's already legendary RX1. A mere $2,800 will get you a cutting-edge 24-megapixel full-frame sensor, a brilliant 35mm f/1.4 Zeiss lens, and... wait, you need more?
Regardless of which large-sensor compact you end up with, you can rest assured that it will produce excellent images. Today's camera shoppers are increasingly spoiled for choice when it comes to high image quality in small form-factors, and that's something we can all be excited about.
Our editors review and recommend products to help you buy the stuff you need. If you make a purchase by clicking one of our links, we may earn a small share of the revenue. Our picks and opinions are independent from any business incentives.
Our editors review and recommend products to help you buy the stuff you need. If you make a purchase by clicking one of our links, we may earn a small share of the revenue. Our picks and opinions are independent from any business incentives.
Advertisement - Continue Reading Below
Compare Prices
Our editors review and recommend products to help you buy the stuff you need. If you make a purchase by clicking one of our links, we may earn a small share of the revenue. Our picks and opinions are independent from any business incentives.
Advertisement - Continue Reading Below
Get Our Newsletter
Real advice from real experts. Sign up for our newsletter
Thanks for signing up!