cameras
Nikon 1 J4 Digital Camera Review
It looks like a bar of soap, and gives you clean shots.
Nikon's 1-series cameras are on the march, and it's no mystery why they're selling. By offering a small interchangeable lens camera with all the comforts of a compact, many people out there have a lot to like in the pint-sized point-and-shoot. Instead of trying to compete with DSLRs and other large-sensored cameras, the 1 series has occupied a comfortable middle-ground between high-end and consumer-grade since 2011. Though these compact mirrorless cameras have an undersized CX-format sensor, they do offer point and shoot users a step up in image quality while offering the features and interface they're used to.
Enter the Nikon 1 J4 (MSRP $599.95): the latest 1-series camera from Nikon. A refresh of last year's J3, this camera offers a higher resolution sensor—with the guts to keep the J3's blisteringly-fast speed. Though it'll never really step toe-to-toe with other mirrorless cameras short of the Pentax Q7, the J4 is an interesting option for the casual crowd.
It doesn't offer features like the tough exterior or waterproofing of the bigger, badder AW1, but then again it also doesn't cost $800.
Design & Handling
Smaller, lighter, and easy on the eyes
In our experiences with the 1-series cameras by Nikon, we've seen a rather persistent dedication to a very clean exterior. The AW1 and the J3 that came before the J4 both have a very minimalistic and unthreatening design. The look is clean, but it also lacks much of a grip. We didn't have any trouble holding onto the J4, but the thought of trying to keep ahold of this slick little number with gloves on gave us chills in July.
It's a problem we've brought up continuously since we reviewed the original Nikon 1 J1, but Nikon hasn't seen fit to change much here. It still has that "bar of soap" exterior, without any major attempt at making the camera easier to hold. There's still that tiny little nub on the thumbrest of the camera, but a smooth, slippery protrusion does not a grip make. You'll definitely want to use the included strap if you're prone to the dropsies.
The main control cluster sits on the back of the camera, along with the 3-inch, 1.037 million-dot touchscreen LCD. Taking a peek at the top will reveal the shutter release, power toggle, record button, and the mode dial. If you're a more experienced shooter this may be where the J4 starts to get on your bad side. If you're used to shooting in manual or shutter/aperture priority, you need to pop the dial into creative mode, then tap the feature button on the control cluster to unlock it. Once there, you're set, but it's frustrating anyway. Unfortunately, there aren't any points granted for unlocking this achievement.

Digging into the guts of the camera, we find an 18.4-megapixel CX-format sensor backed up by the new Exspeed 4A processor and a 105 points of on-sensor phase detection for speedy autofocus. In the small world of 1" sensors, this is a good team to have, and it's right in line with Nikon's more expensive 1 V3. It'll grant you higher-res images, and it gives the J4 class-leading speed: Just like its predecessor, it can shoot images at 60 frames per second at full res. This is still one of the industry's best in this regard, and worthy of praise considering the challenges introduced by a bump in resolution. This is something that a point-and-shoot or smartphone simply can't give you yet.
Advertisement - Continue Reading Below
Features
Fastest gun in the West
If you're coming from the world of point-and-shoots, this is a camera that you'll love. Though it's an interchangeable lens camera, it works just like your old compact, with simple controls and advanced features in a package that won't confuse or frustrate you. The menus are simple and straightforward, the shooting modes are extremely forgiving, and the resulting pictures are much better than you'd get from your garden-variety point and shoot or smartphone.
Sharing options are also simple: WiFi pairing is relatively painless to set up, but you'll need the Android or iOS app. Once you pair the camera with your phone, you can share photos or even use your phone to control the J4 remotely—great for tough-to-reach snaps. Nikon's app needs a lot of TLC, but it works for basic functions and only the apps from Olympus and Leica have really stood out to us so far.
If WiFi sharing isn't your cup of tea, you don't have to use it. You can always just store shots remotely, though be warned that this camera uses MicroSD cards, not full-size SDHC ones. The camera doesn't come with one to start, and most computers don't have a microSD card reader slot (though most MicroSD cards usually have adapters). If you're only moving a couple files, it's honestly less of a hassle to just leave that card inside the camera and transfer what you want using the WiFi app.
Nikon loaded the J4 with some really fun options if you're so inclined. In addition to a set of more mature processing options—like HDR, toy camera, cross-processing, and PASM modes—there are several goodies for those who explore the depths of the shooting modes. While we'll address continuous still photo shooting in a moment, a perennial favorite is the slow motion video, giving you options from 400-1200 frames per second. There's also standard 1-system options like Motion Snapshot and a new jump-cut video feature that restricts you to 4-second clips. Once you've flipped the J4's mode dial to the video setting, you can open the menu to customize your video shoot.
Performance
Enough awesome to justify the purchase, but there are some pitfalls
Nikon's 1-series cameras are marked by their small sensors, but what they do with those parts is impressive. They're often the fastest full-res shooters out there, and it's not close. Every 1-system camera we've tested to date is capable of ridiculous continuous shooting speeds, often as high as 60 frames per second if you're willing to lock exposure and focus on the first frame. But the image quality still sits somewhere above most point-and-shoots and below entry-level DSLRs.
The kit lens adds in a bit of barrel and pincushion distortion.
Tweet It
To start, the J4 is sharp as a tack. Though the new 10-30mm kit lens adds in a bit of barrel and pincushion distortion, the beauty of owning an interchangeable lens camera is the ability to swap lenses. Should you go that route, know that you can definitely get better performance out of this sensor with a better lens. The main culprits are chromatic aberration and some very odd distortion that is difficult to correct.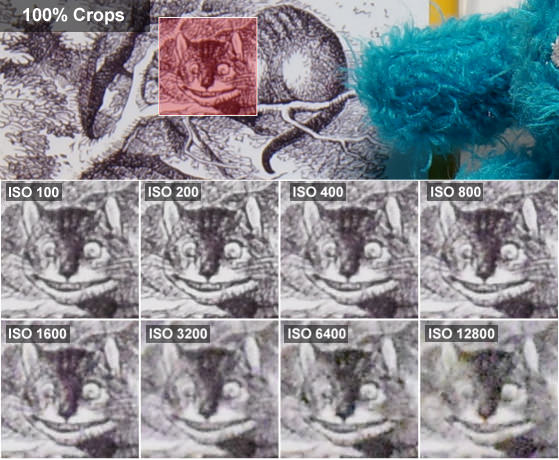 Backing up strong sharpness scores, the Nikon J4 also rocks with very accurate color reproduction in daylight. Just try not to get complacent with the auto white balance setting, because if you move inside and are confronted with mixed, fluorescent, or incandecent lighting you'll get some weird color casts. Incandescent light will make your pictures quite orange, and fluorescent lights will give your snaps an odd green cast if you don't adjust the J4's settings to compensate. Though many cheaper cameras have this same problem, it's especially bad with the J4.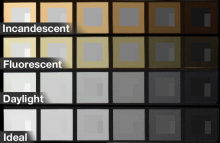 Though Nikon has done quite a bit with a relatively small 1-inch sensor, there are some things that processing just can't fix. In particular, the J4 has very high noise in comparison to most other mirrorless cameras out there, and is much closer to a point in shoot in this regard than a system camera in terms of performance. This doesn't totally doom the J4—there are some amazing point and shoots out there. But don't kid yourself into thinking that just because the J4 is a mirrorless interchangeable-lens camera that you'll get professional-quality photos. With the right lenses it's a step-up for sure, but there's a wide gap between the J4 and a camera with a larger sensor.
However, I will point out that the 1-inch sensor with the new Exspeed 4A processor is much better at handling video than even some of the best point and shoots. And because the J4 is so quick to autofocus, you'll be able to capture all the antics of a rambunctious kid or sports match. The high-speed video settings are less useful in a practical setting, but they're fun as all get-out, and that's what matters, right?
Conclusion
The J4 shines, as long as you temper your expectations.
At the end of a day, determining whether or not a camera is right for you rests on factors that can be very personal. What the professional needs and what the new parent needs are very different. However, there are a few things that every shooter should be aware of before plunking down a lot of money on a camera. The J4 is perfect for someone that wants a camera that "just works," has a bunch of fun options to play with, and can fit in most large pockets or small bags.
The appeal of the J4 isn't in its all-around performance, it's how it treats the user. With such an easy interface, the J4 is as non-threatening as they come—all the while providing point-and-shoot users with a solid step up in image quality. It's a good intermediary step that most shooters will be comfortable with, and the camera does a great job of holding your hand without being patronizing. And of course, the J4 has a ton of appeal for users looking to capture action in bright light. Between fast autofocus and high-speed burst shooting and video options, the J4 has you covered there. It's perhaps the ideal "familycam."
The appeal of the J4 isn't in its performance, it's how it treats the user.
Tweet It
Though it's a fun camera to shoot with, performance lags a little bit behind where you'd expect compared to entry-level DSLRs in this price range. The small sensor means higher noise and worse low-light shooting, and none of the other 1-series lenses on the market are ever going to fix that. Though there are a growing number of lenses that work with the J4, the high price point means you'd be spending just as much money on the J4 as you would a much better system camera. With that in mind, the J4's advantages are limited to its features. The truth of the matter is that 1 system is designed to be something you can grow with, but it isn't as robust as the full DSLRs from Nikon or Canon or mirrorless systems of Olympus, Panasonic, or Sony. If you plan on investing in lots of extra glass, you may some day simply outgrow what this system can offer you.
If you want a slimmer camera with good image quality and don't care about swapping lenses, you should look at the Sony RX100 II. If you like the size and performance level but want more lens options, then check our Panasonic's Micro Four Thirds wonder, the GM1. Both cameras come in at about the same price online, and the latter has much better performance (and a larger sensor) while being about the same size.
In its own right, though, the J4 is a fine option for anyone looking for something faster and better than a smartphone. Especially for those who don't need the never-ending lens options of more advanced systems and simply want something compact that gives them speed and simplicity, the J4 is an excellent choice. It's one of our favorite Nikon mirrorless cameras to date and it'll only be a better value as it drops in price over the next year.
Our editors review and recommend products to help you buy the stuff you need. If you make a purchase by clicking one of our links, we may earn a small share of the revenue. Our picks and opinions are independent from any business incentives.
Our editors review and recommend products to help you buy the stuff you need. If you make a purchase by clicking one of our links, we may earn a small share of the revenue. Our picks and opinions are independent from any business incentives.
Advertisement - Continue Reading Below
Compare Prices
Our editors review and recommend products to help you buy the stuff you need. If you make a purchase by clicking one of our links, we may earn a small share of the revenue. Our picks and opinions are independent from any business incentives.
Get Our Newsletter
Real advice from real experts. Sign up for our newsletter
Thanks for signing up!