Physical Tour
The Kodak Z980 has a body that's fairly standard for an ultra-zoom camera. It looks and feels like a lighter version of an SLR. That said, the Kodak has one defining feature, the secondary shutter button, which makes it easy to shoot when holding the camera vertically.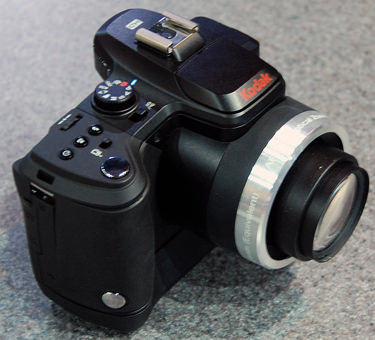 Front
The front of the Z980 is fairly nondescript. The huge 24x zoom obviously dominated this area, and there's a small auto focus assist lamp just to it's top left.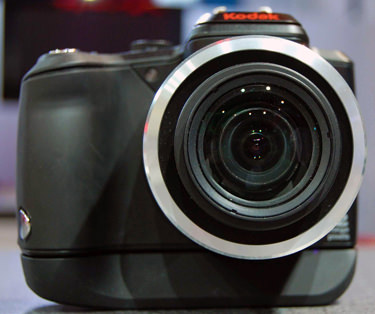 This lens means business
Back
In this photo of the back, you can see the additional grip in place, which substantially increases the bulk of the camera. The bottom grip is screwed on or off using the large dial seen here. For controls, there is a four-way pad with an OK button in the middle, which is used to navigate menus. If you flip the camera over into portrait mode, this pad controls the zooming. There's a large, bright Share button, which lets you tag images to be sent as soon as you hook your camera into a computer. Zoom controls are at the top right of the camera's back, and there's a series of four buttons along the edge of the LCD screen.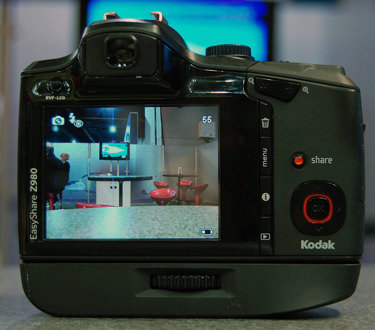 Here you can clearly see the extra size caused by the grip.
Sides*

The left side has the speaker, the right has access to the USB and DC ports as well as the secondary shutter button. Lanyard loops are at the top of both sides.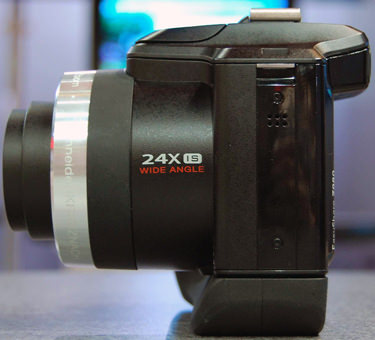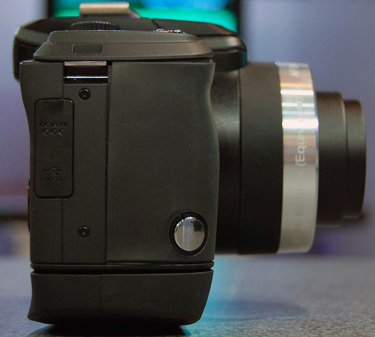 The left and right sides of the camera

*Top**
The top of the camera is jam-packed with controls and features. On the grip, there's a switch with a picture of a camera on it. Flicking this will set the camera into portrait mode, which disables the normal zoom and shutter controls, but lets you use the four-way pad for zooming and the shutter on the right side of the camera to take a photo. There are three buttons in a row, used for self-timer, macro and flash. The power button is not a standard two-position switch; rather it's sprung so it always resets to the same spot, and you just flick it on or off. Finally, there's a jog dial at the top left which is rotated to choose and alter settings in manual shooting modes.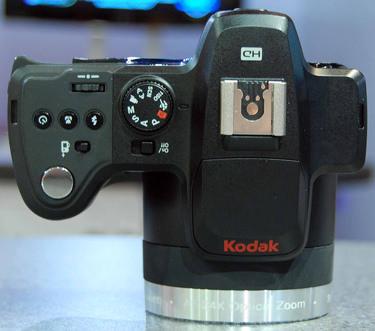 The buttons are all placed near the grip
Bottom
Here you can see the bottom of the camera both with and without the additional grip. You can see that when you install it, the grip blocks access to the battery and memory card hatch, and shifts the tripod mount considerably.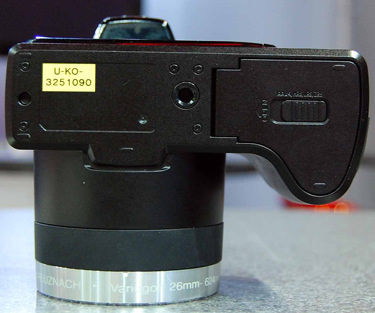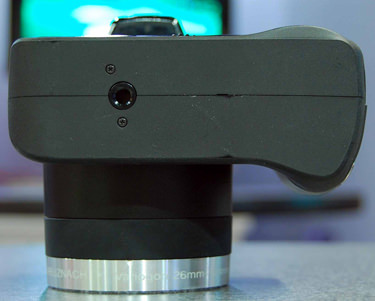 *
The bottom of the camera, without grip (top) and with grip (bottom).*
Sections
Be in the know! Get Reviewed.com news and reviews straight to your inbox.
Thanks for signing up!