cameras
Canon EOS Rebel T3 Review
The T3 is Canon's entry-level DSLR for 2011, debuting at a kit price of just $599.
$407.00 at Amazon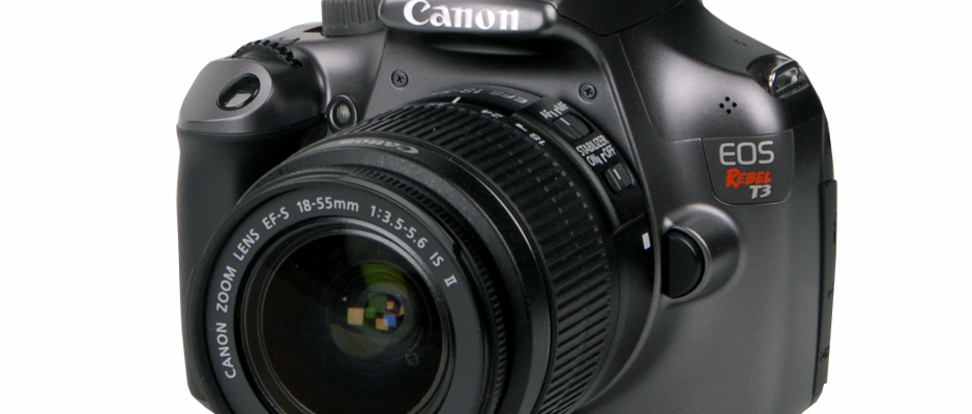 Introduction
The Canon Rebel T3 is the spiritual successor to the Rebel XS and XSi models, entering Canon's lineup as the company's least expensive current generation DSLR.
Despite the low price tag, the T3 comes with 720/30p HD video and slides in just beneath the more expensive Rebel T3i. As such, it's evident that Canon has stooped to some feature gouging, both to make up the price difference and to refrain from eating into the higher-end sales. We're left with a rather plain DSLR, stripped of its pomp and frills. Hopefully, performance and image quality aren't as skimpy as this model's chintzy plastic chassis. Forward then, to the lab!
Design & Usability
The T3 feels cheap to the touch, but its navigation is solid.
Handling is really where the T3 suffers. It's a very lightweight camera, which is wonderful, but the shooting experience is hampered by some design choices that seem predicated by cost more than ergonomics. The camera just doesn't feel stable in the hand, and the grip is not the plush rubber we've seen on every other Canon DSLR. Instead, it's a solid material that has some resistance to it, but has none of the texture or give that we expect from a camera of this variety. It feels cheap.
The T3 also offers a custom "My Menu" tab, allowing users to deposit the settings of their choice onto a single tab for easy access.
The buttons are nicely formed and have an excellent design flow, as well as clear, audible clicks. There is a dedicated live view/record button, as well, and all the controls are now placed on the right side of the camera's backside to ease single-handed operation. The menu is the same tabbed setup we've come to expect from Canon. The tabs minimize the chore of excessive scrolling and they're color coded nicely. The T3 also offers a custom "My Menu" tab, allowing users to deposit the settings of their choice onto a single tab for easy access. The T3 uses a fairly basic 2.7-inch rear LCD, with just 230k dot resolution. It's functional for manually focusing, and it also reacts well to changes in exposure, providing a good idea of the relative brightness of the final image as you adjust settings. There is also an optical viewfinder, offering approximately 95% coverage as well as a diopter range of -2.5 to +0.5 m-1, and a magnification of about 0.8x. It's not a perfect viewfinder, but it's a superior option to shooting with live view, especially for focus speed.
Features
The T3 does not bother with many of the fun modes that today's compact cameras tend to offer.
The T3 offers a range of familiar shooting modes. Amongst these are the typical shutter/aperture-priority, program auto, and full manual modes, but there are also several auto modes, some of which cover scenarios ranging from portrait, to macro, to sports scenes. For all this, some users may feel disappointed with their step up to the T3, because it lacks some of the specialty modes and digital filters that many compact cameras offer. In-camera editing is missing too, save the rotate function and a five-star rating feature. A variety of color profiles are available though, and three of them are even customizable.
The camera is saddled by a poor 18-55mm kit lens.
The hardware on the T3 is a bit of mixed bag. A 12-megapixel sensor performs very well for the price, but the camera is saddled by a poor 18-55mm kit lens. True, the T3 has an EF mount, which is compatible with both EF and EF-S lenses, which means photographers can use any lens from a vast Canon library that spans from the dirt-cheap (and highly recommended) 50mm f/1.8 lenses to the professional L-series line. Bear in mind though, that a camera like this won't get the most out of an $8000 dollar lens—so don't get too carried away. As for video capability, Canon has released multiple DSLRs that have at least some level of control during video recording, so it's hard to believe that the T3's hamstrung video control is anything but an attempt to make the pricier T3i more attractive via SKU differentiation. Video quality is nice, but this mode lacks control and it's resolution maxes out at 720/30p.
Comparable Products
Before you buy the Canon EOS Rebel T3, take a look at these other interchangeable lens cameras.
Performance
The T3 is like a luxury car without the options. Sure, it might not have air conditioned leather seats, but it's a solid performer where it counts.
The Canon T3 performed very well for an entry-level camera—in some ways, even marginally upstaging the more expensive T3i—with fine color accuracy, decent dynamic range, and very little image noise. This camera is right on par with nearly every other sub-$1000 DSLR we have tested, with only a poor kit lens and lack of sharpness to hold it back. The lens is not that bad wide-open through f/10, but your best bet is to just buy a better one, even if you're looking for affordability first.
The T3's phase detection autofocus system works well.
The T3's best performance came in white balance accuracy, where it handled a variety of lighting conditions without complaint. The only lighting condition that the T3 had any real trouble with was the same that we see with all DSLR cameras: tungsten lighting. This refers generally to household light bulbs, which emit very warm light which auto white balance has difficulty metering. White balance customization will take care of the problem though, and the image sensor does a great job across the board. The T3's phase detection autofocus system works well too, with nine cross-type AF points. The 720/30p video mode isn't particularly sharp, but it handles motion quite well and if you aren't in a dark bar, it's quite reliable.
Conclusion
Image quality on a budget
The Canon T3 is an entry-level DSLR camera, coming in at just $499 for the body only. As such, we weren't expecting miracles, though the camera does suffer from obvious cost-cutting in production and a truncated feature-set that keeps the T3 placed firmly below the T3i in the Canon model line. One thing that hasn't been cut is the image quality—the sensor performs very well for this price point.
Canon seems to be cutting closer to the bone with this model than some of their previous entry-level efforts.
The spec sheet is a bit limited, though, and the T3 offers less resolution than the T1i, with the least powerful flash Canon has included in some time, a rather poor kit lens, and a grip that is cheaper than every entry-level Canon DSLR as far back as the 300D from eight years ago. The T3 performs as well or better than those cameras in terms of image quality, but Canon seems to be cutting closer to the bone with this model than some of their previous entry-level efforts.
That isn't to say the T3 isn't a good camera, as it offers quite a lot for the price. However, it's a troubling step backward in build quality from previous models. Those with a functional XS or XSi shouldn't be chomping at the bit for an upgrade, but those looking for simple operation and solid image quality in a rather inexpensive camera body will be very satisfied with the T3—though we'd recommend picking up a better lens, since Canon offers substantially better options.
Our editors review and recommend products to help you buy the stuff you need. If you make a purchase by clicking one of our links, we may earn a small share of the revenue. Our picks and opinions are independent from any business incentives.