cameras
Canon PowerShot SX60 HS Digital Camera Review
Canon follows up on its best superzoom, but does the SX60 HS stretch too far?
In the big book of hacky tech writer metaphors, any spec battle is discussed in warlike terms. As tired as this kind of reductive writing gets, it's actually a useful way to think about superzoom cameras—big, fixed-lens cameras that offer huge zoom ranges and DSLR-esque handling.
The 30x optical zoom lenses that seemed ridiculous just a few years ago have given way to 40x, 50x, and even 60x and higher zooms. Unfortunately, this particular battle turned out to be something of a Pyyrhic victory for companies that pushed beyond the 50x zoom barrier, as most lenses that reached that long have been very poor, with very slow autofocus speeds. What's the point of a camera that can see a mile away if it only takes terrible photos at that distance?
Canon seemed to understand this, standing pat with its 50x SX50 HS through 2012 and 2013. We liked it so much that it won our Best of Year award for the category in both years. Canon is back now with the new Canon PowerShot SX60 HS (MSRP $549.99) and has taken the leap to a 65x zoom lens.
Has Canon finally designed a high-quality lens over 50x? Or will the SX60 have the same problems that doomed its predecessors?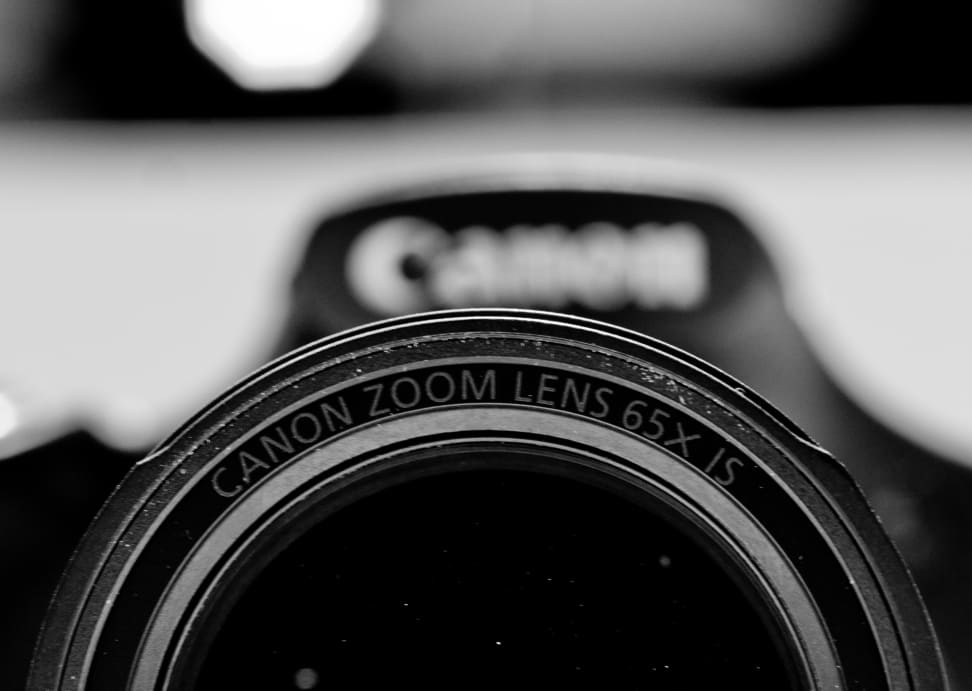 Design & Handling
Canon updates its premier superzoom with some new duds.
As much as we liked the Canon SX50 HS, its style was beginning to look a bit dated. The new SX60 HS brings it in line with recent Canon PowerShot cameras, with an appearance that actually closely resembles low-end Canon Rebel DSLRs. It's otherwise very similar, with a near-identical control scheme and a large, textured grip for handling.
Shooting with the SX60 HS is very simple. It's got a fast processor that ensures you can rip through bursts of shots and make changes via the menu with no hangups. The control scheme is also very simple, with big buttons and a layout that should be instantly familiar to anyone who's shot with a PowerShot in the last 5-6 years. It's an easy camera to learn and enjoy, and that simplicity is the primary reason Canon's point-and-shoots have held on better than its competitors.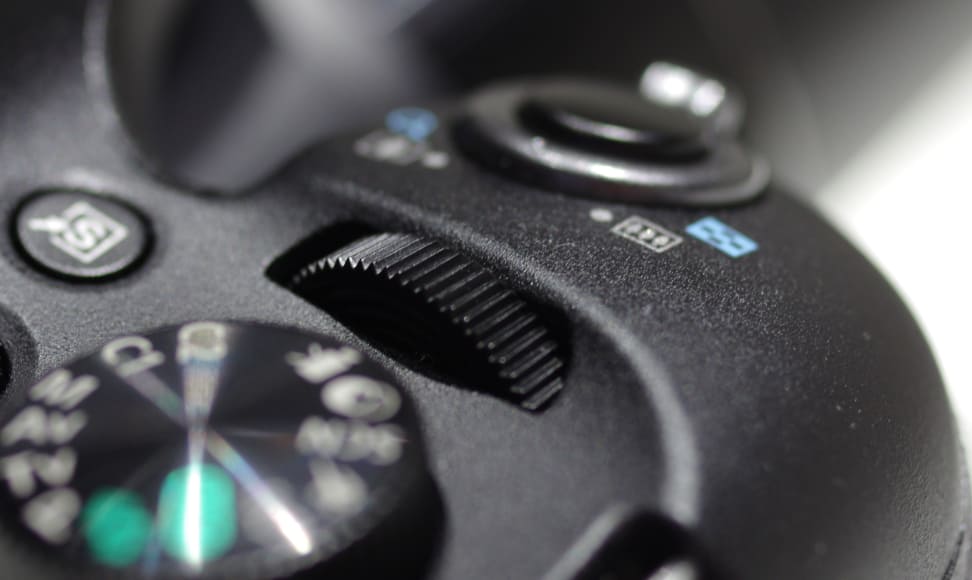 The main difference between this and smaller Canons is the size, as well as the addition of an electronic viewfinder. The finder is nice and detailed for a point-and-shoot, even if it's not quite as good as the best EVFs we've seen recently. The rear LCD is very useful otherwise, however, tilting out and to the side of the body. It's designed for tough overhead shots and can face forward so your subject can see themselves—perfect for group shots or selfies.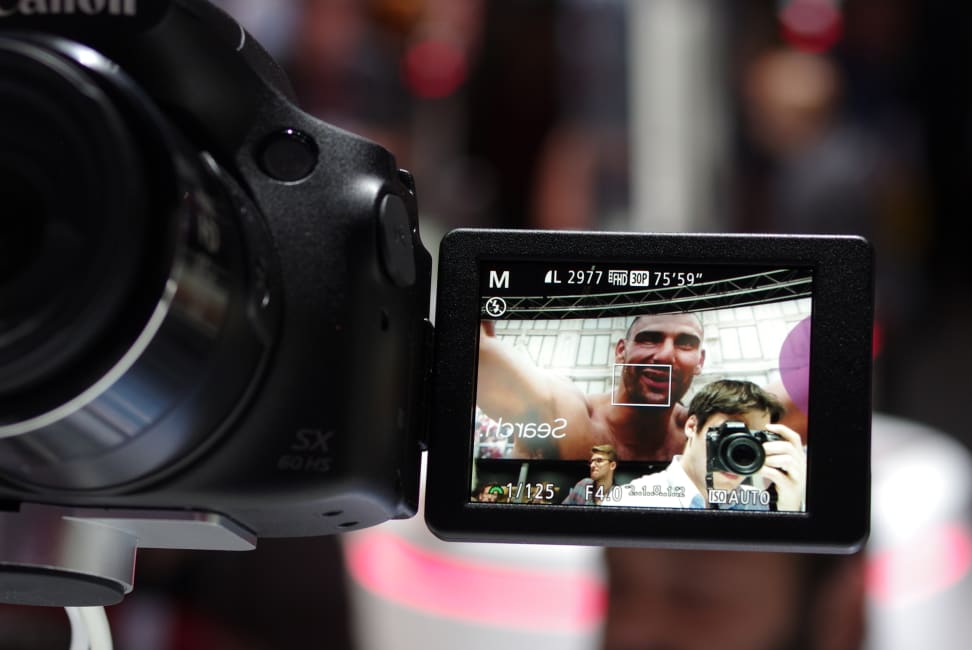 Of course the star of the show is the giant 65x zoom lens, and Canon's done a nice job of designing around such a huge zoom range. The motor on the lens zooms in and out quickly, with controls for zoom around the shutter button and framing assist options on the lens itself. Crucially, the camera's optical stabilization system also compensates well for camera shake. It can still be tough to get a perfectly sharp shot (even of a stationary subject) from far away—something not helped by the horribly slow autofocus system—but it's no worse than any other superzoom. Even then, we highly recommend supporting the camera with your left hand and keeping your elbows tucked in as any shake at all on a zoom lens this long will produce very blurry photos.
Performance
The SX60 HS is a little bit faster, but otherwise has that same old Canon feeling.
A lot can change in 2+ years. Though most of the surface changes to the SX60 HS don't seem major—RAW shooting, 1080p HD video, a higher-res EVF, a nicer rear LCD—the new Digic 6 processor is a quantum leap forward for Canon. The main beneficiary of the new processor is general continuous shooting speed, but the entire camera just feels snappier.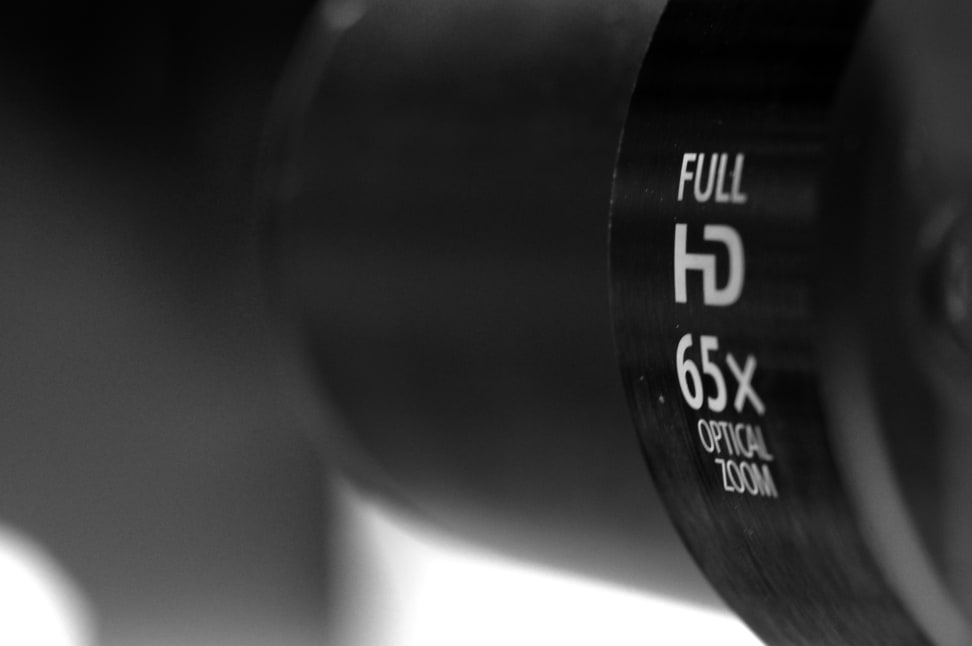 What really matters, however, is image quality. The SX60 HS delivers the kind of quality we expect from a PowerShot point-and-shoot, though that is compromised heavily if you put the 65x zoom lens to full effect. Colors were generally accurate, white balance was superb in every condition except ultra-warm indoor incandescent lighting, and noise was well-controlled through most of the ISO range. It's worth noting that the SX60 HS's max ISO is just 3200, one stop less than the SX50 HS. That seems puzzling on paper, but the resulting images are far better thanks to improved noise reduction settings.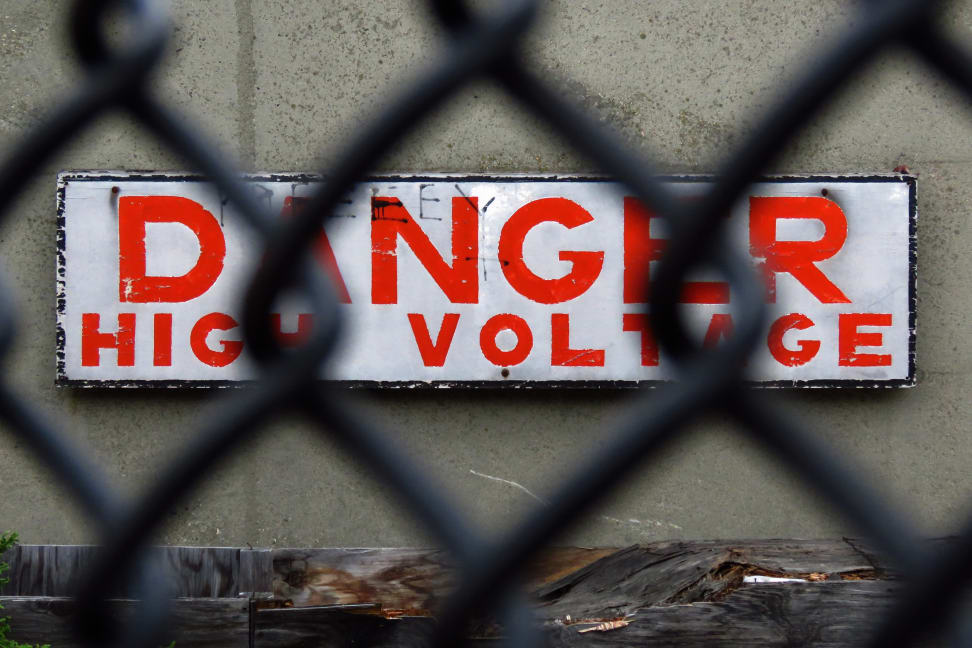 The real issue here is the lens. The new 65x zoom lens is better than the SX50's in some ways, but worse in others. The improved zoom range is useful, but at the telephoto end autofocus is painfully slow, often inaccurate, and the resulting photos lack sharpness. The problem is that with such a small sensor you can't zoom in this much without hitting what is called the "diffraction limit." Without getting too technical, the diffraction limit is a barrier beyond which sharpness across the frame begins to drop significantly—no matter how good your lens is. It's a particular problem for point-and-shoots like the SX60 which have small sensors and small maximum apertures as you zoom in.
If there's one area where Canon has made significant progress it's with video. The SX50's video was poor, topping out at 1080/24p but looking muddled and overcompressed. Canon has fixed these issues thanks to the new Digic 6 processor, now providing 1080/60p video with some measure of control. It's good enough that the SX60 HS and its 65x zoom lens can do a passable impression of a dedicated camcorder, complete with a 3.5mm mic jack for those who want to get serious about audio.
Features
There's not much that's new, but there are creative and manual modes galore.
From a feature perspective, the major differences between the SX60 HS and the SX50 HS are all in the hardware. The zoom lens is the most notable, advancing from the 50x f/3.4-6.5 on the SX50 to the 65x f/3.4-6.5 lens we have here. It's a large zoom range on both ends, as it's wider (21mm 35mm equivalent vs 24mm) and reaches further (1365mm vs 1200mm). On the wide end that's great news, as you can fit more in the frame, but on the long end there's trouble brewing, as we discussed in the performance section above.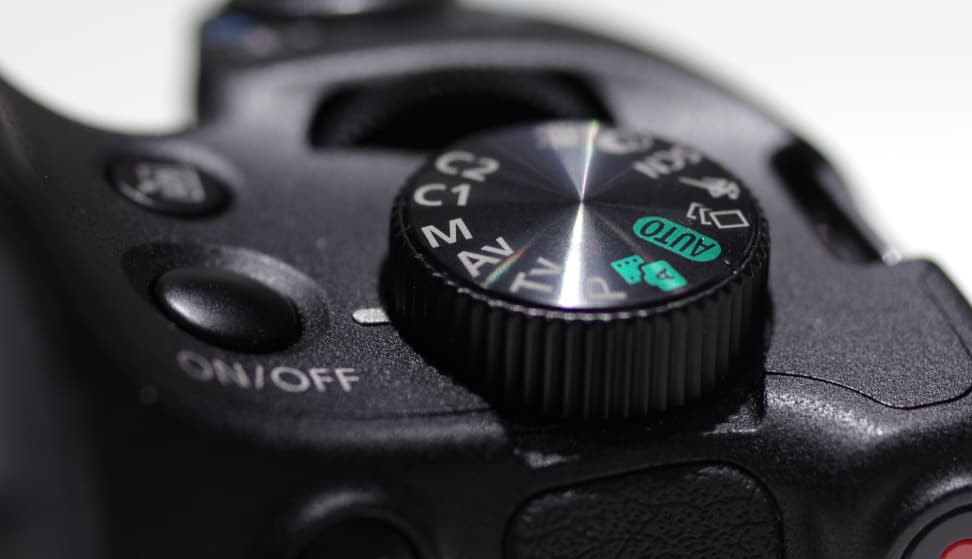 The SX60 HS also has a new sensor, improving resolution from 12.1 megapixels to 16. The sensor size remains the same, but the new Digic 6 processor allows you to now shoot much faster in the basic Auto and Program modes, with 12-bit RAW shooting also available. Where the SX50 HS topped out at a continuous shooting speed of 2.2 frames per second the SX60 can now hit 6.8 frames per second. One notable caveat here is the SX50's "Burst HQ" mode, which allows you to get 10 shot at up to 13 frames per second. It's missing from the SX60 HS, which is a disappointment.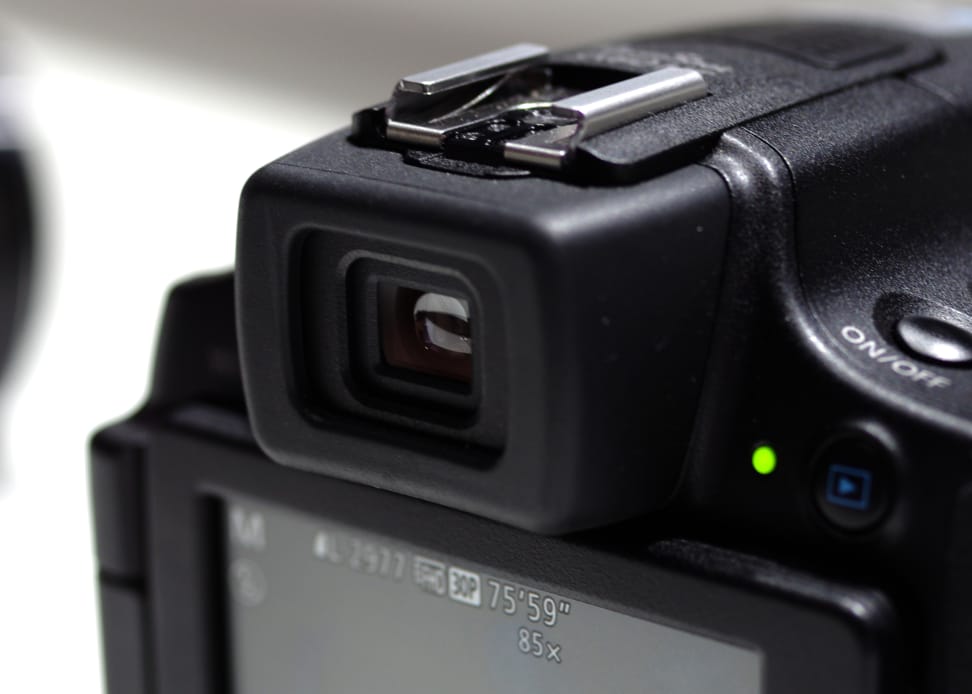 For framing you have access to both the 3-inch, 922k-dot LCD on the back as well as the 922k-dot electronic viewfinder. The rear panel looks slightly better than the EVF in real-world use despite having the same resolution, but that's because you tend to frame with your eye right up against the EVF while the LCD is generally further away.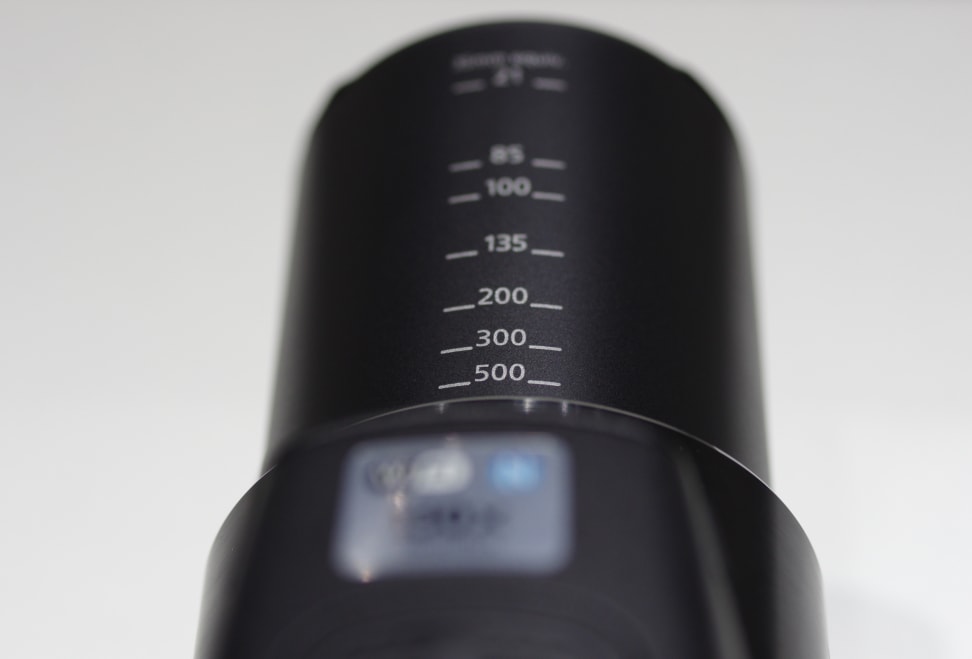 For actual shooting modes the SX60 HS has a standard complement of manual modes (program auto, manual, as well as shutter- and aperture-priority), a full auto mode, and several creative modes. There's also a hybrid auto that takes a short movie clip and finishes it up with a still image, Canon's Creative Shot which applies several pre-set creative filters, and scene modes for particularly tricky situations like birthday parties and fireworks.
The SX60 also includes a dedicated video mode, allowing for some finer control over specific video settings. As we mentioned above there's also a 3.5mm mic port in addition to the hot shoe, though there's no headphone jack for monitoring audio. Action shooters will also enjoy some of the high framerate modes, but unfortunately the only ones beyond 60 frames per second are VGA/120p and 320x240/240p so quality is limited.
Conclusion
Canon's stretching its limits with the SX60 HS, but the results are hit and miss.
As soon as we saw what Canon had done to the SX50 HS to make the new SX60 HS, our hearts sunk. There has been a very obvious performance gap at the telephoto end for cameras that use zoom lenses longer than 50x. Not that 50x zoom lenses produce great photos, but the push to anything beyond that has resulted in truly ugly photos that lack sharp detail, focus excruciatingly slow, and have all sorts of other optical problems.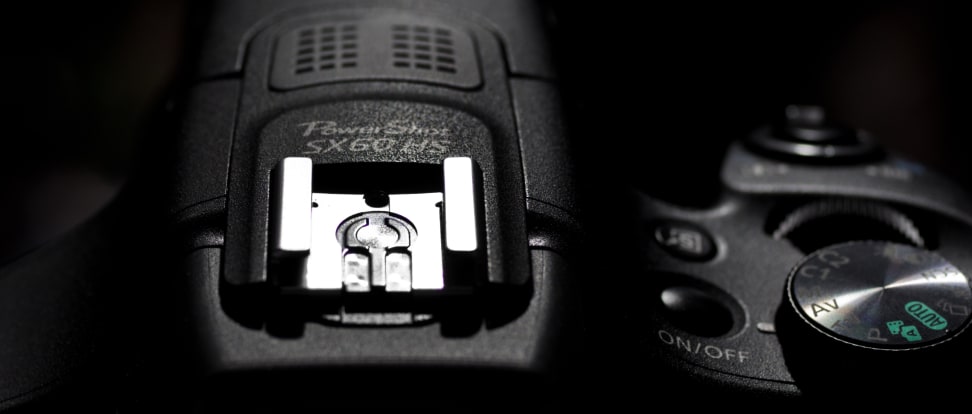 Lens designers are amazing folks who can do wonders with glass and light, but there are physical limitations to what you can do with a lens that has to be less than four inches long and go in a camera that costs less than $600. While we have frequently torn into Canon for failing to make meaningful changes to its other cameras, the move to retain the SX50 HS for a second year in a row was one that we lauded. The SX50 HS didn't need a longer zoom lens. And though the SX60 HS has assuaged some of our fears, 65x is just unnecessary and ultimately works against the camera.
The SX60 HS is simply an all-around better camera and clearly the superzoom to beat in 2014 and beyond.
Tweet It
In shooting with the SX60 HS we're actually quite impressed with how much Canon has been able to improve the experience otherwise. The camera simply handles better, feels snappier, and offers better much better video than its predecessor. The wider angle lens is a real help for group photos, selfies, and landscape shots and the improved EVF and processor pay dividends in every shooting mode. On the telephoto end, however, the photos simply aren't attractive and focus is slow.
Is it a perfect update? No. But while we wished Canon had left well enough alone and stuck with the 50x zoom lens from the SX50 HS we're happy enough with all of the other changes here. The SX60 HS is simply an all-around better camera and clearly the superzoom to beat in 2014 and beyond.
Our editors review and recommend products to help you buy the stuff you need. If you make a purchase by clicking one of our links, we may earn a small share of the revenue. Our picks and opinions are independent from any business incentives.
Our editors review and recommend products to help you buy the stuff you need. If you make a purchase by clicking one of our links, we may earn a small share of the revenue. Our picks and opinions are independent from any business incentives.
Advertisement - Continue Reading Below
Compare Prices
Our editors review and recommend products to help you buy the stuff you need. If you make a purchase by clicking one of our links, we may earn a small share of the revenue. Our picks and opinions are independent from any business incentives.
Advertisement - Continue Reading Below
Get Our Newsletter
Real advice from real experts. Sign up for our newsletter
Thanks for signing up!