cameras
Canon S110 Review
The Canon PowerShot S110 is the latest revision of the company's premier high-end compact camera model.
$499.00 at Amazon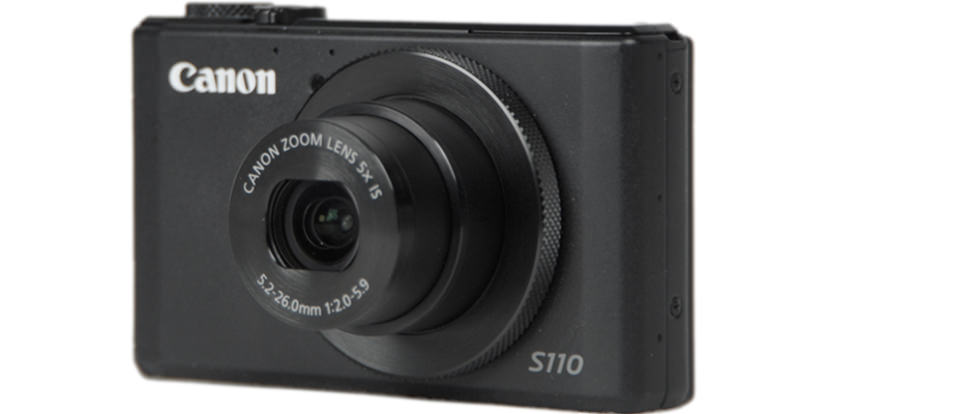 Introduction
The Canon PowerShot S110 is the latest revision of the company's premier high-end compact camera model, offering a 5x optical zoom, touchscreen control, a 1/1.7-inch image sensor, and built-in WiFi. The S110 looks and acts almost exactly like its predecessors, with only a few meaningful changes compared to 2009's S90.
The S110 is designed to appeal to amateur and enthusiast photographers who want a pocketable camera that also offers good image quality and a finer level of control than most compacts provide. While the S90 entered the market with the fresh idea of pairing a large aperture with a larger-than-normal sensor, other companies have since stolen Canon's fire. Can the S-series compete with cameras like the Sony RX100?
Design & Usability
The S110 adheres to one clear design principle: keep it small, stupid.
They say great design is invisible, and it's evident that the Canon S-series designers have taken this maxim to heart. The Canon S110 has a simple design that emphasizes function over form, with a largely unadorned body that fits easily into your pocket. The camera's basic soap bar shape includes slightly rounded corners and a powder-coated finish (in black or white) providing a modicum of traction. The S110 doesn't feature the small grip indentation that we saw on last year's S100, but it is still quite easy to hold and handle. It slips effortlessly into your pocket, with a point-and-shoot control layout that absolutely nobody should be intimidated by.
The S110's simplicity belies the impressive level of control it possesses.
The S110 features three physical dials: a standard control ring, a shooting mode dial, and a control ring around the lens that has become a hallmark of Canon's S-series compacts. The control ring is the defining feature of the S110, and something that has been emulated on some other recent cameras. Overall, it's a functional design that won't any beauty pageants, but the S110's simplicity belies the level of control it possesses.
We're also impressed by the usability of the Canon menu system. Competing cameras like the Nikon P7700, Olympus XZ-2, and Sony RX100 have a lot going for them, but they're agonizingly complicated for a novice shooter. The Canon S110 offers advanced options like RAW shooting and control customization, but it's no more complicated than the AA-powered Canon compact you bought your grandparents four years ago. Bring a DSLR on vacation and you're the de facto trip photographer; bring the Canon S110 and anyone can pick it up and take photos with ease.
Features
WiFi and touchscreen features are nice additions, but they're not exactly a giant leap forward.
The Canon S110 is an attempt to take a successful model—one that already had great image quality in a compact point-and-shoot package—and graft on some extra, trendy features. While the S100's GPS module is long gone, the S110 now features both built-in WiFi and a touchscreen LCD. Neither is particularly convincing as a photographic feature, but they're nice extras to have when you need them.
Wireless connectivity is the more useful of the two, but significant setup time makes it a hassle when you're first starting out with the camera. This has been the case with just about every WiFi-enabled camera we've seen in 2012, save for Samsung's excellent Galaxy Camera (which is really more smartphone than camera). Unfortunately, it looks like it'll be 2013 before we see a convincing WiFi implementation in a compact.
Otherwise, the S110 doesn't offer much more than the S100 did. A touchscreen can be useful in certain cases, but in our time shooting with the S110 there wasn't a single instance where touchscreen control allowed us to do something that physical control did not. There just wasn't a compelling reason to utilize it most of the time.
Comparable Products
Before you buy the Canon PowerShot S110, take a look at these other point & shoot cameras.
Performance
Second verse, just like the first: the S110 and S100 are virtually identical performers.
The Canon S110 performed well in our image quality tests, with very good color accuracy, exceptional (if software-assisted) sharpness, and very good noise characteristics. We found that the camera's image processing engine took over in most cases, employing effective but not overbearing noise reduction to minimize grain and preserve details.
We were also impressed with the S110's speed, as it was able to continuously rattle off approximately 2 frames per second, with a separate "high quality burst mode" recording 10 shots in a one-second burst. Overall, the S110 lives up to the S-series' reputation of great image quality from a compact camera.
But don't get carried away: we've seen these numbers before.
That said, don't get carried away: We've seen these numbers before. Just replace every "S110" reference in the paragraphs above with "S100" and you'd have our S100 review of a year ago. True, there's a slight improvement to the noise reduction algorithm this time around, but on the whole there's nothing revolutionary about the S110's performance. While it's a good performer within its class, it's an altogether uninspiring effort given what has come before. Canon just doesn't seem all that interested in pushing the limits—a syndrome we've diagnosed in other cameras from the market leader this year.
Conclusion
For better or worse, the Canon PowerShot S110 is more of the same.
Since 2009's S90, Canon's S-series cameras have been perennial favorites for shoppers looking to get good image quality in a pocketable form factor. With so much success, perhaps it's understandable that Canon hasn't changed the formula much in the past three years. The PowerShot S110 is the third update, and it looks almost exactly like its predecessors—touch control and wireless connectivity are the only real additions over last year's PowerShot S100.
The PowerShot S100 is one of our favorite compact cameras, a go-to for anyone looking for a pocket-friendly camera capable of great looking snapshots. The S110 is practically identical, with the same 1/1.7-inch CMOS image sensor, built-in flash, and front control ring.
We're tempted to give Canon points for not messing up the formula, but it's a little dismaying to see such stagnation in their consumer-oriented camera lines over the last few years. Sure the Canon SX260, PowerShot G15, Rebel T4i, and S110 are solid cameras that offer competitive performance, but they're really just plodding evolutionary updates over the SX230, G12, Rebel T3i, and S100. Those older models' equivalent performance and discount pricing should give any buyer pause when considering a new Canon these days.
In a vacuum, the S110 is still a heck of a camera. Its 1/1.7-inch CMOS sensor performs very well in our image quality tests, with plenty of processing done in-camera to make your images come out looking sharp and colorful. If you prefer a more hands-on approach, you can still shoot in RAW and take full control of manual settings, utilizing the camera's front and back control rings to adjust a whole host of options on the fly. Simply put, we love everything about the S110—but we love it a lot more when it's called the S100 and costs $50 less. Unless you really need finicky WiFi in your compact camera, the S100 is a better value.
Our editors review and recommend products to help you buy the stuff you need. If you make a purchase by clicking one of our links, we may earn a small share of the revenue. Our picks and opinions are independent from any business incentives.