cameras
Canon PowerShot ELPH 110 HS Review
The Canon PowerShot ELPH 110 HS is a cheap, truly tiny compact camera.
$249.99 MSRP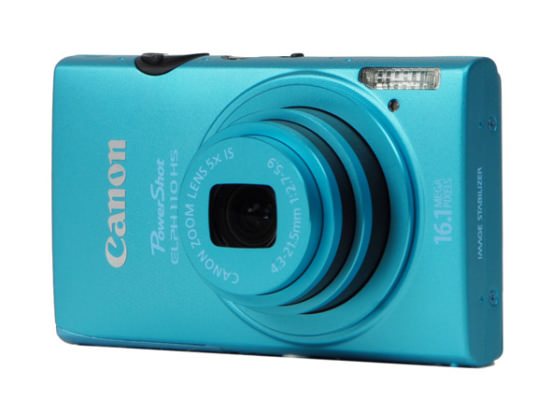 Introduction
For years, Canon has ruled the cheap compact camera market. Their A- and ELPH-series models have long been paragons of affordable prices and decent image quality, and it seemed like they'd be comfortable in their throne for years to come. Not any more—recent changes in the industry like the rapid improvement of smartphone cameras and outlandish specs on high-end compacts have shaken things up considerably. There's a distinct lack of innovation in the low end of the market, and that stagnation has put its very existence under threat.
This brings us to the Canon PowerShot ELPH 110 HS, a cheap, truly tiny compact camera. An evolutionary upgrade over last year's 100 HS, it boasts a superior sensor, a sharper LCD, and a broader sensitivity range that leaps as high as ISO 3200. The body has adopted Canon's reliable, user-friendly control scheme. Manual capabilities are MIA, but that's not necessarily a negative in a category that caters to casual users.
The ELPH 110 HS is available from most major retailers in black, blue, green, pink, red, and silver colors. It debuted at an MSRP of $249.99, but it's currently being sold at $179.00 by reputable internet retailers.
Design & Usability
The basic menu system, the absence of manual control, and the emphasis on automatic shooting make the ELPH 110 HS an ideal camera for newbies.
Like most cameras in its class, the ELPH 110 HS is tiny and shaped like a bar of soap—a budget motel bar of soap, mind you, not a chubby Dove bar. This means there's no physical grip on either the front or rear. If it were any heavier, this might be an issue, but this thing is tiny and featherlight. Plus, its surface has a matte power-coated finish that makes it easier to grip than some glossier models out there. To reiterate, lots of cameras claim to be pocketable, but this one is hardly larger in height and width than a business card!
There's nothing here to intimidate or confuse anybody, and hints and tips are scattered throughout the user interface.
The ELPH 110 HS has been built from the ground up to provide an easy shooting experience for those who are new to photography, or those who don't care to learn much about it. From the dedicated video recording button to the simple control scheme, there's nothing here to intimidate or confuse anybody, and hints and tips are scattered throughout the user interface, though users may turn them off if they wish. It emphasizes fully automatic shooting. The mode dial on this camera is actually a two-position switch, with "Auto" and "Other," and the main menu system is simplistic practically to a fault.
Features
This ELPH may be small, but its list of features is fairly substantial.
Full-HD video recording at 24fps is the most notable of the 110 HS's few additional features. Video is surprisingly excellent in good light, but image quality quickly turns abysmal as light falls. A number of filters and special image modes are crammed in as well. These include traditional options like Portrait, Smooth Skin, and Monochrome, as well as more exotic options like Fisheye and Toy Camera Effect. There are several modes intended to make nighttime and low-light shooting easier, such as Low Light (which reduces resolution to 4 megapixels to minimize image noise) and Handheld NightScene, which takes a quick burst of shots and merges them in-camera to reduce image shake and noise).
Shoppers in search of manual control will want to keep looking.
Other goodies include underwater color correction, a long exposure option, and some panoramic modes, to name a few. In-camera editing is fairly robust too, but it can be a bit of a pain to use since alterations require a trip to the main menu as opposed to a function overlay. Shoppers in search of manual control will want to keep looking though, because the only way to manually control exposure is to adjust it two stops in either direction using the exposure compensation button.
Comparable Products
Before you buy the Canon PowerShot ELPH 110 HS, take a look at these other point & shoot cameras.
Performance
The ELPH 110 HS drops the ball on image quality.
Ah yes, just another day in cheap compact camera land—hilariously over-sharpened images and aggressive noise reduction meet an inferior lens. Then, they make a mediocre image baby.
To begin with, the ELPH 110 HS tries to compensate for a mediocre lens with ridiculous oversharpening in the center of the frame, and the unnatural results aren't impressing anyone. Furthermore, this sharpening is for naught anyways, thanks to the over-aggressive, non-adjustable noise reduction. When the lights go down, the new backside-illuminated CMOS sensor does all it can, but this just isn't the go-to device for low-light performance. Then there's the problem of the lens itself. It's sharpest by far at wide angle, and drops off quite a bit the more you zoom in. This is characteristic of compact zoom lenses in general, but what's a bit frightening is that even with the camera's aggressive oversharpening, the other focal lengths are still visibly soft.
The 110 HS focuses quickly and accurately, and very rarely fails to find focus.
At least color and white balance are respectable here. The 110 HS produces above-average color performance and mostly great white balance too. Focus is reliable as well, especially in moderate and high light. The 110 HS focuses quickly and accurately, and very rarely fails to find focus. Even in low light focus can lock a target, thanks in part to its autofocus assist beam.
Conclusion
Is that an ELPH in your pocket, or are you just happy with your iPhone?
The Canon PowerShot ELPH 110 HS is tiny, cute, and available in an array of bright pastel colors. It manages to pack 16 megapixels into a very small backside-illuminated sensor, it uses a 5x zoom lens, and it is available for under $200. All of these facts sound great on paper, but if the image quality isn't stellar, why not just use your smartphone? What good is a truly pocketable camera if you've already got a camera in your pocket, as so many of us do?
The ELPH 110 HS doesn't provide a compelling response.
The difference between the 110 HS's output and what you'd get from an iPhone camera (for instance) would be virtually indistinguishable.
Sure, it's got an optical zoom, which no smartphone can offer, but it's a decidedly mediocre lens. At 16 megapixels, it surely offers better resolution and detail than the current crop of smartphones (aside from the Nokia 808 Pureview), but the question is whether it's better enough to make a difference in typical use cases. In our opinion, no, it isn't. You won't want to make big prints of the images you capture with this camera, and the difference between the 110 HS's output and what you'd get from an iPhone camera (for instance) would be virtually indistinguishable. Other concerns include its exceptionally awful battery life (just 170 shots per charge) and its lack of manual controls—many smartphones beat it on both those counts.
So, what does the 110 HS offer? Well, it looks great, it's fairly cheap, it handles better than a smartphone, newbies and casual photographers will love its simple interface, and it shoots excellent video in adequate light. Cheap compact cameras are sliding inexorably into obsolescence, but there are still a few buyers who might find value in a camera like the ELPH 110 HS. Most obviously, a good copy of this camera could certainly fit the needs of casual photographers who don't own or have plans to purchase a smartphone. Or, if you prefer, it's the kind of camera many of us would feel comfortable buying for our parents. If you don't recognize yourself (or your parents) in that description, you'd do well to consider other options.
Our editors review and recommend products to help you buy the stuff you need. If you make a purchase by clicking one of our links, we may earn a small share of the revenue. Our picks and opinions are independent from any business incentives.