Small enough to fit in your pocket yet powerful enough to grab close-ups of distant landmarks: that's the promise of so-called "travel zoom" cameras. After testing hundreds of cameras, our favorite is the Panasonic Lumix ZS60 (available at Amazon).
Travel zoom cameras typically offer roughly 30x zoom ratios, compact designs, and user-friendly controls, so you can take them wherever you go and hand them to your friends and relatives without fear.
As digital cameras continue to evolve, travel zooms are getting smaller and even more powerful, and today's examples are the best we've ever seen. We've rounded up the cream of the crop and analyzed their strengths and weaknesses, so you can be sure you're getting the best model for your particular needs.
Updated January 03, 2018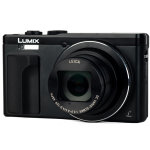 Best Overall
Panasonic Lumix ZS60
The Lumix ZS60 is the latest in a long line of popular travel zooms, and undoubtedly Panasonic's strongest effort yet. While it costs a little more than most direct competitors, it also offers some really cool features that most can't match. We're talking stuff like 4K video capture and in-camera video editing, a touchscreen LCD, and an electronic viewfinder. There are even totally unique features, like a mode that lets you change your focus point after you take a shot.
The tech specs are solid here, too: a 30x Leica-badged zoom, an 18.1-megapixel CMOS sensor, and a spiffy new processor combine to create a snappy little camera. How snappy? Think 40 frames per second burst shooting. Ultimately, this is a great travel companion and a supremely flexible little shooter. Read our full review.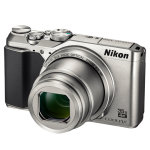 Best Value
Nikon Coolpix A900
If you want to put a lot of power in your pocket, the Nikon Coolpix A900 is a great way to start. This compact shooter packs a 35x optical zoom with image stabilization, a 20-megapixel backside-illuminated CMOS sensor, and a 3-inch screen that can flip up 180 degrees to face you for selfies.
We love the build quality—though it's mostly plastic, it delivers a satisfying feeling of density without a single squeak or creak, and there's a comfy grip around front. If you need your camera to be ready to share photos at a moment's notice, you're in luck: The A900 comes with Bluetooth LE for an always-on connection to your smartphone. And if you've got a 4K display, you'll love the native 4K video recording at 30fps.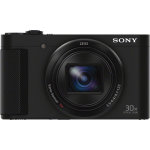 Sony Cyber-shot HX90V
Sony has been producing great travel zooms for years, and its HX90V is another worthy tool. Boasting a 30x Zeiss-branded zoom lens with 5-axis image stabilization, an 18.2-megapixel sensor, and a nifty retractable OLED viewfinder, it's certainly full-featured. The 3-inch rear display flips up to face the user, and sharing photos is easy thanks to built-in WiFi and NFC connectivity.
What you don't get here is some of the flashier, more cutting-edge features—stuff like 4K video recording, blazing fast burst shooting, or always-on smartphone connections. The price is also a little high compared to some competitors, though Sony's incredibly polished presentation may be worth it for many buyers.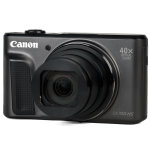 Canon PowerShot SX720 HS
The PowerShot SX720 HS has two big things going for it: a whopping 40x zoom and a very competitive $379.99 MSRP. Under the hood, it sports a 20.3-megapixel CMOS sensor, Canon's latest Digic 6 processor, and WiFi and NFC connectivity. What it doesn't offer is a viewfinder, a tilting screen, 4K video, or very many advanced features and controls.
Like most PowerShots, the SX720 HS is straightforward and simple to use, but that may frustrate some more advanced shooters who itch for a little more control over manual settings. But with that said, it's a great choice for beginners and those who just want a less complicated shooting experience.