More and more, smartphones are pushing out dedicated cameras from peoples' purses and bags. But what happens when you drop your phone, or when a rogue wave sneaks up on you? Adios smartphone. It's good, then, that there's never been a better time to pick up a rugged, waterproof camera.
This year's contenders are some of the best we've ever seen, and one of the options we tested even has interchangeable lenses. We've collected the usual suspects—Canon, Nikon, Panasonic, Fujifilm, Ricoh, Olympus, and Sony all sell cameras with rough-and-tumble credentials, but they're not all created equal. That's why there can only be one true champion of the lot, the waterproof camera that's most worth your hard-earned money.
These cameras can dive, drop, and remain functional even when the mercury drops below freezing. They keep dust and moisture out equally and you can hand them off to anyone in the family without worry. We've put each of these cameras through our standard set of lab tests, no end of abuse out in the field, and written full in-depth reviews. Now it's time to find the answer to one question: Which is the best waterproof camera in 2014?
Meet the Contenders
This year the waterproof category expanded in some interesting ways. Most manufacturers updated their lineups with improved flagship and more affordable low-end options, while Nikon returned to its roots with the first interchangeable lens waterproof camera in decades. Some of the cameras were carried over from last year and were covered in our 2013 roundup, but they remain on the market, sometimes at a reduced price. Here are the new additions for 2014:
Canon PowerShot D30 (MSRP $329.99)

At long last, Canon gave its only tough cam some love. The PowerShot D20 we tested last year was introduced all the way back in early 2012, so it was the oldest by far. Even though the 5x zoom lens, 12.1-megapixel sensor, and Digic 4 processor are unchanged, the new camera has been made tougher than its progenitor, rated for dives as deep as 82 feet—absurd for a point-and-shoot. It also gets a much more austere exterior, eschewing the strange, fish-like shape of the D20 for a much more normal look and feel.
Olympus Tough TG-3 (MSRP $349.99)

The sequel to our overall winner in last year's roundup, it brings a great batch of features along with a few tweaks to arrive at what looks like an even better package. It has better GPS integration and WiFi connectivity, taking crucial steps forward over last year's model. The Olympus also plugs into a mini system of converters and adapters, making it a bit more versatile than some of the cameras on this list.
Nikon Coolpix AW120 (MSRP $349.95)

If the AW120 looks a lot like an AW110, then you'd be correct. While it may look like a warmed-over version of last year's tough Nikon, there's one important improvement—a new lens gives this camera a new lease on life, adding a max aperture of f/2.8 on the wide end. It carries on the Nikon tradition of including on-board maps, making GPS a bit more useful than on competing cameras.
Ricoh WG-4 (MSRP $379.95 as tested)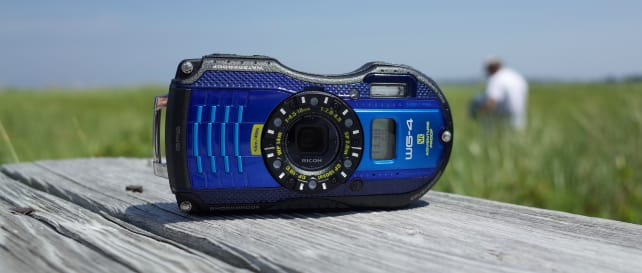 The Ricoh (formerly Pentax) WG-3 did a decent job last year in our roundup, and now it's back for more. With a unique backlit clock (on the GPS-enabled version), a digital compass, a range of mounting accessories, and LED lighting for macro shooting, this "adventure-proof" camera is one of the quirkier options available.
Nikon 1 AW1 (MSRP $799.95)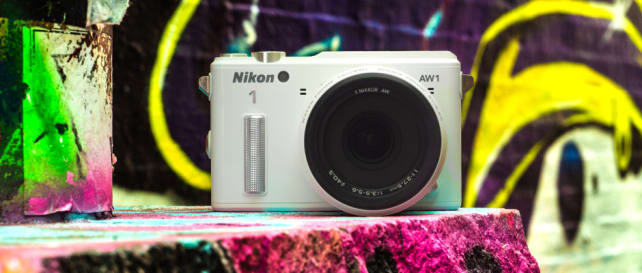 Coming from seemingly nowhere is Nikon's waterproof mirrorless camera. Without a doubt, it's the most impressively specced camera in the bunch, with a big 1-inch sensor and advanced controls. When you're not in the water or on an adventure, the AW1 can use all of Nikon's 1-series lenses. It's really not directly comparable to the others in our roundup, making it extremely special, following up on Nikon's classic Nikonos Calypso waterproof film DSLR originally designed by Jacques Cousteau himself.
Olympus Tough TG-850 (MSRP $249.99)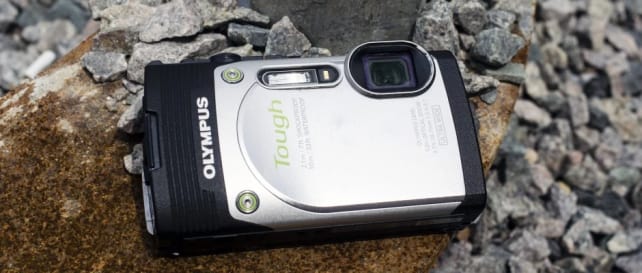 This is Olympus's latest entry-level waterproof point-and-shoot. Instead of releasing a watered-down TG-3, Olympus gave the TG-850 its own unique character. Featuring the only flip-up screen on a waterproof camera makes it the only custom-tailored option for selfies. While it lacks many of the features the TG-3 has, it still manages to feel like a snappy, modern point-and-shoot that's priced very reasonably.
The Benchwarmers
These are the cameras we tested last year that are still on sale for 2014. They haven't changed at all, but can usually be found on sale while still in stock.
Sony Cyber-shot TX30 (MSRP $349.99)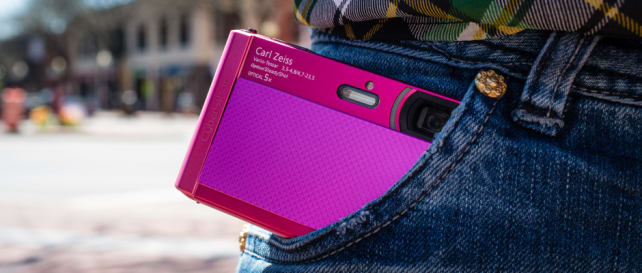 Panasonic Lumix TS5(MSRP $299.00)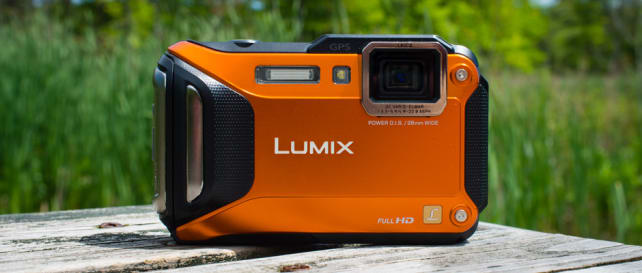 Worth Mentioning
JVC Everio GZ-R70/R10 Quad-Proof Camcorder (MSRP $499.99)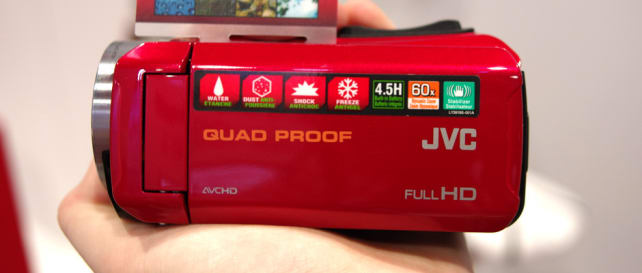 Good ol' JVC blew us away when it announced the Quad-Proof Everio camcorder at CES this year. It's the only camcorder you can get that sports a traditional shape and size, while remaining impervious to shocks, water, freezing conditions, and dust. While we don't have a review up quite yet, it's worth mentioning just because this is the only option for serious video if you don't want a GoPro Hero 3+ Black.
Cameras that we passed over for this year's competition are the older, cheaper models that often sell for $200 online, or, in this case, even less. These are basic point-and-shoots that are durable and cheap enough for a kid or teenager to toy around with, without consequence:
Ricoh WG-20 (MSRP $199.95)
Nikon Coolpix S32 (MSRP $129.99)
Fujifilm XP70 (MSRP $229.95)
Next: Features
Our editors review and recommend products to help you buy the stuff you need. If you make a purchase by clicking one of our links, we may earn a small share of the revenue. Our picks and opinions are independent from any business incentives.
Sections