When it comes to dedicated cameras, the two most popular names in the game are still Nikon and Canon. And while smartphones have eliminated most peoples' need for a dedicated point-and-shoot, there's still a healthy appetite for a full-fledged DSLR.
But one thing has changed: easy, robust wireless options are no longer an optional feature for DSLRs. Users expect simple, quick, wireless functionality right out of the box without the hassle of dongles, dropped connections, or byzantine password systems.
For Nikon, the answer has been a familiar one: Bluetooth. Updated Bluetooth standards have allowed Nikon to create a seamless, always-ready link between your camera and your phone. It's fast, it's simple, and it lets you fold the company's latest DSLR, the D5600, into your everyday lifestyle almost as easily as you can with just your smartphone.
All its other excellent qualities aside, Nikon may have finally gotten wireless right.
About the Nikon D5600
The Nikon D5600 first debuted overseas a few months ago, and it still isn't clear what's taken it so long to come to the US. Given that the States haven't exactly warmed to the company's mirrorless competition as quickly as the Asian and European markets, a new, wireless-friendly DSLR seems like it would've performed well over the holiday season.
Either way, the camera is here now, and it comes with a loaded spec sheet that puts it on par with basically any other camera under $1,000:
24.2-megapixel APS-C image sensor
ISO 100-25,600
1080/60p video recording, with 8-bit 4:2:2 HDMI output
5 frames per second continuous shooting
3.2-inch articulating touchscreen LCD
MSRP starting at $699.95
Though there's nothing in there that's truly revolutionary in 2017, it's a solid mid-range offering that gives beginners a step-up option if they want to invest a little extra money without leaving the friendly confines of Nikon's entry-level portfolio.
What We Like
The Nikon D5600 makes an excellent first impression thanks to its excellent build quality, easy handling, and logical control placement. Advanced shooters will appreciate that so many of your key manual controls can be adjusted with a single hand, and features like live view and the touchscreen now feel totally integreated into the control scheme.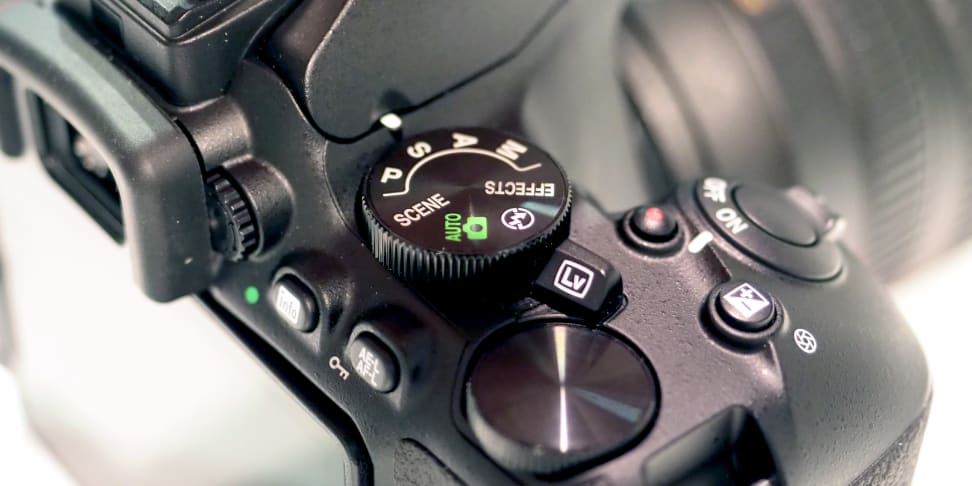 The entire camera feels very solid, but it's also quite lightweight. The body weighs less than a pound, but it still gives off an air of effortless durability; it feels like a camera that will survive more than a few bumps and bruises.
Shooting with the D5600 feels very comfortable, in large part thanks to the extremely deep grip. It has a nice bumpy texture that provides loads of purchase, and it feels like even longer lenses will be quite easy to keep stable. As you'd expect with a Nikon DSLR the autofocus is quick and accurate, and the response time is extremely low.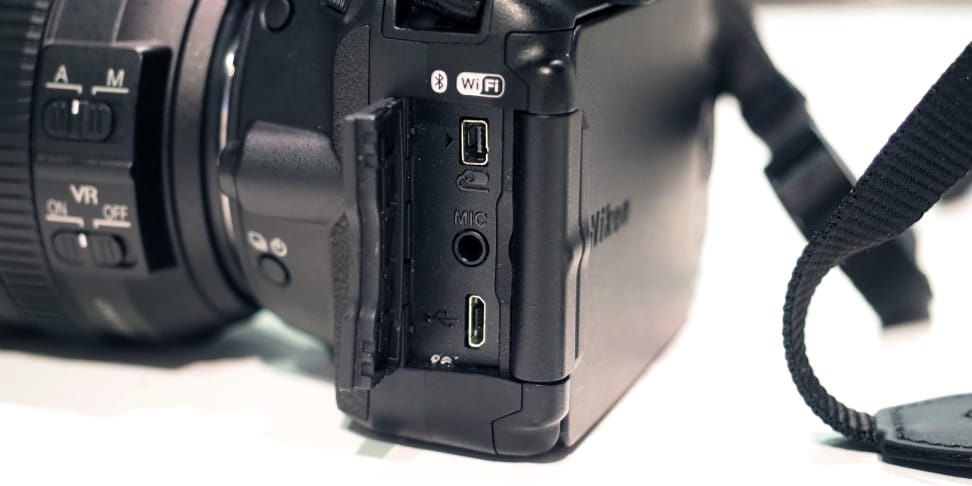 The best thing about the D5600 is definitely the combination of built-in Bluetooth and Wi-Fi, which play together beautifully thanks to Nikon's Snapbridge smartphone app. Unlike most cameras that utilize Wi-Fi alone to transfer images, the D5600 can utilize the advantages of Bluetooth to keep your phone and camera easily paired whenever they're on and near each other.
When you take a photo, the camera can be set up to automatically transfer a 2-megapixel version to your phone that is more than suitable for services like Facebook and Instagram. The shots look fantastic, and hold up well even on smartphone screens in excess of 1080p HD. If you want a full-size version you can grab that, also, and the camera can switch over to Wi-Fi to utilize the higher transmission speeds.
Technologically it's impressive, but the best thing about it is that it doesn't feel that way; it just feels like the way it's supposed to work. And unlike some other similar offerings, the connection was extremely reliable; even inside the Wireless soup that is CES.
What We Don't Like
If there's one thing I'd say about the D5600's outer design it's that it still feels like a mid-range DSLR. While most of the major dials feel as solid and hefty as those found on more pro-centric cameras, many of the rear controls still have a slight plasticky feel that lets you know you're not quite using a pro camera.
That's hardly a Nikon-specific issue, but it would be nice if cameras in the $700 range felt more like premium devices than they currently do. While most photographers understand that these are more affordable, entry-level offerings, to many beginners a $700 camera is a massive investment, and that kind of money deserves a premium look and feel.
To many beginners a $700 camera is a massive investment, and that kind of money deserves a premium look and feel.
Tweet It
Of course, adding other materials would also make the camera more heavy, and would perhaps hinder the wireless connectivity a bit, so you can't go overboard. But the D5600 in 2017 looks very similar to every other DSLR of the last decade, and it's high time that DSLRs saw some of the more adventurous design touches that mirrorless camera companies have embraced.
Beyond that, I'd only have minor nitpicks from my short time with the camera: The viewfinder is a bit cramped compared to higher-end cameras, the lack of a headphone jack means it's unlikely the D5600 will appeal to video-centric customers despite its obvious quality, and the lack of 4K video in this class of camera is still a confusing, industry-wide concern.
What's Next?
Since the Nikon D5600 has already been available in other territories for some time, we expect to see it in our test labs in Cambridge, MA soon. Given that Cambridge is almost as much of a Wi-Fi gauntlet as CES, the wireless functionality should get a similar workout, though I expect it'll hold up just as well.
Still, it's obvious that existing fans of Nikon's DSLR lineup will find a lot to like in the D5600. The wireless functionality is a very real reason to upgrade from early bodies, and it has the still and video chops to appeal to a wide swath of customers, whether they're looking for their first DSLR or replacing an aging body.
The wireless functionality is a very real reason to upgrade to the D5600.
Tweet It
The question is how well Nikon will appeal to new customers. At first glance, there isn't a ton that's eye-catching and new about this camera; on a store shelf it's going to look an awful lot like ten other cameras on the market, from both Canon and Nikon. While it acquits itself very well once you get to know it, how many prospective customers will take the time to do that?
If they do, they'll likely find a far more mature wireless offering than you'd expect if you haven't checked in on Nikon recently. While the company's initial steps towards wireless connectivity didn't always succeed, the D5600's use of Bluetooth, Wi-Fi, and the Snapbridge app feels like a fully realized solution that is robust, easy-to-use, and reliable enough to easily slide right into the workflow of a generation raised on smartphone photography.
Our editors review and recommend products to help you buy the stuff you need. If you make a purchase by clicking one of our links, we may earn a small share of the revenue. Our picks and opinions are independent from any business incentives.