Our First Take
_Editor's Note: We have since gotten the Sony RX10 into our test labs and have a full performance review ready. To check out our full digital camera review of the RX10, please head here.
More than most camera manufacturers, Sony is prone to taking big risks. It's often first out of the gate with new technologies, crazy new form factors, and things you never knew you needed until you saw them.
But not every idea the company turns out is gold. Sometimes, Sony makes products that, well... no one actually needs, or was even asking for. The Sony Cyber-shot RX10 (MSRP $1,299.99) is an excellent example.
Superzooms are great. Everyone loves superzooms. (Or, at least, people who need ridiculous zoom but can't afford a DSLR and decent telephoto lenses do.) But a $1,300 superzoom? Nuh-uh, not gonna fly.
On Expectations
When it comes to Sony, it's best not to have any.
Pretty much everyone assumed Sony would eventually follow up the RX100 and RX1 with a compact, APS-C equipped RX10.
Tweet It
When Sony followed up its RX100—a high-end compact with a 1-inch sensor—with the stratospherically expensive (but effectively peerless) full-frame RX1, pretty much everyone assumed the company would eventually out a compact, APS-C equipped RX10. Prime, zoom, whatever: Logic dictated that the inevitable RX10 would have to be a small, fixed-lens APS-C camera. It only made sense.
Then Nikon came out with its Coolpix A, and the Ricoh GR quickly followed suit. The pair created a new genre of camera overnight—a genre perfect for the still-theoretical Sony RX10. Camera geeks everywhere waited patiently for Sony's next move.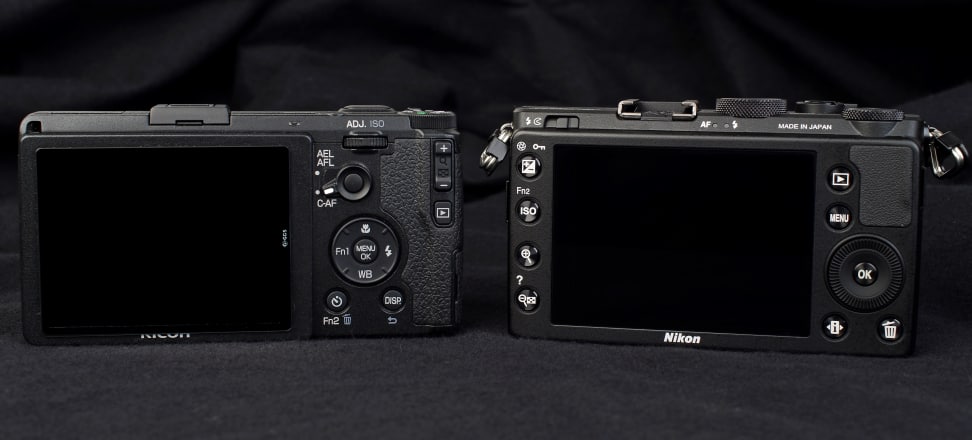 But when the RX10 finally came, Sony threw a curveball and announced a DSLR-sized camera with a monster 24-200mm f/2.8 lens. What's more, it paired the glass with the same 1-inch sensor found inside the recent RX100 II. Forum-dwelling self-styled industry pundits were aghast: How could the company use up such a primo name on a freakin' superzoom?
Sony's gambit might be a surprise to most, but it's not entirely unprecedented. More importantly, the company is targeting a slice of the market that hasn't yet been claimed. (Or, some would say, hasn't yet been created.) Regardless of whether it pays off, it's further evidence that predicting Sony's next move is a fool's game.
Design & Usability
Handsomely crafted right out of its natural price bracket
The Cyber-shot RX10 feels like a premium piece of photographic equipment.
The massive metal lens barrel is home to a generous zoom ring as well as a dedicated aperture ring—though it's electronic rather than mechanical. The electronic viewfinder (0.7x, 1.44m-dot) and tilting rear LCD (3-inch, 1.228m-dot) are both top-notch, with excellent color rendition, refresh rates, and detail. There's even a secondary status screen up top, just like a $1,000+ DSLR would have.
The screen is mounted on a remarkably sturdy hinge, though we were surprised to find it's not touch-sensitive (especially at this price point). You can tilt it up and down, but it doesn't swivel out or face forward like the fully articulating screens on some DSLRs and bridge cameras.
The grip is just like a DSLR's, too. It's carefully molded to fit your hand, plenty deep, and covered with nice soft-touch rubber. You'll also notice the RX10's weight, which is comparable to a mid-range DSLR like the Nikon D5300 or Canon T5i. Shoppers looking to ditch the weight of their DSLR kits should probably look elsewhere.
All the buttons and dials feel like they've been ported over wholesale from high-end Sony DSLRs and mirrorless models, as has the RX10's hugely customizable control scheme.
Tweet It
All the buttons and dials feel like they've been ported over wholesale from high-end Sony DSLRs and mirrorless models, as has the RX10's hugely customizable control scheme. There are a total of six programmable buttons, plus a Fn button that brings up a Quick Navi menu with another 12 user-assignable settings. For those who like fine-grained control over their camera's settings, it's a real tweaker's paradise.
Around front, there's another DSLR-style touch: a focus mode selector switch, just below the big, blue Zeiss logo. Its presence is a good indication of the kind of buyer Sony is targeting with the RX10; many point-and-shoot users would never think about engaging manual focus, but Sony clearly thinks the RX10 will appeal to those who trust their own eyes more than an autofocus algorithm. (Or perhaps people who simply think they want manual focus.)
If you've been counting the "DSLRs" in this section, you probably understand what we're getting at. The RX10 is a statement, and this is what it says: You don't need a DSLR. Sure, Sony would be happy to sell you one, but it's also offering this all-in-one solution. Don't worry, Sony won't judge you based on your choice.
Features
A smörgåsbord of high-end treats
The RX10 is an absolute beast of a superzoom. It's stuffed to the gills with cutting-edge technology, from the 20.2-megapixel 1-inch BSI CMOS sensor (ripped straight out of the RX100 II) to the beautiful 24-200mm f/2.8 Carl Zeiss lens. Getting a constant f/2.8 zoom into a camera that's still relatively compact is a real achievement, albeit something that's only possible thanks to the smallish sensor.
The RX10 is an absolute beast of a superzoom.
Tweet It
A next-generation BIONZ X processor means the RX10 behaves just as responsively as you'd expect from a $1,300 product. The camera focuses quickly, flies through image review, and can process long, high-speed bursts (10 fps) without breaking a sweat. On the other hand, the zoom-by-wire system is slightly laggy and the action could certainly be quicker. Still, it's quite precise, and we don't foresee any serious issues using it in the real world.
The powerful processor allows for 1080p video at 60 or 24 fps (in the AVCHD codec), with full manual control over exposure. That should please amateur cinematographers, as will the headphone and mic jacks. Soccer moms should appreciate the huge zoom range and relatively bright constant aperture. Smooth, steady, noise-free footage of a kid's basketball game or recital? Yes, please. We were rather enamored of the RX100's video output, and have no reason to doubt that the RX10 will do just as well.
There are tons of complicated controls, but this is still a camera you can hand off to your tech-challenged relatives with confidence.
Tweet It
It's becoming de rigueur for Sony Cyber-shots, but the RX10 is also equipped with on-board WiFi and NFC capability. Android users can connect their phones to the camera with just a tap, and simple WiFi pairing isn't difficult for iPhones, either. The Sony PlayMemories app isn't our favorite remote shooting interface—it's really pretty bare-bones—but it's smooth and simple, which is more than we can say for some of its rivals.
Like other high-end Cyber-shots, the RX10 comes equipped with a whole mess of picture effects and scene modes, along with more complicated assists like a sweep panorama mode. While there are tons of complicated controls and technical details here, the RX10 is also a camera you can hand off to your tech-challenged relatives with confidence.
Conclusion
A bad case of déjà vu
The Cyber-shot RX10 is a great camera, no doubt. It's a feature-packed, sturdily built, and supremely speedy performer. But it's also $1,300. You can't always predict future results based on past performance, but the fact is that Sony has tried this before, and the result was a failure. Granted, a failure that legions of camera geeks still wax rhapsodic about, but a failure all the same.
Let me tell you about it. Back in late 2005, Sony launched the Cyber-shot R1, a fixed-lens bridge camera with a near-DSLR-sized sensor and a 24-120mm Carl Zeiss lens. It was an exciting, unique, and beautifully built camera, but it was priced like a DSLR. It didn't sell well and was quickly discontinued. The RX10 is that camera's spiritual successor, and Sony is hoping for a different outcome this time around.
We certainly applaud Sony for trying, and for producing such a stunningly well-designed product, but we still don't think a $1,300 superzoom has a snowball's chance in heck of surviving today's cutthroat camera market. We'd love to be proved wrong, though. After all, Sony does have a way of surprising us.
Our editors review and recommend products to help you buy the stuff you need. If you make a purchase by clicking one of our links, we may earn a small share of the revenue. Our picks and opinions are independent from any business incentives.