Design & Usability
If you've handled the DP1M or DP2M, you'll find nothing has changed.
The Sigma DP3 Merrill is essentially a featureless black brick, with a tiny little bit of raised hard plastic texturing up front where a real front grip might have been. Even so, it's not particularly hard to hold, and the physical controls along the top edge and rear face of the camera are mostly logically placed.
Since it was designed to fit such a large sensor, the lens is bigger and bulkier than you might expect on a camera of this size, but it actually balances pretty well when you shoot two-handed. Manual focusing feels pretty good, with smooth action and fairly precise control, and the view can be magnified to help get more precise results.
The 3-inch rear LCD is bright, but didn't seem particularly sharp despite its 920,000-dot resolution. Colors also looked slightly washed out under the lights at Sigma's booth, but we'd have to use it out in the real world to pass real judgment on color reproduction. There's no built-in flash, but a hot shoe on the top plate means you can mount third-party flashes for strobist work.
Features
A great sensor, a great lens, and some of the slowest autofocus we've ever seen.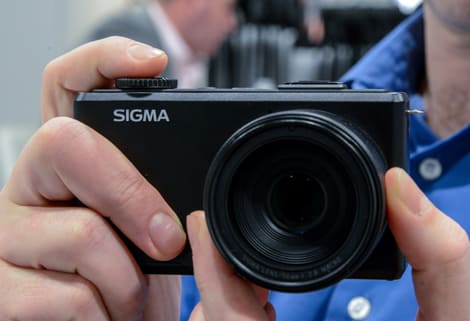 When we met with them at CES 2013, Sigma's PR reps made a point of saying that this is not an easy camera to use. To get the best out of the DP3M, a photographer must have patience, skill, and a genuine desire to understand what's happening when they press the shutter release. (This is pretty much exactly the opposite of the spiel we got from Polaroid when they showed us their iM1836 mirrorless model.)
It's also not a camera that's all dolled up with the latest flashy features. There's no touchscreen here, no WiFi, and no GPS. Hell, there's no HD video recording either—it's limited to just VGA resolution (640 x 480px) at 30 fps. There are some missing features that we'd actually like to see implemented going forward (focus peaking and image stabilization, anyone?), but generally speaking it's nice to see a stills camera that's all business.
The "46-megapixel" (15.4-megapixel effective) Foveon X3 sensor is one of the two stars of this show. You can read a whole lot about Foveon sensor here, but suffice it to say that it's a technology that has some interesting implications for sharpness and color depth/accuracy. The other big highlight is, of course, the new 50mm f/2.8 lens.
We suspect many will be disappointed that it's not a faster lens (say, a f/1.8), but if it were any bigger, the camera would probably be thrown irretrievably off-balance. As it is, it produces excellent sharpness (from what we could judge on the rear LCD) and beautiful bokeh when shot wide open. The lens can focus down to 8.9 inches, or a 1:3 macro ratio, which is pretty nice when combined with its long-ish focal length.
It's a very nice lens, but there's a huge elephant in the room: autofocus. The DP3M's autofocus is almost unbelievably slow for a modern camera, a trait that's consistent with the behavior of the other two Merrill compacts. (There's a reason they call this is a camera for the patient.) AF accuracy seemed just fine, even if it takes a while to get there, and face detection has been added to the camera's skimpy bag of tricks, but whether it can focus on that face before it moves out of the frame is another question entirely.
The "Dual TRUE II" processor allows for up to 7 shots in a burst, at a speed of 4 frames per second, in either RAW or JPEG. If you drop the image quality to low or medium, you can shoot up to 14 shots at a speed of 5 fps. Again, unless you're shooting hyperfocal, the autofocus speed will probably be a limiting factor. Whatever you do, don't buy this camera for sports.
Conclusion
It's refreshing to see a camera so single-mindedly focused on still photography, but there's definitely room for improvement.
The previous DP Merrill cameras have been almost universally praised for their landscape shooting capability. You can interpret that praise in two ways: The cameras are great for landscapes because of their excellent wide-angle lenses and superb color reproduction, or they're great for landscapes because they can't focus properly on anything else. The truth is probably a combination of the two.
Without any autofocus improvement, we're a little worried that the DP3 Merrill's potential will be limited by its 75mm effective focal length. Sure, there are plenty of people who use telephotos for landscape shooting, but generally a wide-angle lens will be the first choice. On the other hand, the DP3M might be the perfect instrument for portraiture, whether in the studio or the real world. Again, a brighter maximum aperture would be helpful, but f/2.8 is still plenty wide to create pleasing shallow depth-of-field effects in portraits.
Regardless of how you use the DP3M, you're going to have to learn put up with some quirks if you want to love it. We've already mentioned the autofocus, but there are other issues, too. The battery life on the DP1M and DP2M was what could charitably be described as "horrendous," and according to the spec sheet, the DP3M is no better. You can expect to get just 97 shots on a charge. Furthermore, while the Foveon X3 sensor is superb in bright light, it's far from ideal (pretty bad, really) when you have to crank up the ISO. Ergonomics could certainly also stand to be improved.
This is a camera by enthusiasts, for enthusiasts. But even among that small group of qualified users, the DP3M (and its siblings) will be divisive. There are other options in the large-sensor, fixed-lens game—such as the new Fujifilm X100S and the Leica X2—that provide a more seamless user experience without some of the more annoying quirks. But none of them offers a Foveon sensor, or a 75mm-equivalent lens.
We suspect that those who will be interested in the DP3M already have it on their radar, but if you've only just stumbled upon it and your curiosity is piqued, keep an eye out for our full review.
Introduction
Sigma has never been a big player in the digital camera market, or indeed any camera market. Along with Tamron and Tokina, it's been one of the premier third-party lensmakers for the past several decades. But the small, family-owned company has made a few cameras, too, and they have their fair share of ardent fans.
Sigma's digital SLRs, sporting the company's unique three-layer Foveon sensors, have been favorites of landscape and studio photographers for several years now thanks to their insanely sharp and richly colored output. Then there's the DP series of fixed-lens APS-C cameras, also using Foveon sensors and comparable in many ways to the Leica X series.
Ultimate image quality was never the issue, but Sigma's early cameras were slow, had horrible battery life, and were clunky to operate. When Sigma relaunched the DP series with its Merrill branding in the summer of 2012, some of that began to change. Now they've announced the third in the DP Merrill series: the DP3 Merrill. Internally, it's identical to the DP1M and DP2M. On the outside, it has a new 50mm f/2.8 (75mm equivalent) lens. We've gone hands-on with the new model at CES 2013.
Our editors review and recommend products to help you buy the stuff you need. If you make a purchase by clicking one of our links, we may earn a small share of the revenue. Our picks and opinions are independent from any business incentives.
Sections