Our First Take
Travel-zoom cameras provide the best combination of optical reach and compact size on the market today. But while companies like Sony and Panasonic are ratcheting things up with 20x and 30x lens designs, all that extra zoom comes at a cost: The cameras aren't very pocketable.
The Nikon Coolpix S6800 (MSRP $219.95) sidesteps this optical arms race and sticks with a more modest 12x design, providing enough reach for most users while still offering a slim, compact package that easily fits in any but the tightest pocket. With the addition of WiFi, a 16-megapixel backside-illuminated CMOS sensor, a 3-inch LCD, and some new "Advanced Glamour Retouch" modes, the S6800 just screams for the opportunity to tag along on a night out on the town.
Design & Usability
A compact camera with plenty of zoom for everyday shooting
As we've already covered, the S6800 puts a 12x optical zoom in a compact, slim body. At around an inch deep, it's a camera that will fit in the pocket of even the skinniest jeans. The camera's design otherwise doesn't have much noteworthy about it: there's a power button, shutter release, and zoom toggle on top, while the back has a four-way directional pad with basic controls for accessing timer, flash, exposure compensation, and macro settings. On the back you'll also find a dedicated video record button, keys for accessing the menu, scene, and playback modes, and a 3-inch standard LCD.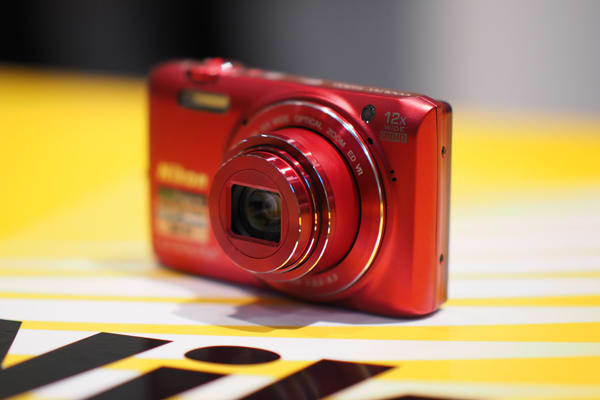 The 12x optical zoom lens collapses into the body, and offers a 35mm equivalent focal range of 25–300mm. The lens has a maximum aperture range of f/3.3-6.3 and is comprised of 9 elements in 7 groups. The lens feeds light to the 16-megapixel CMOS sensor, which is backside-illuminated but otherwise as standard-issue as it gets. The lens has optical stabilization for both stills and video, with electronic stabilization also available when recording video.
The shooting experience with the Coolpix S6800 is very similar to most other point-and-shoots. The limited aperture range means it struggles in low light, though the optical stabilization did allow us to take some acceptably sharp shots even at full telephoto. The camera is lightweight and easy to use, though the lack of manual control will put off anybody looking for a more advanced camera. Still, this is a successful design that doesn't leave much room for gripes—especially given the extremely reasonable price point.
Features
...because you just hate your friend's shade of lipstick?
When it comes to features, the S6800 is pretty well-equipped. Stills shooters benefit from 9.4 frames per second shooting (with a maximum of seven frames in a burst), a 100-6400 ISO range, a short-throw built-in flash, and a bevy of in-camera editing and scene modes. Video shooters get full 1080/30p HD video (H.264 in a.MOV wrapper) and a stereo mic. There's also updated WiFi connectivity and the aforementioned lens and sensor specs.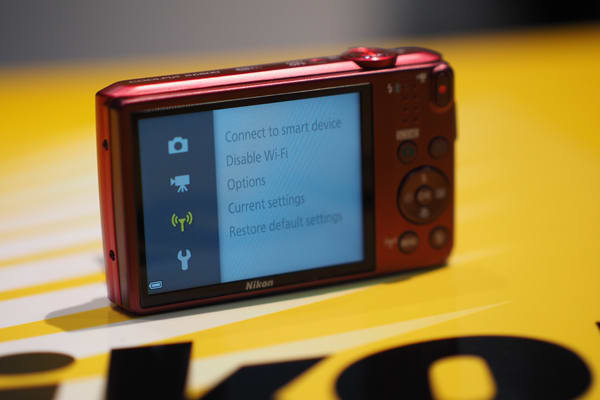 Again, nothing here is revolutionary, but there are no glaring omissions, either. The biggest addition over last year's models is the Advanced Glamour Retouch modes, which offer several ways to beautify up to three subjects in your photo. It does so by brightening skin tones, hiding the bags under eyes, applying eye makeup digitally, and whitening teeth. You can also change the shade of subjects' lipstick, because man that mauve looks terrible with your fuchsia dress. Nikon has an demo reel for these features here, if you're curious.
We're not sure that we'd use these features, but they're a bonus that does separate the Coolpix S6800 from the crowd. If you do similar editing to your photos already and just want to ship shots straight from the camera to social media channels, this eliminates one extra step.
Conclusion
An entry-level camera with enough extras to be worth the (eventually discounted) price
To be certain, the Coolpix S6800 lacks most of the advanced features that usually get us camera reviewers all excited. It doesn't have a viewfinder, a large sensor, 1080/60p video, manual control, or excellent ergonomics. But with an MSRP of $219.95, nobody's expecting it to.
What the S6800 does have is a competitive feature set for the class, built-in WiFi, and a compact body that you won't mind carrying with you all the time. There's nothing here that will set the camera world alight, but there's enough here that, if you're in the market for an affordable, easy-to-use camera, it's worth considering.
That said, we wouldn't recommend paying full price for this camera right away. We'll still have to get the S6800 into our test labs to make any proclamations about performance, but there's been very little improvement in this part of the market in the last two years. Also, cameras like the S6800 tend to drop precipitously in price throughout the year. Today's $220 camera is tomorrow's $180 camera—and Black Friday's $130 camera.
So if you need a pocketable point-and-shoot, we'd say you should take a look at something like the Coolpix S6500, which is essentially the same camera and can be had for just $169.95 right now.
Our editors review and recommend products to help you buy the stuff you need. If you make a purchase by clicking one of our links, we may earn a small share of the revenue. Our picks and opinions are independent from any business incentives.