Design & Usability
A slightly cheap-feeling build and a rudimentary menu system give the SL1000 the feel of a point-and-shoot poured into the body of a compact bridge camera.
It's hard not to notice the SL1000's relatively cheap feel. For a $400 super-zoom, it's not a deal-breaker, but compared to other Fujifilms in the same class—such as Fuji's own HS50 EXR and the Canon SX50 HS—it's hard to overlook. But while the SL1000 may not be the most robust camera of its size and class, the design is certainly strong enough for everyday use, and not likely to bother you.
There are two electronic zoom controls on either side of the lens, but the camera itself has no manual zoom. The articulating 3-inch LCD screen is a nice addition at this price point, and it'll certainly help in composing some shots. Even better is the 920k-dot electronic viewfinder, which is a very nice jump up from the 200k-dot finder on the earlier SL300. The menu system is, sadly, basically identical to the user interface in Fujifilm's low-end point-and-shoots—another way in which the SL1000 caters to newbies. On the other hand, the hot shoe is a nice add-on that makes it a more fitting camera for "aspirational" photographers.
Features
Full-HD video, a panorama mode, a custom mode dial, and a 50x optical zoom—all these features position the SL1000 firmly within the space for crossover super-zooms.
The thing we keep wondering while handling the SL1000 is this: Does it beat out our top-reviewed super-zoom, the Canon SX50 HS, especially considering the small difference in price ($50 in MSRP, less at actual stores)? While the SL1000 has its share of interesting features—including a tilting LCD, advanced filter functions, a hot shoe, and full-HD (1080i at 60 fps) video with stereo sound—it seems to be missing some key attributes. For example, on a mid-range crossover super-zoom it'd be nice to have more dedicated physical controls and a more rugged build. But you can't have it all.
Consider some of the SL1000's other core specs: a 16.2-megapixel backside-illuminated CMOS sensor, an extensive sensitivity range (ISO 64–12800), a high-res EVF, and a mode dial that includes a custom setting and nifty (if panorama function. We're hesitant to say these features will allow the camera to beat out the Canon SX50, but it's still pretty impressive for a camera that undercuts the class-leader's price by a decent chunk.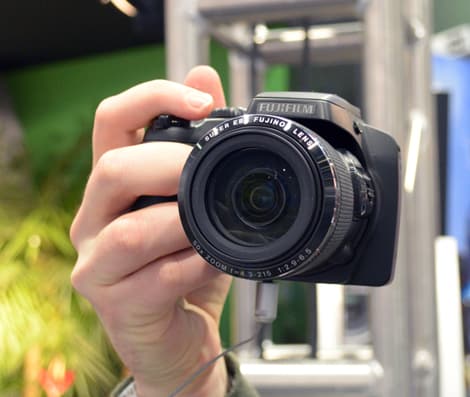 Conclusion
The SL1000 is a solid option for entry-level super-zoom photographers, and those looking to save a few bucks might well consider it over the similarly equipped Canon SX50 HS.
The Fujifilm SL1000 is an odd, slightly schizophrenic beast. Its range of core specs is impressive, from the 16-megapixel BSI sensor to the undeniably cool 50x optical zoom (cool, that is, if you need such a wide range), but it also seems far too narrowly targeted on traditional point-and-shoot users, from its build quality to its menu system. And it's hard to say, without getting it into our labs for proper testing, that it's better than (or even comparable to) its chief competitor, the Canon SX50 HS.
We're impressed that Fuji's engineers have swung for the fences with such gusto, but we wish they'd forgone the novice trappings and given us a more thoroughly enthusiast-oriented model. With more robust construction, a beefier menu system, and a manual zoom ring of the sort found on their HS50 EXR, we probably wouldn't have minded an extra $50 on the MSRP, and we'd be more comfortable repping it against the SX50 HS.
Introduction
The Fujifilm SL1000 (MSRP $399.95) is a low-cost superzoom that's likely meant to compete with Canon's well-received PowerShot SX50 HS. While the lower cost comes with a few drawbacks—notably a cheaper feel that gives it the sense that it's a point-and-shoot dressed up as a mid-range crossover—it's certainly worth considering, even when held up to the SX50, which won our 2012 award for Best Super-Zoom.
Along with the SX50, it's one of only two 50x (24-1200mm equivalent) optical zooms in existence. A year ago—even six months ago—_none_ existed. So, the SL1000 is a member of a very rare species, and it's taking on a landmark camera in the genre. Why? Does Fuji think it can really take Canon on, mano-a-mano? Well, yes and no. Fuji's 50x zoomer is cheaper, both in price and in feel, and it seems to target novices more than Canon's. Still, it's packed with features for a camera in its price range. Can it compete in image quality? We'll have to wait and see about that.
Our editors review and recommend products to help you buy the stuff you need. If you make a purchase by clicking one of our links, we may earn a small share of the revenue. Our picks and opinions are independent from any business incentives.