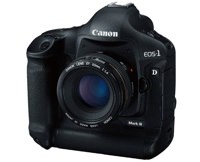 Looks like Canon is no longer plagued by the EOS-1D Mark III autofocus fiasco. In a statement which is up on the Canon website, the company now says that the EOS-1D Mark III AF function performed better than all previous EOS camera models in their tests.
This is attributed to the AF mirror Adjustment and the updated firmware version 1.1.3.
Says Canon:

"We are aware that some customers have raised questions about the performance of the EOS-1D Mark III AF system under certain conditions. We will continue to investigate, and look for opportunities to improve, the performance of the AF system to ensure the satisfaction of all of our customers"
Be in the know! Get Reviewed.com news and reviews straight to your inbox.
Thanks for signing up!