Great Cameras Under $1,000
You've set aside a cool grand to buy a camera you'll have for years. These are our favorite options.
There comes a time in every adult's life when it is time to plunk down for a proper camera. Maybe you're getting married, about to take the trip of a lifetime, or you're about to have a child. First off: congratulations! Second: welcome to the grim reality of picking a camera to capture all these memories. We're here to help.
If you're here, you've probably already decided that your phone camera simply isn't going to cut it. Yes, the newest smartphone cameras are much better than they used to be. But they're still not as good as even an entry-level DSLR. And let's face it, shots that are "good enough" aren't good enough for the trip of a lifetime, or for capturing junior's first steps.
Most people set aside around $1,000 for a purchase like this, so here are some of our favorite cameras that'll get you everything you need under that threshold, whether you're an expert, a travel junkie, or a beginner who just wants great photos. You may not fit exactly into one of these categories, but we'd recommend any of these cameras to our friends and family, so one should work for you.
Expecting Parents
A baby is on the way and you need a camera.
As a camera reviewer, friends of friends always come out of the woodwork when a baby is on the way. "Hey, you work with cameras, right? What's a good one?" It's natural: you're about to bring a little guy or girl into the world and you want to capture every moment. That's totally understandable.
Most expecting parents probably aren't photography experts, so we'll assume you want something easy to use. (Experts, we'll cover you in a minute). It should also be a camera that you will get great photos with for years. Video would also be a big help, because sometimes you want to capture a moment in more than just still images. It should also be good in low light, because you don't want to use a flash with a newborn and hospitals aren't exactly the best-lit places.
If this sounds like you, we recommend the Nikon D5300 (MSRP $899.95), which we reviewed right here. It checks all the boxes above: it's easy to use, has great battery life, gives you built-in WiFi and GPS, and it takes phenomenal video (about the best of any DSLR under $1,000). It also makes use of Nikon's great lens system so you can get better glass later once you learn what does what, including lenses that will let you zoom in on the inevitable soccer games and school plays.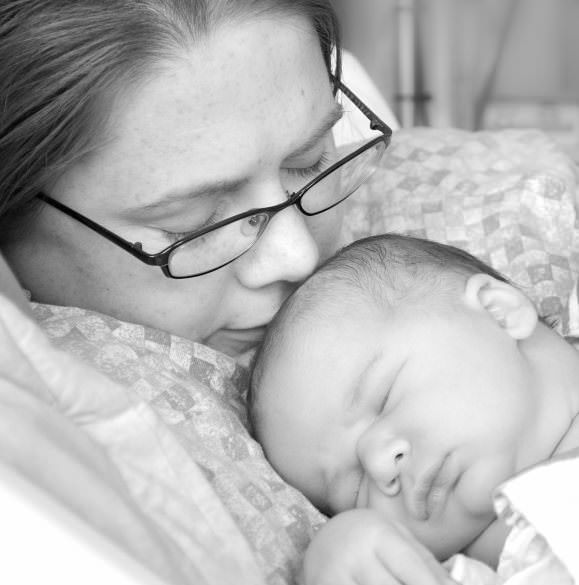 With the basic 18-55mm kit lens you can get the D5300 for $899.95, leaving you enough room to pick out an SDHC memory card, a bag, maybe a simple helper's guide, and have some money leftover. If you've already got a card and a bag, we recommend that you get the Nikkor 50mm f/1.8G lens. It produces much better pictures than the kit lens (even in low light), focuses quickly, and it gives you those amazing shots with creamy, blurred backgrounds. As a commenter below pointed out, the Nikkor AF-S 35mm f/1.8G is also a great choice and gives you a wider field of view for just under $200.
Travel Junkies
Jetsetting soon? Don't forget your camera.
So you're about to go on the trip of a lifetime. You're going to Europe or South America or Africa or Japan or China. Maybe you're going to all of these places. Either way, you're going somewhere and you want to take great photos so you can remember every moment. I've been there, and I find that taking photos while traveling helps you better engage with the people around you. Either way, you'll want a good camera with you.
If you're traveling we'll assume that you want something that's good in a variety of conditions. It should also be nice and compact, easy to operate quickly, and able to capture a variety of subjects well. Though there are great point-and-shoot options such as the Ricoh GR (MSRP $649.99) or Sony RX100 II (MSRP $749.99)—which we love and are also superb—we'll also look for something with interchangeable lenses. After all, if you're going to spend upwards of a grand, you may want to be able to change things up for future trips down the road.
Our current favorite if you need a travel camera is the Panasonic GM1 (MSRP $749.99), reviewed here. It's a Micro Four Thirds camera that's smaller than the point-and-shoots we mentioned above, but has an excellent image sensor, takes great photos, and has interchangeable lenses. The lens thing is an important point, because you can use it with a compact lens like the Olympus 25mm f/1.8 and have something that'll fit into a jacket pocket easily. You can also pick up a nicer lens like the phenomenal Olympus 75mm f/1.8 later if you wish and your budget allows.
The GM1 is available with the basic 12-32mm kit lens (similar to the 18-55mm lens that comes with the Nikon above) for just $749.99. You can also find special offers that include a memory card and a bag throughout the year for the same price. That leaves you plenty of room to consider picking up some of the excellent, compact prime lenses that work with it, such as the 75mm f/1.8 we mentioned above or something like the Olympus 45mm f/1.8 lens, which is compact, takes great images, and costs less than $400.
Graduation Time
Time to grow up. Start with a grown-up camera.
Maybe you're picking up a great all-around family camera because someone is about to graduate or maybe you're buying the camera for the graduate themselves. A great camera makes a fantastic gift for someone stepping into the next stage of their lives. When I graduated college I was given my first real DSLR, and now I review cameras for a living. Even if this camera isn't going to help kickstart a photography career, a nice camera is a wonderful gift that will certainly provide a more meaningful diversion than a new game console or a TV.
So what kind of camera should we be looking at? It should be adaptable, something that you can learn and grow with. It should take great images. If you're going to be shooting at a graduation you want something that's usable both indoors and outside, depending on the weather. It should also be responsive, so you don't miss those decisive moments. For these reasons our recommendation is the Olympus OM-D E-M10 (MSRP $799.99), which we reviewed earlier this year.
The E-M10 has a fantastic image sensor, is capable of some great images, and it has a few notable features that give it a leg up over some of the competition. It has one of the fastest autofocus speeds of any camera we've tested lately and it shoots at up to 10 frames per second, so you shouldn't have any trouble getting the decisive shot of your loved one walking across the stage to accept their diploma. It also has an electronic viewfinder and a tilting LCD, so you'll be able to hold it above your head and frame your shot or look through the finder on bright days while everyone else is squinting at their phone's LCD screen.
As a gift, the E-M10 also just oozes retro cool, especially the silver and black version. It's also a part of the same Micro Four Thirds system as the GM1 we covered above, so the lenses are cross-compatible. You can get the E-M10 with a basic 14-42mm kit lens for just $799.99. This lets you pick up a memory card, a bag, or a second lens if you know you'll be seated far from the stage. If that's the case, you can pick up the Panasonic 45-200mm f/4-5.6 lens for under $300 or upgrade to the Olympus 75-300mm F4.8-6.7 for around $550. Both will let you zoom right in on the stage, though you'll want to brace against something to keep your shot steady and blur-free.
Your Kid is an Athletic Phenom
You'll need a camera as fast as your sugar-fueled kid.
So, your child is the next Lebron James, or Bryce Harper, or Tiger Woods, or Mia Hamm. Or maybe your kid consistently scores in the wrong goal but you just want some great photos. Either way, you're going to want a camera that's capable of capturing the action. Sports is one of the trickiest subjects to photograph properly, though some sports (such as hockey, basketball, or gymnastics) are much more difficult than others.
Once again, we'll operate under the assumption that you're not an expert, but you're willing to learn. You'll want a camera that has fast autofocus, can handle tough lighting conditions, and can shoot very quickly to capture quick bursts of action. It should obviously take great photos, and should be good for a variety of sports, because few kids play just one. For all this we'd recommend the Sony A6000 (MSRP $799.99).
Though we haven't yet lab-tested the A6000, we've used it enough to know that Sony's claims of it having the "fastest autofocus in the world" aren't total bunk. This thing is fast, capable of up to 11 frames per second with continuous autofocus. That means that you can track your subject through the frame shooting at full speed and the camera will stay locked onto them so you don't miss a beat. How fast is 11 frames per second? It's about the same speed we needed to capture shots like these at a Red Sox game, also with a Sony camera.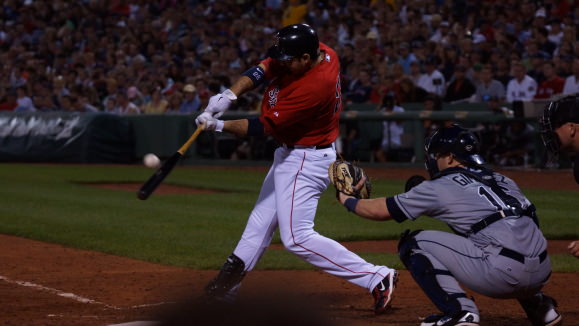 The A6000 has a 24-megapixel sensor that we are confident can handle low light shooting quite easily. It's also easy to use, has plenty of neat extras, and the lens system is growing quickly. You can get the A6000 and a basic kit lens for $799.99, but it's important to note that while the A6000's larger sensor yields better low light performance, lenses don't magnify subjects as much when they have to cover the larger area of a bigger sensor. To zoom in on the game you can go with something like the Sony 55-210mm lens, which you can get for around $300. But for sports where you need even more zoom a camera like the E-M10 we recommend above is also a great option, as it has similar burst speeds, also focuses quickly, and the 300mm lens we mentioned in that section is roughly equivalent to a 450mm lens on the Sony.
Demanding Experts
You want the best, but you're on a budget.
So you're an expert. You've shot with a digital SLR or a film SLR in the past. You're looking to upgrade, but you're on a budget. You don't need easy modes or scene modes or any hand-holding, you know what different lenses offer, and you just need the best camera you can get for under a grand. It should be something that gets out of your way, provides full manual control, has a lens system that will adapt to your needs, and won't hold you back when you're feeling creative.
What's the best choice? Truthfully, any of the cameras we've recommended to this point are good options. The Olympus E-M10 gives you the electronic viewfinder, retro styling, and excellent image quality you'll need. The Nikon D5300 has the best video and the benefit of an optical viewfinder. The GM1 is probably a little beneath what you'll want but it's compact if you need something with you all the time. And the Sony A6000 is a good mix of all three, with compact size, a growing lens system, and some impressive performance.
One camera we've yet to mention above? The Panasonic Lumix GX7. The GX7 is compact like the A6000, has video quality close to the D5300, has a similar image sensor to the E-M10, and handles extremely well. It's shaped like a rangefinder, with an electronic viewfinder that is bright, sharp, and easy to use. And while Nikon has the most variety in terms of lens selection, Micro Four Thirds is a close second, with tons of great lenses that won't break the bank. You may eventually want to upgrade to a full-frame camera like the Nikon D610, but full-frame cameras go with full-frame lenses, and full-frame lenses can be quite expensive.
Ultimately, experts will likely have very specific needs (or a library of lenses) that may make one particular brand a better option. If that's the case for you, you can check out all of our camera ratings here and pick and choose what works best for you. If none of these float your boat, the Samsung NX300 is also a great bet. We thought it was a steal at $749.99 and you can find it now for as low as $450 brand new. Though Samsung's lens selection doesn't cut it compared to our other picks, the NX300 pairs extremely well with the company's 60mm macro or 85mm portrait lenses.
Be in the know! Get Reviewed.com news and reviews straight to your inbox.
Thanks for signing up!