2012 Black Friday Digital Camera Deals
Don't ruin your Thanksgiving weekend chasing a bum deal on a new camera.

It's Black Friday. You know the drill: Get up early, stand in the freezing cold for hours, and save big! Before you ruin your Thanksgiving weekend chasing a bum deal on a digital camera, take a look at what we think of the biggest digital camera deals set for Black Friday 2012.
There are tons of circulars and web ads to keep up with, so consider this page a work in progress until Black Friday actually arrives. Last updated: Mon. Nov. 19, 12:30 PM EST
DigitalCameraInfo announced our Best of Year Awards last week, and we've found a few deals for some of our favorites.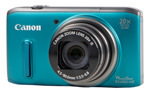 The Canon SX260 packs a 20x zoom lens into a body that's legitimately small enough to fit into a pants pocket. Image and video quality are excellent for the class, and it's easy to use, too.
• Canon SX260 HS, $199 at Best Buy

• Canon SX260 HS, $229 at Amazon
The price at Best Buy is one of the top deals we've seen for Black Friday—a top-notch, all-in-one pocket camera for under $200. Boom. Like most of their deals, the price at Amazon is ongoing—not just limited to Black Friday. It's still a fair price for the camera.
---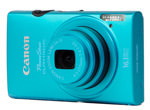 Cheap compacts aren't cool anymore, but there's one that we still like: The ELPH 110 HS.
• Canon ELPH 110 HS, $129 at Best Buy

• Canon ELPH 110 HS, $129 at Office Depot
It usually retails for about $179, so at $129 is a decent deal. Skip it if you have a decent smartphone already, but it's a good gift for folks who just want a simple camera that takes good pictures and video.
---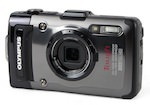 What do DCI and Justin Bieber have in common? We both love the Olympus TG-1. It's the best waterproof camera we've seen, and a very good point-and-shoot overall. The price has dropped to $349, down from the MSRP of $399.
• Olympus TG-1, $349 at Olympus Direct

• Olympus TG-1, $349 at Amazon
We're not sure if it's a permanent price drop or a holiday sale, but we think it's a good price for this camera.
---
DCI Best Camera for Video, Runner-up, Canon 5D Mk III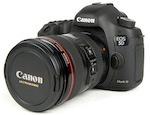 Here's a couple hundo off of a pro-level, full-frame DSLR:
• Canon 5D Mk III, body only, $3,299 at Amazon

• Canon 5D Mk III, w/24-105mm lens, $4,099 at Amazon
Yes, the 5D Mk III is still expensive, but hey—$200 is $200, even if it's a drop in the bucket of the total cost of this camera. This is a serious piece of equipment—you won't be able to blame the camera for any bad photos!
---
DCI Best Value System Camera for Video, Runner-up, Sony Alpha NEX-5R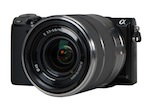 • Sony NEX-5R w/18-55mm kit lens, $649 at Best Buy

• Sony NEX-5R w/18-55mm kit lens, $648 + $50 gift card at B&H Photo
It's a bit surprising to see the brand-new NEX-5R going for a discount already, even if it is just $100 off the sticker price. But we'll take it. Decent deal if you want the power of a system camera without the bulk of a DSLR.
---
DCI Best Camera for the Money, Samsung WB150F
This camera was already an excellent deal for the MSRP, but this price drop...just wow.
• Samsung WB150F, $129 direct from Samsung
That's $100 off a camera that was already punching above its price tag. The deal is good through Cyber Monday.
---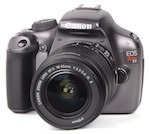 Canon's entry-level DSLR isn't glamorous, but it still has a big leg up on the Nikon D3000: It shoots video and supports live view (LCD preview). We've spotted a few Black Friday deals floating around:
• Canon Rebel T3 w/18-55mm kit lens plus freebies, $449 at WalMart

• Canon Rebel T3 w/18-55mm kit lens, 75-300mm kit lens plus freebies, $499 at K-Mart and Target TOP DEAL
The two-lens deal at K-Mart and Target is a fantastic value. New parents, take note. We'd probably step up to the T3i with the two-lens deal, but this T3 deal is very tempting for the price.
---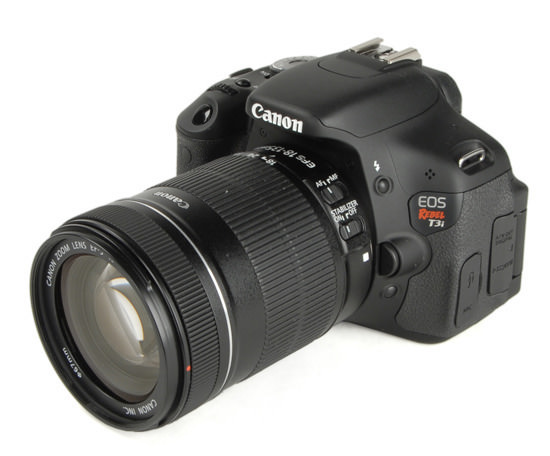 The T3i came out last year, but it's still the Rebel we'd recommend the most, obviously over the T3 and even over the new T4i. And since the T3i is an older model, we're finding some pretty solid deals.
• Canon Rebel T3i w/18-55mm kit lens, $599 at Best Buy

• Canon Rebel T3i w/18-55mm kit lens, 55-250mm lens, 16GB memory card, and a camera bag, $779 at Best Buy TOP DEAL
The first Best Buy deal is a decent $50 off the street price, and the second adds a telephoto zoom lens and some goodies for just $180—that's a great deal. This camera gets you better image and video quality than the cheaper DSLRs on the list, but stays very user friendly for casual photographers.
---
The Sony a77 is a fantastic camera that came out late last year, and as a result has been a bit lost in the shuffle of newer high-end announcements. But there's a sweet deal that should get some people talking.
• Sony a77, body only, $1,098 at Adorama

• Sony a77 w/16-50mm f/2.8 lens, $1,698 at Adorama
Both of those are $300 off the usual sticker price—a huge price drop. Thanks to this and the D7000 deal below, there should be plenty of happy enthusiasts this holiday season.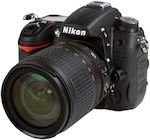 Best Buy is offering up two deals on D7000 kits:
• Nikon D7000 w/ 18-105mm kit lens, $999 at Best Buy

• Nikon D7000 w/ 18-105mm kit lens, 55-300mm VR lens, 32GB memory card, and a camera bag, $1,249 at Best Buy.
That second deal is even cheaper than the regular D7000 kit at most retailers. Even the first deal is solid, as the body alone usually goes for $999. Snap up either one if you're looking for a great mid-range DSLR. It's getting a little long in the tooth, but its sensor is still considered to be one of the best APS-C chips in the game.
---
One of the better entry-level SLRs of the past few years is already on sale at least through Black Friday at Amazon.com.
• Nikon D3100 w/18-55mm kit lens and 16GB memory card, $476 at Amazon
This deal isn't as impressive as some of the other entry-level system-camera sales we're seeing, mostly because it only comes with one lens—the Canon T3 deal above just offers more bang for the buck, even though the D3100 is a better camera. BUT...Amazon is offering some pretty good discounts on Nikkor lenses when you buy a Nikon camera. Deets are on the Amazon page—that offer runs through Nov. 17.
---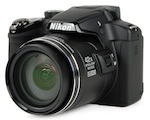 We aren't seeing many great superzoom deals coming up for Black Friday, but this one is worth a look.
• Nikon P510, $299 at Best Buy
The P510 has a massive 42x zoom lens and an eye-level viewfinder. It isn't our favorite superzoom of the year, but it's a top-tier model and it's a steal at $299. Unless something else pops up, it's your best bet for a sale price on a superzoom this Black Friday.
---
The hot new successor to the much-loved LX5, at a seriously crazy price. (This won't last!)
• Panasonic LX7 (in black or white), $299 at Amazon
Along with the Olympus XZ-2, Canon G15, Nikon P7700, and Sony RX100, this is one of the best advanced compact cameras on the market today.
---
An oldie but goodie is on-sale at a serious discount:
• Panasonic LX5, $249 at B&H Photo

• Panasonic LX5, $296 at Amazon
It's since been replaced by Panasonic LX7, but the LX5 is still a solid advanced compact camera.
---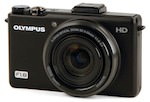 Another discontinued-but-once-great compact is on sale for a big discount:
• Olympus XZ-1, $199 at Amazon
In its day (a long time ago in 2011) it had one of the fastest lenses ever found on a compact (f/1.8). Even if it has been replaced, this is a phenomenal deal for such a capable pocket camera.
---
Amazon must really need to clear out some space, because there's a fire sale on the Nikon V1 at least through Black Friday.
• Nikon V1 w/10-30mm kit lens, $376 at Amazon
We're generally not so hot on these 1-system Nikon models—images aren't up to par with real system cameras, and they're more expensive than point-and-shoots. But if your interest is piqued, this is probably the best time to scoop up one of these curiosities.
---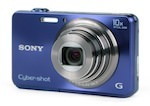 Like the Canon ELPH 110 HS at the top of the page, the WX150 is one of the handful of regular point-and-shoots we actually recommend anymore.
• Sony WX150, $185 at Amazon
It has a sweet sensor, 10x zoom range, and tons of extra features—$185 is a good deal, not quite a great one.
---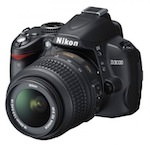 Yes, the D3000, a camera that wasn't even good when it was released in 2009. It was one of the last DSLR cameras without live view (non-viewfinder framing), and one of the last cameras, period, without video recording. But hey, the D3000 is still a DSLR, so it'll take better pictures than most point-and-shoots.
• Nikon D3000 w/18-55mm kit lens, 55-200mm lens, 8GB memory card, camera bag, and 2 instructional DVDs, $449 at Best Buy and WalMart
It's a decent deal for photos students, but you're probably going to be better off shelling out an extra $50 for the Canon T3 with 2 lenses.
---
Nikon's first-gen mirrorless camera is on sale this Black Friday:
• Nikon J1 w/10-30mm kit lens, $399 at WalMart
The sale price seems decent at $399, but the street price is only $446 for a camera that cost $650 at launch a year ago. That should tell you it isn't a particularly strong camera. And oh look, the bigger, better V1 is on sale for even less.
---
Odds And Ends Direct from Manufacturers
• The Panasonic G5 mirrorless system camera is $100 off ($699) direct from Panasonic

• Canon Direct has a Black Friday sale scheduled to begin next Thursday (on Thanksgiving). Deals will be announced at that time. New deals announced every Thursday through Christmas.

• Nikon is offering price cuts on a few of their entry-level DSLRs, including the D3200 down to $599 with kit lens, or even better, the D5100 with kit lens for $579.

• Discounts on many Sony 2012 Cyber-shots at Amazon. Not big money, and most aren't great cameras, but worth a look.
---
The Land of Misfit Toys
We're seeing tons of sales on really cheap point-and-shoot cameras. We generally don't recommend these deals. You won't see a significant improvement over other point-and-shoots (or a smartphone) you might already own, and at worst, it'll be a disappointing purchase. Some of these "non-deals" include:
• Fujifilm JX520, $49.99 at Best Buy
• Samsung ST195 at WalMart
• Polaroid Waterproof Dualview, $49.99 at Sears and K-Mart
• Nikon L310, $99 at Target (cheap superzooms are arguably the most disappointing cameras of all!)
• GE G100, $119 at K-Mart and Sears
We spotted a few other in-betweeners; there are tons of sales on low-end Canon A-series point-and-shoots out there. They're generally better than the Misfits above, but we don't think it's worth waking up at crack of dawn to get them. When in doubt, look up a review. If you can't find it reviewed, that usually means it's a pretty mediocre camera.
Check back regularly for updates, right up until Black Friday!
Be in the know! Get Reviewed.com news and reviews straight to your inbox.
Thanks for signing up!