cameras
Sony Cybershot DSC-WX80 Digital Camera Review
This sub-$200 point and shoot has some flaws, but for the price you can't expect much.
$199.99 at Amazon

Even in a world filled to the brim with smartphones and ever-cheaper interchangable lens cameras, there's still a market for a pocketable, no-frills point-and-shoot for daily snapshots. If that sounds like what you're looking for, then the slim Sony WSC-WX80 (MSRP $199) and its 8x optical zoom lens might fit the bill. Sure, it's not perfect—no sub-$200 camera will be—but when you just need a little extra zoom, the WX80 can get the job done.
Design & Handling
Slim and pocket-friendly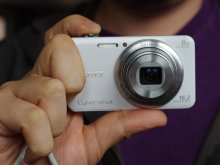 This is the compact point-and-shoot archetype: undersized 1/2.3" CMOS sensor, moderate zoom lens, and a body that can easily fit in most pockets or bags. Far short of an enthusiast camera, the WX80 is geared towards extreme portability and those who want to do little else other than turn the camera on, push a button, and snap a shot. While there are some cameras that provide manual control in this part of the market, Sony has always tried to keep things as simple as possible. You can adjust some advanced settings if you dig—ISO, flash, and timer settings are available, but that's about it.
At first glance, the WX80 is pretty modest looking, even though it's covered in text that explains all the various proprietary technologies that lay within—half the spec sheet is written on the outside of the camera. But ultimately it's a competent cheap camera in a very slim body. To that end Sony has succeeded: The WX80 will fit into your pants pocket without a fuss, while still offering an agreeable 8x optical zoom range.
Actually controlling the camera is pretty simple. For most people, all the important controls are right on the surface: shutter button, zoom toggle, timer and drive settings, and access to playback and video recording. You can even access a handy in-camera guide with a dedicated button on the back of the camera. When in this guide you can get troubleshooting tips, operating instructions, and even explanations of the camera's various shooting modes. You can dig into the menu if you really want to involve yourself in the nitty gritty, but the lack of manual control means it won't be worth the effort for most users at this level.
Performance
Responsive shooting, but low light is your enemy
While point-and-shoot cameras have gotten significantly better in the last two years, the biggest gains are seen at the $400 and up price bracket. In the wilderness of sub-$200 cameras, where software trickery is still all the rage, improvement has been harder to come by. While you don't get DSLR-challenging image quality from the WX80, you do get a flexible 8x optical zoom lens, rather speedy 10fps burst shooting, 1080/30p HD video, and generally acceptable image quality in bright light. While the WX80 does let you ramp up ISO speed to as high as 12800, the results above ISO 800 aren't anything you'll want to show off, as the camera's noise reduction is very destructive to fine detail. For best results, keep your expectations—and ISO speed—in check.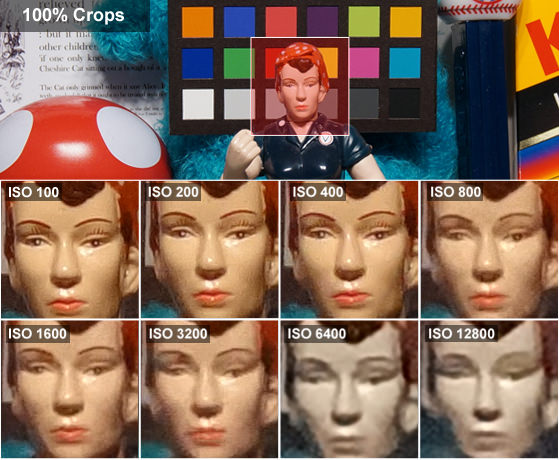 Generally speaking, we'd say that if you have designs on printing poster-sized images to frame and hang on your wall, the WX80 probably isn't the camera you're looking for. But if most of your photos are going to wind up as 4x6 prints or on Facebook, the WX80 can certainly do the trick. In our lab testing we found that camera was more than capable of producing acceptably sharp images in bright light, though the lack of dynamic range means combining bright light and dark shadows in the same scene rarely turns out well.
We were pleasantly surprised at the WX80's responsiveness. It powers on and is ready to shoot in short order, and when focus is locked in the shutter responds immediately when the button is pressed. Our lab tests bear out Sony's claim of 10fps continuous burst shooting, but you'll have to wait a few seconds while those shots are written the memory card before you can do anything else. It's also worth noting that the WX80 had a peculiar habit of missing focus when on a tripod and aiming at anything closer than six feet. Handheld, this wasn't a problem, but your mileage may vary.
Comparable Products
Before you buy the Sony Cyber-shot DSC-WX80, take a look at these other point & shoot cameras.
Features
Manual control is MIA, but beginners get lots of love.
Party-goers and students will love the fact that this isn't just a still camera. Though it's quite commonplace nowadays, the WX80 can shoot 1080p HD video at 30 frames per second—great for capturing your friend's band, or an animal in the wild, or the drummer in your friend's band that everyone calls "Animal." Like its performance with stills, the WX80 gets the job done, but the top tier point-and-shoot cameras offer much better quality if you're willing to invest the money.
The WX80's included WiFi compatibility is an interesting bonus, but it's hamstrung by a clunky interface.
The WX80 doesn't provide a ton of control options or creative features, but this is an entry-level camera, and there's generally at least one preset that will get you a decent picture depending on where and when you're shooting. Intelligent Auto and Intelligent Auto+ will provide enough firepower for most of these situations. Program mode is even more helpful for those with some technical knowhow, while Sony's Easy mode simplifies everything with very few options, larger font sizes, and a pared down menu.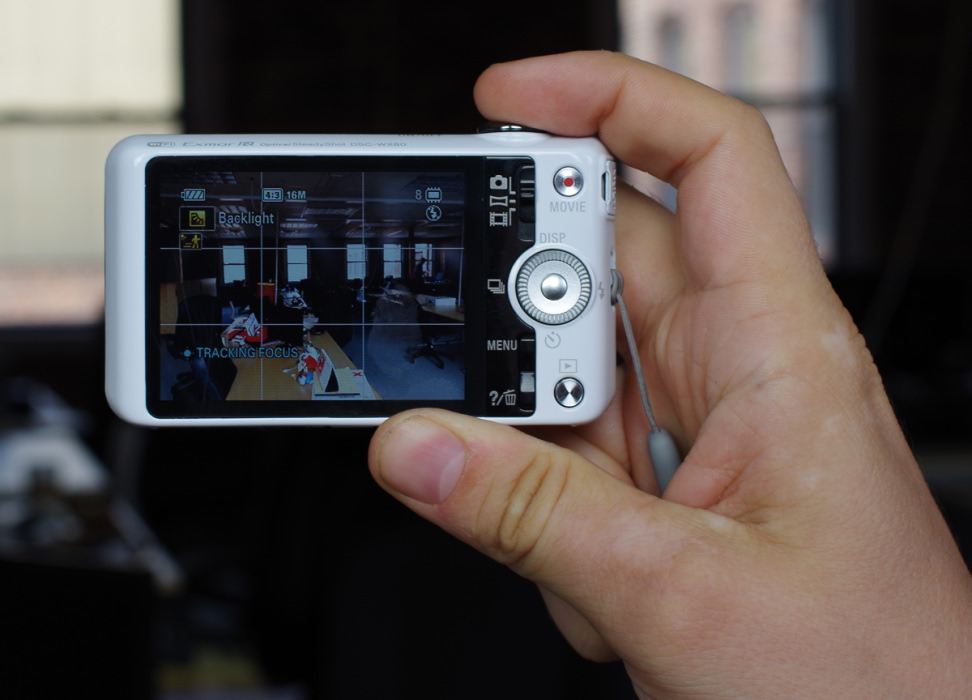 The WX80's included WiFi compatibility is an interesting bonus, but it's hamstrung by a clunky interface. The biggest drawback is using typical camera controls to try and enter WiFi passwords, only to find that if you want to send images to a computer on the network, you have to connect it via USB cable first. Image transfer is possible once you get the whole thing working, as is control via smartphone, but the frustration of troubleshooting these features until they work usually outweighs the time saved.
Conclusion
An entry-level price, with performance to match.
Even though it boasts an array of attractive features, a compact body, and a few impressive highlights in our performance testing, the WX80's image quality is ultimately nothing special. While the prospect of having 1080p HD video, an 8x optical zoom, and WiFi connectivity in your pocket for under $200 seems enticing, the reality isn't quite that appealing. The shots are still a step above your average smartphone, but we're not sure that step is worth the extra money if you've already got an iPhone in your pocket.
That isn't to say the WX80 doesn't have a place in the world. There are more than a few people who want nothing to do with smartphone photography—people who just want a basic point-and-shoot camera that doesn't cost all that much. For those people, the WX80 is a perfectly acceptable option that can be easily found for well under its $199.99 MSRP.
Our editors review and recommend products to help you buy the stuff you need. If you make a purchase by clicking one of our links, we may earn a small share of the revenue. Our picks and opinions are independent from any business incentives.