Design & Usability
The TF1 is plagued by underpowered, uninspired hardware
They say first impressions are everything, and we were immediately turned off by the TF1's horribly ugly LCD monitor. But that first glance wasn't really fair. What we were seeing was a power-saving feature, and there's a menu option that can swap onscreen image quality back to normal levels.
But bringing up the menu system leads us to another of the TF1's failings: the user interface is sluggish, certainly in need of additional processing power. Unfortunately, you have to navigate through the entire newbie-oriented quick menu to get access to the more detailed main menu. More advanced shooters will not be pleased.
It doesn't help things that the TF1's physical controls are largely mounted flush with the body, providing approximately zero tactility—we have to imagine it would be a pain to operate underwater. At one point, the shallow shutter release actually stopped working entirely. Yikes.
The aesthetic design is sporty, which kind of hurts the camera's stylish pretensions and, strangely, makes it feel kind of cheap. The whole draw of the TX-series is that these rugged cameras don't look ruggedized, but the TF1 bucks that distinctive trend.
Features
...what performance?
Images captured with the TF1 were flat and unattractive, using the camera's default settings. Granted, we were on the CES showfloor, which doesn't exactly provide the best lighting. But even taking that into account, the camera had extreme problems coping with automatic white balance.
Autofocus was very slow, and we immediately noticed severe shutter lag that will make this camera pretty much unusable for action photography. Our test shots made us think the lens may also be prone to flare, but at this point it's hard to say whether this was actually lens-related or whether it was in fact another problem with the LCD display.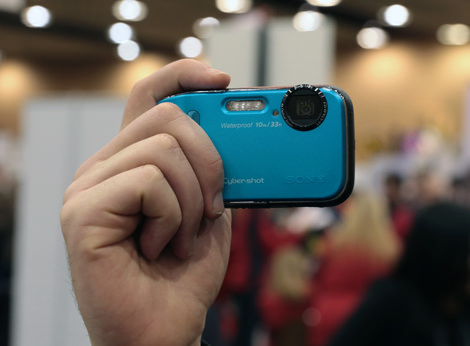 Advertisement - Continue Reading Below
Conclusion
The TF1 is a missed opportunity, and that's a real shame
Among friends and family, the one question we hear most often is: "Hey, you write about cameras... I'm looking for something that's small and cheap." Of course, we hear the silent "And if I can spill a drink on it, that'd be great too." Our friends and family are klutzes.
The requirements "small" and "drink-proof" always lead us directly to the TX series, but these aren't usually the sort of consumers that want to spend $300 (or even $200) on a camera. The TF1 looks and feels cheap, yet it's far too expensive for what it does. This model would be more at home in the sub-$150 category, but even there it might still be a tough sell.
We sincerely hope that this was an unfinished pre-production model. Otherwise, the TF1 seems like an unexpected miss for a company that blew us away with most of their 2012 lineup.
Introduction
Sony's TX-series is one of the industry's best ideas: a collection of stylish, fashionable cameras that are suited to a night out on the town, yet capable of surviving any Hangover-style shenanigans that might ensue. They don't offer the same degree of durability as the toughest toughcams, but they don't have to. These are "life-proof" cameras, not snorkeling accessories.
Now it seems like Sony is hoping to take this idea one step further: to offer a camera that's durable, stylish, and affordable. Will they be successful? Our magic eight ball says... outlook not so good. In fact, the Cyber-shot TF1 appears to be a piece of junk.
Our editors review and recommend products to help you buy the stuff you need. If you make a purchase by clicking one of our links, we may earn a small share of the revenue. Our picks and opinions are independent from any business incentives.