Sony Cyber-shot RX100 II Digital Camera Review
$749.99
Better than
99%
of Reviewed Digital Cameras
By The Numbers
The Sony RX100 Mark II presents an interesting middle ground for camera shoppers seeking great image quality in a pocket-friendly body. While the original Cyber-shot RX100 with its 1-inch sensor and f/1.8 lens was widely hailed as the best point-and-shoot ever made, the follow-up does improve in some key areas.
Most notably, Sony has given the RX100 a backlit CMOS image sensor, an articulating LCD, and a hot shoe, elevating the sticker price to $749.99 in the process. The hot shoe and LCD are nice improvements in their own right, but the new sensor provides a noticeable benefit to image quality. In our lab tests we found the RX100 still relied heavily on image processing to gussy up its JPEGs, but the raw performance offered here is well beyond what most point-and-shoots can accomplish.
Color Accuracy
Clinical color accuracy has never been a primary goal for Sony's cameras over the years, and the RX100 II is no exception. Every single color mode we testd produced a saturation that was boosted by at least 13%, which produced punchy images but contributed to color error.
The most accurate color mode we found was the Standard setting, which has a ∆C00 of 2.51 when you correct for the boost in saturation. This is just a bit behind what your average DSLR can pull off. The other modes are slightly worse, largely due to their overcranked saturation.
Noise Reduction
The RX100 II offers three levels of noise reduction: low, standard, and high. As we've seen with many other Sony cameras, they tend to lay the noise reduction on rather thick, with a "low" setting that would qualify as "high" for most other manufacturers.
Generally speaking we deem that noise begins to negatively affect image quality starting around the 2% threshold. Even at ISO 12800, the RX100 II never produces more than 1.57% of noise, and that's at the camera's weakest noise reduction setting. While that number seems impressive on paper, it is performance purchased with the obliteration of fine detail in your image.
Since the 2% threshold isn't relevant here, you have to make a subjective call about when the RX100's over-aggressive noise reduction has wiped out too much detail. For us that subjective threshold is right around ISO 6400, which is excellent for a point-and-shoot. If you're planning on making large prints with the RX100 II's shots, however, our advice is to shoot in RAW and keep things at ISO 1600 or below.
Resolution
The Sony RX100 II's lens is one of the main attractions, providing a f/1.8-4.9 maximum aperture range to go along with the 3.5x optical zoom. In our performance tests, we saw similar results to what we got with the original RX100: average corner resolution at f/1.8, but generally very sharp center performance. The corners improve immensely when stopped down to f/2 and smaller, but the diffraction limit sets in soon after that. The slow f/4.9 max aperture that you get when shooting fully zoomed in also presents problems for resolution, as the diffraction limit keeps sharpness down.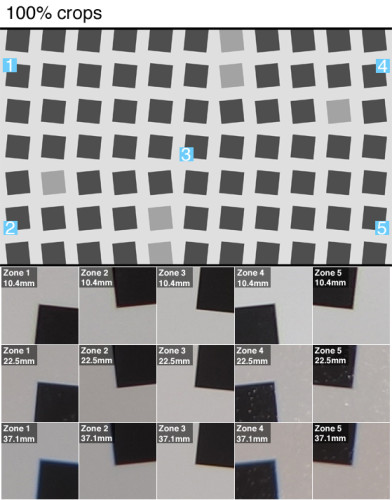 On average, you can expect the RX100 II to hit around 2100 line widths / picture height in the center at the wide angle, with that dropping to around 1700 lw/ph fully zoomed in. The corners hit just 900 lw/ph when shooting wide open, though it improves a bit in the middle of the focal range and if you stop down the aperture a bit.
Of course, Sony's not above giving themselves a little bit of a boost here, so there is a bit of software processing going on to enhance the edges. This improves the perception of sharpness, and Sony actually keeps the oversharpening in check here, with around 10% edge enhancement in an area where many competing compacts opt for 35% or more.
Dynamic Range
The Sony RX100 II is one of the few compact cameras that actually lives up to its billing of "DSLR-quality" images, especially as regards dynamic range. Now, the RX100 II certainly isn't on par with a full-frame DSLR like the A99 or even the RX1, but it can certainly hold its own against entry-level DSLRs with larger APS-C image sensors.
In our lab results, we were able to coax around 9.5 stops of dynamic range out of the RX100 II at base ISO. This is a little below the 10.5 stops we usually see from midrange DSLRs and newer cameras like the Olympus OM-D E-M1, but it's right on par with entry-level APS-C cameras. What's also impressive is how well the RX100 II performs through its ISO range, with stout DR performance right through ISO 800. After that things rather predictably fall off, but the ability to confidently shoot up to ISO 1600 with a point-and-shoot is no small feat.
Compared to the original RX100, the RX100 II comes out slightly ahead for dynamic range and noise performance. This is likely due to its backlit construction, which keeps noise levels down, especially in the shadows. The effect isn't terribly dramatic, but it's a small justification if the other additional features Sony added to the RX100 II pique your interest.
White Balance
While Sony cameras traditionally don't fare so well on our color accuracy test, it's not generally because they are poor at figuring out what color temperature the scene is. While the RX100 II's automatic white balance is only average, the custom white balance is excellent.
In our lab tests we found the RX100 II's automatic white balance was off by around 300 kelvins on average in daylight and fluorescent light settings. Incandescent lights proved much trickier, with the RX100 II off by over 2300 kelvins.
If you take the time to capture a custom white balance, performance is much better. In our custom white balance test under the same three lighting conditions, the RX100 II was off by no more than 75 kelvins on average, which is practically perfect. While for most shots having picture-perfect white balance isn't essential, the ability to cope with tricky mixed lighting with a quick custom measurement is a nice advantage to have.
Continuous Shooting
While the RX100 II's claim to fame is not lightning quick burst speeds, it was certainly no slouch in our continuous shooting test. In our lab we found it was capable of continuous shooting of around 8 frames per second with focus locked on the first frame. It sustained that rate for around 20 frames before slowing down, though it takes some time to clear the buffer before you can shoot another burst.