cameras
Sony Alpha A7R Digital Camera Review
One small step for Sony, one giant leap for mirrorless cameras
By the Numbers
The Sony A7R is an extremely high-performance camera in a compact body. Though there are some nagging issues with focus and responsiveness, the image output is absolutely on par with any current professional camera on the market. Available for just over $2,000, the Sony A7R represents a great value for those willing to live with its many peccadilloes.
Color & White Balance
Most Sony cameras don't put much of an emphasis on strict color accuracy, focusing instead on producing vibrant images that are pleasingly saturated. The A7R represents a different tack, with Sony coding all of the color modes to be far more accurate than what we're used to seeing from Sony products.
Looking at the numbers, we found the "Deep" color mode actually produced the most accurate image. It returned a ∆C00 (saturation corrected) color error of 1.91. Saturation came in at 106.2% of the ideal, which is well within tolerances. Any error less than 2.2 is pretty much as good as it needs to be, so this is an excellent result.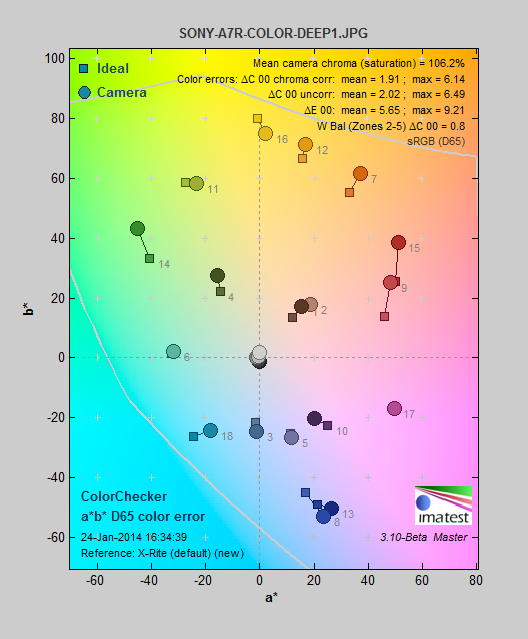 The other modes were less accurate, but ramped up the saturation. The worst offenders were the sunset, autumn, and landscape modes, all of which push reds, greens, blues, and purples so that your final image is more memorable.
Those seeking accurate colors should also be mindful of the A7R's white balance capabilities. When just using the automatic WB settings, the A7R handled daylight scenes fine, but struggled with indoor incandescent and fluorescent lights. Incandescent was worse with an error of nearly 2500 kelvins (a little above average) while fluorescent was off by just over 300 kelvins.
Switching to a custom white balance solved these issues, as under any lighting condition the color temperature was off by less than 50 kelvins. In fluorescent and daylight the error of pure white was actually less than 3 kelvins, which is remarkable.
Advertisement - Continue Reading Below
High ISO Noise
Like the Nikon D800, the Sony A7R has a 36.3-megapixel full-frame image sensor. With all of that extra resolution, the pixels are quite small. As such, the image it output at the top end of its 100-25600 ISO range can actually look noisier than you might expect if you obsess over images at 100% magnification.
Having smaller pixels like that is a mixed bag. On the one hand you have far more resolution, recording finer detail and giving you the option to downsample your shot, improving image quality. On the other hand, smaller pixels gather less light, which results in a hit to dynamic range and resulting in a higher noise percentage.
Generally image quality takes a noticeable dive once noise crosses 2% of the total image. With no noise reduction applied that happens at just ISO 1600 on the A7R. The images don't look that bad, however, because you will rarely view them at full size. If you want to keep noise down even more you can apply some extra software noise reduction, but it's very aggressive on the A7R. At the "low" setting noise actually never is allowed to cross the 2% threshold, topping out at 1.35% at ISO 6400 (and dropping even more from there). If you ramp NR up to the "normal" setting, noise never even crosses 1%.
This is the source of many of the complaints about the A7R's muddy JPEG output. The "Low" setting of NR would pass for "Ultra High" on almost any other camera. It's over aggressive and permanently destroys fine detail. If you must shoot JPEG our advice is to turn NR off. It may look worse to have a noisy image when you're pixel peeping at 100% magnification, but trust the power of downsampling and you'll turn out better results.
Resolution
We tested the Sony A7R primarily with the FE 24-70mm f/2.8 zoom lens, and found the results to be very sharp. At f/2.8 the zoom lens showed some distortion and generally soft corners, but nothing more than is to be expected from similar lenses. Stopping down solved these issues, while some barrel distortion at wide angle is also corrected by zooming in a tad.
Overall all three lenses performed on par with what we'd expect from similar pro-level lenses from Canon and Nikon, though the FE lenses are weather-sealed and quite compact compared to, say, the 24-70mm f/2.8 from Canon's L series.
Dynamic Range
One of the major benefits of the Sony A7R's large full-frame image sensor is the increased dynamic range. Dynamic range is the range of inputs (i.e. light levels) that a sensor can reliably record. Though it's easy to think of this in terms of how much detail can you keep in the highlights before it's totally blown out, it actually has a lot more to do with shadow areas. On the dark end, dynamic range is limited by the amount of noise that a sensor produces. If a pixel reading is more noise than actual signal, you can't reliably record an image, resulting in a noisy mess.
We actually cut things off quite a bit sooner, where the signal to noise ratio drops below 10:1. This is a better indicator of image quality, as having 1:1 signal to noise may work from a theoretical standpoint, it's rubbish as far as producing a good-looking image. And compared to the competition, the A7R and its large full-frame sensor do very well.
At the base ISO of 100, we found the A7R recorded 8.61 stops of this high-quality dynamic range. It predictably falls off from there, as amplifying the signal (i.e. ratcheting up the ISO sensitivity) also brings up noise levels. With the A7R dynamic range falls to 6.05 stops at ISO 400, 4.43 stops at ISO 1600, and 2.11 stops at ISO 6400. At the top ISO of 25600 dynamic range falls to just 1.05 stops, which isn't great, but most cameras actually fall all the way to 0 by this point, so it's still a positive result.
Video Quality
The A7R produced some excellent video in our suite of lab tests, easily matching similar competition from Canon and Nikon. In our video resolution test the A7R resolved around 625 line pairs per picture height (LPPH) in bright light, with around a 15-20% falloff when switching to the limited light version of this test. In our low light sensitivity test the A7R managed to produce an acceptable image with just 9 lux of light. And in our motion test we found that the A7R's 1080/60p mode handled things quite well, with only minor ghosting or flaring in our moving sample.
Overall it's a strong performance result that doesn't rule out the A7R for more serious video work. Add that to the fact that the A7R also includes a mic jack, headphone jack, audio level control, full manual exposure control, and zebra exposure warnings and you have a potent tool for even serious videographers.
Our editors review and recommend products to help you buy the stuff you need. If you make a purchase by clicking one of our links, we may earn a small share of the revenue. Our picks and opinions are independent from any business incentives.
Our editors review and recommend products to help you buy the stuff you need. If you make a purchase by clicking one of our links, we may earn a small share of the revenue. Our picks and opinions are independent from any business incentives.
Advertisement - Continue Reading Below
Compare Prices
Our editors review and recommend products to help you buy the stuff you need. If you make a purchase by clicking one of our links, we may earn a small share of the revenue. Our picks and opinions are independent from any business incentives.
Get Our Newsletter
Real advice from real experts. Sign up for our newsletter
Thanks for signing up!