cameras
Sony Alpha A58 Digital Camera Review
It's cheaper. It's slower. It's worth every penny.
$599.99 MSRP
Buy now at Amazon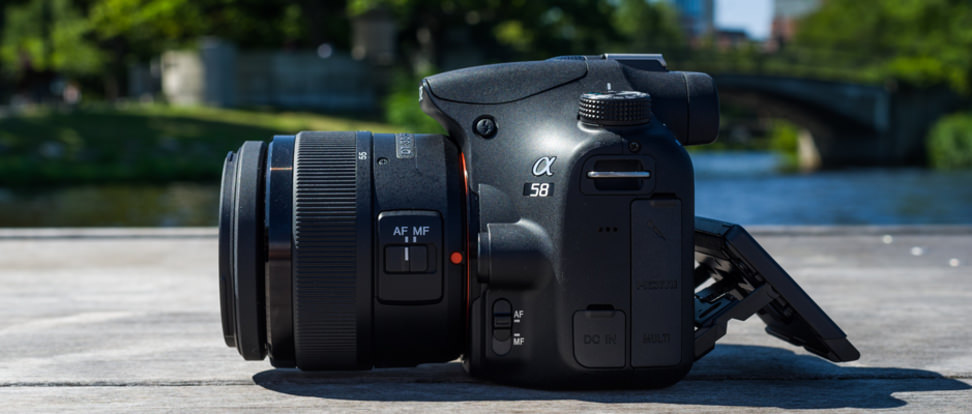 Sony's digital imaging division is kicking butt—at least when it comes to innovation. In the last year or so, they've debuted a groundbreaking compact camera (the RX100), a unique full-frame compact (the RX1), an affordable full-frame DSLR (the A99), and a competent enthusiast-level DSLR (the A77).
Now we have the SLT-A58 (MSRP $599.99), an accessible, inexpensive DSLR that represents the last missing piece of Sony's top-to-bottom Alpha lineup.
Design & Handling
Fine, but far from groundbreaking
There's little experimentation involved in the A58's run-of-the-mill body design. The rear LCD is one exception, since it has the ability to tilt down 55 degrees and up 135 degrees. That's helpful in certain situations, like framing up shots when you're reaching overhead, but we spent the vast majority of our time using the electronic viewfinder, which is accurate and responsive.
Otherwise, the body is simply comfortable and competent. Not one but two indentations are shaped into the front hand grip, giving leverage to both your pointer and middle fingers. That's essential because you'll need your pointer finger for operating the frontside command dial, which is responsible for important variables like shutter and aperture. The shutter release is passable, though not quite as soft as we like. Adjacent are two hotkeys, one for ISO and one—strangely—for digital zoom.
The rear control panel is problem-free. The directional pad includes shortcuts for various functions, along with a central AF key for defining your focus point(s). The Function button above the pad is more convenient than the far-off Menu button (below the mode dial, all the way on the left side of the camera), and encompasses just about all the vital settings you'll be adjusting on the fly. Above the textured thumb rest are convenient shortcut buttons for video recording, exposure lock, and exposure compensation; and each of them can be easily identified using touch alone.
Performance
Speed has been sacrificed, but image quality holds steady.
This camera is only $600, yet when we look over the scoresheet, there's no obvious gap in image quality. The one area we can look at and say "that's where they cut costs," is speed. Since Sony uses translucent mirrors that don't need to actuate for each shot, these models are generally much faster than their competition. But the cheap A58 is limited to 4.8 frames per second at full resolution (which is still respectable given the competition).
Consistently solid scores with no performance valleys, but no peaks either.
Yet as far as image quality itself, this camera earned consistently solid scores with no performance valleys, but no peaks either. Color accuracy was acceptable, although you might notice some problems with oversaturated flesh tones. We had to reel in the reds on at least one portrait, even when the lighting wasn't challenging. Image noise was also rarely a problem, and all three levels of the smoothing algorithm were not only effective, but tasteful and gradual.
Sharpness was above average for a DSLR at this price point. Resolution was remarkably consistent across the kit lens' different focal lengths and apertures, but if you need to coax maximum sharpness from this lens, stop it down to f/9. We did detect severe barrel distortion from this lens, but only at 18mm, and this can be compensated for in-camera.
Dynamic range was actually quite a bit better than what you'd usually get from such a cheap camera. The A58 doesn't just produce rich, high-contrast images, but it retains this capability well up the ISO spectrum. In fact, dynamic range doesn't become noticeably poor until ISO 6400.
For in-depth performance information, please visit the Science Page.
Comparable Products
Before you buy the Sony Alpha A58, take a look at these other cameras.
Features
The competitive price leaves little room for frills.
Sony's DSLRs are also known for outstanding video, but this is the second area in which the A58 fails to deliver. The A58's highest bit rate videos are only 60i, and they don't look good. Trailing is evident everywhere and the interlacing looks pretty nasty. A 24p mode is available, but you'll lose the smoothness inherent to 60 frames-per-second recording, so this isn't a great option. Ultimately, videophiles should look for a different camera.
Without any premium hardware extras like GPS or WiFi, the A58's remaining feature set is limited to software enhancements like digital filters, scene modes, and the like. Sony's picture effects are some of the best on the market. And many of them have been carried over to the A58 from lower-end consumer compacts. There are some omissions, like Sony's very convincing Cartoon effect, but you still get a modest selection of better-than-Instagram filters and convenient scene modes. We reserve special praise for the automatic panorama stitch mode, which leverages the A58's strong sensor-shift stabilizer and even works well without a tripod.
Conclusion
One of the best DSLR deals going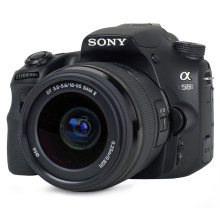 For $500-600, we typically expect DSLRs that are low on features, and marginal on image quality. After all, this price point is lower than that of the finest compact cameras (including, most notably, Sony's own work).
We'll admit the entry-level A58 is low on features, and tragically the Alpha series' speedy continuous shooting capabilities have been cut. But we think this camera's image quality is still pretty darn good. The A58 won't set records, but for $600 new it's an excellent value. Those who are comfortable investing in the Alpha system (at this point we see no reason not to)should give the A58 a long, hard look.
Our editors review and recommend products to help you buy the stuff you need. If you make a purchase by clicking one of our links, we may earn a small share of the revenue. Our picks and opinions are independent from any business incentives.