Design & Usability
WiFi, and other uninteresting technology...
Samsung has simplified its WiFi features, which we've historically regarded as too cumbersome to be relevant, by incorporating a dedicated Direct Link button. It's difficult to test wireless functionality amid the soup of electronic signals at CES, but supposedly this hotkey activates WiFi features like Remote Viewfinder or Mobile Link instantaneously, at the touch of a button. All we can say is that we'll have to test it out more rigorously under lab conditions, later on.
When it comes to the hardware, a 21x zoom is great, but it's not enough to turn heads these days. The sensor clocks in at 16 megapixels, same as the WB850F that this camera replaces. The rear monitor has also been upgraded to a touchscreen, though the value of that change is very much dependent upon your affinity for such features.
Still, the WB800F manages to dodge our most common complaints. For example, that touchscreen is only part of a hybrid-touch interface: touch is available when you want it for features like touch-to-focus, yet buttons are alongside when speed and control are most important. WiFi is the same way.
Other promised features include AutoShare, which saves images to both the memory card and a nearby smartphone immediately after a photo is captured. For the right user this could come in pretty handy. We certainly could've used such a feature when trying to live-tweet yesterday's press conferences.
Features
Where are the upgrades?
But what worries us about the WB800F, and indeed the entire 2013 Samsung SMART Camera lineup thus far, is the apparent lack of progress with features related to actual photography. Previously, WiFi was simply an iffy idea, but if Samsung's focus on it as an end goal detracts from hardware improvements, people who actually give a care about image quality aren't going to be pleased.
Of course, we won't know whether or not this is the case until we have a review unit in-house, but handling the WB800F here at CES revealed remarkably few changes that actually matter. The user interface is exactly the same (though this is actually a good thing, and we're relieved to see that the new touchscreen isn't bogging down the shooting experience). The camera's optical zoom ratio is also the same, and image quality seems to be of average sharpness for a travel zoom (meaning below average for compact cameras overall). The burst shooting speed of 10 frames per second is nice, but this too is a hold-over from the WB850F. Really, there's just not much new here if you aren't into the WiFi angle.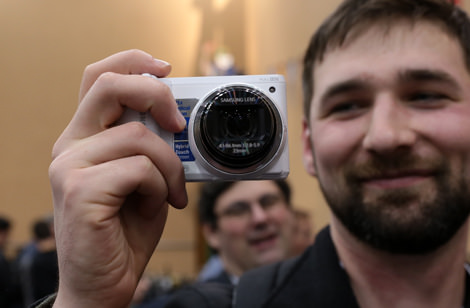 Advertisement - Continue Reading Below
Conclusion
This camera has "mediocre" written all over it.
The travel zoom segment is one of the industry's most competitive, and a camera in this category needs to do some truly special things to stand out from the herd. While we never completely make up our minds about a camera before testing, we feel comfortable saying that the WB800F needs to rack up some unexpectedly high image quality scores if it wants to stand a chance in hell of taking off.
Generally speaking, the WB800F seems like too much "smart," and not enough "camera." We're far more excited for whatever Samsung has planned for the follow-up to the Galaxy Camera, since 4G unlocks a more compelling, truly seamless wireless experience.
Introduction
Samsung makes fine cameras, but their entire lineup has struggled to find a home in today's very crowded market. For all of 2012, and even the latter months of 2011, WiFi has been one of the main technologies they've put their considerable weight behind, hoping to carve out a niche. There's two problems with this: one, we're still not fully sold on the value of in-camera WiFi, and two, everyone else has gotten in on the connectivity game in the meantime. Enter "SMART Camera 2.0," Samsung's catch-all for the new wireless connectivity features found in its latest crop of compact cameras, of which the WB800F is the lead model.
Are we wrong about WiFi? We very well could be. We've spotted more than a few Samsung Galaxy Cameras in use here at CES—something we never would have expected, even after mostly enjoying it during our review period. So our fallability isn't in question, at least with regard to other journalists' taste in cameras. If Samsung can covert the apparent-success of that model to the rest of their lineup, they'll be in really good shape.
Our editors review and recommend products to help you buy the stuff you need. If you make a purchase by clicking one of our links, we may earn a small share of the revenue. Our picks and opinions are independent from any business incentives.