cameras
Samsung NX30 Digital Camera Review
Can Samsung finally make a name for its impressive NX system?
Samsung's been in the mirrorless camera game just about as long as anyone else. While we've really appreciated some of their mid-range models, like last year's NX300, the company's flagship segment has lingered a little too long. 2012's NX20—an underwhelming effort that was noteworthy not for its prowess, but, instead, for its sluggishness—spent 2013 not only getting passed up, but lapped as competitors like Olympus OM-D E-M1 and the Panasonic Lumix GX7 brought more features and incredible performance in the segment.
This year, Samsung finally announced a new high-end NX, the NX30 (MSRP $999.99). Built to resemble a DSLR, the NX30 is gunning for the same shoppers that might pick up a mass-market Nikon or Canon. Differentiating itself with features like a new telescoping electronic viewfinder, and a 20-megapixel CMOS sensor (with on-sensor phase detection), the NX30 should represent the best of Samsung's interchangeable lens tech in one model.
While we're certain that Samsung has some absolutely great camera tech up its sleeves, the NX30 is yet again going up against some formidable systems with drastically wider lens variety and better value propositions. With many other systems in a race to the bottom, this camera needs to be more bold statement than mild refresh in order to help the NX system gain new followers.
Design & Handling
Small and light can have its drawbacks
In picking up the NX30 for the first time, we were extremely surprised to find out how light the darn thing is. Even though it's shaped like a DSLR, it is svelte and unburdened by the mirror that those old-world cameras sport. But, even when compared to similarly shaped cameras like the GH4 and OM-D E-M1, the NX30 is a relative featherweight.
While that's normally an excellent attribute, we feel like it's a little bit of an issue taking into consideration some of the lenses that Samsung sells in the NX system. While shooting with the premium 16-50mm f/2-2.8 and 85mm f/1.8 lenses, it struck us how poorly balanced this camera can become. Thankfully the NX30's ample grip goes a long way to help counteract the extra weight of these large pieces of glass. It's still a bit odd to consider that this top-end NX, along with the lenses Samsung wants advanced photographers to buy, feel like such an unhappy couple when paired up.
The overall control scheme makes the NX30 easy to use. However, we'd still love to see a more logical button layout. Within reach of your pointer fingers is a front control dial, the power switch, shutter button, exposure mode selection and…WiFi? Now, call us old fashioned, but we've never felt so compelled to share a photo we took that we just couldn't take the camera away from our eye in order to make it happen. Why this button is so prominently placed is absolutely baffling. To add a bit of insult to injury, the custom functions that this button can be switched to are all related to WiFi or social network sharing. Compare that to other mirrorless competitors' deep levels of customizability and we can see that Samsung has some catching up to do if it's going to win over enthusiasts.
The big new feature that Samsung couldn't wait to show off is the tilting and telescoping electronic viewfinder. While the mechanism is impressive, what lets the whole idea down is the LCD panel used inside the viewfinder. When switching between the rear screen and the viewfinder, we noticed a drastic difference in color temperature, with the viewfinder skewing a bit cooler with a green cast. And, while Samsung is known for its prowess in AMOLED technology, the rear articulating screen wasn't any better than LCD displays we've tried recently. In fact, we had some issues viewing this display in direct sunlight, with the screen washing out. And in low light, the camera's live view slows to a crawl, which makes it much harder to use.
Advertisement - Continue Reading Below
Features
Most of what you'd want from a mirrorless camera
We've generally been pleased with the amount of features that Samsung loads into its NX-series cameras. 2013's NX300 took us by surprise, and we ended up awarding it a Best of Year for being a great mid-range mirrorless option. The NX30 lives up to that standard, but it falls just a bit short when looking at what it has to offer enthusiasts.
First of all, the menu system is clean, simple, and pretty easy to navigate. It helps discoverability when there aren't an intimidating maze of software, and Samsung has put the most important settings in easy-to-find places. User friendly auto shooting options on the mode dial lead us to believe that many amateurs would be quite pleased with the NX30. The control scheme is about as straightforward as you could wish for in an advanced mirrorless camera.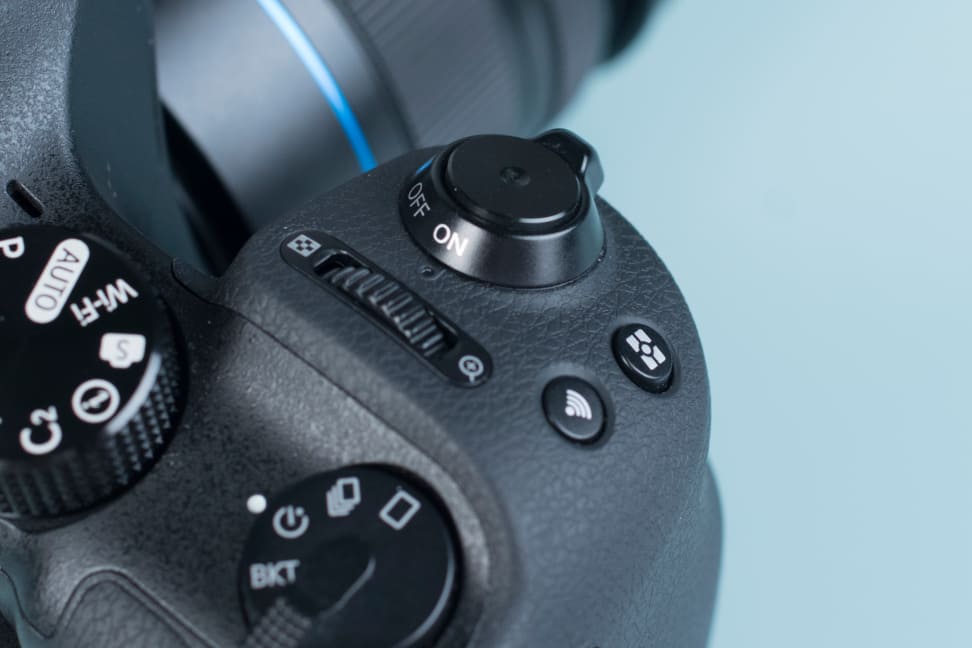 The NX30's party trick—that tilting/telescoping electronic viewfinder—might have been the least useful part of the entire package. It's a nice idea on paper, but we just didn't get used to having that option since it's completely hidden most of the time. After all, when you have a fully articulated, camcorder-style rear screen to use, why would you use the EVF for off-angle shooting?
Like most modern cameras, the NX30 comes with WiFi built-in. The touchscreen is helpful enough, even if we felt like the interface wasn't particularly optimized for it. We preferred to use the touchscreen to set focus and exposure, using the physical controls to do just about everything else. Samsung's apps are available on both Android and iOS, and we've been pleased with the connectivity generally. The camera itself can also hook directly into nearby WiFi networks to push your content to Flickr, Picasa, Facebook, Dropbox, and even YouTube.
Sweetening the deal even more, Samsung includes a full license of Lightroom 5 with each NX30.
Tweet It
Sweetening the deal even more, Samsung includes a full license of Lightroom 5 with each NX30. While we would have expected this as a bonus from Leica or Hasselblad, it's a thoughtful touch. Normally, Lightroom would cost upwards of an extra hundred dollars, so bundling this with a camera is an easy win for Samsung on the value front.
One irksome quirk relates to video. Samsung has a history with camcorders and generally speaking, their flagship smartphones are known to record nice quality HD footage. Well, the NX30 does too, but there's no dedicated video mode. The only way to initiate recording is to hit the video record button. While this isn't a huge issue for the casual video shooter, it is quite a hinderance for shooters hoping to do a little bit more than that.
Performance
Good enough for the price
We definitely expected Samsung to bring its A-game and, for the most part, we weren't let down. Our lab test results and time in the real world both confirmed a simple conclusion—the NX30 is a high-performing, thoroughly modern system camera. It focuses quickly in most situations, and captures great images, easily holding its own against the competition.
One of the NX30's marquee features is its on-sensor phase detection autofocus. That'll help out when tracking moving objects, especially when shooting continuously. Though this feature worked well when the subject was illuminated brightly, the NX30 hunted incessantly in low-light, often completely missing the subject. Of course, you could use the AF assist light to smooth things over, but the Samsung's lamp is a bright, blinding green color that will cause your subject to immediately turn and hatefully glare at you.
Like other APS-C cameras, you'll get a very flexible range of ISO sensitivities without too much noise. We'd limit the auto-ISO settings to a max of 1600 when using default JPEG noise reduction settings. An odd quirk of the NX30 only lets you limit the auto range to a max of 3200, but realistically that ceiling is about enough for everyday use. In extreme cases, you'll have to bump up to higher ISOs yourself—but we don't recommend going much higher anyway.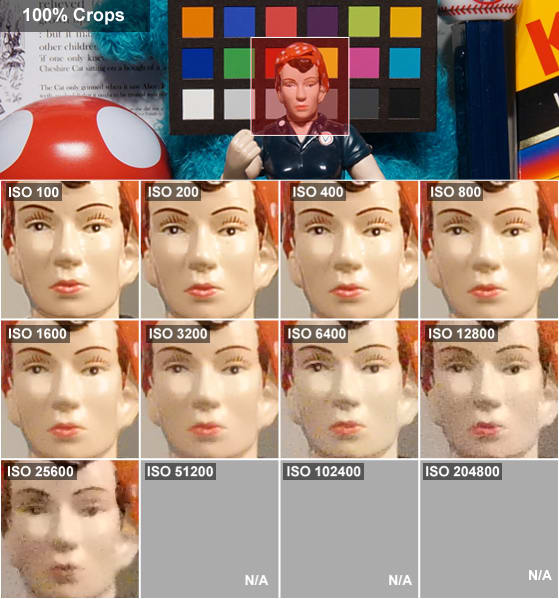 For a camera of its size, the NX30 has only acceptable battery life. The CIPA standard-based rating is around 360 shots, which is pretty average for mirrorless cameras. In the real world, we seemingly reached the 60% point (when this writer starts to worry about remaining battery life) just a bit sooner than competing cameras. Thankfully, a top-up is never far out of reach since the NX30 recharges via micro USB and can suckle from most USB chargers and ports on PCs.
Even though it's priced around the same as the Panasonic Lumix GH3, don't mistake the NX30 for an alternative video solution. Footage recorded in 1080/60p was fine when played back, but the lack of a dedicated video mode renders this camera unsuitable for advanced video applications. In our bright light sharpness test, the NX30 registered 650 lp/ph horizontal and 600 lp/ph horizontal. Low light performance was acceptable, but worse than we like to see at this price point, requiring 9 lux to register an acceptably bright image. You'll find a minijack for an external microphone, but no way to monitor the in-camera audio on headphones.
Continuous shooting was surprisingly quick, with a heaping side order of slowdown. We noticed that the entire camera felt slow while processing your burst shots, chugging through them and limiting menu access until it's good and done. When shooting JPEG, we were able to capture over 25 frames at a rate of about 12 frames per second until the camera slowed down. That's pretty fast, but, then the sluggishness kicks in.
Conclusion
A decision fraught with compromises
Within the NX system, the NX30 is the best camera you can buy. Unless you're looking for a more rugged, weather sealed camera with advanced controls like the Olympus OM-D E-M1 or the Panasonic Lumix GH4, the NX30 comes nicely equipped.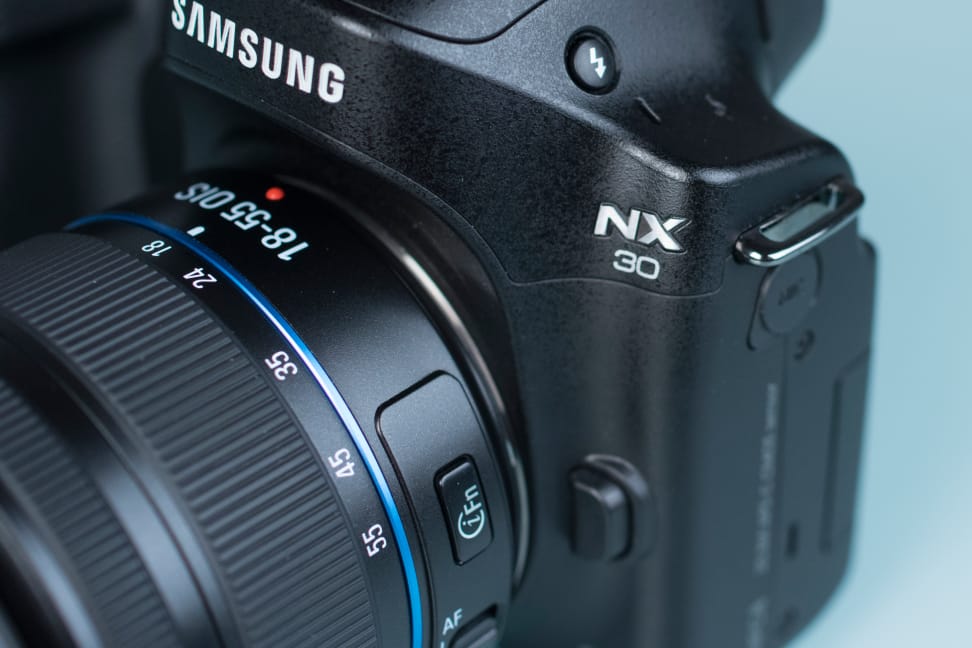 But, with the NX300 kit selling for around $500 at the moment, the NX30's near-$1,000 price tag just doesn't provide an amazing bang-to-buck ratio. The NX300 has the same APS-C CMOS sensor, phase detection technology, neat WiFi tricks, and an easy-to-use interface all inside a compact design. The only thing you might miss is the NX30's EVF, which didn't exactly blow us away. For the price of an NX30, you're on your way to buying a shiny new lens to go along with an NX300. What you're getting for the price differential doesn't make or break the experience in favor of the NX30, so you might as well pocket a the extra three-hundred-ish bucks and call it a day.
While we find that the NX system is surprisingly comprehensive, Sony's E-mount lineup and the Micro Four Thirds coalition both have a bit more to offer.
Tweet It
While we find that the NX system is surprisingly comprehensive, Sony's E-mount lineup and the Micro Four Thirds coalition both have a bit more to offer. Sony's E-mount family of slim cameras has a wide range of prices, and you can even graduate to its full-frame A7 cameras if you catch the bug. Micro Four Thirds is by far and away the most diverse mirrorless system with some excellent and affordable lenses. Remember that buying into a system means that you should really explore all of the options available to you down the road and, unfortunately, Samsung's system isn't as well-supported as its competitors right now.
If you investigate the alternatives, you are presented with excellent options like the Sony Alpha A6000 and the Olympus OM-D E-M10. We really liked both of these cameras. They also both come with EVFs, shoot and focus just as fast, and their performance will give you image quality that's on-par with the NX30's for less money.
Discounting the ridiculously overpriced science experiment that is the Galaxy NX, the NX30 is the top-of-the-line Samsung and we expected it to act the part. As it stands, the NX30 feels like it's stuck in limbo, between the spunky NX300 and a still unrealized pro-grade NX. We just can't seem to shake the feeling that the NX30 would've been a standout product if it came to market just 18 months ago. But though the NX30 will certainly find many adoring fans, with the A6000 and E-M10 on the market it simply joins the pack as just another very good, attractively priced camera with a lens system that still has some growing up to do.
Our editors review and recommend products to help you buy the stuff you need. If you make a purchase by clicking one of our links, we may earn a small share of the revenue. Our picks and opinions are independent from any business incentives.
Our editors review and recommend products to help you buy the stuff you need. If you make a purchase by clicking one of our links, we may earn a small share of the revenue. Our picks and opinions are independent from any business incentives.
Advertisement - Continue Reading Below
Compare Prices
Our editors review and recommend products to help you buy the stuff you need. If you make a purchase by clicking one of our links, we may earn a small share of the revenue. Our picks and opinions are independent from any business incentives.
Get Our Newsletter
Real advice from real experts. Sign up for our newsletter
Thanks for signing up!