Video Review
Design & Usability
The external design of the Samsung Galaxy Camera is pretty much what you'd expect from a high-end, touchscreen-operated camera: it has a protruding grip with a nice tacky surface, a 21x optical zoom lens that telescopes out from the body, and a standard shutter release/zoom toggle combination on top. The body itself is quite wide, and the grip prevents it from being easily pocketable, but it's thin enough to fit into a jacket pocket.
The camera's primary interface is through the large touchscreen on the back, which has an exceptional 308ppi pixel density. The Galaxy Camera has a standard grid-based user interface as you'd expect to see on any Android device, and the camera operates like a standalone application. From within this app you can shoot it just like a point-and-shoot, with on-screen controls for scene modes, playback, and adjusting exposure.
One of the big questions surrounding the Galaxy Camera has been how it would integrate third-party Android photography apps. Android often requires app developers to code an entire camera pipeline—an expensive and time-consuming process—just to take photos within an app. Samsung is promising a "middleware" solution that will more efficiently carry photos from the camera hardware to an application. As long as it's more sophisticated than simply kicking you out of your app and launching the camera, it will be an improvement on the current Android experience.
Advertisement - Continue Reading Below
Features
The Samsung Galaxy Camera's main attraction will simply be its breadth of options. The ability to launch any Android application—even those that have nothing to do with photography—means a greater degree of functionality than any camera on the market. Are people going to check e-mail, navigate roads, and browse the web from their camera? Maybe not, but the Samsung Galaxy Camera provides that option. Samsung hasn't been totally clear about how they'll implement 3G/4G connectivity (or about pricing), but there's also WiFi as a backup.
The Galaxy Camera can't natively make phone calls, but it otherwise behaves much like any other Android 4.1 smartphone would. It's essentially all the hardware you'd expect to see on a compact camera, plus a fast 1.4Ghz quad-core processor and the software of a modern 3G/4G-ready smartphone. Add to that 8GB of on-board memory (expandable with micro-SDHC cards) and a large 4.77'' touchscreen and you have a device that can wear multiple hats quite easily.
It may be a jack of all trades, but it appears Samsung is committed to giving the Galaxy Camera some serious photographic chops—for a 21x optical zoom with a fast f/2.8 max aperture, it's fairly compact. Still, it's unlikely you'll make a purchase for its abilities as a camera alone. Even if you plan to only use third-party photography apps, the camera's 16.3-megapixel backside-illuminated sensor and lens should produce better photos than any smart device on the market.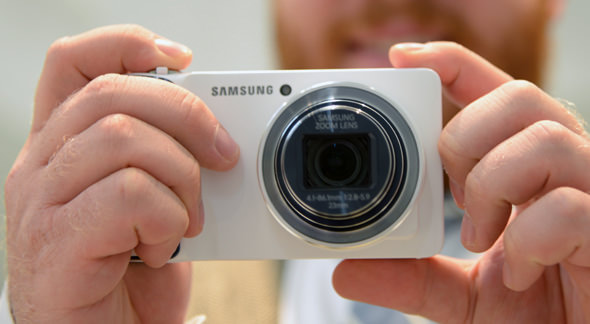 Conclusion
The Samsung Galaxy Camera is truly a device for an age of convergence. It's equal parts smart device and camera, and tries to offer all the benefits of both in one relatively thin body. It's a promising start, though the imaging world is littered with the wreckage of cameras that tried to do too much and accomplished too little.
In our short time with the Galaxy Camera, we found it to be a very snappy device that managed a great deal with few obvious compromises. Our biggest concern is probably the battery, which could hinder the device's abilities beyond simply snapping pictures. Still, the concept of a totally open camera with the functionality and processing power of a modern smartphone is tantalizing, to say the least. For what largely amounts to an experiment in alchemy, the Samsung Galaxy Camera is surprisingly refined, striking a fine balance between what a camera needs to be and what an Android device can be when designed properly.
We'll have to spend more time with the camera in our labs before we have a firm opinion of image quality, and price is also still a major concern since Samsung has been mum on the subject so far. But the Galaxy Camera has already outdone our expectations. Does the world need an Android-powered camera? We don't know, but if so, the Galaxy Camera is ready.
Introduction
Ever since Samsung teased the possibility of an Android-based camera earlier this year, the Internet has wondered what such a camera would look like. While Nikon beat Samsung to the punch by releasing the S800C (running Android 2.3), Samsung's Galaxy Camera has been making the rounds at Photokina, running the latest build of Google's mobile OS.
While the Samsung Galaxy Camera offers many of the functions you'd expect to see on a small tablet—GPS, WiFi, 3G/4G connectivity, Bluetooth, a SIM card slot, and full access to the Google Play store—its design is pure camera. With a 21x optical zoom lens, a fast f/2.8 maximum aperture, and standard controls for the zoom and shutter release, the Galaxy Camera operates like any other point-and-shoot. The rest of the time, the it's an Android-powered slate with a fast 1.4Ghz quad-core processor and a large 4.77-inch screen.
The Galaxy Camera's speedy hardware and open operating system offer a world of possibilities that go far beyond photography. While the camera will run Instagram just fine, it will also run apps like Google Navigation, Google Maps, Gmail, and, yes, even Angry Birds. It begs the question, though... do we need a device that does all of that?
Our editors review and recommend products to help you buy the stuff you need. If you make a purchase by clicking one of our links, we may earn a small share of the revenue. Our picks and opinions are independent from any business incentives.