Our First Take
Generally speaking, "budget" is a euphemism for a camera that lacks critical features or simply isn't built well. These models tend to be ersatz wannabe versions of the company's high-end cameras, with all plastic bodies, rickety controls, and poor image quality.
With the WG-20 (MSRP $199.95), Ricoh is trying to change that perception. With generally excellent build quality and most of the features of the higher-end $329.95 WG-4, Ricoh's lower-end waterproof camera looks and feels just like the higher-end camera. Other than the WG-4's superior f/2.0 lens, it's tough to tell the two apart actually.
Unfortunately as tough as that comparison may be, it's practically impossible to tell the Ricoh WG-20 apart from last year's Pentax WG-10. Other than the WG line moving from Pentax's banner to parent company Ricoh, nothing has changed from last year to this year. The sensor, lens, control layout, camera design, waterproof and shockproof rating, menu, features, ISO range... everything's the same. Everything.
Design & Usability
Wait, I recognize this...
Despite this being essentially the same camera as last year's WG-10, there's quite a lot going for the Pentax...I mean Ricoh WG-20. The camera is actually quite well built, with a body made mostly of durable plastic with some metal panels accenting the design. While this plastic can get a little slippery when wet, the body feels like it'll survive more than a few drops, as you'd expect.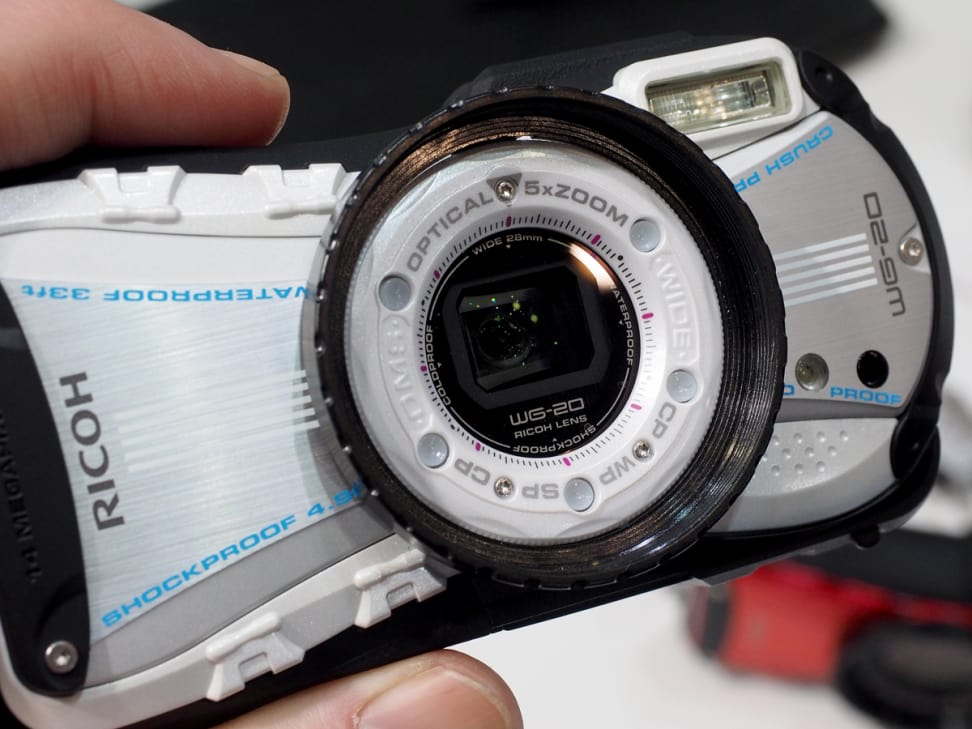 The main difference between this and the WG-4 is the feel of the rear controls. On the WG-4 every control is firmly in place, offering a nice "click" response when pressed. The WG-20 is a little different, as many of the keys are looser and tend to wiggle in place. It's probably not a sign of any deficiency in design, but it feels slightly cheaper by comparison—which you'd expect, given the $130 price difference.
Otherwise the WG-20 is an easy-to-use tough camera that is nearly identical in operation to the WG-4. The menu system is the same on both cameras. It is logically laid out and it's easy to find your way around. One nice extra that also is making the step down the price bracket: the camera's distinctive macro LED ring around the front lens. These bright little LEDs help illuminate objects when you're shooting very close, evenly lighting objects as close as 1cm.
Features
The WG-20 may feel like the higher-end camera, but low-end internals persist this year.
Despite having an excellent external design that far outstrips most $200 cameras for quality, the WG-20's internals leave a lot to be desired. The image sensor is a 14-megapixel CCD sensor that, judging from reports on last year's WG-10, doesn't hold up against similarly priced cameras. It has an ISO range of 80-6400, but the higher end of that range doesn't look great. Feeding light to that sensor is the same 5x zoom lens as last year. The lens is sharp enough for a camera in this class, but the small maximum aperture range (f/3.5-5.5) and poor high ISO performance from the sensor will hurt image quality in low light.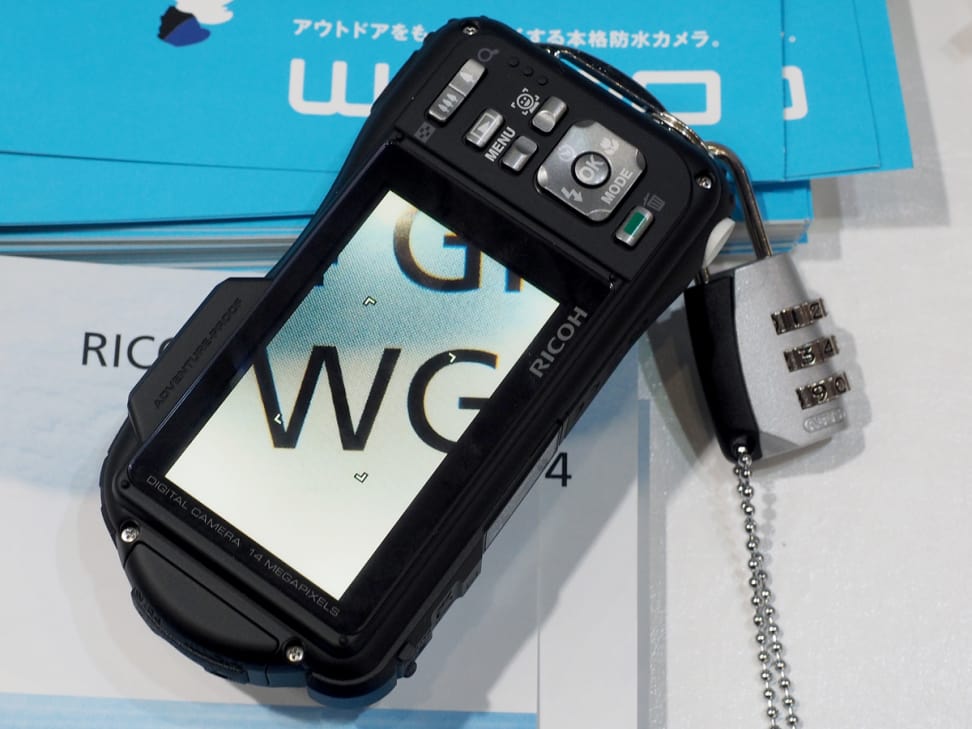 That aside, the highlight feature of the WG-20 is, of course, its ability to withstand the rigors of everyday life. Waterproof to 33 feet, shockproof to roughly 5 feet, and able to withstand temps as cold as 14°F, the WG-20 is quite durable. This makes the WG-20 an excellent camera for a family heading on a trip who doesn't plan on making extremely large prints. If most of your photos will end up in a small album or on Facebook, this camera should survive the trip and do the job fairly well.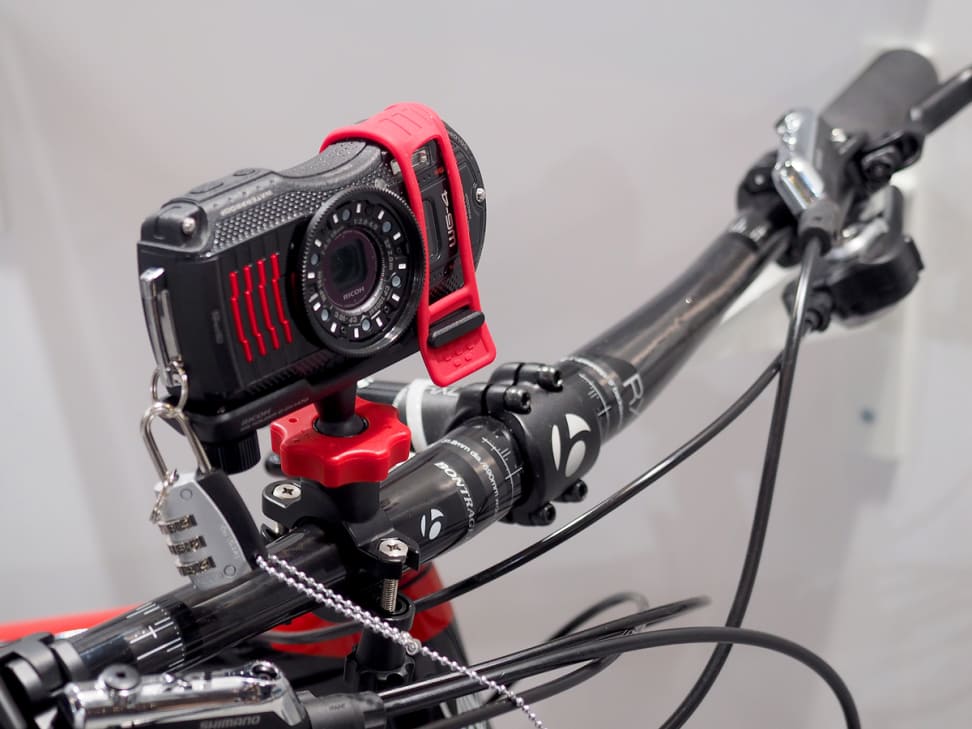 Ricoh is also releasing a new line of action-oriented camera mounts. The mounting system uses a ball and socket system, with one camera holder that is compatible with all the mounts. The system is debuting with three such mounts: one for handlebars, one adhesive mount, and one suction cup. There's also a waterproof camera remote and a floating wrist strap. All these accessories are compatible with all previous WG-series cameras as well.
Conclusion
Hey, did we mention this is just like the WG-10?
All in all, judging by what we've seen so far, it's hard for us to recommend the WG-20 unless you love Ricoh and are truly bitter about its relationship with Pentax. For the rest of us, the WG-10 is a better option, as it provides an identical design and feature set for a slight discount while available.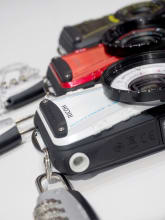 And we're not simply trashing Ricoh here. The WG-20 is a well-built camera that gives you nearly all the same durability as the WG-4 for around $130 less. It deserves credit for that, at the very least. The WG-4 has the benefit of GPS and a better, f/2.0 lens, but when shooting in bright light you're unlikely to notice that much of a difference.
Of course, we can say the same thing about the Pentax WG-10. In our mind there are only really two options for a budget-minded shopper looking at a Pentax/Ricoh waterproof camera: nab the WG-10 for $30-50 less than the WG-20, or go with last year's Pentax WG-3 and get GPS and improved image quality for just $30 more. Until those cameras are off the market, there are better ways to give Ricoh your money.
Our editors review and recommend products to help you buy the stuff you need. If you make a purchase by clicking one of our links, we may earn a small share of the revenue. Our picks and opinions are independent from any business incentives.