Design & Usability
The X-5 is modeled very explicitly after the company's K-5, and we can think of no better SLR to base a chassis on. Deep ergonomic grooves and extensive rubberization mean the X-5 handles like a dream. We dare say it's the most comfortable ultrazoom on the market today. The same efficient button layout and high-quality dials found on Pentax DSLRs have transitioned to the X-5, making the camera feel very legit, even if the body is still made mostly of plastic.
Unfortunately, while the controls are wisely configured, what you actually do with them is less exciting. The menu interface is shallow and ugly, reminiscent of a Pentax Optio point-and-shoot rather than an upmarket enthusiast cam. Don't be fooled by the full-sized mode dial, either. Most of its stops are wasted on silly effects or scene modes (for which no shortcuts are necessary in the first place), and while a manual mode exists, priority modes oddly do not. The camera has the potential for flexibility, but an all-or-nothing manual mode isn't very easy to use—especially for the novices who will likely be attracted by the low price point.
Another "gotcha!" feature is the large grip surrounding the lens barrel. That's grip, not ring. This area is designed to look just like the focus or zoom ring on a K-mount lens, but serves no purpose other than looking expensive to those who don't know better.
Features
As far as features that serve an actual purpose, the X-5's tilting rear LCD is at the top of the list. Tilting screens are rare in the ultrazoom market, and nearly unheard of in this price range. The screen quality isn't great, of course, but its viewing angles are okay and it's much more accurate than the electronic viewfinder, which is low-res and renders colors very poorly. But at the same time, EVFs are pretty uncommon is this price range, too, so it's hard to complain.
The starring feature of the X-5 is the long zoom lens. Who could've predicted five years ago that 26x would one day be considered a "modest" zoom ratio? Yet here we are. Action of the motor is fast but imprecise. It also seems that the so-called Triple Shake Reduction technology isn't capable of stabilizing shots at maximum focal length, so between this and the inherent geometric complexities of ultrazoom lenses (aka lots of distortion), you can expect image quality to drop off considerably at maximum magnification. More on this when the camera makes its way to our lab.
Most other vital specifications are pretty ho-hum, with a few bright spots. The CMOS sensor has potential, clocking in a 16 megapixels, and ISO 6400 is decent under $300. Video shooting is Full HD, and aside from long-distance shots, the camera is also capable of focusing close-up at less than a half-inch. We tested out this claim and, sure enough, it works.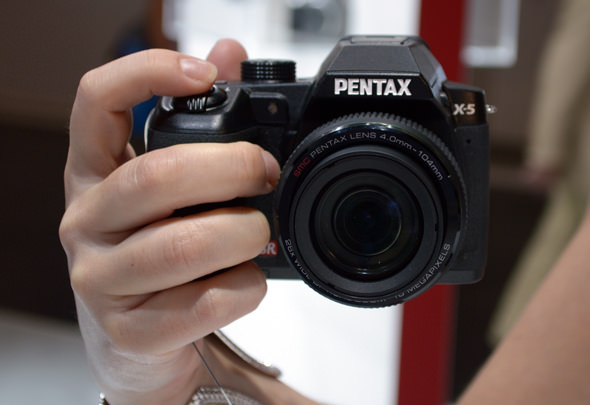 Advertisement - Continue Reading Below
Conclusion
We've criticized many elements of the X-5 in these first impressions, but overall the camera actually doesn't look too bad for $279. Relevant competitors from Olympus, and even Nikon to a lesser extent, are pretty lackluster at the moment. So, for a customer seeking AA-battery convenience and K-5 caliber comfort, the X-5 might be a compelling product. It's too early to judge yay or nay on image quality without proper lab testing, but this one could go either way.
What we'd like to see from the X-5 successor, should there be one, is a commitment to just one of the following: either go the route of vanity and build a pretty looking bridge camera, or embrace cost-cutting efforts to drive the price even further down, because some features—like the mode dial—are wasted on a low end model. We'd rather have a functional if ugly lens ring, for example, instead of an expensive-looking one. But Pentax, please stick with that K-5 body shape no matter what.
Introduction
While the ultrazoom war rages on, in a self-perpetuating struggle to provide ever-more exaggerated zoom ratios, one of Pentax's new cameras aims to weather the conflict using a strategy of undercutting. For many, Pentax will always be the company of affordable options, so—embracing their reputation—the company has introduced the X-5. It's a capable ultrazoom powered by convenient AA batteries, with decent manual control and some advanced features, for just $279.99. Not too shabby.
We went hands-on with the X-5, and while it's not as polished or feature-packed as some of the competition, the half-sized price tag sure is hard to ignore.
Our editors review and recommend products to help you buy the stuff you need. If you make a purchase by clicking one of our links, we may earn a small share of the revenue. Our picks and opinions are independent from any business incentives.