Design & Usability
So we'd be the worst journalists in the world if we didn't immediately test out the K-5 II's focus performance, seeing as it's the only core feature that's been updated. We did our best, but the truth is that while you're on a professionally lit trade-show floor, it's hard to replicate the sort of extreme low-light conditions the K-5 II's SAFOX X autofocus module was built to combat. The new AF system features 11 autofocus points, all cross-type, and is sensitive down to -3EV (near total darkness). Still, we spent a monotonous ten minutes just focusing the darn thing repeatedly, and yes, on the whole autofocus performance seems markedly better than the original K-5. Of course this is hardly a proper lab test, but so far it seems like "mission accomplished."
We should mention that the rear LCD panel is now gapless, which means less reflectivity and a more accurate on-screen image, but other than that, usability and design are literally the same as the K-5. Naturally, our favorite aspects of that camera are still applicable today. The K-5 represented the gold standard for DSLR comfort and handling, and the no-frills menu system is efficiently operated via dual front and rear dials, or the rear directional pad. Pentax's unique TAv mode (you can fix shutter and aperture settings, and the ISO will shift for proper exposure) also makes a return, another reason to make use of the dials.
Features
We suppose the most unique feature of the K-5 II is actually a whole other camera. Released alongside the K-5 II for an extra $100 is the new K-5 IIs, which is also pictured in our photo gallery. The IIs is distinct in only one way: the optical low-pass filter has been stripped out. That's a rather fashionable move these days—Fujifilm and Nikon have both done it in the past year—but Pentax was actually doing it before it was cool; their 645D medium format digital camera didn't have a low-pass filter either.
The two models are otherwise identical, including Pentax's signature weather sealing. However, the K-5 IIs will be sold exclusively in body-only configuration, while the stock K-5 II will be marketed with the option of a matching weather sealed kit lens.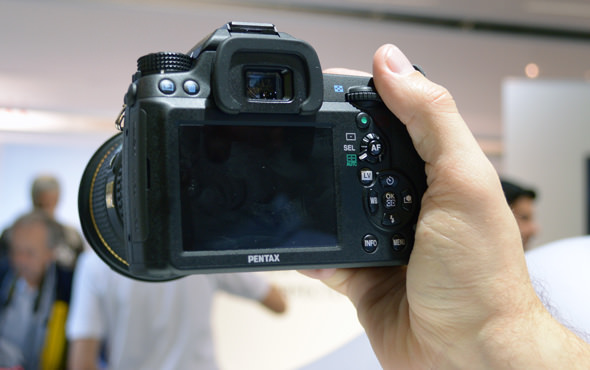 Advertisement - Continue Reading Below
Conclusion
Part of us feels like we haven't done a thorough job previewing this camera, but in our defense, Pentax has really gone out of their way to reduce our work load. It might have been easier to just link our original K-5 review and add a note that says "ignore autofocus comments."
But in the interest of keeping our jobs… the K-5 II and K-5 IIs are near-comical examples of fan-service—a camera-shaped love letter to the users who made the K-5 such a success for Pentax. We can never be 100% certain that a camera will perform well, but in this case we can make a uniquely educated guess. Both variations of the K-5 II will almost assuredly be similar to but better than the original K-5, and that's saying a lot.
Introduction
When Pentax sat down to conceptualize the next iteration of their K-5 DSLR, they made some uncommonly sensible decisions. First, they named it the "K-5 II." Makes sense: K-5… K-5 II. Logical. Then, they decided to fix what was actually wrong with the K-5, nothing less and nothing more, a rather rare strategy in the camera industry.
The thing is, the K-5 was not broken, and didn't require much fixing at all. It earned fantastic scores from our lab tests, and was generally well-received throughout the photo community, save for some lousy autofocus performance in low light. The K-5 II is therefore nearly identical to the K-5 except—you guessed it—low-light autofocus performance is vastly improved.
Our editors review and recommend products to help you buy the stuff you need. If you make a purchase by clicking one of our links, we may earn a small share of the revenue. Our picks and opinions are independent from any business incentives.