Design & Usability
The TS5's body design extremely familiar, but there are a few notable changes from the TS4.
The designers have shaped the right-hand side of the front panel for a more comfortable grip. That side also gets a large post on the rear, probably for attaching the camera to your snorkeling or climbing gear.
The rear control scheme has been shifted around slightly to accommodate a new dedicated WiFi button. Most of the controls feel good, but the shutter release is mushy, and it's difficult to hold a focus lock without actually taking your shot. This problem would presumably be exacerbated when shooting underwater, since it's hard to stabilize yourself and finely control your movements.
We were hoping to examine the sealed battery and media compartment on the right panel to look for any potential improvements, but this area was obstructed by the Panasonic booth tether. Conspiracy? Maybe. (No, probably not.)
Features
Images captured with the TS5 look acceptably sharp, but flat and noisy, even at low ISOs.
Resolution has been upped to 16.1 megapixels for this year's model, so we're still excited to perform a proper lab test. On the show floor, images didn't look very good on the rear LCD, but it's always hard to draw conclusions from such a cursory examination.
This product line has been famous for its flexible burst mode capabilities, and the sensor in the TS5 is capable of recording at up to 60 shots per second, assuming you're okay with 2.5-megapixel images. The fastest full-resolution burst is 10 frames per second, and the camera is also capable of shooting five frames per second while autofocusing continuously.
WiFi connectivity was disabled on the show floor... just like it will be underwater. We'd love to tell you how it works, but it seems like we'll have to wait on that score, too. The TS5 also supports Near-Field Communications for one-touch data transfer between devices. That's just what I want to do: touch my wet camera to another piece of electronics.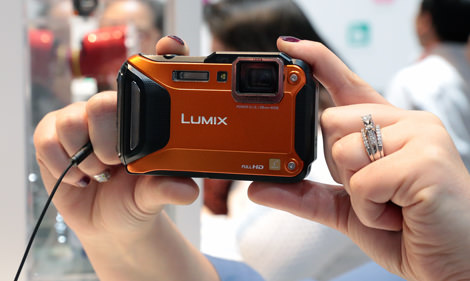 Advertisement - Continue Reading Below
Conclusion
We're kidding....
In fact, waterproof cameras are probably a great place to inject wireless connectivity. In the case of waterproofing, transferring shots over WiFi is a lot safer for the camera's internals than breaking the memory card door seal.
We're just a little surprised that Panasonic has skipped an opportunity to publicly brag about beefing up their sealing and durability specs. Waterproofing depth has been increased to 43 feet, but mum's the word on how the designers have overcome the TS4's reliability woes. Maybe it's just too shameful to admit there was ever a problem.
Instead, they've opted to jump directly onto the WiFi bandwagon that's already clogging up CES. Time and lab tests will determine whether or not the TS series can set itself apart in 2013, for now we could go either way.
Introduction
The Lumix TS4 was one of last year's better toughcams in terms of raw specs and image performance; although we didn't name it Waterproof Camera of the Year, it picked up a runner-up trophy. But the TS4 quickly earned a bad reputation for leaks in salt water, and it's hard for any rugged camera to come back from that, regardless of performance.
Obviously we're unable to test waterproofing on the crowded show floor of CES 2013 (sadly, the TSA confiscated our tank of saltwater), but we know Panasonic is looking to put the troubles of 2012 behind it. So what did they do to address concerns about water sealing? They added WiFi, of course!
Our editors review and recommend products to help you buy the stuff you need. If you make a purchase by clicking one of our links, we may earn a small share of the revenue. Our picks and opinions are independent from any business incentives.
Sections