cameras
Panasonic Lumix LF1 Digital Camera Review
The latest high-end Lumix compact is all dressed up with nowhere to go.
$499.99 MSRP
Buy now at Amazon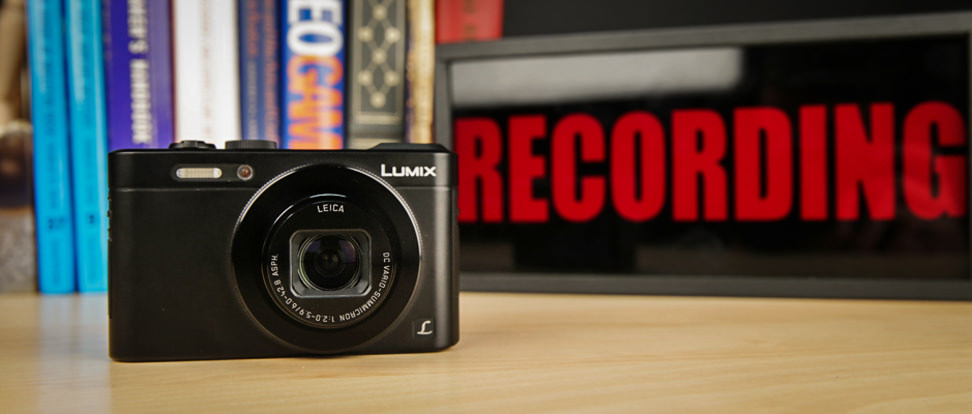 By the Numbers
Any way you slice it, the Panasonic Lumix LF1 (MSRP $499.99) is an above-average compact digital camera. Really, its only major failing is an above-average price relative to its direct competition. In our standardized lab testing, we found that the LF1 produced reliably good, pleasantly natural sharpness at the center of the frame, though resolution dropped off toward the edges and at longer focal lengths. Color and white balance were solidly above average, noise control was decent, and dynamic range was very solid for a camera of this type. Even videos were just a tick better than what we typically see from compacts, if not spectacular.
In short, the LF1 produces images and video that are going to be good enough for most target users, but it's possible to get better image quality for less.
Sharpness
The Lumix LF1 isn't the sharpest tool in the shed, but we were able to record some relatively high resolution figures at the center of the frame, particularly when shooting at full wide angle. At the 6mm (28mm effective) focal length, we got the sharpest results wide open at f/2. Stopping down further only leads to softening from diffraction. That means that the longer focal lengths, which have maximum apertures smaller than f/2, are already diffraction-limited when shooting wide open.
The highest resolution figures we saw from the LF1 were around 2510 lw/ph at MTF50, which occurred at the center of the frame at 6mm f/2. At that same focal length and aperture, the corner resolution was as low as 786 lw/ph, which is a massive falloff. Stopping down to f/4 lowered the center resolution slightly but sharpened the corners to 1136 lw/ph. Zooming in only reduced sharpness across the frame; the best we saw at medium and full telephoto focal lengths was about 1280 lw/ph. That said, at these focal lengths sharpness remained very consistent across the frame—the corners were just as good (or bad) as the center.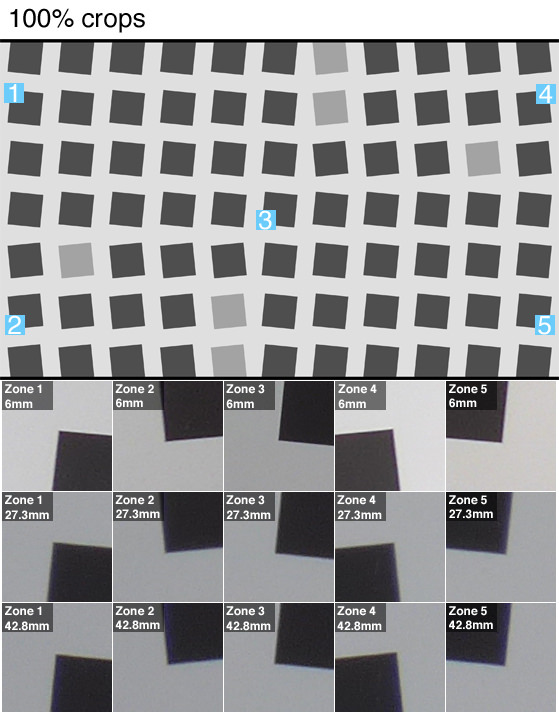 Ultimately, this might be the worst lens Leica has ever put its name on. Beyond issues with sharpness, there are some visible aberrations when there are bright areas in the frame—ghosting and flare around specular highlights that can become quite distracting in many situations.
Noise & Noise Reduction
The LF1 offers only one noise reduction setting, which is Auto. You can't turn it off, except by shooting RAW (and even then, we're not convinced the camera isn't doing some tweaking). Images look pretty smooth and show a reasonable amount of detail up to ISO 800. ISO 1600 is still pretty useful, though details are starting to be wiped away due to NR smoothing, and 3200 might even be usable in a pinch. We wouldn't recommend using ISO 6400 and especially 12800, except in cases of direst need.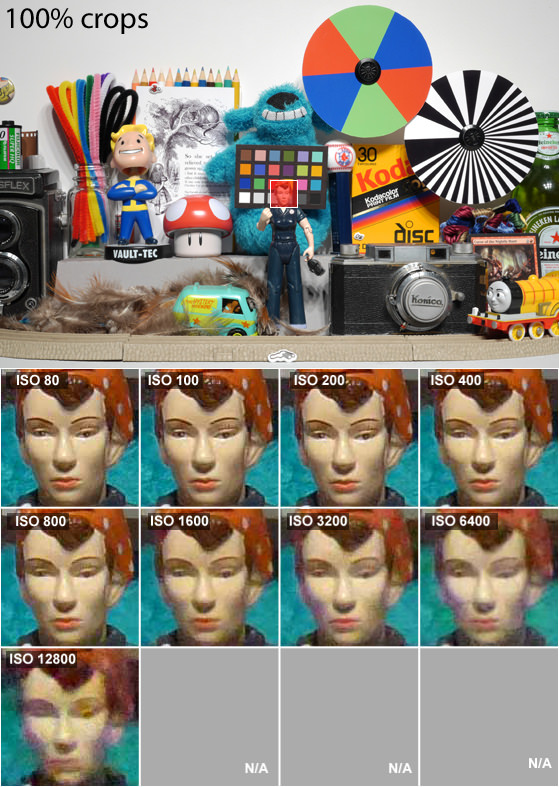 Our crops from the line drawing of the Cheshire Cat show the noise reduction characteristics even more dramatically than Rosie the Riveter. The fine detail of the penwork is already disappearing at ISO 800 and mostly blurred by 1600. At ISO 6400 and 12800, the cat crops look like blurry, color-splotchy watercolor paintings.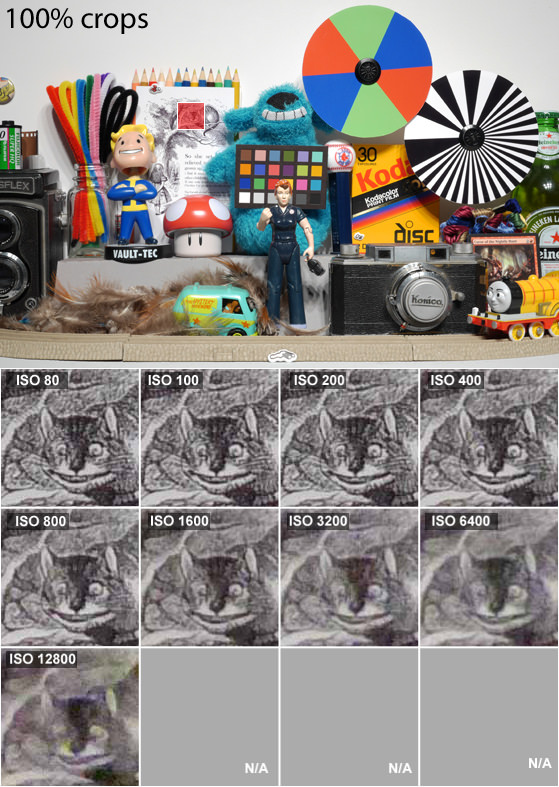 Comparable Products
Before you buy the Panasonic Lumix LF1, take a look at these other point & shoot cameras.
Color & White Balance
Color and white balance have historically been strong suits for Panasonic, and the LF1 is certainly above-average (there's that descriptor again) in these categories. In the camera's most accurate color mode (no surprise, it's Standard!), the LF1 cranked out a ∆C 00 corrected color error of just 2.54, which is darn good. (The best cameras we've tested produced errors of around 2.2, while the average is around 3.0.) The biggest errors came in the red and deep blue shades, while yellows and deep greens had lesser issues.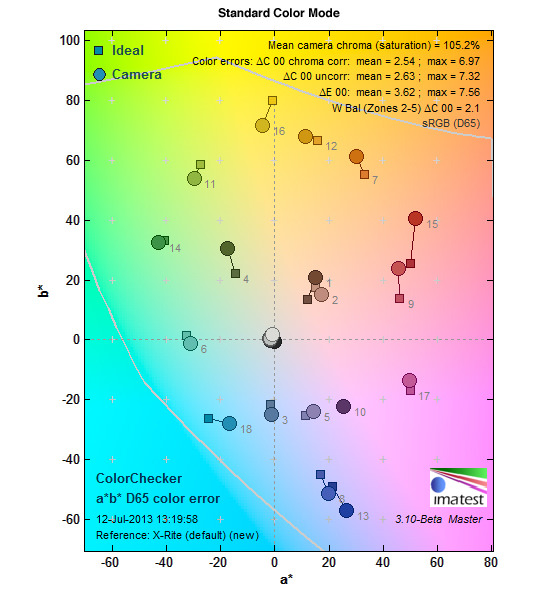 White balance was excellent when using custom settings, off by an average of between 56 and 163 K, depending on lighting type. When set to automatic white balance, the LF1 performed well under compact white fluorescents and simulated daylight, but predictably stumbled under incandescents. In this toughest of lighting scenarios, it was off by about 1880 K on average, lending whites a distinct orange cast.

Video Quality
The Lumix LF1 isn't a video powerhouse, but it should be a capable go-everywhere companion for slice-of-life clips. You can choose between 1080/60i AVCHD and 1080/30p MP4 recording, but there's no 60p option at full resolution (you can step down to 720p for that silky smooth effect). We prefer the MP4 mode because the files are easier to work with, but in the end the quality is pretty similar.
Sharpness was acceptable in both bright and dim lighting, averaging about 600 lp/ph on both the horizontal and vertical axes. The LF1 was also relatively impressive with regard to video sensitivity, needing only 11 lux of ambient illumination to record an image that achieved 50 IRE on a waveform monitor. That means it should be able to record a reasonably bright image in very dim circumstances.
Our editors review and recommend products to help you buy the stuff you need. If you make a purchase by clicking one of our links, we may earn a small share of the revenue. Our picks and opinions are independent from any business incentives.