cameras
Panasonic Lumix GH4 Digital Camera Review
The latest hybrid Lumix goes all-in on pro-HD and 4K video.
$1,197.99 at Amazon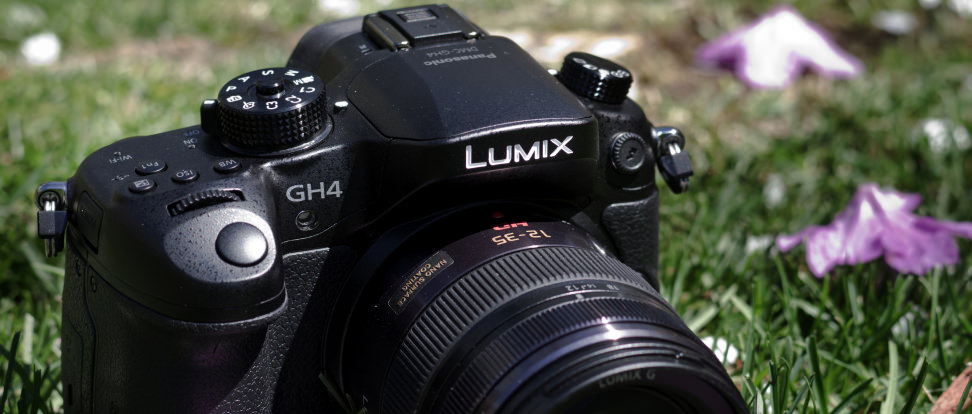 The Panasonic Lumix DMC-GH4 is better than 83% of the cameras we tested.
It is better than 88% of the cameras we have tested under $2,000.
It is better than 87% of the mirrorless cameras we have tested.
By the Numbers
The Panasonic Lumix GH4 is an incredible camera. Its 4K video is so good that it nearly maxed out our video resolution chart. Still photos are very good, but, fail to raise the bar set by the Olympus OM-D E-M1. That said, if video and stills are of equal concern to you, this may be the best hybrid option on the market. It has HD abilities that will satisfy current production needs, 4K video that will keep you future-proof for a few years at least, and still capabilities that certainly won't disappoint.
Video
Let's not mince words here—you're not reading this review for our still results. Juicing up the already powerful GH3, Panasonic gave video quality a thorough upgrade. In fact, the GH4 nearly maxed out our video resolution chart in bright light—something we've never seen before from an off-the-shelf system camera.
The difference in detail between the 1080p and 4K footage is astounding. Even when looking at footage recorded with the more ordinary MP4 4K/30p recording mode, there was a lot to appreciate. We did notice that motion was a tiny bit jittery, and we saw some moiré pop up on a brick building when panning the camera. When paused, frames showed a photographic-level of detail—after all, each frame is essentially a compressed 8-megapixel image. It's not fair to HD how much more 4K provides.
With this mode enabled, we ran our standard sharpness tests. Like we mentioned above, the GH4 could very well be the sharpest video system camera we've ever tested, just by the virtue of its higher resolution footage. In bright light, we measured 975 lp/ph horizontal and 1100 lp/ph vertical. The GH4 also held onto detail incredibly well in our low-light resolution test, scoring 900 lp/ph horizontal and 940 lp/ph vertical. The most interesting thing that we noticed in this low-light 4K test is that the extra resolution made noise a bit more prominent. The bars on the resolution chart were more visibly softer and exhibited lower contrast, even though there was still separation of finer lines.
Using our standard, HD-based methodology, we came away impressed by the GH4's overall low-light abilities. This puppy only required 2 lux to produce an image at 50 IRE. While not as impressive as the night vision-like capabilities of the Nikon D4s, it's still quite a feat for such a small sensor.
If you want to read even more about the GH4's video performance and features, jump on over to our dedicated article on using the GH4 to shoot video.
Resolution
The GH4's 16-megapixel Micro Four Thirds sensor isn't the new kid on the block. In fact, our tests indicate that it's probably a close relative of the sensor that Panasonic put inside the GH3.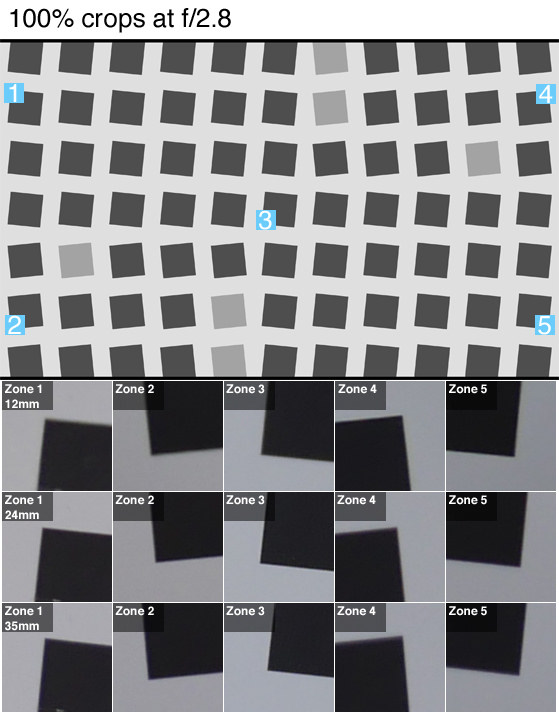 We tested the GH4 with Panasonic's Lumix 12-35mm f/2.8 constant, a nice little lens that's surprisingly compact. We used the same lens to test the GH3 when we reviewed it a few years back, so that we could better compare results. As it stands, the GH4 was equally sharp and you won't notice any appreciable difference. This lens continues to be one of the best zooms in the M43 system.
At its wide end, the 12-35mm sees some barrel distortion, while mid-way through its focal range it begins to exhibit some pincushion distortion. We saw the overall highest resolution numbers at full telephoto. Keep in mind that distortion numbers are relative since Micro Four Thirds cameras correct, even in RAW, for these issues based on lens profiles.
Comparable Products
Before you buy the Panasonic Lumix DMC-GH4, take a look at these other cameras.
Color & White Balance
Our standard testing revealed that the mode called Natural, like on many other Panasonic M43 cameras, is the most accurate. In Natural mode, we measured a ∆C00 uncorrected saturation of 2.4, at a saturation of 99.00—pretty dead on.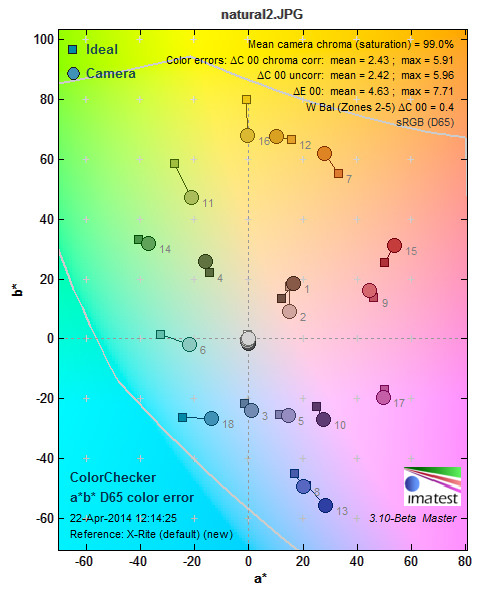 A key addition for cinema shooters is the Cinelike D shooting mode. It's a flat color profile designed for color grading as part of post processing, instead of looking great straight out of the camera. Both Cinelike D and Cinelike V are only available in the GH4's dedicated video mode on the mode dial.
As far as white balance goes, we saw average results from the GH4's auto white balance. Where the GH4 really kicked butt was in our manual white balance test, getting a typically excellent score, like many of the Panasonic cameras we've tested in the past year. Color temperature error was as low as 11 kelvins in the tough incandescent white balance scenario. This is great news for the cinematographers and DPs out there—you can rest assured that the white balance you set using the GH4's built-in system is going to be very accurate.
Continuous Shooting
We were floored when using the GH4 to shoot a continuous burst of photos. Not only is its rate pretty quick, but a big cache lets you keep shooting...and shooting...and shooting. We clocked the GH4 at a max rate of almost 12 fps (11.94 fps, to be precise). Even when shooting in RAW, we were able to capture a whopping 40 frames with the GH4 until the rate slowed down to a little over 1 frame per second. With JPEG only, you'll net almost 80 shots. This thing is like a tiny gatling gun for continuous shooting, with speed that is easily on par with the Nikon D4. Of course, the sensor's lack of phase detection won't make it the best when you're trying to capture and track action.
Noise & Sensitivity
The GH4's range of ISO sensitivities is slightly enhanced from the range that Panasonic offered on the GH3. Base ISO remains 200 in still and video (there's a low 125 that's turned off by default), and Panasonic continues to offer up really excellent noise reduction control with 11 levels.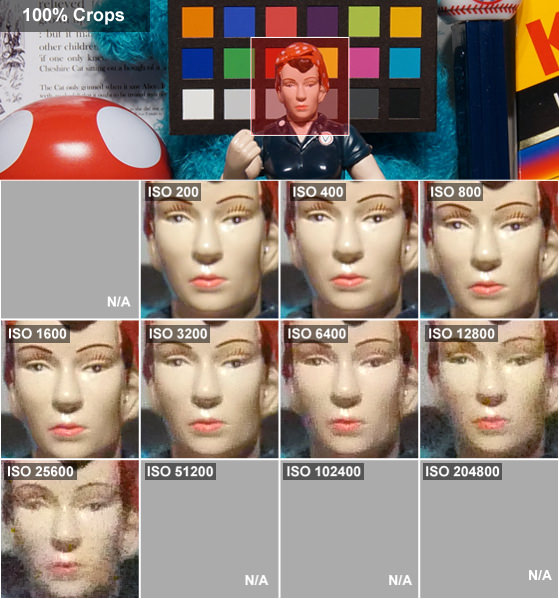 With that middle level active, JPEG noise reduction is applied aggressively, keeping the noise level quelled and under 2% until ISO 25600. Compare that to the lowest setting when 2% is reached earlier, with ISO 12800 reaching 2.3%. In reality, the GH4's higher ISOs stay about in line with other cameras with Micro Four Thirds cameras. With the default noise setting on, you can observe loss of detail starting around ISO 1600, with it reaching unacceptably ugly levels by ISO 6400. If you need low light capability, we recommend shooting in RAW and processing the files later on a computer.
Our editors review and recommend products to help you buy the stuff you need. If you make a purchase by clicking one of our links, we may earn a small share of the revenue. Our picks and opinions are independent from any business incentives.