cameras
Panasonic Lumix G6 Digital Camera Review
The latest Lumix is better than the G5 in more ways than one.
$749.99 MSRP
Buy now at Amazon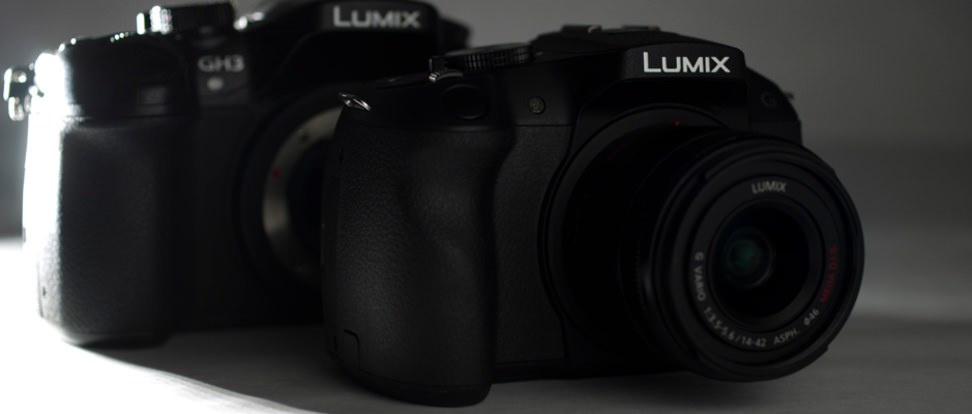 By the Numbers
Given that that this camera has the same sensor as the G5, we were expecting familiar performance from the G6. Some of our results confirmed that notion, but there's definitely some different software at work. Noise reduction was more heavily applied at certain ISOs, we had some strange results from the JPEG color profiles, the G6 greatly benefits from its new kit lens as well. Burst mode, while better than the G5, still isn't quite good enough to match the competition.
Noise
Panasonic's done a fabulous job at enabling custom noise reduction settings. Each color profile has its own NR slider, with 5 stops on either side of the default setting. It's way more granular than what Sony or Olympus offer in their compact system cameras, giving you a huge amount of latitude in how the camera combats noise. The G6 has a similar percentage of noise at each ISO across those settings. Compared to the G5, we did see some different applications of the noise reduction. Some ISOs received less and some received more by a slight amount.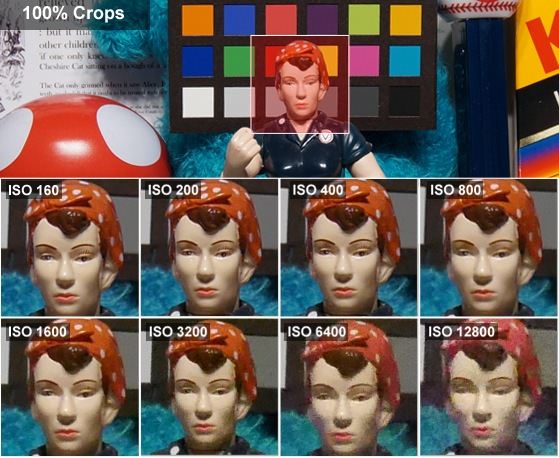 This camera's Venus Engine image processor still did a good job keeping noise under 2% up until the higher ISOs. We use that figure as a benchmark, beyond which images are too noisy to be printed. You'd be well advised to shoot with lower ISOs, since we saw a sharp increase in noise at around ISO 3200, and our still life shots basically reflect the same idea. Detail takes a dive in the higher ISOs, as to be expected but it's well-balanced up to ISO 3200. Overall the G6 scored lower on our noise test, but it still was within spitting distance of the G5's score. We'd call this one a wash between the two.
Sharpness
When we tested the G5, we were let down by the soft performance we saw with the kit lens. The lens was plenty sharp at full telephoto, but when used at its widest focal length, it softened up the edges a bit too much. The new kit lens included with the G6 is a much better lens, showing improvement at the wide end and generally across every aperture setting. Vertical and horizontal edges on our chart were all much sharper, only taking noticeable dip in resolution when shot at full telephoto wide open.
Some of this newfound sharpness is due to a bit of software fakery. It's pretty standard practice to enhance the trouble areas of lenses by enhancing contrast where little exists. The levels of over sharpening that we measured were acceptable and not too egregious. As always, M43 cameras automatically correct for lens distortion when you shoot JPEG with first-party lenses.
Comparable Products
Before you buy the Panasonic Lumix G6, take a look at these other interchangeable lens cameras.
Color & White Balance
The G6 returned some baffling, mixed JPEG color results. The first time we tested it, its most accurate color profile was the default Standard mode, but all of our data seemed wrong. Using the same settings, we reshot our test and ran the results again. We saw improved results, but that first set of off results was unsettling. We're inclined to believe that this was the result of some strange firmware issue, but it's still worth mentioning. The final color score was in the same ballpark as the G5, but it wasn't as dead-on accurate as we found that camera to be. We saw a ∆C uncorrected mean of 3.18, compared to the better score of 2.8 from the G5. Saturation also went up from 103.1% to 108.6%.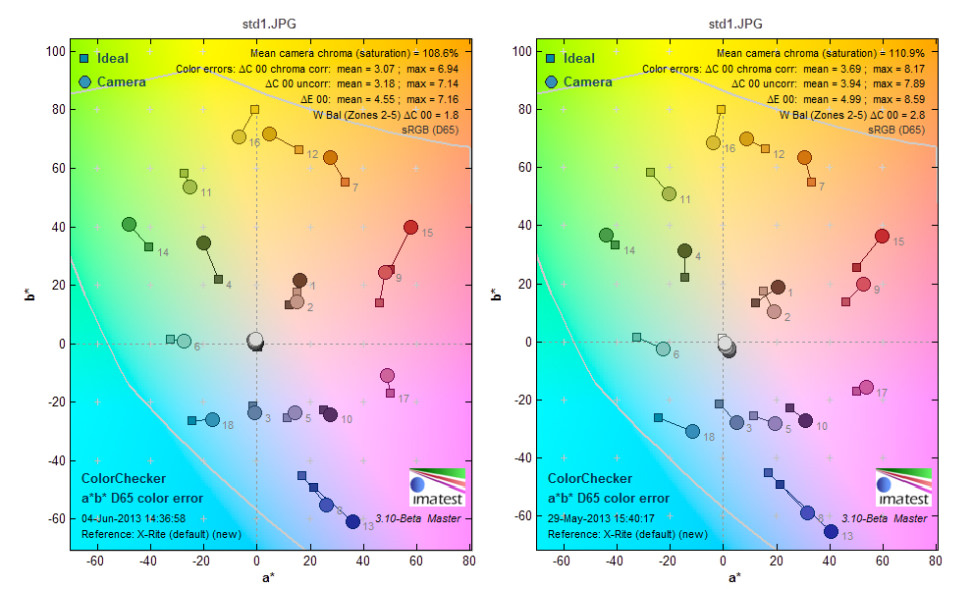 White balance performance from this camera was exemplary. It turned in very accurate results both in custom and in auto mode, ranking among the most accurate cameras we've tested. Like the G5, the G6 has two custom presets and a mode where the color temperature can be entered in manually.

Burst Mode
While shot-to-shot speed has been improved in the G6, it's still not quite to the same level as some competitors. It's speedy if you need one second's worth of pictures, but the continuous speed can't hold a candle to what we saw from the Olympus E-PL5. While there's still that super-speedy 40 fps SH mode using a lower res photo and the electronic shutter, full-resolution photos are limited to a top speed of around 6.5 fps. And like the G5, the G6 runs out of buffer space far too quickly, maxing out at 9 shots before slowing to rate of just 1 fps.
Video
With the addition of a 24p mode, the G6 felt like a much more complete video shooting solution. We have posted some sample videos below and you can see the results of our motion tests in bright, dim and indirect dim lighting conditions. While the G5 was a decent video shooter, we saw improvements in video resolution from the G6. In our bright light motion test, we measured 650 vertical and 625 horizontal LW/PH while in dim light, we measured 620 horizontal and 550 vertical. We measured low light performance, and found the G6 required 12 lux to produce an image at 50 IRE, a minimum standard of image brightness used in broadcast video.
Our editors review and recommend products to help you buy the stuff you need. If you make a purchase by clicking one of our links, we may earn a small share of the revenue. Our picks and opinions are independent from any business incentives.