Design & Usability
The body is typical of the past several generations of Panasonic superzooms. It's lightweight, made of plastic, and the buttons "clack" when pressed, so it feels cheaper than we'd like. It's smaller than it looks in pictures, too—roughly on par with the Panasonic G5 mirrorless camera. Unlike the FZ150 or FZ200, the 3-inch, 460,000-dot LCD is fixed in place rather than articulating. The electronic viewfinder is decent, though it obviously doesn't match the quality of the top-notch displays in the Fujifilm X-E1 or Sony A77. It has a diopter adjustment dial but no eye-level sensor to automatically switch between the LCD and EVF.
It's a consumer camera, so there's obviously a focus on auto modes. But the depth of control is impressive for a second-tier superzoom. PASM shooting modes are available, as are specialized adjustments like white balance tuning, and white balance bracket shooting. No RAW, though—you have to pony up for the FZ150 or FZ200 to get that capability. Still, we were impressed to find so many useful options in the menu system.
Performance is snappy, with negligible shutter lag and shot-to-shot times. Autofocus is quick at the wide angle but slows down considerably toward the telephoto end of the zoom range and in dimmer lighting—not a significant improvement over past models, and pretty typical of the class. Burst shooting can crank out 10 frames per second, but the buffer fills up after about 5 shots; not the best out there, but still useful for a quick burst from time to time. The tracking focus hotkey near the shutter will also come in handy for shooting moving scenes—tracking AF was reliable in our brief time with the camera on the Photokina showroom floor.
Features
As with any superzoom, the huge zoom range is the main selling point for the FZ60. At 24x (25-600mm equivalent), the FZ60's lens is actually short by today's totally outlandish standards, "only" offering about half the zoom and maximum focal length of the new class leader, the 50x, 24-1200mm Canon SX50 HS. But don't be fooled: 24x is still plenty useful, and just three years ago it was about as good as you could get. The FZ60 is cheaper than any of the top-tier cameras from Sony, Canon, and Nikon, as well as Panasonic's own FZ200, and offers better image quality than cheaper models that sometimes have longer zooms. The FZ60 occupies a comfy spot in the middle of the superzoom class, if you can accept that 24x is still a lot of zooming power.
We were able to shoot a handful of sample photos on the showroom floor. It isn't the ideal setting for test shots, but we were able to get an idea of what the camera is capable of. In short, it's pretty good. The results look similar to other cameras with 16-megapixel CMOS sensors, like the well-ranked Sony HX100V and Nikon P510. (It definitely isn't the same sensor as the one used in the FZ150.) Fine details are a bit soft, but at typical web viewing sizes, they're totally acceptable. Noise starts to get a little hairy at ISO 800, and ISO 1600 it's noticeably sloppy. But from our limited shooting time, it seems pretty solid.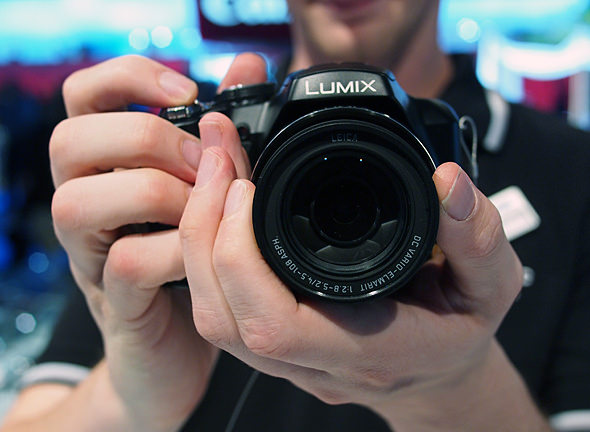 Advertisement - Continue Reading Below
Conclusion
For the model that's the lesser of Panasonic's two new FZ-series superzooms, the FZ60 is a pretty impressive camera. It doesn't match the zoom range of the class-leading ultrazooms anymore, but it does seem to offer solid image quality, based on our brief time with it. We'll know more when we can give it a proper lab test. It also provides deeper controls than we're used to seeing at this price, which is always a welcome surprise.
The FZ60 is going to be a hard sell for Panasonic with so many other decent superzooms on the market, many either with longer lenses or cheaper asking prices or better image quality. But it's really something of a happy medium in all respects. It'd make a decent camera for shooting youth or amateur sports from the stands, and it might appeal to experienced photographers who want a superzoom as a secondary camera. If you see it on sale somewhere this holiday season and you've got the itch, go ahead and scoop it up. As a famous comedian says: Pretty, pretty, pretty good.
Introduction
The Panasonic FZ60 (known as the FZ62 in Europe, hence the branding in our photos from Photokina) is a 24x superzoom with a 16.1-megapixel CMOS sensor. It's one of three full-size superzooms in Panny's current lineup, sitting behind the $600 FZ200 and ahead of the LZ20 budget model. On paper and in practice, the FZ60 has quite a bit in common with last year's FZ150, still our highest-rated overall point-and-shoot after nearly a year, and it rings up at just $400.
Our editors review and recommend products to help you buy the stuff you need. If you make a purchase by clicking one of our links, we may earn a small share of the revenue. Our picks and opinions are independent from any business incentives.