cameras
Panasonic Lumix FZ1000 Digital Camera Review
Panasonic takes on the RX10 with the FZ1000...and wins
By the Numbers
The Panasonic FZ1000 is a high-end bridge camera that competes directly with Sony's RX10. The RX10 is the best point-and-shoot that we've ever tested, but the FZ1000 (which has an MSRP that's $400 cheaper) holds its own.
Our lab results confirm that this camera is one of the best point-and-shoots that you can get today. With excellent color accuracy, strong noise performance through ISO 800, and some intriguing features like 4K video capture that will keep you future-proofed for years to come.
Editor's Note: We've run the FZ1000 through all of our point-and-shoot lab tests. Below you'll find our results so far. The one test that is not currently here is our resolution testing. During that test we found that the images taken halfway through the zoom range at the the telephoto end were abnormally soft. In our opinion this is likely due to a decentered or improperly aligned element within the lens. We've secured a second production-level unit to confirm these results and once that is complete we'll update the review with the final score.
Color Accuracy & White Balance
In our color accuracy test the FZ1000 performed quite well, with lifelike color reproduction in nearly every color mode. The most accurate mode that we tested was the Natural mode. All of the modes did well, however, with the Portrait and Standard mode also performing very well.
In the lab we found the Natural mode had a color error of ∆C00 (saturation corrected) 2.02, with a saturation percentage of 98.4%. In this test any color error under 2.2 and saturation percentages within 10 points of 100% are considered excellent, so the FZ1000 does quite well here.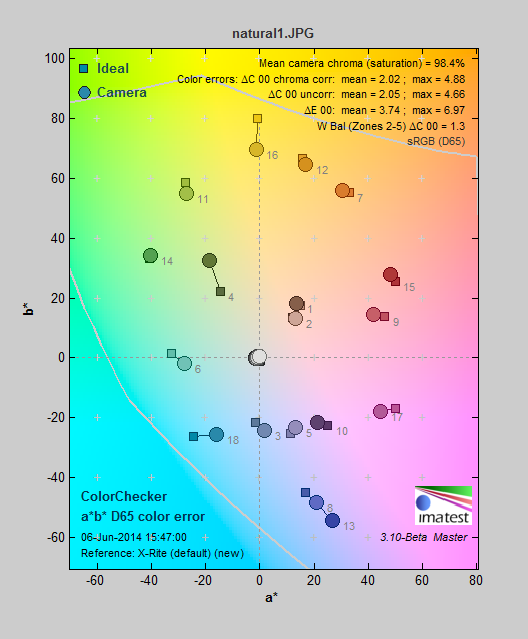 Of course, for accurate colors you need accurate white balance, and the FZ1000 does not disappoint there. Though it falls slightly short of our lofty expectations based on our experience with previous Panasonic cameras, this new bridge still does very well. Custom white balance, in particular, is typically excellent, with only a few issues popping up in our white balance test.
In our lab test we shoot a standard ColorChecker chart under three lighting conditions—tungsten, fluorescent, and daylight color temperatures—with both custom and auto white balance.
With auto white balance the FZ1000 did very well with daylight conditions, with a color temperature error of less than 75 kelvins on average (anything under 200 is acceptable). That error grew to just over 600 kelvins with fluorescent result, with a slight greenish cast that was offputting. Under tungsten lighting the FZ1000 had temperature errors of more than 2400 kelvins, though performances this bad are very typical as most cameras just can't cope with the warmth of standard indoor bulbs.
If you take the time to capture a custom white balance, however, you'll get very accurate colors across the board. In this test the tungsten performed the best, with a temperature error of just 58 kelvins. Under fluorescent the FZ1000 was still off by about 130 kelvins, though in daylight conditions you can expect errors on par with the automatic white balance performance.
Noise & Noise Reduction
The FZ1000 provides you with an ISO range of 125-6400 by default, expandable out to 80-12,800. You can shoot in either RAW or JPEG, with a sliding noise reduction scale with options ranging from -5 to +5 (zero is the default level).
With noise reduction set to the default, the FZ1000 keeps noise to a minimum. At the base ISO of 125 noise accounts for a variance of just 0.54% in the scene. This rises to 0.6% at ISO 200 and 400, 0.73% at ISO 800, and 0.94% at ISO 1600. Noise goes up quite a bit from there, hitting 1.24% at ISO 3200, 1.47% at ISO 6400, and 2.09% at ISO 12,800. Since any noise level under 2% is acceptable for printing, these results are quite good, though they come with a heaping helping of noise reduction, as you can see in the crops below.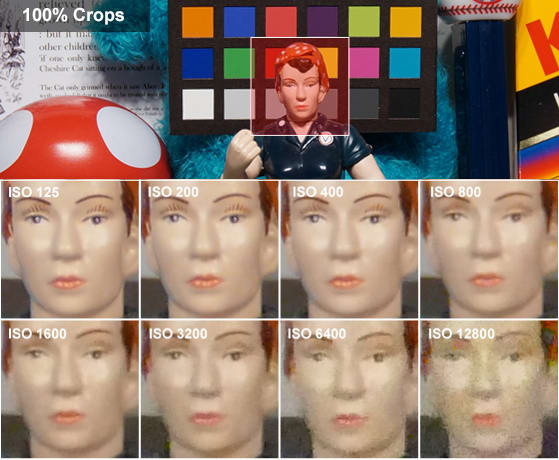 If you turn noise reduction all the way to the minimum level noise begins at 0.69% at base ISO, hitting 1.01% by ISO 800. Noise then rises to 2.21% at ISO 6400, topping out at 3.11% at ISO 12,800. This level produces grainier images, but it retains more fine detail in the scene and makes for better images through ISO 1600.
For times when you want to get rid of any and all noise you can ratchet NR all the way to +5. If you do that then noise starts at just 0.43% at base ISO and doesn't rise above 0.77% until ISO 6400. Even then it just hits 1.07%, topping out at 1.36% at ISO 12,800. This sounds great on paper, but the result is a muddled mess of fine detail typical of what you'd get from a smartphone camera in low light. Still, for web resolutions or times when you'll at most need a small print, the images are acceptable.
Shot-to-Shot Speed
If you need to capture a burst of action the FZ1000 has you covered. Much like the GH4, the FZ1000 has both mechanical and electronic shutters, letting you shoot both quickly and silently if the occasion calls for it.
Panasonic claims that the FZ1000 can shoot at up 12 frames per second at full 20.1-megapixel resolution, but in our tests it was never able to top 10 frames per second. We're not sure where the disparity is coming from, but despite trying a dozen different configurations nothing pushed it up to the full 12 fps. You can get in excess of 30 frames per second if you're willing to step down to just 5 megapixels using the "SH" burst mode.
Video Performance
The FZ1000 is a landmark camera due to its 4K shooting abilities, but it's a competent performer when it comes to HD video. Even though it can do many things that the much more expensive Lumix GH4 can pull off, its smaller sensor doesn't do it any favors. We tested the FZ1000 in both its 4K/30p 100 Mbps setting and with its top HD mode to compare sharpness.
It's clear to us that the FZ1000 uses a method similar to the GH4 to capture HD and 4K using the same processor and sensor. HD uses the center of the sensor, while 4K uses a 1:1 pixel relationship from a smaller area of the sensor. This results in a different, tighter crop in 4K.
In our bright light test, we measured 1000 LP/PH horizontal and 1100 LP/PH vertical when using 4K. In low light, we measured 800 LP/PH horizontal and 1000 LP/PH vertical. The smaller sensor made the FZ1000's test video much noisier than the GH4's in low light, with some ugly artifacts popping up around fine details.
When we turned the FZ1000 into 1080/60p mode, we measured 750 LP/PH horizontal and 700 LP/PH vertical. In low light, the FZ1000 turned in numbers of 625 horizontal and 675 vertical. HD video exhibited way more moiré than the 4K footage, which is likely due to the pixel binning required.
In our standard low light test, the FZ1000 required 10 lux to make an image at 50 IRE. This is another test where the smaller, 1-inch sensor showed its weaker side when compared to Micro Four Thirds. A bigger sensor with more surface area usually requires less light to hit that 50 IRE mark.
Resolution
There's no doubt that Panasonic spent considerable resources on the FZ1000's lens. After all, since this isn't an interchangeable lens camera, you're stuck with the one lens. Overall, we saw performance that was almost as good as what you might see from an RX10, except that you get twice the zoom with the Lumix.
We ran our tests a couple of different ways, getting slightly different results every time. With the standard JPEG color mode on, we measured sharper results than when testing with the natural JPEG mode. For a point-and-shoot with 16x zoom, we were mostly satisfied with the way the FZ1000 performed. While more oversharpening occurs in Standard, it wasn't nearly to the extent that we saw from the RX10.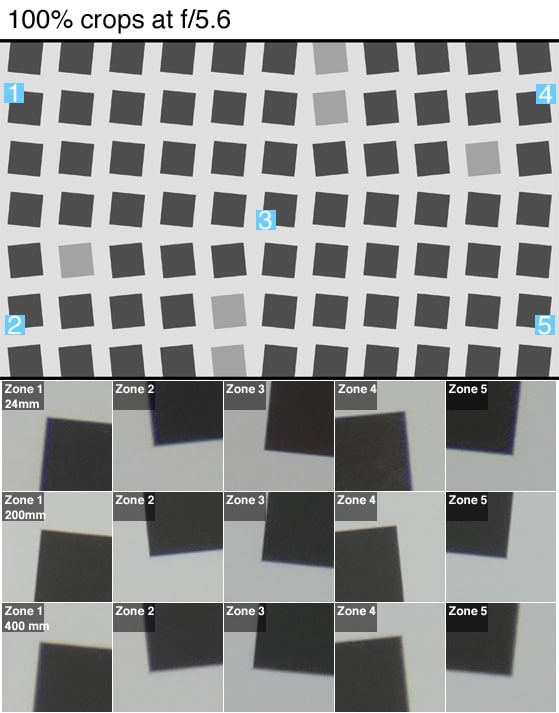 The camera is clearly sharper at full wide (24mm equivalent), with some but not a dramatic amount of falloff at the midpoint we used and at full telephoto. We also noticed a drop in contrast and more pronounced chromatic aberration at 400mm. All in all, the FZ1000 earns the Leica badge on the front of the lens.
Our editors review and recommend products to help you buy the stuff you need. If you make a purchase by clicking one of our links, we may earn a small share of the revenue. Our picks and opinions are independent from any business incentives.
Our editors review and recommend products to help you buy the stuff you need. If you make a purchase by clicking one of our links, we may earn a small share of the revenue. Our picks and opinions are independent from any business incentives.
Advertisement - Continue Reading Below
Compare Prices
Our editors review and recommend products to help you buy the stuff you need. If you make a purchase by clicking one of our links, we may earn a small share of the revenue. Our picks and opinions are independent from any business incentives.
Advertisement - Continue Reading Below
Get Our Newsletter
Real advice from real experts. Sign up for our newsletter
Thanks for signing up!