Design & Usability
Aside from all those extra product line designations (Stylus? Tough? come on...), the TG-2 offers modest but welcome hardware improvements.
Most notably, durability has been improved: The TG-2 is now waterproofed down to a depth of 50 feet. Other durability specs have remained the same, though they were already impressive last year: shockproofing from a 6.6 foot drop, crushproofing up to 220 pounds, freezeproofing down to 14°F, and dustproofing. The removable lens adapter rings also make a return. They're easy to swap out, and enable the camera to mount a small library of conversion lenses including a fish-eye and telephoto.
Olympus has also been hard at work promoting the TG-2's new "Microscopic Macro" function, which now has a permanent home on the mode dial for easy access. Sans marketing-speak, this is really just an especially powerful macro mode, and the TG-2's excellent resolution seems to be enough to zoom into extremely tiny details. It works very well, and although we don't think the feature will replace Olympus' own BX63 research microscope, frequent macro shooters will find this mode legitimately useful.
Otherwise, the TG-2 operates almost exactly like the TG-1. The interface, sadly, has changed very little (we were hoping for more responsive software), but separate quick and main menus make usability easier than many competitors.
Features
At first glance, image quality seems just as strong as with the TG-1, but we were especially impressed by the TG-2's autofocus performance.
For the past few generations, Olympus has been leading the way in autofocus speed with its PEN and OM-D cameras. We're extremely pleased to see that this strength has apparently transfer to their rugged camera lineup with the TG-2. We're talking instantaneous, "feels-like-phase-detect" speed here. Face detection is also highly responsive, and tracking accuracy is the best we've seen at CES so far. It's only Day 1, but we'd be shocked to see any manufacturer match this, and if they do, it almost certainly won't be in a toughcam.
It's always difficult to accurately discern image quality from a camera's LCD monitor, and TG-2's particularly gorgeous OLED display may have been giving its images an unfair boost. What we can say for sure it that the TG-2 is very sharp for a ruggedized camera, especially in the center of the frame (there's some falloff at the corners). The f/2.0 lens enables a little bit of bokeh too, more than we're used to from compact cameras, and far more than we're used to from toughcams. Colors seemed oversaturated to the point of distraction at default settings, but again, this could be a function of the OLED monitor rather than the actual JPEG processing engine.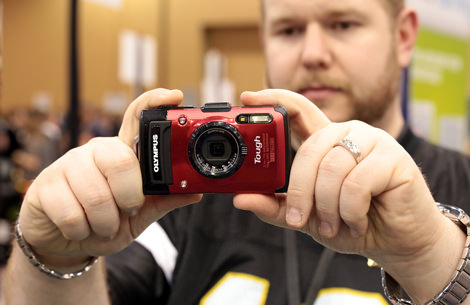 Advertisement - Continue Reading Below
Conclusion
This camera seems like a definite success, putting Olympus in a solid early lead on the 2013 toughcam front.
The TG-2's stylish physical design and hot color scheme, plus its seemingly excellent image quality and lightning-quick autofocus, create a winning combination. Right now, the toughcam market is divided into models emphasizing durability over price, and models trading just-adequate durability for cost savings. The TG-2 certainly falls into the former category, extending waterproofing down to 50 feet underwater. More importantly, the camera's photographic performance seems just as strong as the TG-1's.
It remains to be seen whether or not the TG-2 actually improves on its predecessor in our lab tests. We'd also hoped for an interface redesign to improve responsiveness—perhaps leveraging the company's touted "TruePic VI processor"—but sadly that hasn't materialized. Nevertheless, the TG-2 is looking very strong overall, and we'll be shocked if this camera isn't among the best ruggedized models this year.
Introduction
Man, did ever we love the Olympus TG-1. Liam named it the winner of our 2012 Waterproof Camera Showdown, and later awarded it Waterproof Camera of the Year. So it was with great excitement that we finally went hands-on with that model's successor, the Olympus STYLUS TOUGH TG-2 iHS.
Our editors review and recommend products to help you buy the stuff you need. If you make a purchase by clicking one of our links, we may earn a small share of the revenue. Our picks and opinions are independent from any business incentives.