cameras
Olympus PEN E-PM2 Digital Camera Review
Fewer calories, same great Olympus taste.
From enthusiast favorites to entry-level options, Micro Four Thirds has a range as wide as any of the major compact camera systems. More recently, we've seen Panasonic and Olympus crank out high-end cameras—heavy hitters like the Olympus OM-D E-M5, Panasonic GX7 and Olympus E-P5 are all $1000 or more, and usually worth the money. But, for average camera shoppers, dropping a cool grand on a new camera simply isn't an option. 
On the wallet-friendly side of the spectrum is the Olympus PEN E-PM2 (MSRP $499.99 with lens). The naming scheme might make this camera sound like a sequel, but it's so much more than that. Where most entry-level mirrorless cameras come with older image sensors, the E-PM2 has been given the same great praiseworthy sensor as the more expensive E-P5 and OM-D E-M5.
Design & Handling
Compact, lightweight and inviting. 
With each generation of the E-PM series, Olympus has managed to shrink the footprint of the camera while preserving the distinctive retro look and solid build quality of the more expensive PEN models. Small though it may be, the E-PM2 is just as easy to shoot with as the slightly bigger, more expensive E-PL5. 
Of course, the slimming of size and price means that there are features left out. Even though this PEN has an adequate 3-inch capacitive touchscreen, it lacks any tilting mechanism—useful when shooting with the camera above your head or from the hip. The E-PM2 also goes without a mode dial and some other, less important buttons. If a tilting touchscreen or a dedicated mode dial sound appealing, then plan on plonking down the extra $100 or so for the E-PL5.  
Although the first PEN Mini was a fetching camera with a stylish brushed metal finish, its smooth exterior handled like a wet bar of soap. Thankfully, the E-PM2 is blessed with a new front grip. It might not look like much, but the grip provides more than enough purchase for such a lightweight body.
Our one reservation about the E-PM2's design is the lack of a mode dial. For experienced photographers used to quickly switching modes quickly, that's where this camera falls short. All our fears were for naught. The E-PM2 makes it easy to change modes via the menu system, with a mode selection screen that is pulled up with a press of the Menu button. We actually preferred the lack of mode dial to the loose mode dial we found on the E-PL5.  
Features
The E-PM2 is just about as fully-featured as its brethren.
 
Even though this PEN's "Mini" designation calls it out as the baby of the bunch, the smaller size and price tag still net you a whole lot of camera.
The Super Control Panel obviates unnecessary, frustrating trips into the E-PM2's menu dungeon.
Tweet It
Of course, if you've never used an Olympus before, we have a word of warning: even though the E-PM2 offers great features that will definitely appeal to point-and-shoot users, the underlying menu system can be really daunting. If you stick with it, you'll get used to it eventually. The best advice we can give you is to turn on the Super Control Panel (Google it for instructions). The SCP will obviate unnecessary, frustrating trips into the menu dungeon. 
Complex menus aside, Olympus has made satisfactory concessions for the less experienced photographers out there. To the right of the shutter button, there's a button for Live Guide options— a list of settings meant to put more intimidating sounding features into plain English. Shutter speed control is labelled 'Express Motions' and aperture control boiled down to 'Blur Background'. These options, along with an ample supply of Scene Modes, mean that even average Joes can take advantage of what the E-PM2 has to offer.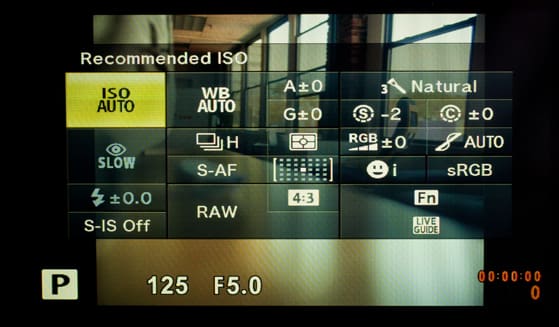 Shooters both seasoned and amateur alike should know that Olympus is a bit behind the curve with WiFi integration. The E-PM2 just has EyeFi card compatibility, and nothing more. While we expect mobile device connectivity to become a standard feature in the future (and, knowing Olympus, the implementation will probably be a refined version of what we saw in the E-P5), it's a weak spot for the PEN cameras when compared to Panasonic's more recent offerings. 
While you don't get the nifty photo collage mode of the E-P5, the E-PM2 still has a halfway decent set of art filters to choose from. Of course, you could always choose to use an adapter and real vintage lenses to achieve a retro effect. But, if you need autofocus and zoom, the Grainy Film and Pin Hole filters are decent enough facsimiles. If you have problems choosing what look you like, there's an excellent Art Bracket feature that produces 12 copies—one for each art filter—for each shot you take. 
Performance
More of the same from a tried-and-true sensor.
With the same sensor as the Olympus OM-D E-M5, the E-PM2 performed as well as expected. Olympus has a reputation for tuning color in order to achieve pleasing results. We measured some differences between the clinical ideal and even the E-PM2's most accurate mode, muted. Auto white balance performance was better-than-expected and custom white balance was about as good as the other Olympus offerings. Check out the sample photos below for examples of some of the punchy colors that Olympus is known for.
Video remains a weak spot for Olympus, even though the E-PM2 shoots 1080/30p footage by default. We noticed that clips looked grainy and soft—not two adjectives you want to hear describing Full-HD video. You shouldn't expect excellent quality results from the E-PM2, and if video is very important to you, you'll want to take a look at one of the Panasonic Micro Four Thirds offerings instead.
Shot-to-shot speed, on the other hand, is a strength of the E-PM2. At full resolution, you can shoot 8 frames per second in JPEG. The burst rate slows down after around 17 shots, but it's still among the stronger mirrorless performers out there today. The buffer fills more quickly if you're shooting RAW, and the larger files grind the camera to a halt as it finishes writing all those bits and bytes to the SD card.
We found that when we tested for still sharpness, the E-PM2 yielded different results than its siblings. Our numbers indicate a ton of oversharpening in JPEG with default settings in place, with as much as 30% applied in some instances. Most cameras apply extra sharpening when needed, but we found that the E-PM2's algorithms were way over the top. Thankfully, JPEG sharpening can be dialed down in the Super Control Panel, or you can shoot RAW.
For more detailed test results, visit the Science Page of this review.
Conclusion
One of the best introductory mirrorless options around. 
While some might gravitate towards the Sony NEX-3N for its larger APS-C-sized sensor, there's no doubt that the E-PM2 is a solid performer. Micro Four Thirds makes an excellent system for beginners, with plenty of room to grow. Also, there's the distinct benefit of being able to use the same lenses on Panasonic bodies, so you have a greater range of kit to choose from should you buy into the system whole-hog.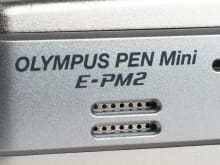 Even for previous Olympus PEN owners out there, the E-PM2 would make for a nice upgrade from an older PEN due to its excellent sensor. You might yearn for the ergonomics of Panasonic's GX7 or the weather sealing of the Olympus OM-D EM-5, but for many people, the E-PM2 is the Goldilocks of Micro Four Thirds. This camera's pricing, size, weight, image quality, performance, features—all of them are just right. 
Our editors review and recommend products to help you buy the stuff you need. If you make a purchase by clicking one of our links, we may earn a small share of the revenue. Our picks and opinions are independent from any business incentives.
Our editors review and recommend products to help you buy the stuff you need. If you make a purchase by clicking one of our links, we may earn a small share of the revenue. Our picks and opinions are independent from any business incentives.
Advertisement - Continue Reading Below
Compare Prices
Our editors review and recommend products to help you buy the stuff you need. If you make a purchase by clicking one of our links, we may earn a small share of the revenue. Our picks and opinions are independent from any business incentives.
Advertisement - Continue Reading Below
Get Our Newsletter
Real advice from real experts. Sign up for our newsletter
Thanks for signing up!