cameras
Nikon P7700 Review
It's big, it's bulky, and it's the best advanced compact we've ever tested (for now). Nikon's Coolpix P7700 sets a new bar for enthusiast point-and-shoots.
$499.95 MSRP
Buy now at Amazon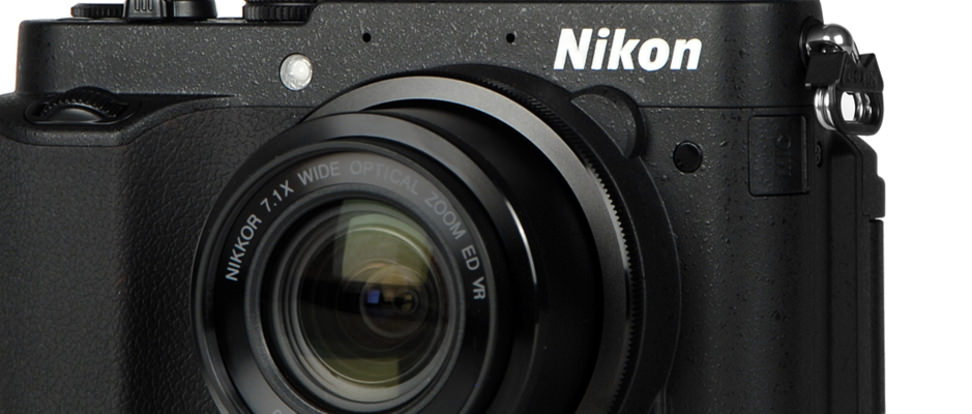 The Nikon Coolpix P7700 is better than 17% of the cameras we tested.
It is better than 60% of the cameras we have tested under $500.
It is better than 19% of the high-end point & shoot cameras we have tested.
Introduction
Lately, we've noticed a trend here at DCI: As smartphones and tablets continue to gnaw away at the low end of the point-and-shoot market, the big manufacturers are putting more and more effort into advanced compact cameras. That's a great thing for consumers, and it's a trend that's given us some fantastic models already this year, from the Canon G15, to the Sony RX100 and the Olympus XZ-2.
Now, Nikon steps up to the plate with the P7700, the third iteration of the P7xxx series. The new version updates the P7100 with a 12-megapixel CMOS sensor, a bigger grip, a fully articulating LCD, and a significantly brighter 7.1x zoom lens. This market is pretty cut-throat, though, so we got to work testing this Nikon to see if it could hold its ground and back up those awesome specs with similarly awesome performance.
Design & Usability
The P7700 isn't exactly pocket-sized, but the handling is phenomenal.
This camera's 12-megapixel, 1/1.7-inch CMOS sensor and its 28-200mm (effective) f/2.0-4.0 zoom lens are not exactly cutting edge, but they don't need to be. They simply get the job done, and do it as well as virtually any other advanced compact camera out there today. The longer-than-average 7.1x zoom range requires a larger body, and Nikon goes all-in, adding a big grip and an articulating LCD to create the largest advanced compact out there (aside from the mammoth Canon G1 X). The upshot? It's by far the most comfortable of its kind, though no doubt some will complain about its lack of pocketability.
You want buttons? The P7700's got 'em.
You want buttons? The P7700's got 'em. A lot of them. The rear face is packed, while the top plate supports only a mode dial, an on/off switch, a zoom ring, a shutter release, and an exposure compensation dial—the latter of which is de rigeur for advanced compacts these days, and always a welcome addition.
Holding the P7700 is something like sinking into the leather chair in your dad's study.
Perhaps the biggest pro is the camera's physical design—particularly its comparably massive front grip. Here at DCI, we've handled a lot of advanced compacts, and they're usually a far cry from the ergonomic joy of a well-designed DSLR or superzoom. The P7700 breaks out of this mold: it just feels great. When hands met leatherette, even our most cynical reviewers caved to the P7700's charms. The grip is chunky, curved in exactly the right place to cradle your fingertips, and covered in a soft leathery coating that makes it feel glued to your hand. Holding the P7700 is something like sinking into the leather chair in your dad's study—well, compared to its rivals, at least.
Features
Here a button, there a button, everywhere a button button...
The P7700 never shies away from offering three or four options where one or two would do. From its white balance to its special effects, from its customizable controls to its articulating screen, this is a camera that adjusts to suit its user—not the other way around. If users are intimidated by the massive feature set, fully automatic shooting modes come to the rescue. But the array of physical controls will take some time to master, no matter how you're shooting.
The P7700 never shies away from offering three or four options where one or two would do.
For video shooters, the P7700 provides several different bitrates and resolutions to choose from, maxing out at 1080/30p (18.8Mbps) with options for 1/4- and 1/2-speed slow motion and 15fps, which makes action look over-cranked to 2x normal speed. The P7700 can serve as a simple point-and-click video camera, but the CSM video mode is there as a creative alternative too. This latter mode offers manual control, but it also offers access to many of the picture effects and filters carried over from still shooting.
Comparable Products
Before you buy the Nikon Coolpix P7700, take a look at these other cameras.
Performance
Best or near the top in almost every category
Image quality is a complex equation incorporating many factors. Some cameras master one function while failing in another. Results are frequently quite mixed. We haven't found a camera yet that gets everything right, but the P7700 makes a great effort. Sharpness is very impressive, and more importantly, it achieves its results without resorting to excessive software-based JPEG sharpening. Color accuracy is among the best we've seen, distortions are minimal, and noise and dynamic range performance are among the best in the class. Of course, there are still areas to improve: Automatic white balance is a mess, and video performance has a long way to go.
The P7700 achieves its results without resorting to excessive software sharpening.
Nevertheless, the Nikon P7700 came out tops in most of our image quality tests, narrowly edging out the Sony RX100. While we like the overall package of the P7700 more, there's no denying that the RX100's larger 1-inch sensor provides an aesthetic that's as close to a DSLR-in-your-pocket as it gets. The RX100 generally provides much better bokeh (shallow depth of field effects) compared to the P7700, though it's also plagued by the over-processing that Sony inflicts on all of its point-and-shoots. If you're willing to shoot in RAW and edit later, the difference here is smaller.
The P7700 offers 8fps continuous shooting, but it's hamstrung by an anemic buffer and slow image processing.
If you're looking for speed, the P7700 offers 8fps continuous shooting, but it's hamstrung by an anemic buffer and slow image processing. While most of the cameras in this class top out at 10fps or less, they can at least capture around 10 shots in a burst. The P7700 manages just six, meaning a burst lasts just three quarters of a second. And the camera processes images (whether JPEG or RAW) slower than others in its class. If you're shooting action, you'll be lucky to get the shot you're trying for.
Conclusion
The Nikon Coolpix P7700 is a horse of a different, better color.
What makes a great advanced compact camera? Image quality is the first thing that springs to mind: What use is a camera that takes bad photos? But this is not the only concern. Comfortable handling and a friendly user interface are just as critical, as the Sony RX100 illustrates. All the image quality in the world might not sway a buyer if the camera feels like a slippery bar of soap.
The P7700 is the complete package.
A truly great point-and-shoot should also be dynamic enough that interested photographers can grow with it, without having to upgrade to get access to more advanced features. Consumers in this category want to dive into the deep end of the photographic pool, not float around with water wings in the fully automatic shallows. To be a great advanced compact camera, a device needs to excel in all of these ways and more.
While the P7700 isn't the best in many of the categories we test, it's one of the best in virtually all of them. Some competitors might be slightly sharper, have marginally better noise performance, or a little higher dynamic range, but this Nikon's overall output is definitely among the best in its class. Ultimately it succeeds—at least in terms of image quality—on the sum of its parts, rather than individual features. Add to that the wonderful variety of manual control, customization, and excellent handling, and the P7700 is the complete package.
This is an exceptional camera that stands firmly among the best advanced compacts we have tested to date.
In the end, this category really comes down to two contenders for 2012: the Sony RX100 and the Nikon P7700. The RX100 is pocketable, and boy is that top-of-the-line sensor nice to have, but the P7700 is for enthusiasts who want a camera to grow with. It's big for its class, but the physical design is exquisite. Our only reservations are for truly inexperienced shooters who may want a simpler camera that does more of the heavy lifting for them. For the rest of us, the P7700 is an exceptional camera that stands firmly among the best advanced compacts we have tested to date.
Our editors review and recommend products to help you buy the stuff you need. If you make a purchase by clicking one of our links, we may earn a small share of the revenue. Our picks and opinions are independent from any business incentives.