cameras
Nikon D5300 Digital Camera Review
The Nikon D5300 uses a few tweaks under the hood that improve in small ways over its predecessor.
$699.99 at Amazon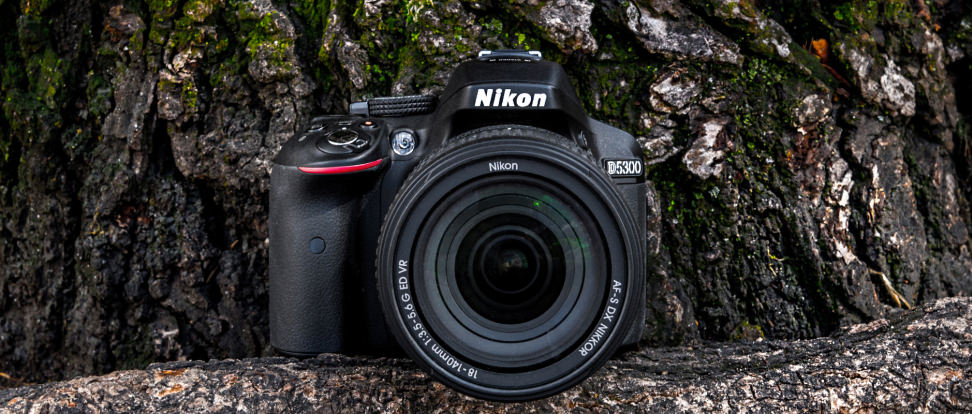 By the Numbers
By just about any metric, the Nikon D5300 is a solid camera. Lacking an AA filter, the sharpness results are a cut above the D5300's predecessor, and it's no slouch when it comes to videography, either. Though we are dismayed to see dynamic range performance take a small step back at higher ISO speeds, the base level of performance is top-notch.
Really, there's little weakness in the performance of the camera—its shortcomings are more in the realm of handling and other physical issues. If you're all set with the form factor of a DSLR, this will be right up your alley, and offers commensurate performance for its pricetag.
Color and White Balance
Fantastic color accuracy, just stay away from Auto WB.
In our labs, the Nikon D5300 posted a decent ∆C00 color saturation error of 1.87—which is almost perfect for all practical purposes. Anything nearing ∆C00 of 2 is approaching the ideal anyways, so no worries there. This result was achieved with the Standard color profile, which also saturates the entire color gamut to 107.6%. Again, a perfectly decent result.
Straying from the Portrait color profile will net you varying color errors and saturation, often by design. Landscape mode and Vivid mode will wildly oversaturate your photo's colors to make them "pop" more, while Standard mode and Neutral mode are a bit more accurate.
White balance is a bit of a mixed bag with the D5300, as the automatic white balance setting is quite terrible. If at all possible, definitely try to set your white balance using the presets, or even manually. Otherwise, you're looking at wildly bad color problems in the presence of light sources like incandescent bulbs or fluorescent lighting.
Sharpness
Sharp shots, early-onset noise
The removal of the AA filter was a tipoff that the Nikon D5300 might have a higher sharpness performance, and that appears to be the case. Posting higher scores than its predecessor, the Nikon D5300's sensor gives the camera quite a bit more capability in the sharpness department.
The weak link in the chain here appears to be the kit lens, however. With some fringing issues and added distortion, the only fault we found with the D5300's sharpness results came from the massive 18-140mm lens. Predictably, at full-wide the lens adds in a ton of barrel distortion, while at full telephoto it crunches in the edges with pincushion distortion. Though both can be remedied somewhat by the distortion correction in the camera's menu settings, it's not a perfect fix.
Worthy of note is the lack of severe oversharpening, or attempts by the camera's software to "fix" sharpness issues. It's comforting to know that you get what you ask of your camera through the settings, but you may be used to this post-processing if you're coming from a point and shoot.
Comparable Products
Before you buy the Nikon D5300, take a look at these other interchangeable lens cameras.
Video
Sharp, solid cinema
Keeping in line with the other results, the video shot by the D5300 is quite sharp and fluid. You won't notice any artifacting or stuttering issues, even at 1080/60p. Reduced resolutions also seem to handle video fine, and the lack of an anti-aliasing filter doesn't seem to get in the way of quality motion pictures. In bright light, we recorded 700 lw/ph both horizontally and vertically—a perfectly good result.
If we had to pick one tiny problem, it'd be the introduction of slight frequency interference. If you happen upon some high-contrast, tightly-packed lines, you'll notice that there's a tiny bit of strobing. However, they have to be super fine, and super close together to be much of an issue.
Low light sensitivity is stellar, though it will never rival that of the Nikon D4s or anything. If you're shooting vids, you'll need an ambient light level of 4 lux in order to maintain 50 IRE (the minimum standard for broadcast-quality video). Rest assured that this will be more than adequate for birthday parties or other low-light situations. Just be aware that sharpness drops a bit in low light: At 60 lux, we recorded video sharpness at 625 lw/ph horizontally, and 650 lw/ph vertically.
Noise
Noise is a disappointing tale, however. Though it's technically better than that of the D5200, it's still not all that great. Couple that with the fact that garbage data cracks 1% very early on, and you get an idea of where this performance is headed. ISO 1600 sees the noise levels ramp up to about 3%, and your photos will bear a rather large amount of junk data.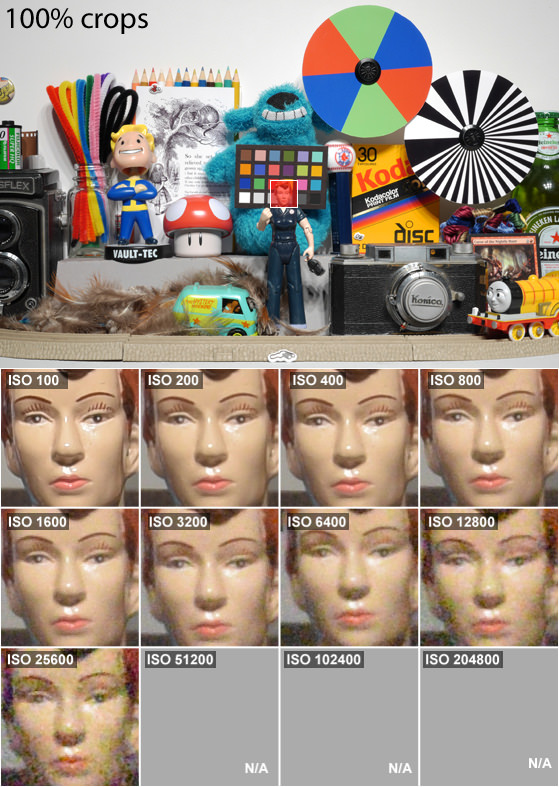 Thankfully, noise reduction isn't applied too aggressively, and turning it off will disable most of the processing going on behind the scenes. Though that may seem like an obvious statement to make, the reality is many cameras will retain a certain level of NR even with the option disabled. With high ISO NR enabled, you will notice a bit of detail loss in high ISO shots, but noise is kept in check better.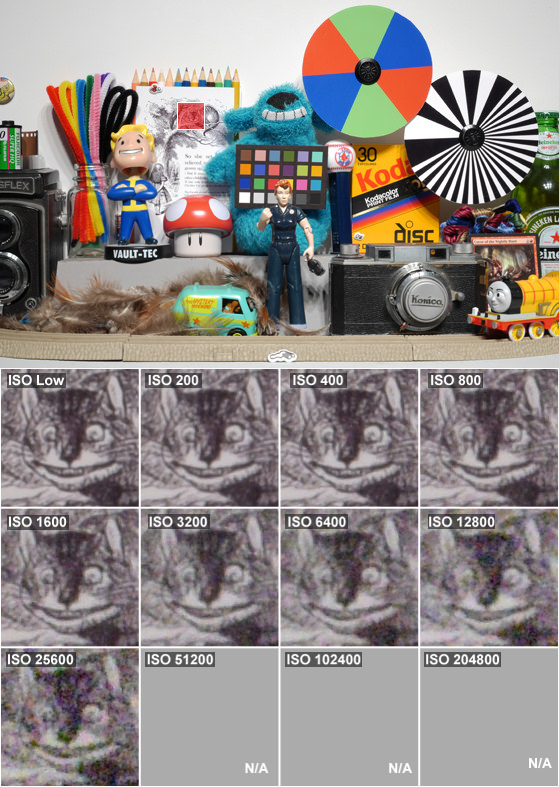 Honestly you can get away without using the NR settings too agressively and still get a fairly detailed picture. Though the NR settings help dispell noise, they will rip out fine details that are tough to distinguish from sensor noise.
Our editors review and recommend products to help you buy the stuff you need. If you make a purchase by clicking one of our links, we may earn a small share of the revenue. Our picks and opinions are independent from any business incentives.