cameras
Nikon D4S Digital Camera Review
Nikon's flagship professional DSLR is a multimedia powerhouse and the company's best to date.
By the Numbers
The Nikon D4S's performance numbers look very similar to what we saw with the original D4. Minor processing quirks aside, there's a slight uptick in dynamic range, high ISO noise levels, color accuracy, and white balance accuracy. While these add up to make the D4S unquestionably a better camera—and Nikon's best DSLR to date—they're not a significant enough jump that we'd recommend upgrading right away unless your D4 is on its last legs.
Color Accuracy and White Balance
Nikon has always trailed Canon in our color accuracy tests, and unfortunately it's the same with the D4. That said, that D4S shows a small improvement over the D4, likely due to improved white balance. We found that the most accurate picture control mode was portrait, which by default returned a color error (∆C00, saturation corrected) of 2.3, with practically perfect saturation levels. The standard and neutral modes were also accurate, but not as close, while vivid and landscape emphasized saturation and were worse as a result.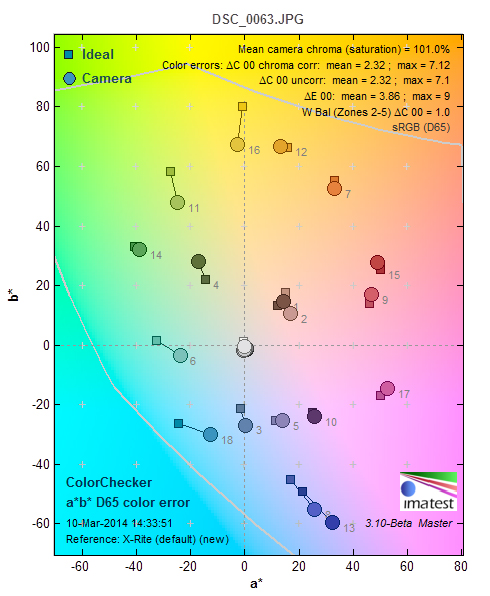 As with previous Nikon cameras, white balance was also a bit of a headache. The D4S has two methods of capturing a custom white balance reading. Both involve the same method (setting WB to custom, holding down the WB key on back for a few seconds, and capturing a shot of a neutral card.), but in different scenarios. Normally, the 91k RGB 3D metering system handles the white balance, which may be why other Nikon cameras have had trouble in certain lighting situations, like fluorescent or mixed lighting. In our testing, we found this method worked best under daylight and tungsten conditions.
The other way to capture white balance is to go through the same steps, but to do so while live view is activated. This brings up a small yellow box that you can move to place over a neutral object in the frame. We found this was actually much more accurate, and it uses the regular image sensor to capture WB data. This method was far better with mixed lighting and fluorescents especially, which have always been trouble spots when we test Nikon cameras.
In terms of raw numbers, taking a custom white balance with the D4S usually resulted in a color temperature error of between 90-200 kelvins. This is a little higher than the best cameras, but it's acceptable for professional work. With the auto white balance our test shots were just as good under fluorescent and daylight (133 and 69 kelvins off, respectively), but things go awry with tungsten lighting. As with most cameras, the D4S (even with "Normal" WB selected in the custom mode) produces a very warm color cast under tungsten lighting. We found it amounted to a color temp error of around 1950 kelvins, which is way off, but a little better than average. If you're shooting indoors with only incandescent lamps for light, we recommend taking a custom reading or shooting RAW and doing it later.
Noise Reduction
The D4S has an ISO range of 50-409,600 if you include the expanded settings. The base ISO range is 100-25,600, though in video the base moves up to ISO 200. Overall, we found the D4S's full-frame image sensor to be very capable through most of the ISO range.
Generally speaking, we have a noise threshold of about 2% for image quality. At that point the image starts to degrade to a point where you notice noise when printing anything larger than 8x10 photos. At ISO 50, we found the D4S produced around 0.7% noise. That rose to 1% noise at ISO 1600 and only hit 2.02% at ISO 12,800. Noise skyrocketed from there, hitting 3.8% at ISO 51,200, 9.54% at ISO 204,800, and an obscene 17.3% at ISO 409,600. As you can see in our full-size examples below, it gets noisy in a hurry.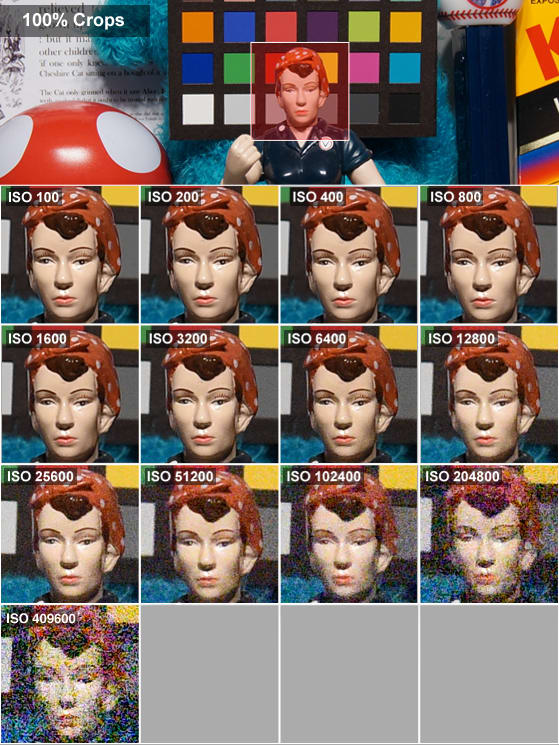 If you are shooting in JPEG and want to keep noise in check, the D4S has three NR levels: Low, Normal, and High. Compared to leaving NR off, NR Low doesn't do much until you get to ISO 6400. From there it cuts noise down by around 0.5%, and at ISO 51,200 noise drops from 3.8% to 2.5%. NR Normal ramps reduction up to keep noise under 2% all the way through ISO 51,200, hitting 2.44% at ISO 102,400. NR High really cuts into noise at higher ISO speeds, with just 1.6% noise at ISO 102,400. From there NR High returns just 3.35% at ISO 204,800, and a still-ridiculous 8.97% at max ISO.
Resolution
We tested the Nikon D4S with the 24-70mm f/2.8G ED lens from Nikon. We typically try to test using the lens that we think will commonly be used by photographers in the real world, and this is a standard event lens that just about every professional should be familiar with.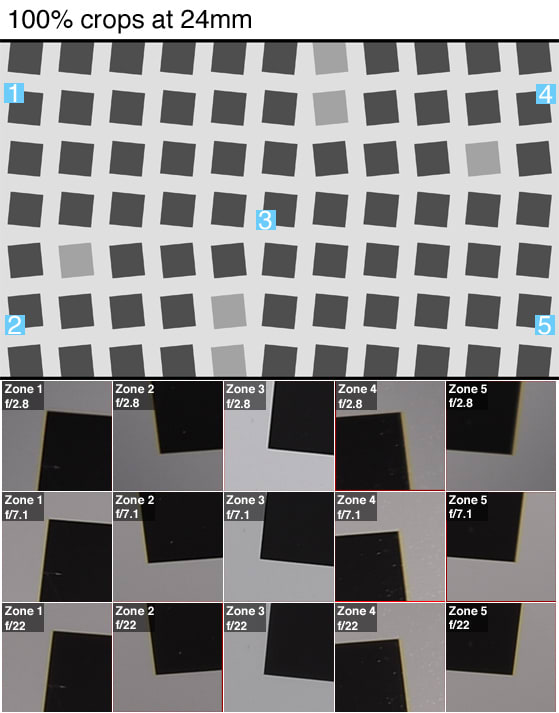 With the D4S we found that the combination produced outstanding results across the frame, with excellent corner-to-corner sharpness and only a hint of chromatic aberration and vignetting when wide open. We found that the lens consistently averaged close to resolve around 2,000 line widths per picture height at MTF 50 from f/2.8 through the useful aperture range. While the corners were worst when wide open and overall resolution is diffraction limited around f/22, the lens does exceptionally well on the D4S.
This is hardly unexpected, of course. This is Nikon's top camera, one of the company's most popular professional-quality lenses, and a sharp lens should be sharp on just about any camera that is within manufacturer specifications. At the very least it proves that we have a relatively well-built sample of both the lens and body.
Dynamic Range
The Nikon D4S is capable of around 13.9 stops of dynamic range when shooting RAW stills at base ISO, by the usual definition where we cut off range when the signal to noise ratio drops below 1:1. We also test at a higher threshold, only counting range from fully saturated to the point where the signal to noise ratio drops below 10:1.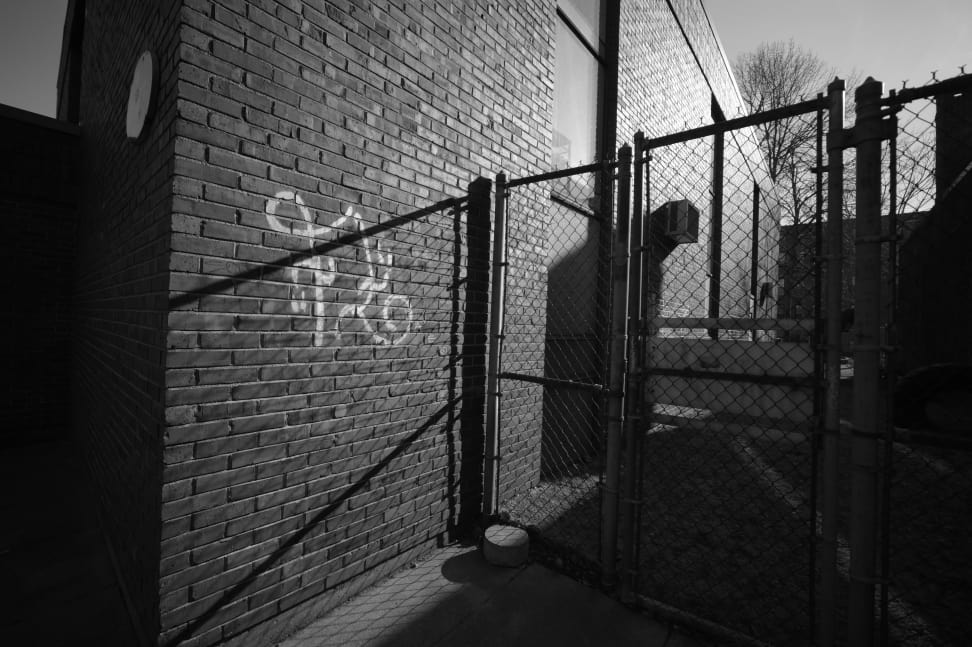 With the D4S at this higher threshold, the dynamic range is improved by around a full stop at the lower ISO speeds compared to the D4. As a result, we recorded approximately 9.4 stops of this "high" dynamic range at ISO 50, 8.56 stops at ISO 100, and 8.27 stops at ISO 200. This falls off to just 6.49 stops at ISO 800 (about what an entry-level DSLR can do at base ISO), and 4.34 stops at ISO 3200. ISO 6400 and ISO 12,800 are capable of 2.94 and 2.07 stops of high dynamic range, respectively. When shooting RAW beyond ISO 12,800, there's no point at which signal to noise gets above 10:1, according to our tests.
In video the D4S doesn't record quite as much range, but it's still impressive. Though the D4S doesn't match the reported 15 stops of range of something like the RED Dragon, we managed a respectable 11.5 stops of range at ISO 200, the base ISO for video recording. It's worth noting that we saw this drop slightly to 10 stops when shooting at 1080/60p, likely due to increased compression in the blacks to allow for 60p throughput.
Continuous Shooting
The Nikon D4S can shoot continuously at up to 12 frames per second when shooting JPEGs only. If you are shooting RAW, RAW+JPEG, or TIFF shots, then the speed drops slightly to 11 frames per second. Also, when shooting with continuous autofocus the D4S can still manage 11 frames per second at full resolution, no matter what size and quality shot you're shooting.
We didn't have an XQD card handy for our D4S testing, so we weren't able to confirm Nikon's claims on shot-to-shot capacity, unfortunately. Using a high-speed CompactFlash card, however, we were able to get around 45 full-speed shots in a single burst when shooting RAW, RAW+JPEG, or TIFF files. When shooting just JPEG the capacity jumped all the way to 115 frames in a single burst. These numbers are slightly worse than Nikon's claims of 100 RAW and 200 JPEG frames, but we're confident that the fastest XQD cards will make up some of the difference.
Video Quality
The Nikon D4S is capable of some excellent quality video, putting its 16-megapixel CMOS sensor and Expeed 4 processor to great use. The D4S offers video at 1080p in 60, 50, 30, 25, and 24 fps modes. There are also options for 720p at 60 and 50fps, as well as VGA 30/25fps. Interestingly there's also a 2.7x 1080/30p crop mode that uses just a 1920x1080 1:1 section from the center of the sensor. This gives you a bit of extra telephoto reach while also eliminating the need to downsample the image from the full 16 megapixels to an HD signal. We couldn't find much of a performance sacrifice when using this mode, as dynamic range and noise levels were consistent with the D4S's 1080/30p uncropped video.
In our resolution tests we found that in bright light the D4S's 1080/60p mode resolved a healthy 650 line pairs per picture height horizontally and 675 LPPH vertically. That drops slightly in low light (60 lux) but only to 600 LPPH horizontally and 625 LPPH vertically—a much smaller drop than we typically see, likely due to the camera's ability to handle low light so well. In our motion test the new 1080/60p mode was by far the best, with only a slight hint of trailing. There's some rolling shutter effect when panning, but ghosting and frequency interference are practically non-existant.
Our low light sensitivity test was a walk in the park for the D4S. In this test we expose for a white patch on a standard test chart and lower the light level until the camera no longer produces an image that hits 50 IRE on a waveform monitor. Using the 24-70mm f/2.8 lens (at f/2.8) with auto ISO engaged (and given the freedom to go to the maximum 409,600 ISO) the D4S never dropped below 65 IRE by our measurement. Even with our lux meter reading zero (we could barely make out the chart ourselves) and the ISO not even all the way to 409,600 the resulting video still hit 65+ IRE on the monitor. It's an astounding result and it makes the D4S simply one of the best DSLRs for extreme low light video shooting on the market.
Our editors review and recommend products to help you buy the stuff you need. If you make a purchase by clicking one of our links, we may earn a small share of the revenue. Our picks and opinions are independent from any business incentives.
Our editors review and recommend products to help you buy the stuff you need. If you make a purchase by clicking one of our links, we may earn a small share of the revenue. Our picks and opinions are independent from any business incentives.
Advertisement - Continue Reading Below
Compare Prices
Our editors review and recommend products to help you buy the stuff you need. If you make a purchase by clicking one of our links, we may earn a small share of the revenue. Our picks and opinions are independent from any business incentives.
Advertisement - Continue Reading Below
Advertisement - Continue Reading Below
Advertisement - Continue Reading Below
Advertisement - Continue Reading Below
Advertisement - Continue Reading Below
Get Our Newsletter
Real advice from real experts. Sign up for our newsletter
Thanks for signing up!