cameras
Nikon D40 Digital Camera Review
A look at the entry-level Nikon DSLR, a 6.1-megapixel digital camera that retails for $599 with a kit lens.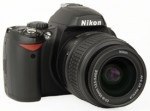 Testing / Performance
**Color ***(6.60)*We measure how accurately cameras reproduce color with standardized tests. By photographing a standard GretagMacbeth color chart and analyzing the images with Imatest software, we are able to compare all the cameras we review on an equal basis. We control the lighting conditions and other factors as much as possible. Imatest delivers two main numerical results in its color test: saturation and mean color error. Saturation measures whether the colors are too vivid or too pale. 100 percent is a perfect score for saturation. Color error indicates whether the hues are correct – if the greens are too blue, if the yellows are too orange, and so on. The Nikon D40 had a saturation score of 109 percent, which is high for a DSLR and more typical of a compact camera. Oversaturation can decrease the amount of detail in brightly colored subjects and make it difficult to edit images. Colors look unnaturally bright. The D40's color error was also disappointing: at 9.3; it doesn't compare well with other DSLR results. Imatest creates two graphic representations of its results. The first reproduces the camera's image of the chart, adding small rectangles of color on top. The large outer squares of color show the D40's image. The small vertical rectangles show the ideal colors, and the rectangles on the left show the ideal color, corrected for luminance or brightness.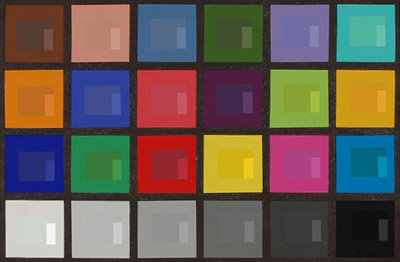 The other Imatest chart shows a color gamut. The center of the chart has no color, and at the edges, the colors are very saturated. If a circle were drawn around the center, it would show a color wheel. The little squares show ideal color from the GretagMacbeth chart and the big circles show the D40's rendition. The longer the line between the two means the less accurate the color. This chart shows us more about the D40's performance. The red circles are much closer to the edge than the red squares, and meaning those colors are very oversaturated. On the other side of the chart, the blue and green circles are shifted counter-clockwise from their corresponding squares, and indicating errors in hue.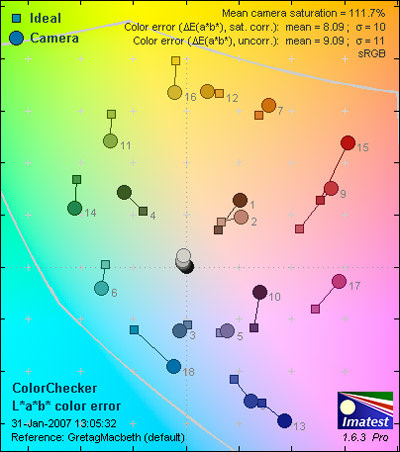 So the two problems with the D40's color are concentrated in separate color regions – the reds are massively oversaturated, enough to drive the saturation score unusually high, but they have relatively little color error. The blues and greens are pretty good as far as saturation goes but really terrible with regard to color error. In the areas that the D40 has color problems, it has severe ones. Despite this, it manages to perform better than the Nikon D50, which had a horrible 5.44 overall score. **Still Life Scene

**Below is our typical still life composite, photographed with the Nikon D40.


Click on the image above to view the full resolution file.
**Resolution ***(4.94)*Resolution measures the camera's ability to record fine detail. The Nikon D40 comes with a 23.7 x 15.6mm CCD that claims 6.1 effective megapixels. We tested it by photographing an industry standard resolution chart under controlled lighting after mounting the camera on a heavy tripod and taking care to avoid camera shake. We test several aperture settings and focal lengths, run the images through Imatest software, and report the camera's best result. Imatest reports results in line-widths per picture height (lw/ph), a unit that is independent of the physical size of the sensor, so it can be used to compare the wide range of digital cameras. At f/10 and 48mm, the D40 with its kit lens delivered 1823 lw/ph (horizontal), with 13.4 percent oversharpening, and 1500 lw/ph (vertical), with 5.38 percent oversharpening.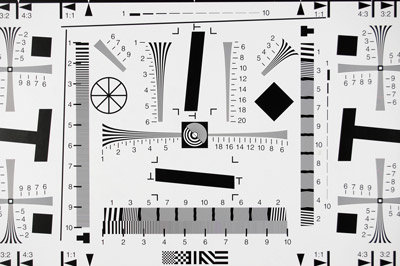 Click on the chart above to view the full resolution version
The D40's results are respectable for a 6.1-megapixel camera, though 13.4 percent oversharpening will make it difficult to post-process JPEG images without introducing artifacts and blotches. These results are very similar to the D50's; that camera had a 4.93 overall score and oversharpened by about 10 percent.* ***Noise – Auto ISO (11.24)*Noise looks something like film grain, and it represents pixel-by-pixel variations in color that the camera adds to a picture. This is because the sensor and the camera's electronics aren't perfect. Noise increases at higher ISOs, so we test for it at the camera's Auto ISO setting as well as its manual settings. Imatest yields its results by analyzing images of the GretagMacbeth color chart. The Nikon D40 did very well at the Auto setting, delivering noise results comparable to ISO 200 – the lowest ISO available and therefore the best quality. This is much improved over the D50, which metered incorrectly and chose a higher ISO setting and therefore produced way too much noise. *Noise – Manual ISO ***(12.46)*Noise increases when the ISO does. Some cameras have sudden increases in noise at a particular ISO, usually 400 or 800. The Nikon D40's performance is shown below with the camera's ISO settings on the horizontal axis and the percentage of noise in the image on the vertical axis.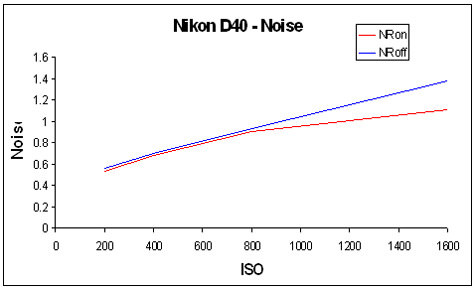 The D40 shows a steady increase in noise, but it handled well throughout its range from 200 to 1600. The D50, Nikon's previous entry-level DSLR, also scored particularly well in this category. **Low Light ***(8.5)*Low light shooting presents challenges for image quality because it's usually done at high ISOs with long exposures or both. Electronic sensors build up noise over the course of long exposures, and high ISOs amplify noise. Most digital cameras also show a decrease in color saturation in low-light exposures. We shot images in decreasing light at ISO 1600. The first shot was taken in 60 lux of light, and that is a bit less that what most people would like for reading. The second shot was taken at 30 lux, and that replicates the lighting in a dim restaurant. The third shot was at 15 lux, and that is about the same as a room lit with a few candles. The final shot was taken at 5 lux, and it's hard to make out much in 5 lux of light. We also shot images at ISO 400, using shutter speeds from 1 to 30 seconds.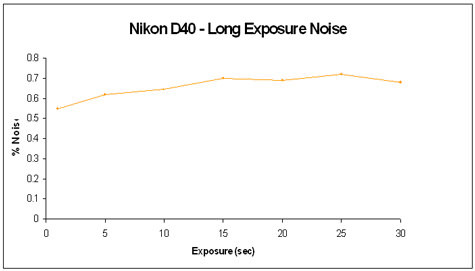 The Nikon D40 handled low light well. The noise reduction routine for high ISO made a significant difference at ISO 1600. Long exposure noise reduction is a different routine, and it seems to kick in at about 1 second. Noise reduction worked well but at the expense of some detail. Color accuracy was steady throughout the tests. **Dynamic********Range*******(7.75)*Cameras have to take in scenes with enormous ranges in brightness – from sunstruck snow to shaded fir trees – and translate them into the limited brightness range of a display screen or print. The ability to retain detail from very bright to very dark parts of the same scene is called dynamic range. We test it by shooting a calibrated Stouffer test film that shows more than 14 EV of dynamic range. Dynamic range varies with ISO, so we shoot the target at each ISO setting on the camera. We analyze the images with Imatest software and graph two sets of results: the High Quality result shows the range of tones captured with no more than 1/10 of an EV of noise, and the Low Quality result shows the range with a full EV of noise. High Quality is the range that's important for the subject of the shot, and Low Quality is important for texture in shadows and highlights in the background.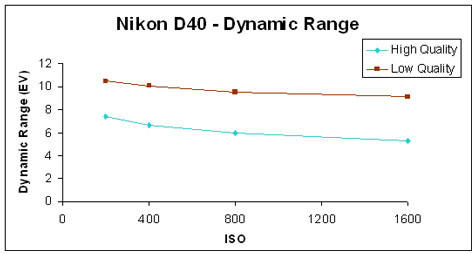 The Nikon D40 shows fair dynamic range. Though many cameras outdo the D40 at low ISOs, few of them do as well at the very high end.** ****Speed/Timing***Startup to First Shot (9.6)*It took 0.63 seconds for the D40 to start up and take its first shot. Many DSLRs get going in about half that much time. This speed may not make or break many shots for snapshooters, but it's enough to miss a quick, spontaneous moment. *Shot-to-Shot (9.6)*The Nikon D40 we tested delivered the specified 2.5 frames per second for 100 shots in a row. It took the camera 70 seconds to completely clear its buffer after that burst. Partially clearing took only a second or two, allowing more shots at an unsteady rate. Lots of low-end DSLRs run at 3 frames per second with shorter bursts. Neither 2.5 nor 3 fps is enough to shoot time-motion studies or action sequences in sports. The burst mode is helpful when shooting candid portraits, though, and 2.5 fps is noticeably slower than 3 fps in that setting. *Shutter-to-shot (8.01)*Including focusing, it took the D40 0.36 seconds to get off a shot after the shutter had been pressed. For more responsive shooting, the user can pre-focus the camera and capture a shot in less than a tenth of a second. 0.36 seconds is a long delay for a DSLR and would probably be disappointing to users who move up to the D40 from a compact.
Our editors review and recommend products to help you buy the stuff you need. If you make a purchase by clicking one of our links, we may earn a small share of the revenue. Our picks and opinions are independent from any business incentives.
Sections
Our editors review and recommend products to help you buy the stuff you need. If you make a purchase by clicking one of our links, we may earn a small share of the revenue. Our picks and opinions are independent from any business incentives.
Advertisement - Continue Reading Below
Compare Prices
Our editors review and recommend products to help you buy the stuff you need. If you make a purchase by clicking one of our links, we may earn a small share of the revenue. Our picks and opinions are independent from any business incentives.
Advertisement - Continue Reading Below
Get Our Newsletter
Real advice from real experts. Sign up for our newsletter
Thanks for signing up!