Design & Usability
When we finally got a chance to play around with the L610 at Photokina, we were impressed by the camera's handling. The grip is comfortably textured and we were left wishing a similar material had been used on other Nikon models, particularly their DSLRs. The buttons layout is somewhat cramped, but we don't imagine it will be too much of a problem for most users in this segment. We also found the menu layout and design annoyingly cluttered. Still, the ideal balance between simplicity and individual control is always a subjective matter, and we think the layout should be sufficient for travelers and casual shooters.
The rightness or wrongness of the L610's choice in battery power is another subjective matter. The universality of AA batteries is certainly a good thing on long trips, particularly abroad, when a wall outlet might not always be handy. But the shorter lifespan of alkaline batteries is a concern, especially if you're thinking of making this your go-to camera. You can use rechargeable lithium ion AAs, of course (we recommend Sanyo Eneloops), but then you'd need a wall charger again.
Features
The L610's $250 asking price is definitely a good deal, but we were hoping the camera would give us more control over aperture and shutter speed, both of which are strictly automatic. This was particularly frustrating because the meter tends to choose very slow shutter speeds in program mode. Users can control ISO sensitivity, white balance, and exposure compensation; but that's it. We also noticed that the camera seemed to take its time focusing when zooming in and out, which could be a problem for tourists looking to quickly capture a distant subject.
Aside from these complaints, though, the L610 holds its own. From what we could tell, the image quality was solid, and the addition of high-res video capability makes it a much more versatile imaging device. HDMI output and stereo sound are nice perks, too. As you'd expect from a camera at this price tier, the L610 also features a number of effects and scene modes, although they're all pretty run-of-the-mill: portrait, landscape, close-up, selective color, soft, etc.
Finally, Nikon is pitching this camera as a good option for nighttime shooting. The 16 megapixel backside-illuminated CMOS sensor is sensitive enough to shoot in low-light conditions (to a point), but if you're really into shooting in the dark you'd be better off investing in a higher-end device.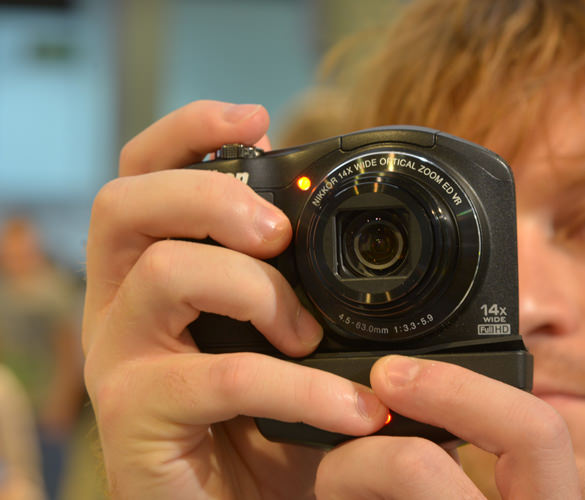 Conclusion
Nikon's latest release for the L line is targeted at travelers with a very casual knowledge of photography. Its affordability is one of its greatest assets, but the 14x zoom, HD video recording, and 16 MP sensor certainly boost its value. There's a lot of reasons to look into this camera—it's compact, somewhat versatile, sturdy, and designed for travel—but if you really want to capture the Colosseum in all its ornate splendor, and want serious control over how your image turns out, you should probably think about spending a little more.
Introduction
Nikon's newest addition to the Nikon L series is a compact AA battery-powered travel camera powered by AA batteries—an increasingly rare feature, even among midrange point-and-shoots. The L610 offers excellent handling, a robust design, and a 14x optical zoom. These components make for an ideal tourist camera, despite the somewhat clunky menu layout.
At $250, the L610 is considerably cheaper than its ultrazoom cousin, the P510 ($399). Nikon also introduced HD video with this model (1080/30P), adding to its flexibility as a reliable camera for travel.
Our editors review and recommend products to help you buy the stuff you need. If you make a purchase by clicking one of our links, we may earn a small share of the revenue. Our picks and opinions are independent from any business incentives.
Be in the know! Get Reviewed.com news and reviews straight to your inbox.
Thanks for signing up!