cameras
Leica T (Type 701) Digital Camera Review
Leica's new compact system camera has a killer design, a brand-new lens mount, and lots of fresh ideas.
By the Numbers
The Leica T is the first in a new system by the storied German manufacturer, so we were very eager to get it into our new test labs (recently redone) to see just how well its 16.3-megapixel APS-C sensor performed in an objective performance analysis.
Overall, it does quite well for itself. Noise is kept in check through ISO 1600, dynamic range is respectable at base ISO, and the camera's white balance and color accuracy results were among the best we've seen. That said, the Leica T isn't nearly as responsive as competing cameras from Panasonic and Olympus, and the camera's tendency to lock up after burst shooting holds it back. Those issues, as well as the lack of deeper control in playback and video ultimately keep the score down a little bit in our rating system, though when the conditions are right the image quality out of the T is nothing to be ashamed of.
Color Accuracy and White Balance
The Leica T shoots both RAW (DNG format) and JPEG, and has several film simulation modes to choose from. We found that the most accurate one was standard, with a color error (∆C00, saturation corrected) of 1.94, with near-perfect saturation at 99% of the ideal. Any ∆C00 of 2.2 or less is excellent, and the Leica T doesn't exhibit any serious issues. The biggest errors are with yellows and greens, which are slightly undersaturated.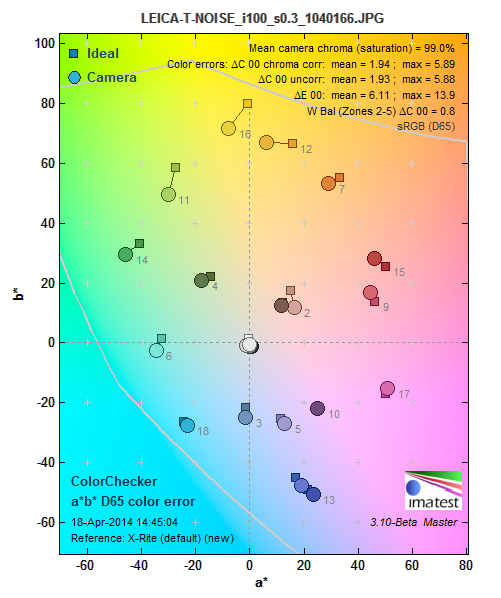 The T also excelled in our white balance test. For that test we capture the same color chart with both custom and auto white balances under three controlled lighting setups: compact white fluorescent, daylight, and tungsten. The Leica T did extremely well under all three lighting conditions when taking a custom white balance, with temperature errors of less than 30 kelvins. When relying on the automatic white balance things are just as good under daylight conditions, though the error jumped to around 111 kelvins with fluorescent lighting.
The most interesting result is under tungsten lighting (think your typical indoor lightbulb). The Leica T's auto white balance had a temperature error of just over 400 kelvins. While that's the camera's worst result, it's actually one of the best results we've ever seen for this test. Most cameras have a temperature error in excess of 2000 kelvins, returning a warm, orange image. The Leica T's shot is a little shifted, but it's still acceptable.
Advertisement - Continue Reading Below
Noise
The Leica T has an ISO range that extends from 100 to 12500, putting its APS-C sensor to good use. At the base ISO we saw noise levels of just 0.39%, which is excellent. Noise rises steadily from there, hitting 0.74% at ISO 400, 1.07% at ISO 800, and 1.33% at ISO 1600. At ISO 3200 noise crosses the 2% threshold (at which point we feel print quality usually begins to suffer), with a result of 2.37%.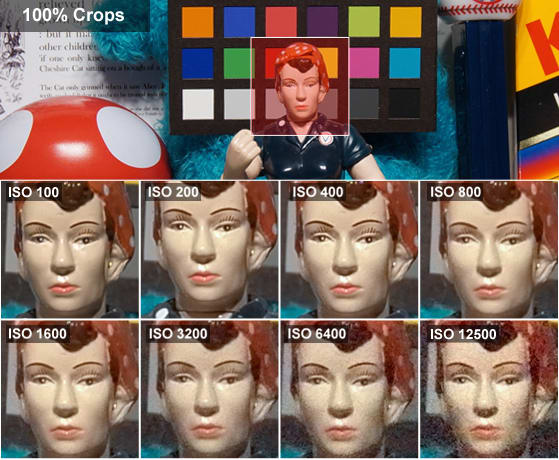 At the highest ISOs, noise increases steadily, though the image quality doesn't suffer as much as you might think. Though noise hits 3.4% at ISO 6400 and 5.4% at ISO 12500, the shots still don't look that bad. As you can see in the 100% crops above, image quality is generally acceptable up to ISO 3200, and 6400 and 12500 are certainly usable in a pinch and at small sizes. The noise is also largely monochrome, giving it a grainer, filmic look as opposed to the uglier chroma noise most digital cameras exhibit.
Resolution
We were able to test the Leica T with the new T-mount 18-56mm f/3.5-5.6 kit lens. Though it has a standard focal length and aperture range on par with what most DSLRs and mirrorless cameras offer, we found that it was certainly not slouch in the performance department. We've seen some better kit lenses lately from the likes of Fujifilm, and the Leica model here definitely holds its own.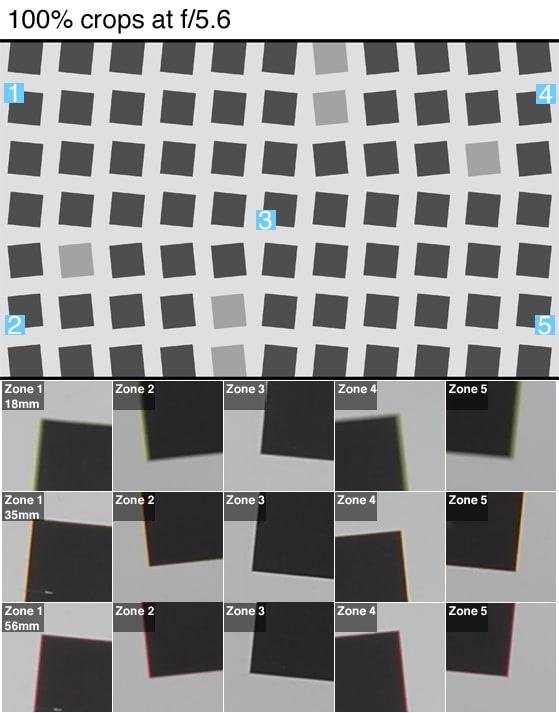 In our tests we found that the lens performed quite well. The main performance issues are at the wide angle of 18mm. The biggest issue is with some minor field curvature, which has a tendency to alter the focal plane and throw some results out of whack. The center stays sharp throughout, but the the edges in particular begin to exhibit some big issues. This is solved a bit by stopping down the aperture, though it's also not much of an issue once you zoom in a bit.
Despite the slight curvature, distortion is otherwise kept in check through the zoom range. At 18mm we found roughly 0.9% barrel distortion. That falls to just 0.14% at 35mm and 0.16% at 56mm focal lengths, which is barely perceptible in our experience. Of course you can always fix simple distortions like these after the fact, but as a new lens mount it may take some time for correction profiles to be released.
Dynamic Range
We test dynamic range using a backlit 21-stop density stepchart, taking sample shots with identical exposure levels at every ISO. With the Leica T, things start off very well. The base ISO had well over 7.4 stops of "high" dynamic range, in which the signal to noise ratio stays above 10:1.
As you increase the ISO speed, however, dynamic range begins to fall fast. Using the same "high" dynamic range threshold, the Leica T's performance drops to 6.58 stops at ISO 200, 5.62 stops at ISO 400, 4.55 stops at ISO 800, and 3.08 stops at ISO 1600. From there things predictably get worse, with just 2.37 stops at ISO 3200, 1.93 stops at ISO 6400, and no qualifying stops at ISO 12500.
In general the base ISO dynamic range is very promising. At just that level the Leica T holds its own against some of the better APS-C cameras on the market. The higher ISO speeds do leave us with some cause for concern, however. Though the performance at the top ISO speeds is respectable, it's actually the middle areas where cheaper cameras beat out the T. This isn't a dealbreaker, but as you might expect, there are better, cheaper cameras to be had.
Video Performance
As we covered in the main page of the review, the Leica T is hardly anyone's idea of a serious video camera. But for those times where you want to just grab a short clip or two, it can definitely serve you well. The camera has two video modes—1080p and 720p—with MP4 compression. There isn't much in the way of video control, though there is a built-in stereo microphone and video stabilization.
In our performance tests we found that the 1080/30p mode held up well. In bright light the T was able to resolve 550 line pairs per picture height horizontally and 615 LPPH vertically, though that falls to 450 LPPH horizontal / 575 LPPH vertically in low light. The Leica T seemed to generally struggle with low light requiring 19 lux of light to produce an image that hit 50 IRE on a waveform monitor.
In our motion performance test the Leica T did fine, though there were noticeable issues with trailing, ghosting, and artifacting. The RGB pinwheel in particular proved to be troublesome, and the vertical lines on the train also revealed some issues. In capturing live video we also noticed some rolling shutter issues due to the CMOS image sensor.
Our editors review and recommend products to help you buy the stuff you need. If you make a purchase by clicking one of our links, we may earn a small share of the revenue. Our picks and opinions are independent from any business incentives.
Our editors review and recommend products to help you buy the stuff you need. If you make a purchase by clicking one of our links, we may earn a small share of the revenue. Our picks and opinions are independent from any business incentives.
Advertisement - Continue Reading Below
Our editors review and recommend products to help you buy the stuff you need. If you make a purchase by clicking one of our links, we may earn a small share of the revenue. Our picks and opinions are independent from any business incentives.
Get Our Newsletter
Real advice from real experts. Sign up for our newsletter
Thanks for signing up!